7 Signs You Need a 3PL Partner
Time to read:
4
minutes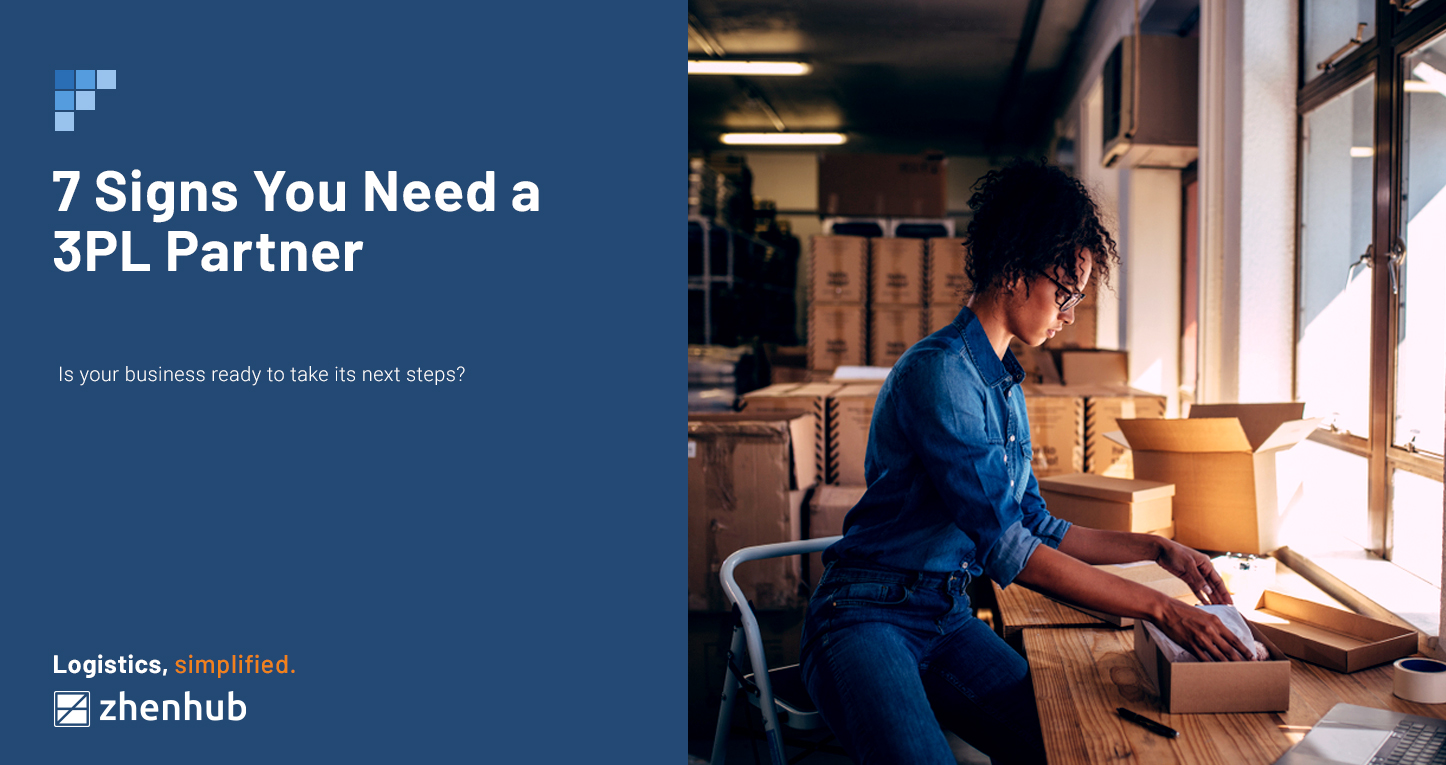 Experiencing exponential growth for an eCommerce company is great, but it does have its drawbacks. On the plus side, there is demand for the product, and marketing efforts are working. But managing exponential growth without developing a logistics strategy to account for the increase in orders could be problematic. A retailer could run the risk of affecting the operation and impacting customer satisfaction. This situation calls for a reliable 3PL partner.
Third-Party Logistics companies, or 3PLS, offer logistics and fulfillment services for retailers. They provide an option for eCommerce operations to outsource a part or the entirety of their supply chain process to a specialist service company.
Most eCommerce businesses can benefit from a logistics partner as getting the supply chain to run smoothly can get challenging. Scaling is more accessible with logistics experts on the team. There are many benefits to outsourcing order fulfillment to a 3PL, but as with anything else in business, timing is crucial in deciding whether this option is the best one.
7 Signs a Business Needs a 3PL Partner
Plenty of eCommerce businesses are wary about outsourcing their logistics needs, especially if operational efficiency hasn't dipped yet. However, there comes the point when outsourcing becomes necessary. Below are a few of those instances:
Customer Base Growth is No Longer Manageable
There is no denying the challenges that come with starting a business. Interestingly, keeping up with substantial growth is often underestimated. Having a steady customer base loyal to a brand is invaluable, but the pressure to maintain the same level of service goes up considerably.
Outsourcing becomes essential when you have a growing customer base, and current resources cannot keep up with the demand. It takes the burden of optimizing the order fulfillment process from the retailer to the 3PL partner.
The Order Fulfillment Process is Riddled with Delays
Delays in the order fulfillment process can impact customer retention and loyalty. In fact, issues with getting orders to customers can also affect reaching new clientele. According to a report, 69% of customers who experience shipping delays are less likely to shop from the same company. They are also less likely to recommend the store to their peers.
Instances of delays, however minimal, aren't something to disregard. It is a telling sign that a retailer can no longer keep self-order fulfillment.
Employees are Burnt Out and have Low Morale
Another clear sign is that outsourcing is needed if there is worker burnout and low morale. It's basic math. Suppose orders are increasing, and business has the same number of workers to handle the demand: each individual will need to extend themselves (i.e., work longer hours or multitask) to accommodate the additional work.

Overworking is one way to lose workers. Businesses should know that employees are a company's biggest asset. A loyal workforce with years of knowledge and operational experience are worth their weight in gold.
Operations Have Become Complicated
Changes in the operational structure can also cause havoc on order fulfillment. While they are necessary, especially during exponential growth, failing to understand the intricacies of these new processes can be detrimental to the business.
An excellent example of this is the shift from local suppliers to international manufacturers. This transition is difficult to manage, and it would be better off to have a credible 3PL partner do it.
Expensive Shipping Costs
eCommerce shipping costs account for a massive chunk of an eCommerce company's expenses. This part of the order fulfillment process can impact a retailer's profit margins, especially if you're offering discounted, expedited, and even free shipping options.
Choosing to partner with a third-party logistics provider can reduce a retailer's shipping costs. More often than not, these businesses enjoy lower rates with popular carriers. Likewise, 3PL companies can get shipping materials at a much lower rate.
Limited Warehousing Space
Renting a warehouse is expensive. On average, a square foot of warehousing space goes for at least $7.50 annually. The cost doesn't include overhead costs and other additional facilities. Aside from the hefty expense, the initial cost of a warehousing setup is considerable. Outfitting warehouses is a significant investment, especially for eCommerce operations that have specific requirements.
In some cases, partnering with a 3PL company eliminates the need for a warehouse. It is an ideal option for businesses that have grown out of their mom-and-pop operation but aren't ready to make the significant warehousing investment just yet.
Increase in Customer Complaints
When a business is growing, more things fall through the cracks. As the operation succeeds, bigger mistakes might happen more often during the order fulfillment process. While it is a welcome concern, exponential growth without preparation can result in customer dissatisfaction.
An increase in customer complaints is an unmistakable sign that an operation has outgrown its order fulfillment process. When customers start complaining, there is already a failure in the process. Working with a 3PL company ASAP is crucial in minimizing further damage.
Choosing to outsource logistics to experts is an excellent way to ensure that demand, the supply chain keep up to maintain company growth. This option ensures that customer experience and service level agreements remain positive and optimal, respectively.
Companies must take advantage of a 3PL partner. However, it is vital to find a logistics company that suits your operation's specific needs. Similar to deciding when it is time to forgo in-house logistics, the process of finding the right 3PL partner isn't easy. Not all logistics operations are created equal, and 3PL functions can vary, but the fact remains that your business needs to get partners to continue to thrive.
Thankfully, for your logistics needs, you don't have to look any further. We at ZhenHub offer a wide array of tech-based logistics solutions for every need. Whether you are looking to solve a warehousing and fulfillment issue or searching for efficient inventory management software, we have something for you! Sign up now or request a quote to get things started.
Share Article