How 3PL Management Can Help You Control Logistics Costs
Time to read:
6
minutes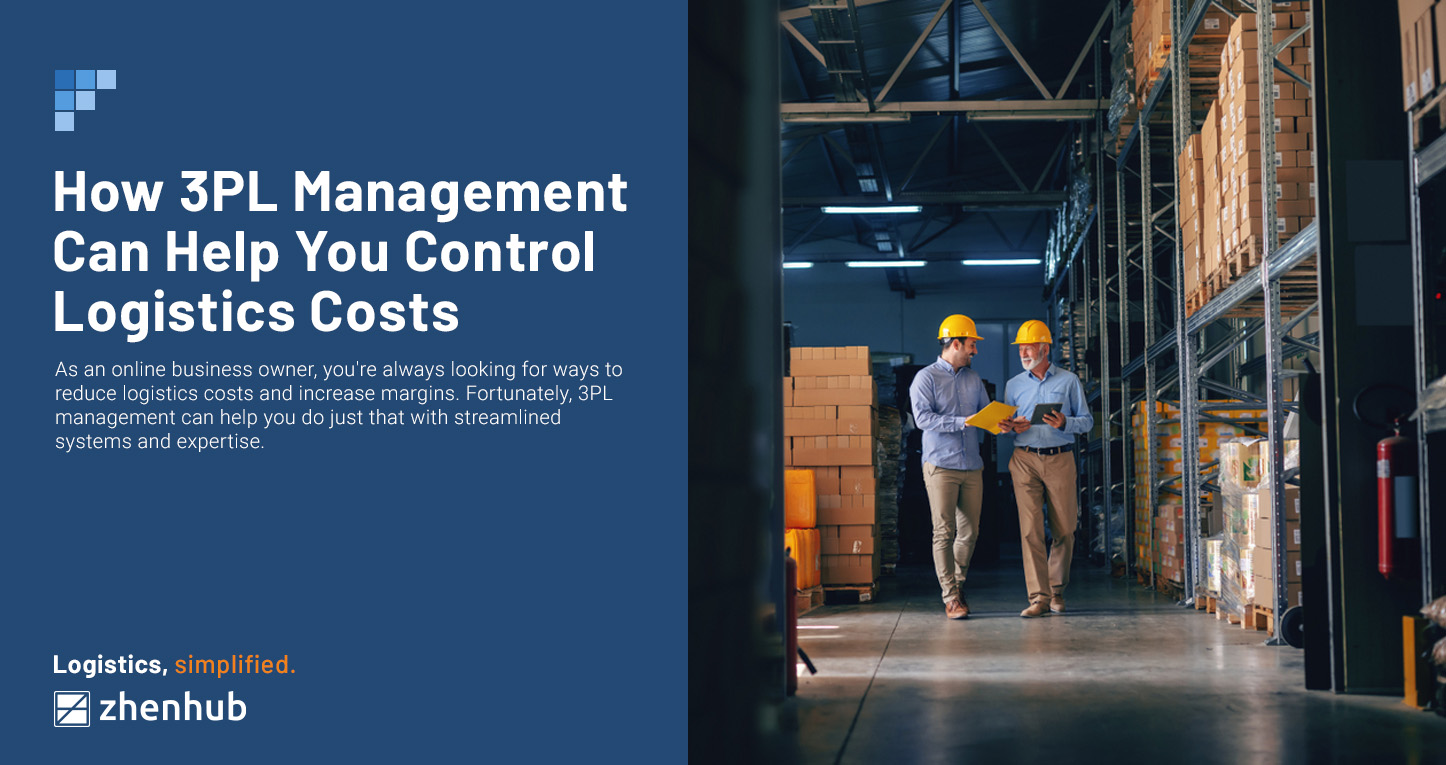 Merchants understand the importance of logistics and how it can impact their business. eCommerce, for example, is an incredibly lucrative business today. According to a Statista.com report, revenues could reach US$ 5.4 trillion in 2022.
3PL services will become more crucial as companies try to get a piece of the projected multi-trillion-dollar pie,
But many don't realize that Third-Party Logistics (3PL) management is also a critical part of controlling costs. By outsourcing logistics operations to the right company, businesses can save time and money while improving overall efficiency.
Outsourcing is a great way to off-load tedious and time-consuming business processes. Working with third-party providers also allows you to refocus company resources, realign business objectives and focus on growth.
This article discusses the benefits of 3PL management and how it can help you control your logistics costs.
How do 3PL Companies Work?
3PL is one of the most popular outsourcing models in business today. Its market value is estimated to hit $1,789.94 billion by 2027. The service allows you to outsource operational logistics, from warehousing to delivery, so your company can focus on other parts of its operations. No more worrying about inventory management or transportation problems means more time working with clients instead! You'll also be made aware of any issues that your current supply chain might have, potentially avoiding more roadblocks in the future.
Here are significant 3pl functions to know about:
Storage – 3PLs can receive and store your products before they go out to the customer.
Transportation – They coordinate with carriers and fleets. Plus 3PLs can track freight payments and handle insurance.
Shipping – These logistics companies manage shipping responsibilities such as customs, forwarding, and consolidation. 3PL can also do budgeting and trade compliance on your behalf.
Information Technology – They oversee warehouse, transportation, and eCommerce operations with special tools and software for visibility and transparency
Many 3PL companies offer temporary or full-time storage for your inventory. They can pack it into various sizes and quantities depending on the respective orders from customers. This capability makes them an efficient solution when delivering around town and internationally.
Here's a simplified process of 3PL fulfillment:
Receiving – A 3PL company will receive your products at the warehouse and then assign them an SKU.
Order Placement – When a customer places an order through your website or a partner merchant, a 3PL will receive this information.
Item Collection – 3PL warehouse staff will begin to collect all the products listed on the order list
Packaging – Your chosen 3PL provider will now pack the selected items securely along with the receipt and additional documents
Labeling – Shipping labels will be printed by the 3PL, either using their own or a shipping partner's
Delivery – The package will be picked up by the chosen courier from the 3PL's distribution center and then delivered to the customer.
Tracking – Your 3PL partner will upload any tracking information to their system to sync with your order management software.
Since the pandemic, more than 20% of companies prioritize continuity planning for their supply chain, improvements in technology and automation, and diversifying supplier base. 3PL is a seamless way for eCommerce companies to receive orders without worrying about fulfillment. As a result, you can have more time to focus on manufacturing and selling your products.
Saving Up on Business Costs with 3PL
As your operations grow, so do the demands, responsibilities, and costs. Businesses are at their best when they focus on selling and marketing their products. Taking on logistics can be difficult and expensive. To give you an idea, CBRE Research showed that "$1 billion in incremental e-commerce sales generates 1.25 million sq. ft. of warehouse space demand." And that's just warehouse space. Other costs include staffing, infrastructure, partnerships, and networks to build. That's why 90% of Fortune 500 companies in the US now work with a 3PL partner. 3PL management is an excellent option as it offers the right expertise, fulfillment centers, and solutions for your business. So it's best to leave logistics to the experts.
Here are some of the ways 3PL can help you control logistics costs:
Separate Warehouse Management – You may want to operate your warehouse and do the fulfillment in-house, but this can be very costly. When your business grows, you'll need to shell out more money for maintenance, security, labor, materials, and more to keep a warehouse running. Your potential capital investment could go towards a 3PL service that offers better value for your money than just a warehouse.
Equipment – Managing logistics requires specialized equipment and hiring trained staff to operate them. You'll also need to pay for the maintenance of said equipment. A good 3PL partner has all of these and more at the ready from forklifts, barcode scanners, and conveyor belts.
Experience – Your business expertise and core competencies may not include logistics and fulfillment, so you may be spending time and money trying to figure it out. However, 3PLs understand the complex needs and processes behind logistics, so having them handle it for you gives you more time and energy to manage your business.
Information Technology Services – Hardware and software make for efficient and transparent logistics. Outsourcing to a 3PL means you don't need to spend extra to buy all the required management systems and train staff on how to access the software.
Time Management – Besides more operational costs and investments, logistics and fulfillment are very time-consuming. Trying to do 2-day deliveries can considerably strain your resources and make you lose your focus on growing the business.
Outsourcing to 3PL lets you concentrate your energy and time on running your business.
Flexibility – During holidays and special sales, your business will experience surges and spikes in orders.. Hiring extra staff is needed to accommodate more products moving around to deal with this. But when this surge is over, you have to let go of the additional staff so it won't eat into your margins. 3PLs are scalable and can handle various workloads.
Safety & Certification – A large part of logistics is ensuring that workers are in a safe environment. A 3PL provider will take care of training, certifications, and inspections while also having a ready safety infrastructure in place.
3PL firms offer significant volume discounts with exclusive relationships within the industry. They can influence negotiations during contract talks and help bring down overhead costs for you, Plus they provide transportation services with tracking technology. 3PL management also offers warehousing space with staff at prices that logistics providers can adjust to fit business size.
Logistics play a huge part in creating a positive buying experience for your customers by expediting shipping times and updating product availability. Companies can avoid costly errors such as late deliveries or misprinted labels with a reliable logistics company. In addition, your business can explore new markets if you partner with a 3PL firm with worldwide operations and reach. Third-party logistics significantly cut costs in areas where you don't have an established presence. Having a reliable partner in unknown territory is reassuring, and you don't have to worry about purchasing equipment, renting space, and hiring staff.
Selecting The Right 3PL Partner
Each business has its own set of unique needs and supply chain requirements. Therefore, you will want to work with a reliable 3PL partner to help your business grow and provide you with all your services.
When choosing the best 3PL management, consider the following:
Business Volume and Scalability
Your logistics provider should be able to handle your current inventory and have the flexibility to adjust when your business upscales or downscales. Can they efficiently manage your current order volumes?
Reputation and Track Record
It makes perfect sense to want to hire a 3PL company that is trusted and financially stable. Contact references or other clients of a potential 3PL partner, and get insight into what it's like to work with them. How do they build relationships with customers, approach problems, and perform at crunch time?
Technology
Data is essential to running a business. Therefore, the technology of your 3PL partner should be compatible with the systems you currently use to ensure seamless communication and documentation.
An excellent 3PL company should also be able to provide customized solutions further building on your strengths, develop areas that need improvement and identify potential new market channels.
Costs should be transparent and detailed, so what you're paying for is clear.The goal of outsourcing your logistics is to save more money and get cost-efficient services.
Charles Michael, Manager of Strategic Partnerships at Stitch Labs, advises, "Look out for the quoted price and understand that it often won't include value add-ons like marketing inserts, gift wrapping, and special packaging,"
Good 3PL management includes reporting to keep you up to date on delivery timelines and accuracy, damages, and returns. When delivery and shipping problems arise, you will want to work with a 3PL partner to process refunds and credit expeditiously while offering extra protection for your products through insurance. Broken or lost items are always possible, even when outsourcing your logistics to experts.
The eCommerce industry is competitive, and it can be difficult for many businesses to keep up. But with third-party providers like 3PLs integrated into your supply chain team, you'll have access to their expertise and streamlining capabilities.
Expand your online business while keeping costs low with ZhenHub. We offer comprehensive 3PL services from warehousing, inventory management, and multi-channel fulfillment. Become a partner when you sign up today! 
Share Article