The Stages and Steps that Make an Effective Procurement Process
Time to read:
6
minutes

A vital component of any successful eCommerce business is having the right procurement strategy. A company must regularly acquire the necessary resources for its operations to continue and for a brand to grow.
Streamlined workflows and tighter supply chain management leverage product development, strengthen business relationships and provide new opportunities.
Companies must have a procurement strategy, whether employing an ad hoc procedure or managing a sizable yet thoroughly documented procurement practice. While the way that the procurement budget is managed and tracked may differ, the actual process itself shouldn't.
The act of locating and sourcing goods and services for a company is known as procurement. Due to the necessity of purchasing products and seeking out services for a business to expand, the procurement process is most frequently connected with the retail industry.
The term "procurement" typically refers to the final act of purchasing. Still, it can also apply to the entire procurement process, from contract administration to invoice approval and new supplier onboarding.
Some companies have historically equated the terms procurement and purchasing, but there's actually a difference. Purchases are now merely a step in a longer, more strategic procurement process.
The straightforward act of purchasing is more responsive to internal requests when compared to procurement. Procurement is centered on strategic, long-term goals, including corporate strategy and acquiring a competitive edge. On the other hand, purchasing is more concerned with short-term goals and company demands.
Before making a final purchase choice, you must consider the entire procurement cycle carefully. A company can participate in the procurement process on either the buyer or the selling side.
A Better Understanding of the Procurement Process
Procurement management can take up a sizable percentage of a company's resources. Most of the time, the procurement process is governed by corporate standards centralized by accounts payable controls. Along with receiving and approving payments, this also involves creating and processing demands.
A procurement budget will give managers a specified amount of money they can use to buy products and services for the company. This system is essential to a business's strategy since the ability to purchase particular goods and services can influence whether or not operations are profitable.
Every online merchant needs supplies, products, and services to reach their business goals. Running a business involves purchasing communication tools, raw materials for manufacturing goods, or building maintenance services.
Finding the best deals on the products you need is the primary goal of a procurement team. Building relationships with suppliers, negotiating favorable terms, and expediting the procurement process are all sought-after skills of procurement experts. They should also be proficient in identifying a need for goods or services to handle invoice payments.
Organizations can maximize cost savings, reduce unnecessary expenditures, and assess how and where budgets are used most effectively by streamlining their procurement processes. The money saved by sound procurement procedures fosters expansion and protects the company from economic downturns.
Depending on the demands of the business and short-term objectives, companies engage in two types of procurement. These are:
Direct Procurement
This involves buying products and services specifically needed for your company's manufacturing. Examples could be raw materials, software, services, or goods that help produce your business's goods.
Indirect Procurement
Indirect procurement refers to everything not directly involved in the creation of commodities. Office supplies, communication software, and facility services unrelated to a specific product a business sells fall under this category. However, these goods and services can affect how efficiently you produce your products.
When purchasing goods and services, different accounting principles are used for revenues and expenditures. Businesses focusing on products (physical goods) will have to manage purchasing material goods. These companies will give careful consideration to supply chain management. Non-physical things like software subscriptions can also be included in the procurement of goods, and direct and indirect procurement techniques may be used.
As their main source of income, service-based businesses offer one or more services. These businesses might need to buy products for tech-based services, but they only sometimes rely heavily on the supply chain for inventories.
In general, the hourly cost of labor accounts for most service-based businesses' cost of sales. As a result, purchasing costs as a direct outlay is never a significant concern. But service-based businesses handle their procurement as an indirect expense through marketing. They frequently have more indirect significant expenditures.

The 9 Steps of an Effective Procurement Process
Any business's ability to operate efficiently financially depends on its procurement procedures. It helps you find the best partners to work with your company and reduces delivery times. Efficient processes help you pay the proper amount for goods and services.
The company's size and nature will significantly impact the procurement process's structure. No "one size fits all" technique works for all businesses. The procurement strategy must be completely customized for each company to ensure optimum efficiency.
The procurement process may change since different businesses have distinct demands and objectives. While there may be differences in the specifics of their procurement process, there may be some similarities in the overarching processes.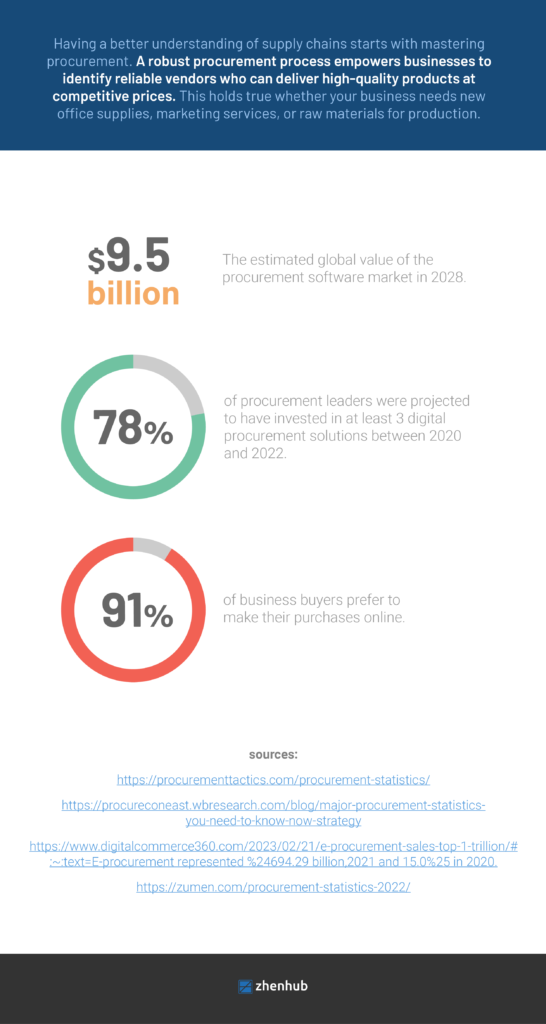 1. Identify Your Business Needs
Businesses can start by determining what products and services are necessary for employees to achieve their objectives. They might speak with staff from different departments to determine what products and services to prioritize for internal procurement. The team may also decide what equipment or supplies are required to continue developing profitable goods. One strategy they might employ is drafting a plan considering price, profitability, value, and the time to acquire specific goods and services.
2. Submit a Purchase Request
The next step is to submit a purchase requisition, essentially a request for authorization to incur the expense in writing. Employees use it as an internal form to request the products and/or services needed to finish a task.
A purchase request should include information required to satisfy the current need and maintain operations. The purchase requisition should always contain essential information for buying goods, services, or works.
3. Choosing a Vendor/Supplier
After the procurement team approves a purchase, you must select a supplier. To do this, the procurement team may send requests for quotations (RFQs), also known as requests for proposals (RFPs). This allows suppliers to provide statements of interest, cost estimates, and a list of their products or services. Requests must be as specific as possible to ensure that potential suppliers are aware of the company's requirements. Another choice is to contact former vendors with company records and working relationships.
4. Negotiate Terms & Conditions
Once the best supplier has been selected, the negotiation process begins. The procurement team will work with the sales rep to establish pricing and terms for the purchase. Negotiations should be completed only after all departmental prerequisites have been met. A binding contract is established as soon as the vendor recognizes and accepts the purchase request.
5. Purchase Order Creation
Procurement creates a purchase order (PO) to obtain the products or services from the provider. Procurement creates a purchase order (PO). The PO typically undergoes a different approval procedure to ensure all transactions satisfy expectations. Staff will need to look for any potential problems or anomalies. The purchase order is subsequently forwarded by procurement to the supplier for fulfillment.
6. Receive and Review Goods/Services
Your chosen provider completes the order. The procurement team receives the items and inspects them to confirm the quality and accuracy of the shipment once the product or service is delivered. The receiver may ask the supplier for changes if the order exceeds expectations or returns the cargo.
7. Order Audit
A three-way match is performed once the goods have been fully received. This ensures the shipment, invoice, and PO are accurate. The procurement team also evaluates suppliers to ensure that all contract requirements and terms are satisfied during the delivery process.
8. Invoice Approval and Settlement
Once three-way matching is completed, the supplier invoice is sent for processing. These bills are coded, batch-processed, and scheduled for payment. Each business may have a different procedure and payment schedule. Using the format specified in the contract, the financial department processes the payment before sending it to the provider.
The procurement team also evaluates suppliers to ensure that all contract requirements and terms are satisfied during the delivery process.
9. Bookkeeping
The entire procurement process should be documented. This includes keeping complete records of your purchase requests, pricing negotiations, invoices, receipts, and anything else. These documents could be helpful for a variety of reasons. They aid in tax calculations, auditing procedures, and future orders of items at the right price for the business. Additionally, accurate, clear records may assist in settling any future disputes.
Procurement can significantly impact your eCommerce company's profitability and success. However, procurement entails a wide range of linked activities, which necessitates close attention to detail. Keeping track of all these documents and data results in maximizing profits. Analyzing data and maintaining an efficient procurement process are challenging tasks. Procurement may deal with dozens of vendors and thousands of invoices, even in small and expanding businesses. As a result, an abundance of data can only be wholly utilized through technology.
The burden of manual procurement operations can be reduced by using procurement software to automate procedures and centralize data. Digital dashboards also provide visual data to business teams to help them decide how to spend budgets better.
ZhenHub upgrades your procurement process with a digital platform of eCommerce logistics services. Connect to our online dashboard to access our inventory management software, which has multiple online marketplace integrations. Sign up today and bring your business to the global stage.

Share Article