5 Key Factors to Successful Order Fulfillment Process
Time to read:
3
minutes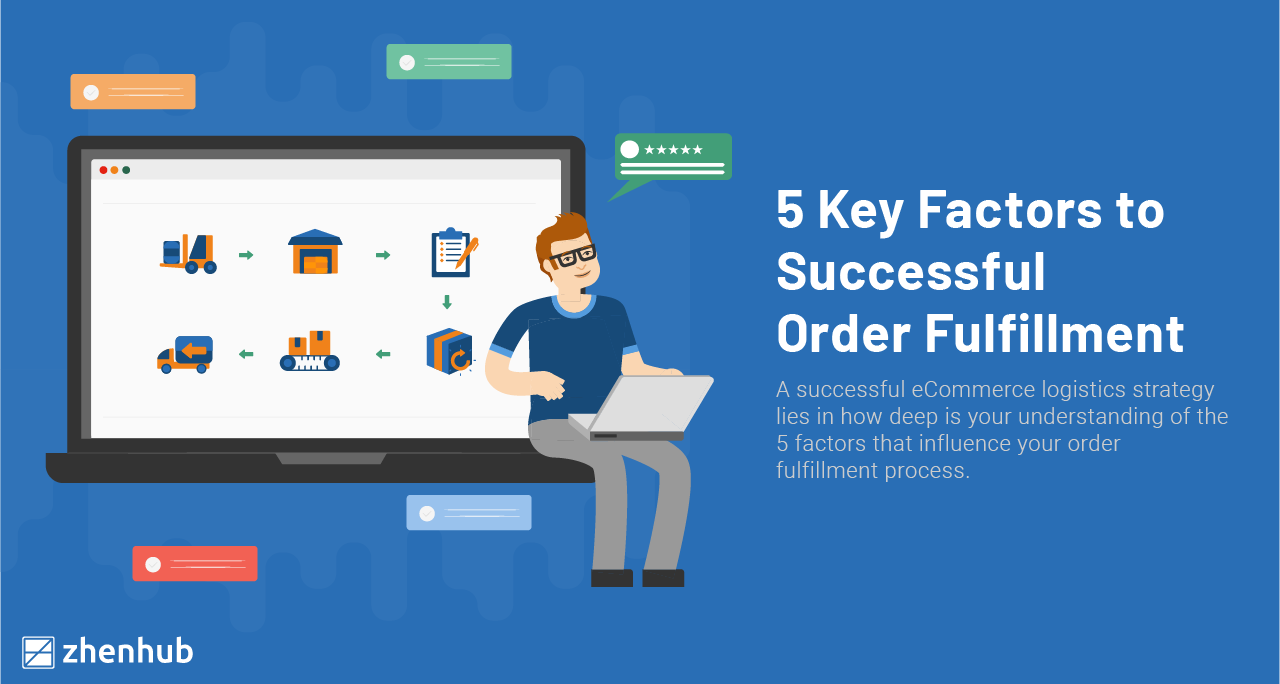 What is Order Fulfillment?
Order Fulfillment covers the complete eCommerce process from making a sale to getting the orders delivered to the customer. While it can also be used to describe self-fulfillment (or doing everything in-house, from storage and packing to shipping), it is more commonly associated with online merchants who outsource to third-party logistics (3PL) companies. 
The Order Fulfillment Process
The Order Fulfillment Process involves five basic steps: 
1. Receive
Once a customer places an order on an online store, a 3PL will then coordinate with the merchant to discuss the details of the incoming inventory at the fulfillment center. This will involve the documentation of agreed time, quantity, and storage requirements to ensure that the second step will go as seamless as possible.
2. Pick
3PLs will then assign a picking team who will be given a slip containing the summary of the inventory as discussed in Step 1. The picking team is responsible for collecting the items or goods from the location/s as specified by the online merchant. 
3. Store
The next step in the process is storage. Once the items have been picked up, they will be brought to the 3PL's fulfillment center where it will be organized, shelved, and indexed before its scheduled release. 
4. Pack
Depending on the items, 3PLs will proceed to securely pack the goods in preparation for shipment. Some 3PLs charge additional fees for packing materials, while others already have it included in their fulfillment services. There are also fulfillment centers that allow retailers to send in custom boxes for branding purposes; but more often than not, 3PLs use plain brown boxes.
5. Ship
The great thing about tapping 3PLs to handle order fulfillment is that they are the ones directly coordinating with shipping carriers. This spares online merchants from having to go through the taxing process of looking for the right shipping partner. Once an order is shipped, the 3PL will then provide a tracking code that sellers can either manually or automatically (depends on the 3PL's tracking technology) forward to their customers.
---
Common Challenges in the Order Fulfillment Process

Not being able to effectively manage inventory and forecast demand can lead to opportunity loss. Maintaining optimal inventory levels is crucial in order to avoid stockouts especially when demand is high. In a platform as fast-paced as eCommerce, product unavailability can push a potential customer into the eager arms of a competitor brand.
Outsourcing to 3PLs does not mean being completely hands-off in the order fulfillment process. Coordination with the fulfillment center is necessary to make sure logistics are consistent in quality. Delivery delays, packaging issues, and missing or broken shipments can cause significant brand damage and PR nightmares. 
---
Key Factors to a Successful Order Fulfillment Process

Tapping 3PLs can save sellers a lot of time and money, but only when the order fulfillment process is carried out in a standardized, consistent, and transparent manner. Online merchants need to have a 360-view of their inventory from the moment the items are picked up to the minute it is shipped to the customer. A disorganized order fulfillment process will not only be stressful for online merchants but for their consumers as well. 
A quick online dashboard or a direct line of communication with the fulfillment center will make it easy for retailers to keep track of their operations. Clear communication and process transparency between sellers and 3PLs are essential especially since online store owners are the ones who will be caught in the middle if and when a customer requests updates on their orders. 
Consumers' willingness to pay extra for expedited shipping is a testament to how valuable speed is in eCommerce shipping. In fact, according to Voxware, as much as 69% of online shoppers would reconsider their purchase from a particular trailer if delivery is not fulfilled within two days of the initially promised time. Coordination with 3PLs with regards to transit time is necessary, so both sellers and buyers know their options and are able to manage expectations. 
A successful order fulfillment process also relies on how organized a fulfillment center warehouse is. Since 3PLs are adamant on consistently enhancing and improving their warehouse operations for optimum efficiency, online retailers can then just focus their resources on building their brand and business.  
Reliable Customer Service
According to a Microsoft research, 60% of consumers stated that they stopped purchasing from a brand due to poor customer service. With the online platform providing countless opportunities for real-time interaction, the demand for reliable customer service is becoming an even more significant factor in the consumers' purchase decision. This is why it is also crucial that online sellers are able to directly communicate with 3PLs, so they are always equipped with the necessary information when customer inquiries come in.  
The order fulfillment process plays a huge role in shaping customer experience and building brand loyalty. If you are an online seller looking for a reliable 3PL, ZhenHub is here to guarantee timely delivery, efficient warehousing, and fulfillment services. Request a free quote now!
Share Article