5 Benefits of Outsourcing Order Fulfillment to 3PLs
Time to read:
4
minutes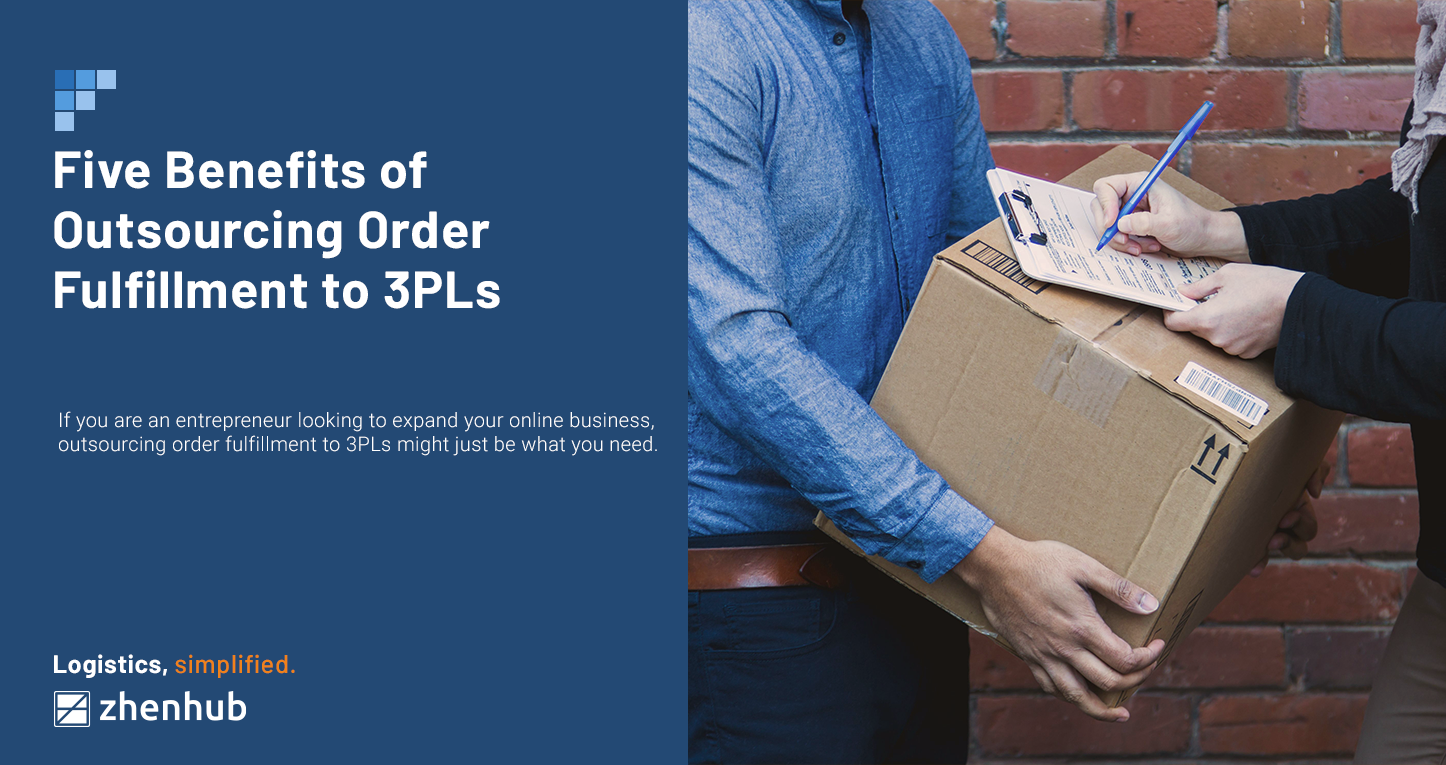 One of the decisions retailers face when business is growing is whether outsourcing order fulfillment is the way to go. It is a big step for any merchant, especially since tapping the help of a fulfillment center means spending money.
This article aims to answer the only question sellers have when it comes to third party logistics company- is it worth the additional cost?
Our answer- Yes.
As businesses scale and customer expectations shift, the complexity and stress of running an online store increase. By outsourcing order fulfillment, retailers can focus on increasing their conversion rate while the 3PL takes care of the grunt work, from inventory management to shipping.
But before we enumerate the five main reasons why outsourcing order fulfillment is beneficial for eCommerce, retailers must know and understand their options.
Types of Order Fulfillment
Order fulfillment is the process that involves every single step that happens from the moment a customer places an order online to the minute it gets delivered to their doorstep. There are three standard methods retailers can choose from to carry out their order fulfillment requirements:
Self Order Fulfillment
Self Order Fulfillment is the go-to method for eCommerce entrepreneurs who are just starting their business. This type of order fulfillment requires the merchant to handle every step that makes order processing. As the name suggests, it involves doing inventory management, storage, packing, and shipping in-house. It is cost-efficient and best for start-ups who have yet to encounter an unmanageable volume of orders.
Third-Party Fulfillment
For retailers, outsourcing order fulfillment to a third-party logistics company simply means letting the experts take care of everything. With this method, merchants can focus all their energies on selling as their key involvement is only on making sure inventory is ready to be picked up by the 3PL. Once a customer places an order online, the 3PL will execute order processing from start to finish.

Dropshipping
This model only concerns warehouses that act as suppliers. With dropshipping, business owners do not own or stock inventory; instead, they purchase the products from a third-party source and get them shipped directly to the buyer.
Benefits of Outsourcing Order Fulfillment to 3PLs
Outsourcing order fulfillment has many benefits. It can help merchants focus on the core of the business, marketing, and sales. This will also help entrepreneurs offer a better customer service experience while they scale their business.
To help business owners better understand the advantages of fulfillment services, here are five benefits of outsourcing order fulfillment:
Scalability
Focusing time on fulfillment-related tasks more than generating sales and building the customer community can prevent a business owner from scaling his business. Yes, fulfillment tasks are essential, but they will only eat up the time that would be better used on branding, product development, and other initiatives that only a business owner can lead.
Outsourcing order fulfillment helps free up an entrepreneur's time. Focus more on growing the core business and leaving inventory, packaging, and shipment of orders to 3PLs.
Speed
In-house fulfillment of orders will limit the location of shipment of orders. Not only that, but it will also be more expensive and would prompt for a longer transit time for customers who are farther away from the site location. Customers usually expect around two days for delivery or even same-day shipping. Using this type of method won't cut it.
Doing in-house fulfillment is time-intensive and costly. Outsourcing order fulfillment will open businesses to more opportunities. A partner 3PL will let business owners use their fulfillment centers in different regions. This means retailers will have more opportunities to take their business to another level.
3PL extends the reach of businesses and makes them grow into new markets. Having the smoothness and efficiency of a fulfillment warehouse, the shipping process reduces the cost of time and transit of items. It will surely meet the 2-day shipping expectations of the customers.
Accuracy
When business owners decide to outsource order fulfillment, they get the services and plenty of tools, distribution metrics, and inventory reporting, which are essential when making business decisions.
3PLs are more than just a cost center. They are also revenue generators as 3PLs help lower cart abandonment and increase conversions. With 3PLs, businesses can meet customers' expectations.

The recent fulfillment solutions enable entrepreneurs to seamlessly integrate and connect the entire supply chain to the sales channel. This allows the ability to:
Route orders to the closest fulfillment center

Offer fast delivery options

Provide real-time tracking for orders

Have built-in reports that could help make data-driven business decisions about lowering shipping cost while speeding up the transit times

Calculating the inventory to make estimates and send proactive alerts to reorder more products
Transparency
Outsourcing order fulfillment will help businesses keep the transparency of their inventory, security, payment, and shipping. As many fulfillment companies use the latest technology, it is easier to get reports and have real-time tracking of data needed in making business decisions.
The system is integrated into the eCommerce store, and the result is a streamlined order fulfillment process. It often includes inventory management, item tracking, shipping and handling, payment processing, and a lot more.
Customer Service
Having reliable customer service support is an integral part of running a business. In fact, a study done by Hubspot revealed that 93% of customers are likely to be recurring buyers after experiencing excellent customer service from a business. A lot of fulfillment providers offer 24/7 customer support through email or phone. They can take customer issues off the sales team's shoulders, making it easier for them to focus on getting sales.
Outsourcing order fulfillment has a lot of advantages. It helps keep track of the inventory, shipment, payment processing, and return processing while improving the customer experience. By having a 3PL, businesses have a chance to scale to larger markets.
---
If you decide that having a 3PL is the right choice for your business, make sure to look around for reviews and do your research. Having a reliable order fulfillment provider will significantly reflect on the reputation of your business.
ZhenHub offers the best fulfillment and warehousing solutions that would best fit your business. Sign up now and discover how our expertise can help your eCommerce business achieve its full potential.
Share Article