Main Differences Between DHL eCommerce and DHL Express (Updated 2020)
Time to read:
5
minutes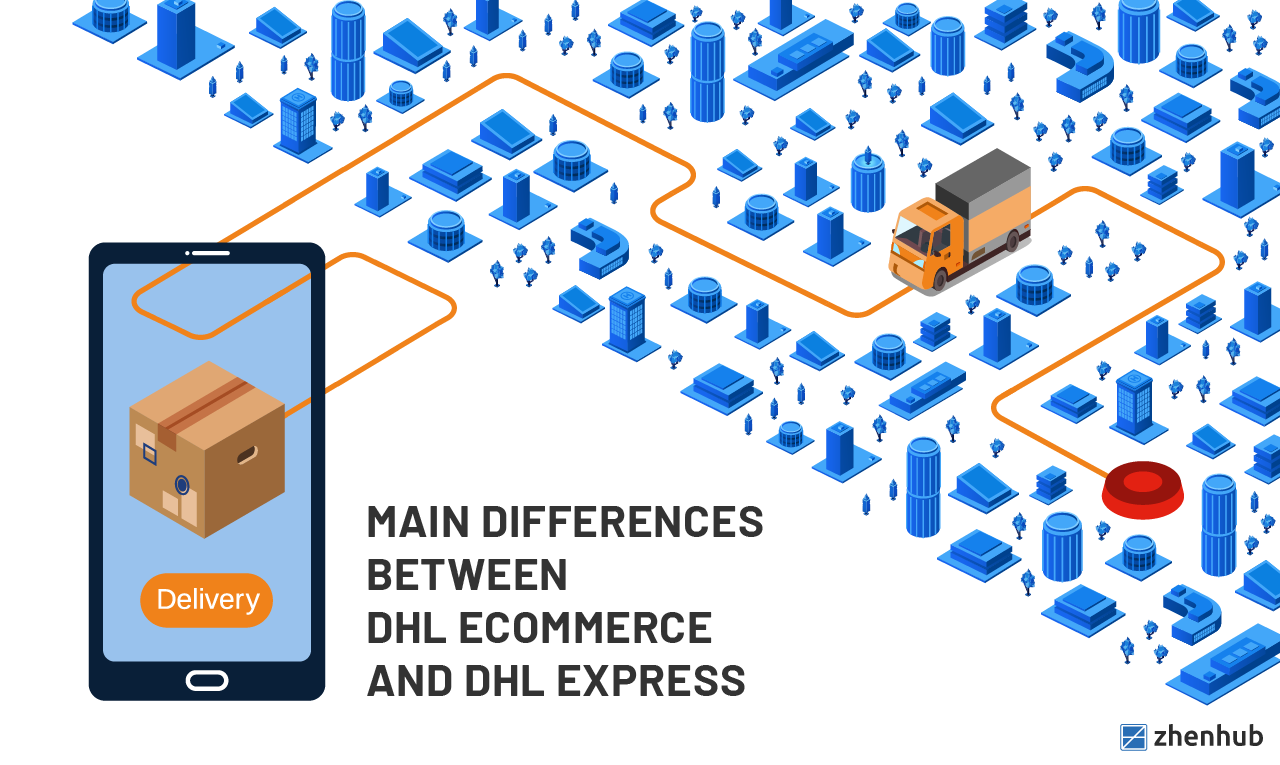 Reading time:  2 min 15 sec
This article was updated on Sept 2020.
The Difference Between
DHL eCommerce
and
DHL Express
DHL has been a household name in the world of logistics since its foundation back 1969. Decades later and the company remains to be one of the world's trusted couriers, delivering more than 1.3 billion parcels annually. And as the world rapidly became more digital, the rise of online businesses gave DHL even more opportunities to serve the eCommerce shipping market. 
But as an online shop owner, it can be easy to get overwhelmed by DHL's wide variety of services. To help you find the perfect fit for your business, here is a quick comparison between two of their most popular shipping services- DHL eCommerce and DHL Express.
What is DHL eCommerce?
To quote directly from their website, "DHL eCommerce provides international and domestic standard parcel delivery for business customers." 
Putting it simply, DHL eCommerce can handle both your domestic and international shipping requirements. With its flexibility and cheaper prices, online merchants usually prefer this when shipping lightweight materials especially those with products available for overseas purchase.
Domestic service levels
DHL eCommerce's domestic shipping services are in three categories, with differences mainly on delivery times.
DHL eCommerce's Expedited Max boasts of the fastest delivery, between 2 to 3 transit days. This is perfect for online merchants in search of quick, predictable, and cost-effective shipping options. Expedited Max also includes Shipment Value Protection of up to 100 USD.
The Expedited service level of DHL eCommerce, on the other hand, has an average transit of 2 to 5 days.
Lastly, DHL eCommerce's Ground service can provide delivery of parcels within an average of 3 to 8 days.
All domestic service levels of DHL eCommerce also feature full tracking visibility through their Customer Web Portal, no delivery area or residential surcharge, flexible pick-up times, electronic invoicing, and zip code validation. However, please note of DHL eCommerce's Weight and Size Limitations: 
Weight

1 to 16 ounce

Dimensions

Length: max. 27 inches

Width: max. 17 inches

Height: max. 17 inches

Mail Content Restrictions

Bills or statements (product invoice allowed)

Personal Information

Handwritten Material

Limited amount of Dangerous Goods must be identified and approved
Cross-Border Services 
In addition to their domestic shipping, DHL eCommerce also has a full-range of cross-border services, shipping internationally to over 220 countries worldwide.
Service levels are also categorized into three: 
Best for shipping lightweight products to all markets of the world. You can expect the arrival of the shipment to your destination country within 4 to 8 days. 
DHL Parcel International Standard
Ideal if affordability, shipment protection, and transparency of shipping is what you are after. This service can ship to more than 220 countries and territories within 4 to 14 days. 
DHL Parcel International Direct
This international shipping service offers direct injection to 38 key countries, making it perfect for cross-border eCommerce looking to have their shipments delivered within 3 to 10 days. 

To give you a better idea, here's a comparison table to see the difference between the three: 
 

DHL Packet International

DHL Parcel
International Standard

DHL Parcel
International Direct

Maximum Weight

4.4 pounds

44 pounds

66 pounds (Canada)

44 pounds

66 pounds (Canada)

Maximum Dimension

L+W+H ≤ 35.4"

Length + Girth ≤ 118"

Length + Girth ≤ 79"

Length + Girth  ≤ 118" (Canada)

End-to-End Tracking

Yes

Yes

Yes

Transit Days

4 to 8 days

4 to 8 days (Canada & Europe)

8 to 14 days Rest of the World 

3 to 10 days

Duty and Taxes Shouldered by

Receiver

Receiver

Shipper or Receiver

With Shipment Value Protection

No

Yes

Yes
As you can see, all of DHL eCommerce's Cross-Border services enable online merchants to track their shipments. You can also enjoy flexible pick-up times and electronic invoicing, similar to their domestic shipping services. 
What is DHL Express?
DHL Express, just like DHL eCommerce, also offers both domestic and international shipping. The main difference between the two is that shipping plans under DHL Express are more time-critical. If same-day delivery or time-specific shipments are what you guarantee to your customers as a business, then DHL Express is the service for you. DHL Express is also the better option if you do more international shipments than domestic ones. 
Same Day Emergency Pickup and Delivery
If the products you are planning to ship require immediate pick-up or door-to-door delivery within the fastest available time frame, you can check out DHL Express's Same-Day Services. 
For deliveries to any global destination, can be shipped on the next available flight out. You can also inquire about customized arrangements for emergency shipments. Enjoy convenience with end-to-end tracking, dedicated support desk, and shipment handling. Specific countries offer global coverage.
For same-day regional shipments, can be delivered door-to-door on the next available van or truck. Similar to Jetline, flexible arrangements are also available for emergency shipments and comes with a dedicated support desk and shipment handling by DHL. Specific countries offer regional coverage. 
Time-Definite Services
Not a fan of guessing games? Then DHL Express's Time-Definite Services is the right fit for your business. This type of express shipping features international door-to-door delivery within an expected timeframe. 
Package will arrive on or before 9:00am on the next possible business day.
Package will arrive on or before 10:30am on the next possible business day.
Package will arrive on or before 12:00 noon on the next possible business day. 
Package will arrive by the end of the next possible business day.
Documents with a maximum weight of up to 10 ounce or 0.6 pounds will arrive by the end of the next possible business day.
All services promises of money-back guarantee, delivery notification (upon request), standard booking procedure and customer support.
DHL eCommerce
versus
DHL Express
: Which one is right for you? 
When deciding whether to choose DHL eCommerce or DHL Express for your eCommerce companies, the decision is simple, you can use both, depending on your needs. Generally, U.S.-based online merchants who deliver primarily to customers in the United States are better off with DHL eCommerce while those who frequently ship cross-border to international destinations, should probably rely more on DHL Express.
Now that you have a better idea when it comes to the differences between DHL eCommerce and DHL Express, trying to decide the better option for you boils down to one simple question- what does your business need in a third-party delivery service? 
If you are an online merchant whose client base are from overseas, then you are better off with DHL Express's international-focused shipping services. But if you are an online business who cater to both local and cross-border market, then DHL eCommerce is the one for you. Either way, you will the confidence in knowing that you can always rely on DHL's experience and expertise when it comes to your shipping requirements. 
Still unsure? Feel free to reach out to our shipping experts here at ZhenHub! 

Share Article