8 Signs it's Time to Switch from In-House Fulfillment to Outsourced Fulfillment
Time to read:
4
minutes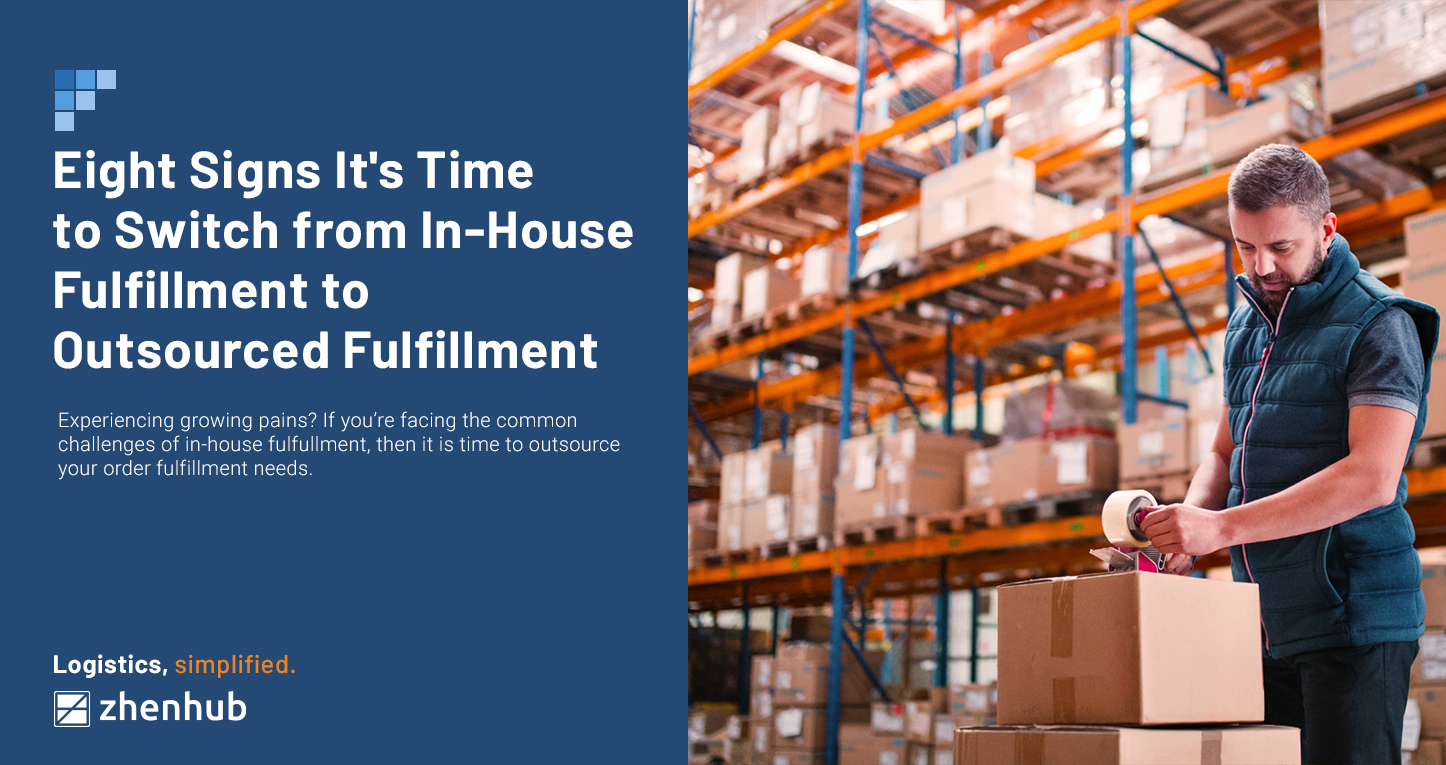 Every scaling eCommerce business will be at a crossroad, deciding whether to continue doing in-house fulfillment or outsourcing it to 3PLs.
Between keeping eCommerce shipping costs low and ensuring order deliveries' promptness, eCommerce order fulfillment involves plenty of moving parts. If something goes awry at one point, the entire process can be jeopardized. 
Developing an effective order fulfillment process is an essential factor that affects the success of online businesses. According to data, shipping costs and delivery delays are amongst the top reasons consumers opt out of a purchase. The same study reveals that 55% of potential buyers decide against purchasing because of hidden shipping costs, while 16% click out of an eCommerce website because they deem delivery too slow. 
When it comes to shipping orders and keeping an inventory, retailers have two options – in-house fulfillment and outsourced fulfillment. This article will discuss the pros and cons of each option and the signs that it is time to switch from in-house fulfillment to outsourced.
The Difference Between In-House Fulfillment and Outsourced Fulfillment
Especially at the onset, plenty of eCommerce operations struggle with their order fulfillment process. Most businesses underestimate the rigors of storing inventory, shipping orders, and handling returns. 
As the name suggests, in-house fulfillment tackles the order process within the company. This option gives the merchant total control over its inventory, shipping dates, and delivery logistics provider. Contrary to popular belief, running an in-house fulfillment team is not always the most cost-effective option. Choosing to do everything within the confines of the company requires overhead costs for storage, maintenance, and labor.
Consequently, companies who opt for outsourced fulfillment take advantage of third-party logistics companies, otherwise known as 3PLs, for their shipping needs. Most 3PL companies handle the entire fulfillment process from start to finish. 3PL companies often charge per unit delivered.
Signs It's Time to Switch from In-House Fulfillment to Outsourced Fulfillment
It is crucial for retailers who do self-order fulfillment to be honest about the sustainability of their process. There are obvious signs that an operation is ready to invest in a 3PL:
Shipment Delays
Late deliveries can severely impact customer retention. According to a study, 69% of consumers would opt out of buying from an eCommerce seller if they experience delays in their previous orders. This is a concerning statistic considering the expense of acquiring new customers. It is vital to create loyal customers out of one-time buyers because it is five times more expensive to gain a new patron than keeping an old one.
High Cart Abandonment Rates
Most eCommerce patrons expect their packages to arrive within two days of ordering. If a retailer's in-house fulfillment team cannot manage to prepare and ship orders within that time frame, they lose more than 10% of their market. If a seller is looking to lower shopping cart abandonment, outsourcing order fulfillment can help.
Poor Packaging
Aside from delivery time, poor packaging can have serious effects on a company's reputation. Packaging can experience damages at several points of the fulfillment process. At the onset, the quality of the packaging itself might be below par. Low-quality packaging can also be a result of rushed shipping to meet deadlines.
At present, consumers not only expect swift delivery times, but they also require their orders to arrive in tiptop shape. Consumers are likely to be deterred from making repeat orders following an unpleasant packaging experience.
Inadequate Storage Space
The cost of warehouses varies from location to location. In the United States, the average cost of warehouse rentals clocks in at $20 per square foot. 
As online businesses scale and grow, storage requirements grow with the demands of the consumers. For the most part, it may no longer make sense for a retailer to rent a warehouse for their in-house fulfillment team. It is a matter of weighing the cost-efficiency of keeping a warehouse and outsourcing order fulfillment. 
As cliche as it may sound, time is money. The more time retailers dedicate to manually managing their inventory, the more money they waste on resources. This is especially true for scaling eCommerce businesses. Manually managing inventory or any part of the order fulfillment process can become tedious and more prone to delays, errors, and poor service quality.
High Shipping Costs
In-house order fulfillment gives retailers control over the entire shipping process. However, this quite literally comes at a cost. Aside from storage expenses, choosing to process orders in-house means retailers fail to take advantage of discounted bulk shipping prices that 3PLs offer. On average, shipping companies offer anywhere from 15% to 35% discount for their 3PL partners.

Low Seller Ratings and Reviews
Aside from affecting customer retention, delivery delays, and poor packaging can also result in negative reviews from one-time consumers. These reviews can be damning for an eCommerce operation. Not only do entrepreneurs lose a customer, but these reviews also deter other potential clients from even trying the product. 
Ensuring that deliveries arrive on time and in good shape is a surefire way to avoid negative reviews. At the end of the day, these factors go hand in hand in determining the best fulfillment option.
Difficulty Expanding
As a business scale, the demand for products grows with the company. Most operations outgrow in-house fulfillment. Considering outsourcing options for order fulfillment is a good thing. It is a sign that the volume of orders is increasing, the company is growing, and the order fulfillment process needs to catch up with the demand.
How Outsourced Fulfillment Can Help
The benefits of outsourcing order fulfillment, most often than not, outweighs the cost of investment. Retailers who opt for the help of 3PLs can expect a level of professionalism and promptness for their orders. 
Nevertheless, not all 3PLs are created equal. While there are operations that leave a lot to be desired, a few have perfected the entire process. At any level of your business, ZhenHub can help you with your order fulfillment needs. Sign up now and discover how our tech-driven approach is an innovative way to manage your order fulfillment process. 
Share Article