Success Story: How Curae Lens Overcame Southeast Asia Shipping Challenges with ZhenHub
Time to read:
4
minutes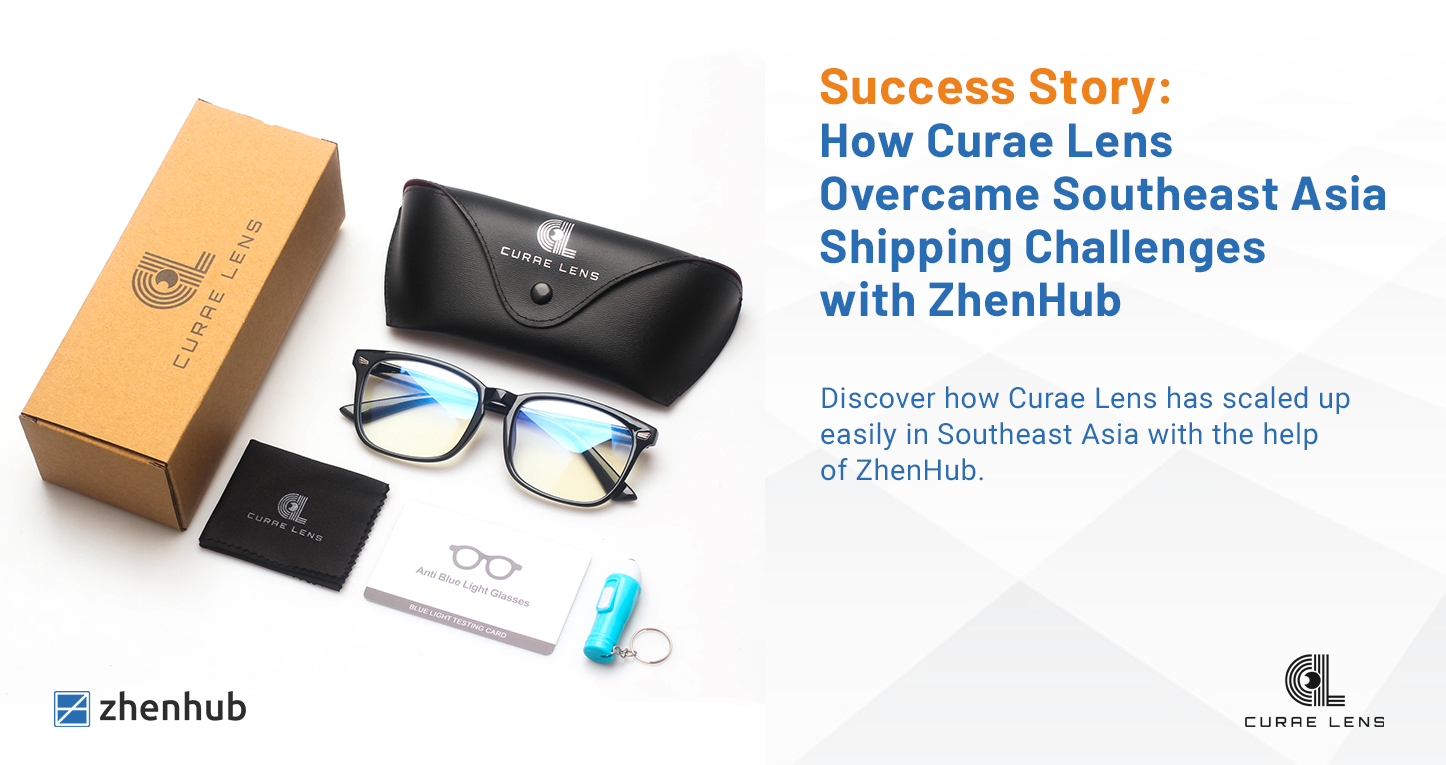 In today's competitive eCommerce landscape, it is no longer enough to have a right, marketable product. An excellent online consumer experience entails more than buying a product. More than the quality of the item, the order fulfillment process determines client satisfaction. Delivery times, be it worldwide or Southeast Asia shipping, can make or break an eCommerce platform. The faster the product gets to their door, the more likely the customer will order again. Likewise, a good returns program influences a customer's purchasing decision.
One of the most significant decisions an eCommerce store has to make is deciding between in-house or outsourced order fulfillment. Both carry a slew of advantages and disadvantages. Choosing the right option is determined by the business & operational requirements.
Nevertheless, there is no denying the extent of scaling through outsourcing order fulfillment. One such success story is Curae Lens. Find out how ZhenHub's technology-based solutions helped the start-up grow from offering one product to having a thirty-item selection.
In September of 2020, Brandon Knapp founded Curae Lens, a blue light blocking glasses eCommerce company. This start-up's main draw is its mission to integrate the blue-light blocking technology with fashionable glasses, making them wearable daily. At the onset, Knapp ordered 300 pairs of inventory from a supplier based in China to fulfill the initial orders. He packed and shipped the orders from his home.
Curae Lens' target demographic was females between 18 – 25 years old, so the start-up utilized TikTok to market their product. Following a successful partnership with a TikTok influencer, the first batch of 300 sold out within three days. Knapp didn't anticipate for the products to sell out quickly. At the time, he deemed his process and supplier to be reliable enough for a bigger second order:
"I didn't anticipate to sell out as fast as I did, so I immediately placed a new order with my supplier for 1,000 units. Keep in mind I allowed customers to place more orders just as long as they knew of our backorder, which customers surprisingly didn't mind waiting 2-4 weeks for their order to ship. My supplier, in general, has an amazing turnaround time. They finished a batch of 1,000 pairs of glasses within ~ten days. This was after a discussion with them emphasizing the urgency of customers waiting for items placed on backorder. Each pair of glasses also comes with multiple accessories with my logo printed. I was very impressed with the time it took."
The Problem
The problem for Curae Lens started after making the 1000 unit order. The overseas supplier shipped the order in ten manufacturing days. Once the supplier sent the items, Knapp and the rest of the Curae Lens team expected Southeast Asia shipping to come through within 2 to 3 days. They advised their customers that their orders should be at their doorsteps in 3 to 4 business days. Unfortunately, customs held the orders for over a week. Anything that can go wrong will go wrong: it's Murphy's Law rearing its ugly head. At this point, customers were confused as to when their packages will arrive. After all, Curae Lens gave an update a few days before.
Once the inventory arrived at the Curae Lens headquarters, Knapp packaged all the orders himself – all 250 parcels in one day. The founder didn't want his customers to wait any longer for an already back-ordered product. Despite prompt Southeast Asia shipping, it was a stressful 24 hours for the start-up founder.
The ZhenHub Solution
The whole ordeal was a breaking point for Curae Lens. Knapp knew that his start-up has grown beyond a one-person operation. Knapp was determined to find a fulfillment partner to accommodate his start-up needs handling the customs issues, reducing exorbitant Southeast Asia shipping fees, and packing the parcels.
After a quick google search, Knapp came across ZhenHub.
"Two very important things crossed my mind when considering ZhenHub – pricing and shipping times. The pricing was important to me when I first started my search for a fulfillment center because Curae Lens was still in its early stages, and I wanted to make sure I had the capital to keep the business expanding. Shipping times were also critical to me because the customer experience is important for Curae in general."
ZhenHub's tech-powered solutions allowed Curae Lens to store inventory in a vast network of warehousing options, making it easier for fast and easy Southeast Asia shipping capabilities. The start-up now uses the direct injection shipping line ZhenHub has with the United States, and customers now receive their packages within 5-7 business days.
Through ZhenHub's inventory management, warehousing, and shipping services, Curae Lens has grown significantly. Without the burden of dealing with import duties, delays, and hours of packing orders, the company now carries thirty different pairs of glasses.
Outsourcing Order Fulfillment: Key to Rapid Growth
For newly established eCommerce stores, it can be a challenge to relinquish control over every operation aspect. Most owners believe being on hand for every process ensures minimal mistakes and optimum productivity. However, one of the biggest lessons in running a successful online enterprise is learning how to delegate.
Choosing to outsource order fulfillment can ease the burden that start-ups take on as their businesses take off. For one, professional logistics companies can reduce a retailer's shipping costs. These companies often partner with various carriers that offer discounts even for Southeast Asia shipping. Aligning with a logistics company enables eCommerce companies to take full advantage of these discounts.
By choosing the right logistics company, entrepreneurs don't have to store, organize, pack, and ship products themselves. Moreover, it takes the guesswork out of dealing with customs clearance for various jurisdictions. Businesses who chose the right partners can focus on growing the business. They can broaden their market offerings, provide better customer service, and even discover new revenue channels.
"Zhenhub is for anyone out there looking to simplify the logistics of their business at an affordable price."
Sign up with ZhenHub today to learn more about what we have to offer.
Share Article