Achieving Maximum Efficiency with Automation in Logistics
Time to read:
5
minutes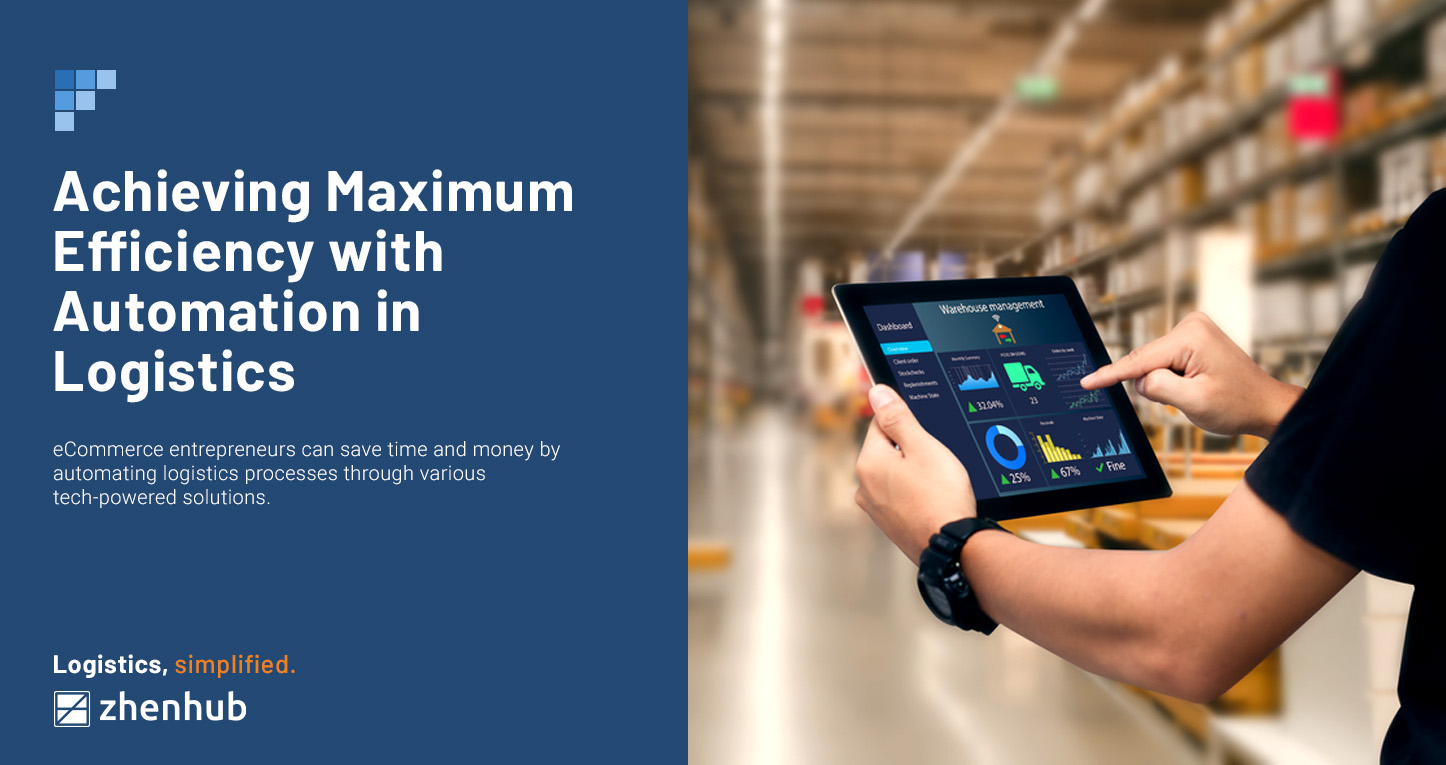 Businesses are always looking for innovative ways to improve their margins. Entrepreneurs need every advantage with rising shipping costs and the ever-present supply chain crisis.
Enter automation in logistics, which promises to streamline processes through digitization. Emergent technologies such as artificial intelligence (AI) and machine learning increase efficiency and stability throughout your supply chain.
Automation in logistics can refer to both machines and software. Drones, robotic arms, and automated storage and retrieval systems (AS/RS) are common machines that support logistics operations. You have eCommerce platforms, forecasting models, and digital CRM solutions for software.
The shift to automation is getting more prevalent as many modern logistics setups are now automating their operations. The Global Logistics Automation Market has the highest compound annual growth rate (CAGR) of any supply chain market, at a predicted 12.4%. As of 2020, the Global Logistics Automation Market size was $50.9 billion. But with its CAGR at 12.4%, it may grow to $82.3 billion by 2026.
The popularity of eCommerce has seen massive growth, impacting supply and demand. Your business should be able to rise to the challenge of meeting customer expectations through excellent service. Automated solutions don't need to be intimidating and complex. We'll tell how automation can help your business and learn some best practices to get you started.
The Advantages of Automation in Logistics
The logistics sector is embracing automation at every turn. It helps fast track order booking and package handling in warehouses. There are automated modes that enable transit and shipment, tracking materials as they move through the supply chain to deliver them on time. Operations are getting more efficient with this technology helping out.
Manual data entry is prone to errors that can cause significant losses to your revenue stream. In a survey by global analyst firm IDC, human error costs firms in the United States and the United Kingdom an average of $435 per employee every year, or $18 billion per country.
With the recent shortage of skilled workers employed in warehouses and the growing demand for streamlined delivery, automation provides consistency in your supply chain.
New and innovative technological advancements make it possible for you to accelerate business growth through these relevant benefits:
1. Accurate Data
Managing hundreds of orders and their corresponding stock at the warehouse is a task that demands accurate data gathering. Analyzing this data will also provide advantages for your business regarding forecasting. Logistical automation can give helpful data summaries, offering a complete view of possible opportunities and guidance on improving processes.  
Making better business decisions is easy if you have easy access to valuable data automatically gathered in real-time by digital solutions.
2. Faster Processes
Redundant and time-consuming tasks can be delegated to technological solutions, freeing up the workforce to focus on other important tasks. Automating also helps grow operations quickly, providing valuable data and almost instant coordination between departments.
Order processing, waybill printing, and payment verification get done through automation. Orders finish quickly and in greater volume thanks to the simplified process powered by automation.
3. Reduced Errors 
There will always be the human element in logistics, buy automation can make your staff's jobs much more manageable. The most proficient employee is still bound to make a mistake or two, so investing in reliable software can drastically reduce the chances of errors. 
Automation in logistics avoids several issues with manual data entry, such as accidental duplication, inaccurate customer information, or picking the wrong item for an order. Moreover, mistakes can get identified immediately, decreasing the time needed to investigate and pinpoint specific errors. 
4. Comprehensive Control
Automation in logistics offers greater visibility over your supply chain. All information is recorded and shared in real-time. It allows you and your partners to access the necessary data to facilitate communication and collaboration. Tracked inventory can be used both by your warehouse and fulfillment partner, reducing delivery times.
A greater overview of your operations makes it easy to identify and resolve potential bottlenecks. Automation software can be customized according to your business's processes and policies, ensuring that internal and external staff have consistent access to essential data.
5. Superior Customer Service 
A streamlined supply chain powered by automation also delivers a smooth customer shopping experience. Order processing gets done faster, allowing same-day deliveries. Accurate product picking ensures that the correct items get shipped out to buyers. 
As processes get done faster, and for less, your online business becomes leaner and more efficient. Companies can also automate customer service through chatbots through self-help. Moreover, customers can engage with support at their own pace without downtime. Thanks to real-time location and status updates, your customers will also enjoy full transparency with their orders.
Some of the technologies transforming logistics worldwide are readily available to businesses of all sizes.
The Internet-of-Things (IoT) connects devices, tools, and databases under one network, enabling the smooth transfer of data. IoT has become more affordable as of late and allows even more users to become connected under your logistics network.
Drones don't see much use yet but could be the future of delivery, bypassing congested roadways by taking to the skies. It could become the preferred vehicle for fulfillment for customers that live close to distribution centers.
Robotic arms are at the forefront of automation for offloading centers and warehouses. This technology uses hydraulic lifts to move heavy loads efficiently and quickly. The mobile robots market was estimated at $2.5 billion in 2020 and could grow to approximately ten (10) times the current market by 2030.
Artificial Intelligence (AI), machine learning, and algorithms use the data provided by software solutions and apply them in different ways. From demand forecasting to efficient shipping routes, automation offers cost-effective solutions to problems caused by the supply chain crisis.
Implementing Automation in Logistics To Your Processes
Businesses looking to achieve great efficiency with their processes should consider automation. Technology can significantly boost warehouse productivity and efficiency without the need for an employee crunch.
Here are some key processes and tasks that benefit from automation:
1. Administrative and Back-Office Tasks
Employ tools that automatically handle financial, accounting, and purchase order tasks. Processing invoices and maintaining financial records can be very time-consuming, not to mention tedious. Automation also helps with data-gathering, skipping the arduous task of number-crunching manually.
With easy access to analytics, planning, procurement, and forecasting are easier. Machine learning and AI can also offer suggestions based on your business' data sets.
Digitalization gives decision-makers greater control over their operations by making every action traceable. Predictive analytics takes multiple data sources such as historical sales, price trends, inventory levels, and seasonal demand data and aggregates them into reports with actionable items.
2. Warehouse Operations
The warehouse is where automation gets implemented in logistics. eCommerce platforms can handle order processing, automatically receiving and confirming them when customers purchase items online.
This order gets immediately sent to the nearest fulfillment center to the buyer. Machines can assist human workers in the picking process. For example, barcode scanners log data instantaneously, updating digital inventory trackers. Automation promotes greater efficiency by cutting down on time needed to move stock inside a warehouse for shipping.
3. Inventory Management
Avoid duplicate SKUs or missing out on the crucial timing for a restock. Automated logistics keeps an accurate record of all the products you hold in real-time,constantly updating with every new sale or shipment. This transparency lets customers know if their desired item is available for purchase.
You can also set a notification to stock up on an item once it hits a certain threshold in your warehouse. That way, your supply will always be ready to handle any demand that will come in. Human oversight will never get entirely replaced when it comes to managing a business's inventory, but automation can make the job a whole lot simpler.
4. Product Transportation
Get goods to customers faster with optimized routes that an AI calculates. based on distance. Transit times and lower shipping costs can be determined by selecting the nearest fulfillment center to a center buyer.
Real-time transit tracking supports supply chain visibility, informing you which of your items are in transit while considering possible delays. You can plan the movement of your goods so that lead times get reduced at the lowest possible cost.
More businesses should consider automation in logistics to be a part of their modern logistics ecosystem. After all, 79% of high-performing supply chain companies achieve revenue growth superior to the average within their industries. Automation services such as software and robots are more accessible than ever, and with growing customer demands, it could be the competitive edge your business needs.
ZhenHub offers scalable software solutions such as inventory management and eCommerce fulfillment in a single, easy-to-use platform. Get started with automation in logistics by signing up at our website.
Share Article