4 Ways to Optimize Your Warehouse Receiving Process
Time to read:
5
minutes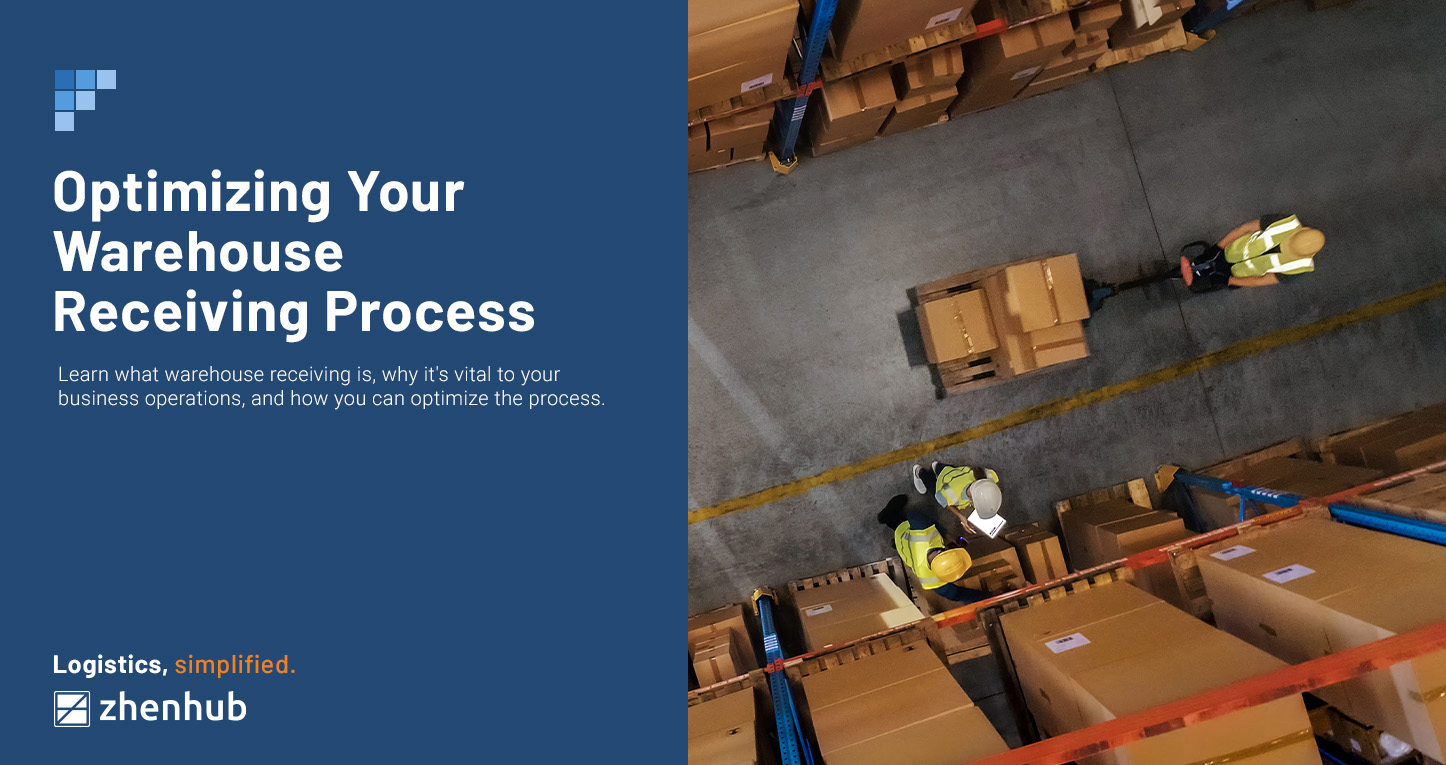 Warehouse receiving is almost always the first step in the eCommerce fulfillment process. Therefore it must go smoothly and accurately. This process includes delivering, unloading, and putting items away in the warehouse or fulfillment facility.  Since receiving is a crucial component of the entire retail supply chain, it must be as effective and economical as possible.
The receiving procedure is crucial when discussing how to run an effective warehouse operation. The goal is to obtain the correct products at the right time, in the proper amounts, and in excellent condition with the right weight and measurements.
Your warehouse will go through what is referred to as a conventional receiving process when shipments arrive to refill stocked inventory. Your inventory staff should follow a predetermined process to ensure that all documents and shipments are received and in the correct sequence. The protocol is there, so that process problems are resolved promptly and in a structured manner.
But as your company grows and you increase inventory, this process gets more complicated. Naturally, ensuring you're shipping more of your goods on time will follow.
Stock control problems and higher operating costs can result from a subpar warehouse receiving process.
Due to its importance, it negatively affects all operations if it isn't operating at peak efficiency. Dock delays, processing of mislabeled products, or running costs for idle transportation are all undesirable effects of inefficient receiving.
The Four Steps Involved with Warehouse Receiving
Receiving items at your warehouse involves several crucial procedures. Companies must follow these steps precisely to guarantee that the correct goods are delivered and stored correctly.. It is not enough to just buy inventory and send it to your warehouse. An outline of a typical warehouse reception procedure is provided below.
1. Pre-receiving
Finish pre-receiving responsibilities before shipping inventory to a warehouse so that it can be properly ordered and delivered.
In this phase, the company owner determines how many containers will hold, how much of each item, and the packaging specifications for each item (e.g., labeling criteria, the number of packages loaded per pallet, and acceptable package sizes and weights).
If you partnered with a third-party logistics firm (3PL), review any pre-receiving requirements they may have. Most of them have procedures for ending inventory in their warehouse(s). You must follow before you transfer your goods.
A Warehouse Receiving Order (WRO) label is made with key package information. Every shipment has a barcode with these characteristics stored in it. With it, it's simpler to scan and check the products received using warehouse management software.
2. Receiving and Unloading Stocks
The receiving party unloads the cargo once the inbound shipment gets to the warehouse. Complete knowledge of the inventory in advance can help streamline the receiving procedure. Warehouse managers can properly allocate workers and large equipment like pallet jacks and forklifts based on the size and volume of the incoming shipment.
Truck beds should ideally be packed back-to-front in the opposite order of the delivery timetable. Doing this allows warehouse staff to quickly unload their cargo without moving any other containers out of the way.
3. Inventory Inspection
Your warehouse personnel verifies each delivery's contents, including amount, seal quality, product codes and SKUs, and general condition. It ensures the boxes contain what's on the WRO and when it will arrive.
This step is necessary to stop any defective items from reaching your customers. The inspection process is also essential for identifying trends and reducing and preventing future errors.
4. Storage and Filing of Inventory
Your warehouse manager or receiving staff will acknowledge that all the cargo has been thoroughly inspected and unloaded. The products get inventory numbers before it's categorized according to size, type, expiration date, and other factors. They are subsequently delivered to the warehouse for storage. Afterward, your internal tracking system updates with information about the inventory received, any damaged goods, and storage locations. The putaway procedure is typically inefficient in warehouses that have not yet gone digital. Warehouse staff usually take an inefficient route to find the storage shelves.
Best Practices to Upgrade Your Warehouse Receiving Process
Warehouse receiving aims to efficiently and properly unload, check, and store inventory, accounting for all the items as well.
Without protocols or a checklist for unloading and receiving, warehouses or enterprises risk having inaccurate records or lost goods. This can negatively affect your inventory counts.
Business owners should give their warehouse workers tools that clearly describe a streamlined, step-by-step task list. This serves as a clear guide to follow upon receiving, as well as an arranged list of questions to ask and details to check. Having proper documentation helps prevent dealing with inaccurate inventory monitoring.
1. Use Inventory Management Software/Systems
Receiving products involves many steps that might be tedious and time-consuming to complete. Manually tracking and documenting inventory movement, labor & equipment availability, and encoding product information could make it error-prone.
Modern warehouse software solutions can minimize these slow procedures, avoid errors and even automate some processes. A flexible warehouse system can aid in more effectively planning the inbound inventory movement. Thus it prevents overflow and surplus inventory. It can also foresee potential stock-out scenarios and automatically request replenishment orders.
By implementing inventory management systems, you gain access to real-time inventory counts and more precise data for inventory accounting.
Once your existing inventory moves into a digital system, you can examine real-time stock levels. You can also watch your inventory figures update immediately following the warehouse receiving procedure.
2. Track Relevant Metrics
A robust warehouse receiving process makes tracking inventory and logistics expenses easier. It's advantageous if you store goods across several warehouses or fulfillment centers. Collecting data at each stage of the receiving process is not enough.You should examine the data for trends and patterns to find the core causes of problems and inefficiencies.
Business owners may turn their data into a competitive advantage by tracking these KPIs and converting them into substantive change.
3. Have a Clear Labeling System
Accurate labeling comes before efficient receiving. Ensure that your suppliers properly label all cargo before they are delivered to your warehouse. Confirm that both humans and digital tools can properly read the labels. You must ensure that your warehouse is equipped with the appropriate data scanners at the critical reception points.
Through cutting-edge technologies and a well-defined labeling structure, warehouse staff can quickly update stock information in the system as soon as they unload. Emergent tech such as barcoding, RFID tagging, and automated pallet management systems, can optimize labeling.
Accurate inventory information gives you more control and insights into the supplier's lead times, dependability, and quality performance..
4. Inspect and Double Check
An effective receiving process depends on implementing an inspection procedure that can account for both arriving and outgoing products. Any problems with suppliers, carriers, and other handlers can be found during this check and reported.
Be sure to have all the necessary equipment and personnel ready to check for inventory data errors or any other possible problems during inspection. Carrying out a proper inspection of received items requires an investment in time and manpower. Having the right tools and trained staff during inspection helps to avoid costly errors while working efficiently.
Your routine operations may already include warehouse audits. However, you'll need to step up your audits and carry them out more frequently if you want to optimize your processes and procedures.
There is a constant need to evaluate and examine your entire workforce, operations, inventory, equipment, systems and warehouse layout.
Evaluations take time, but it provides you a chance to evaluate what's working and what isn't so you can manage your warehouse receiving procedures more effectively. Understanding performance metrics and their effects on your business can help justify new strategies that increase the effectiveness of your fulfillment center.
Warehouse receiving is a critical step in eCommerce fulfillment.. It helps complex order fulfillment processes to run smoothly, efficiently, and error-free.
Automating and digitizing the receiving process is essential to keep up with the shifting business dynamics. More income and faster business growth will result from this. With the holiday shopping season just around the corner, you'll need every competitive advantage.
The rest of your supply chain will operate much more efficiently and error-free once the receiving procedure is effective and optimized. Every stage of the fulfillment process will suffer if defective goods, inaccurate counts, and other mistakes occur.
Optimizing the receiving process is vital to maintain a great brand reputation for delivering excellent results.
With ZhenHub, you can speed up your warehouse receiving processes with our logistics software solutions. With trackable shipping services and real-time insights on our digital platform, see your warehouse operations performance improve. Get started by signing up at our website.
Share Article