Free or Fast Shipping – What Do Customers Value More?
Time to read:
5
minutes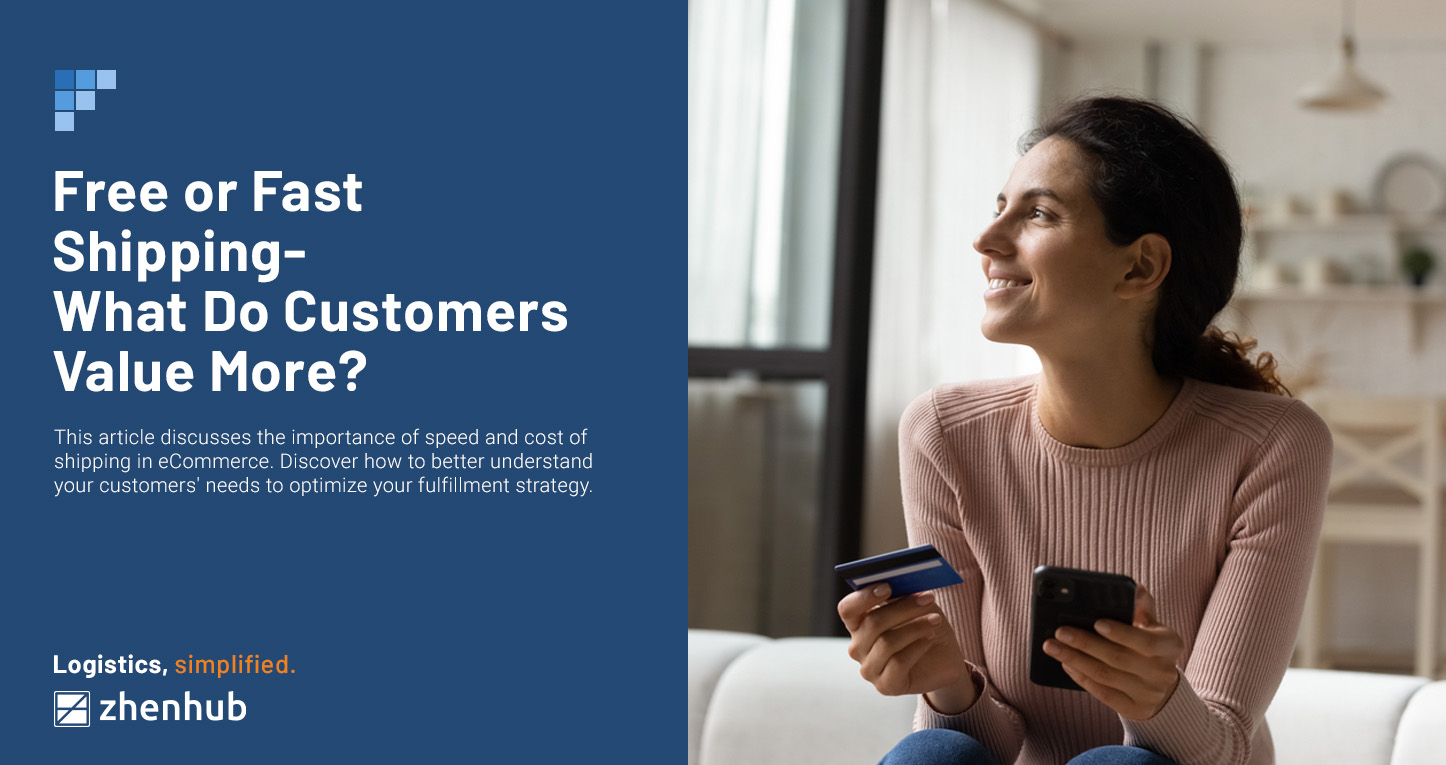 It's no secret that online shoppers love free shipping. Seventy-three percent (73%) of consumers are likely to purchase items online because of free and fast shipping. It can be a difference maker in gaining more customers. Today, offering better delivery options is becoming a major selling point among online sellers.
For many customers, the waiting game is one aspect they dislike about online shopping. Unlike retail shopping, gratification is delayed while waiting for their packages to arrive. Supply chain issues can also affect waiting periods, causing extended delays.
Online businesses are becoming savvier about providing exceptional customer experiences through eCommerce. With strategies such as seamless item checkout and cloud-based inventory management, merchants can keep up with ever-growing demand.
Because of the growth of eCommerce, online retailers and shops offer expedited delivery options to capture customers' attention. Twenty-eight percent (28%) of customers will avoid purchasing if they don't get free shipping. To improve conversion rates and avoid cart abandonments, having free shipping fees at the checkout page is the way to go. Regarding speed, then two to three days lead time is the expected delivery time for most online purchases. Forty-two percent (42%) of online shoppers expect this timeline for their orders to arrive.
Providing free and fast shipping is crucial for online retailers competing for customers. Although the current surge in internet shopping has many benefits, poor delivery practices can have significant repercussions.
Understanding what your customers want is a great way to build a solid plan for your delivery options.
Why Free and Fast Shipping Matters
Convenient shopping is a priority for many shoppers, especially for the younger market. Forty-three percent (43%) of consumers prioritize fast and reliable delivery for any purchase.
Free delivery is now considered the norm and is no longer a unique competitive advantage among online shops. It's no longer about who can offer it; it's more about who can offer it more consistently. More than anything, people want their orders to arrive as soon as possible. Free and fast shipping are expectations and non-negotiables for potential buyers.
Customers have also shown a willingness to spend more on a single transaction if it means getting upgraded to free shipping. Of course, this is good news for a seller as this is stock sold in bulk and more savings with shipping.
Major marketplaces like Amazon are hard to beat because of their comprehensive expedited delivery and free shipping offerings. People are shopping online more than ever, with global eCommerce sales projected to hit $6.5 trillion by 2023.
Providing excellent shipping options can reward your business with brand recognition and loyalty. Shopify reports that some consumers are willing to spend more and accept slower times if it's for the right brand. Repeat customers mean a lot for any business, as they will spend 67% more than new customers.
Depending on which online marketplaces you're on, having a selection of shipping options can be a critical part of your eCommerce strategy. Average order values (AOV) can go up, along with cart size, if consumers see that their purchases are rationalized with faster and free shipping.
Deciding Between Free or Fast Shipping
eCommerce growth exploded during the COVID-19 pandemic. The rapid change in fulfillment requirements and delivery, including the startling rise in consumer demand, caught the global supply chain off guard. But consumers understood and lowered their expectations for shipment speed or cost, as supply chain problems made front page news frequently.
But that hasn't changed their preferences, with 33% of consumers expecting fast shipping with 40% of shoppers prioritizing free shipping.
It's clear what customers want; you should consider your audience's shopping behavior. Though it might seem contradictory, online shoppers do look for both when it comes to online purchases. Being unable to offer at least or both can mean lost business opportunities. Google will also prioritize listings with more shipping options, putting them in front of the search results.
Businesses are now prepared to compete with fast shipping claims because of the exponential expansion in the fulfillment sector. What's great about it is that it specifically focuses on supporting small to mid-sized merchants. 
One benefit of the growing on-demand storage model is that it enables small- to medium-sized retailers to pool their inventory with other retailers. It can lead to reduced labor and warehouse expenses. Distributing their goods among key warehouse sites will allow enterprises to offer economical 1- to 2-day ground shipment to clients in their respective markets.
Some orders are more time-sensitive than others is one of the greatest issues with the free vs. fast shipping debate. Customers might be content to wait a week or longer for a costly item like furniture, but not for gifts over the Christmas season.
Because of this, businesses providing delivery options that work for everyone won't likely be advantageous for a company. While some consumers may appreciate the free economy delivery, others may become irate if fast shipping isn't available. As the saying goes, you can't please everybody.
Even if some of your consumers prefer free shipping, others will choose speed, even if it means paying more. Furthermore, store-based pick-up options strongly indicate that customers value choice and flexibility. It simply makes sense that customers would want delivery alternatives to match when shopping online for various needs.
Focusing on this trade-off between price and speed can also distract you from the other delivery aspects that affect consumer satisfaction. Consumers are less likely to shop with a brand again if they receive little to no communication from it after making a purchase. It could happen even if shipping were quick and inexpensive.
Implementing Free or Fast Shipping
Shipping is never really provided for "free ." You will need to pay out of your profits to cover this cost. Alternatively, you might also need to raise the prices of your products in order to make up for the added costs. But if done properly, bearing this expense might result in significant gains.
You don't have to provide free delivery all year round; it only depends on your company and existing profit margin. Instead, you could employ it as a strategy to promote certain goods and eliminate surplus stock. Or raise average order value (AOV) during sales events.
An excellent strategy to reduce losses on smaller purchases is providing free delivery on all orders with minimum spending. Verify if your earnings from the order are sufficient to support it.
The key to this strategy is ensuring that your minimum purchase threshold is just a bit higher than your usual order. For instance, if your average transaction is $25, offer free shipping with purchases of $30 and more. That will motivate the typical client to check out with items to qualify for free delivery. The minimum purchase technique should increase AOV in addition to conversions.
Despite being more expensive, fast shipping choices give your consumer more options. It'll also give you more control over costs. For instance, a retailer may provide free standard delivery but let consumers pay more for quicker or expedited shipments.
By doing this, they not only pay (or almost cover) the shipping cost but also gives them some control and transparency. It could foster loyalty as well. The most basic choice—aside from simply swallowing the cost of delivery—is to provide shipping options and include the cost in the selling price.
Implement sustainable strategies for reducing supply chain and logistics expenses. This is a practical way of effectively reducing the costs associated with providing free and fast shipping and delivery. The expenses associated with moving goods from one end of the supply chain to the other are often associated with procurement, storage, labor, packaging, and transportation. Still, each organization is likely to define these costs differently.
These expenses may also include the price of logistics software, warehouse equipment, automated shipping, and fleet maintenance. In most situations, these expenses are often paid to suppliers in the logistics business (freight carriers, fulfillment centers, warehouse space and more). Additional measures to increase client happiness include giving several shipping alternatives, enhancing delivery times, and providing tracking information.
Approach the discussion between free or fast shipping holistically. Evaluate your entire fulfillment model and logistics operations to see which of the two you can accommodate better. Also, keep your customer's preferences and shopping behavior in mind. 
ZhenHub offers advanced logistics solutions that bring your business closer to providing reliable, fast, and free shipping to your customers. Our distribution network of global shipping partners helps reduce costs while reaching a wider range of potential customers. Sign up for at our website and access our easy-to-use online platform.
Share Article