Advanced Shipping Notice: Explained
Time to read:
5
minutes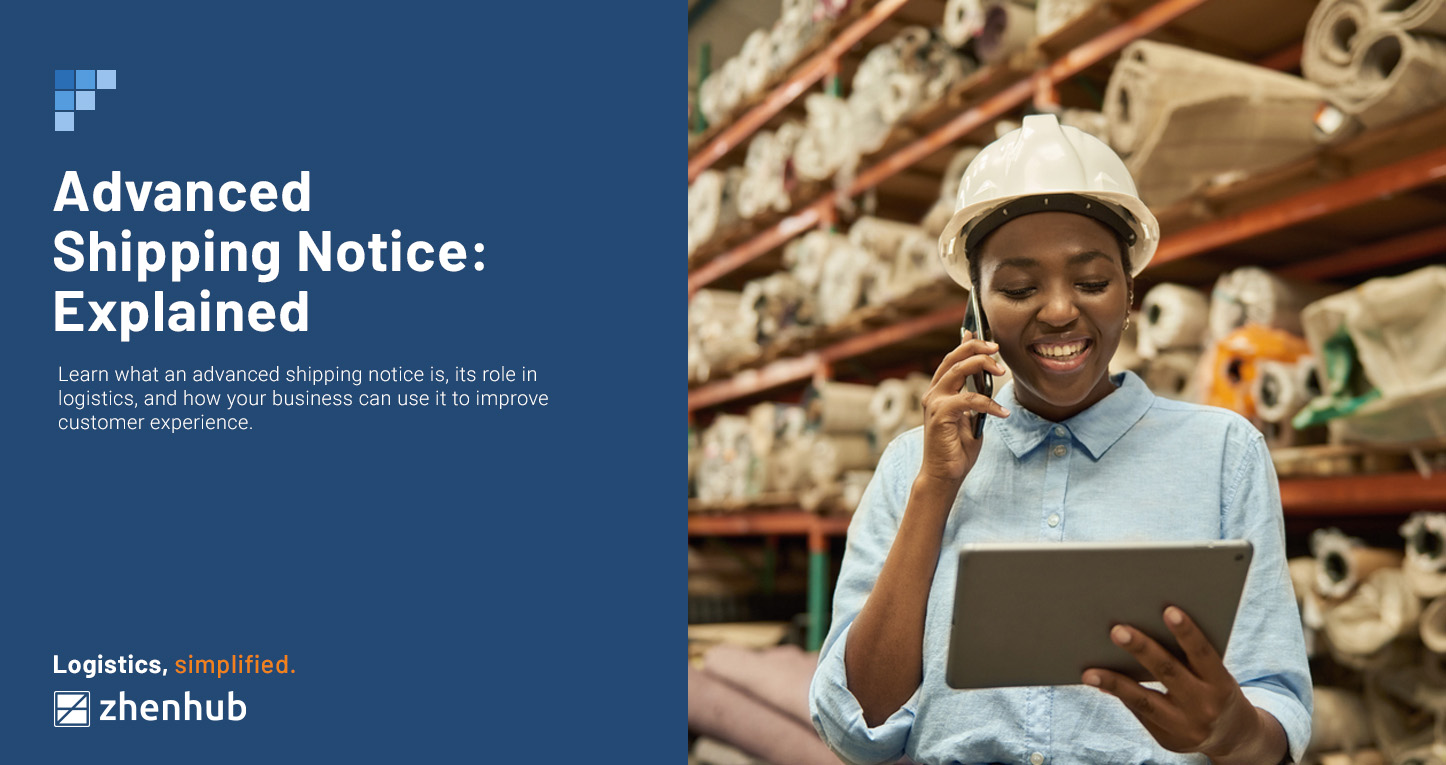 Getting products delivered to customers on time and in great condition is a priority for any online business. Advanced shipping notice (ASN) can help improve communication with carriers and customer experience. Discover everything there is to know about it in the article below.
Retailers and distributors alike must have accurate and up-to-date information on their order's delivery status. You need visibility on these orders to maintain accountability or enhance transparency.
In a global market beset by numerous challenges and disruptions, your business needs to be resilient to meet customer demands. For many shoppers, reliable delivery is a prime consideration when shopping online. PWC reports that nearly 41% of buyers will look for fast and dependable delivery when buying products. This is on top of other value-added options such as same-day delivery and in-store pickup.
Businesses must manage customer expectations. They must keep customers and clients updated about their packages at any time, whether it's coming off a boat or moving through a warehouse.
And if you're managing thousands and millions of orders and documents at once, you'll need electronic data interchange (EDI) services. But perhaps the essential document to ensure visibility is an advanced shipping notice or ASN.
What is Advanced Shipping Notice and How Does it Work
An Advanced Shipping Notice is a document vendors send to a retailer or buyer to inform them that a particular order shipped out. It'll also tell them if it's in transit and on its way to the customer.
This notice or notification helps keep records in order. ASN is a vital part of any efficient supply chain. It is very similar to a dispatch notice, using the same principles.
ASNs are also known as advanced shipping notifications and EDI 856. These documents contain all the important information about an order. You should identify fragile and perishable items correctly to accommodate specific storage solutions. Ordinary customers don't usually encounter an ASN when they order online. Shipment notifications are most commonly sent through emails. However, these are typically simple messages automatically sent when an order is processed.
Warehouse management systems (WMS) can include details such as when (date and time) an item was shipping out and where it is heading. More specific information is encoded to determine an item's exact nature. Quantity and weight are crucial for double-checking fulfillment shipping stop to ensure that all items are present and accounted for. Considering the sheer number of orders that retailers process, it's vital that all of this data gets read easily and accessible.
An Advanced Shipping Notice, like the name, must arrive ahead of the delivery. It'll help provide a timeline of when the receiving party can expect the order to arrive.
Trading partners will always need to be up to date where orders are at key points in the supply chain. Transparency is crucial in the case of items gone missing in transit. Some ASNs will also indicate the specific courier transporting the item.
The format and contents of an Advanced Shipping Notice will largely depend on the firm sending them out. Among the most popular formats are PDFs and XML files. A PDF can retain the original formatting making it easier to read, while XMLs are best for integrating into a database.
There isn't an established set of information included in an Advanced Shipping Notice. Typically, these are the following details you can expect to find in any notice:
Which order has been shipped (including the order reference number)
The date of dispatch
Estimated time of arrival
The items included in the order and the exact quantity of each
The courier used to transport the shipment, and its tracking number
These documents are essential to updating supply chain management systems and dealing with delays or discrepancies.
The Importance of Advanced Shipping Notice for Businesses
The impact of ASN logistics documents is undeniable. They provide several significant benefits, including easy visibility into the progress of an order and quick receipt. Barcode scanning tracks all items, from warehouse inventory to their destination store allocation process.
The ASN provides multiple checkpoints during the process to help find and eliminate human error. And it's easy for things like inventory mistakes to slip through the cracks. This problem can cost you money and affect your bottom line.
Increased Order Visibility
The ASN provides the best of both worlds by providing estimated delivery dates for shipments. Companies and consumers alike will have more time to plan. Individuals can instantly access their order's status at any given moment. All relevant information is laid out, making it incredibly easy to access by anyone.
ASN can be used for various purposes when items arrive at your facility. It will facilitate scanning barcodes making inventory management simpler and easier. If you're shipping products from one store to another or even overseas, this document keeps track of all stops.
There's no need to worry during drop shipping transactions as well. Businesses can gather all critical shipping data from the customers, facilitating funds transfer.
Inventory Cost Savings
If deliveries can be accurately tracked in real-time, then retailers and distributors can manage their inventory better. You can keep items in stock to a working minimum. It'll also help avoid overstocking and added costs to storage.
On-shelf availability is optimized and increases a business's budget for obtaining new stock.
Improved eCommerce Communication
For the most part, the advanced shipping notice is helpful to retail and distributor clients that use eCommerce order management, especially drop shipping. The information about packages shipped with an ASN allows retailers easy access to their current delivery status. You can see this information before these items arrive at store locations or the homes where they will be delivered.
With an ASN, you'll be able to share relevant information about your order status without the need for intermediaries. Customers get to communicate directly with the brand. You can also handle escalations and complaints faster, and the ASN also serves as a guide for settling disputes.
Builds Customer Trust
The best way to ensure a successful delivery is by notification. This notice ensures no surprises on either side of the transaction and allows for sufficient planning. Customers don't have to miss the long-awaited arrival of an item at home or office. It also gives customers extra time to plan their schedules and arrangements. Untimely deliveries or time wasted waiting for nothing can be avoided entirely with transparent and consistent updates.

Using Advanced Shipping Notice to Your Advantage
In an environment where accuracy and efficiency are essential, ASN-based shipping is a game-changer. Businesses can enjoy fast shipment loading with no mistakes or confusion about deliveries. It's all thanks to a more accurate sorting process. Potential problems such as human errors are mitigated. Identifying discrepancies is much faster when done online and digitally compared to paper logs. With time never wasted, customers are confident their package will show up on schedule. Sellers can claim insurance faster should anything go missing upon delivery.
You can also customize the information you put on your ASN specific to the needs of each industry and customer. You could request suppliers to include specific data when they send out invoices, then do something similar for customers themselves. Having the ability to edit and customize what's stored in files or how it's transmitted between systems meets various partner demands at any given time.
The accuracy of drop-shipping information has never been more scrutinized than it is now. With online shopping continuing to grow, providing complete and correct ASN data for shipments delivered directly to customers is crucial. This accurate tracking goes a long way toward healthy business growth.
The use of ASNs for automated order management can provide an additional level of confidence when it comes to both retailers and consumers alike. Retailers need this document as they often have limited time for their orders to complete. Shoppers also rely on quick delivery options so it won't disrupt their lives. The gap between purchasing and receiving them at home is a big deal for customer satisfaction- especially during busy seasons like Christmas shopping.
It's easier than it used to be for retailers and consumers, thanks mainly to applying advance shipment notices. These simple documents keep track of shipments as they happen. Vendors can make sure people get what they want when needed without hassle or confusion.
ZhenHub offers logistics software solutions which include ASN processing. With a focus on accelerating growth with advanced, driven, end-to-end eCommerce fulfillment, your business can overcome many logistics challenges. Experience simplified shipping, sign up to ZhenHub today.
Share Article