Preparing for Holiday Shipping and Shopping Season 2022
Time to read:
5
minutes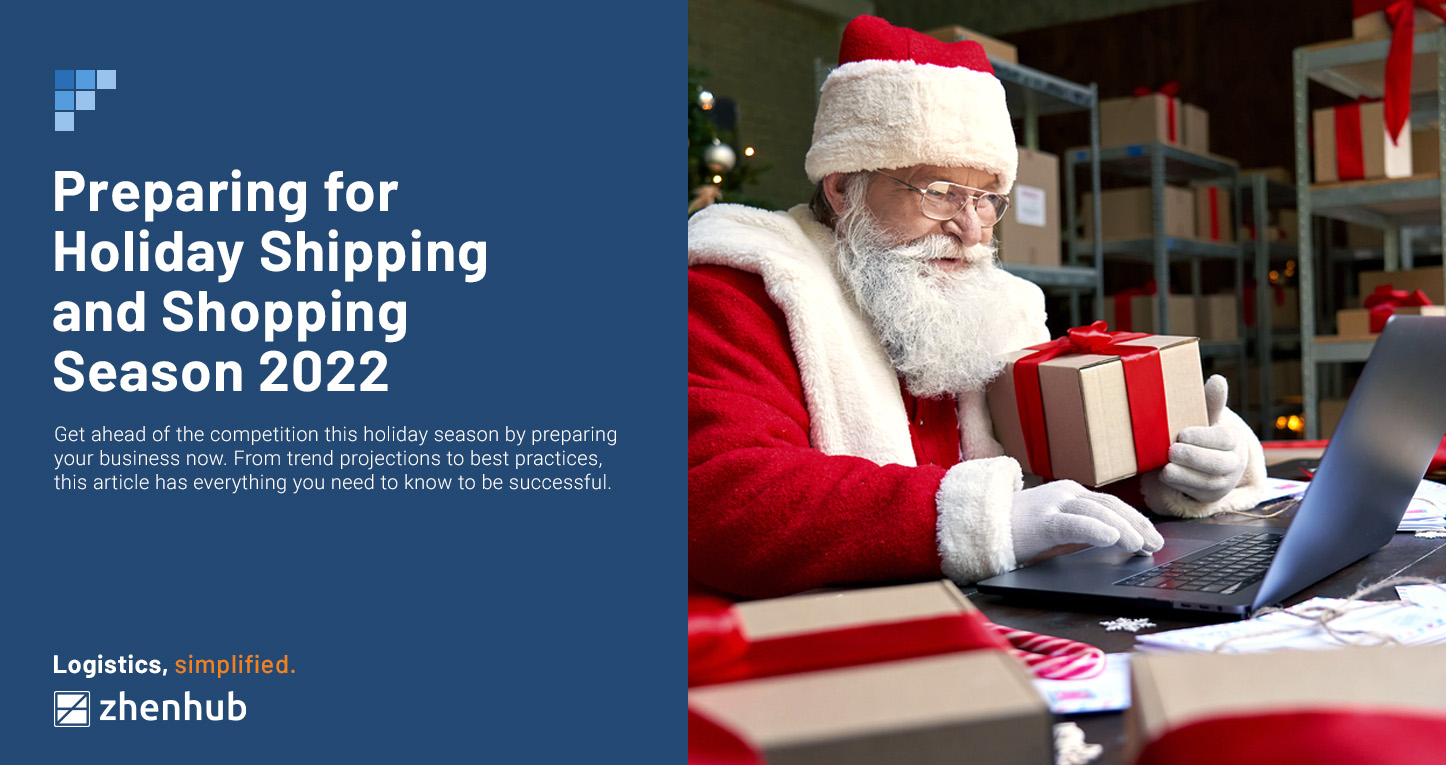 We're in the last six months of 2022, and the holiday shipping and shopping season are just around the corner. Not only is it a time for celebration and spending time with family and friends, but it also represents a great opportunity for merchants. This article will discuss tips for getting ready for the busiest shopping season.
Last year, despite lockdowns easing up, 57% of shoppers still did their shopping online, with only 43% heading in-store. Even with the opportunity to return in-store and do shopping in person, consumers still preferred to buy online. 
eCommerce still commands a huge chunk of the retail market space in the "new normal." Customers have higher expectations when buying online, from fast and free shipping to memorable unboxing experiences.
The holiday shipping season builds up by the end of Q3 and kicks into high gear by Q4 (from October to December). During this season, large order and shipment volumes will spike, causing supply chain management disruptions. If unprepared, brands may struggle to keep up with demand. Managing inventories and multiple shipping carriers put a lot of pressure on businesses to deliver packages on time.
Preparing your business for the holiday rush involves careful planning as well as timely help from efficient digital tools and solutions.
Three Trends for Holiday Shipping in 2022
In a year still packed with uncertainty, buyers and businesses have drastically changed how they approach the holiday shopping season. The coronavirus isn't going anywhere, and lockdowns and restrictions could still happen, limiting in-person gatherings and shopping.
Online sales are competitive as ever, with eCommerce sales on the rise for the past two years. However, increasing prices and downward economic trends will have home and business managers planning their holidays early.
1. Holiday Shopping to Start Earlier
With rising prices, customers believe the best time to buy gifts is as early as July to get their money's worth. Purchasing a gift in December will be much more expensive than in September.
Annualized prices rise between 6% and 8% per month, so the earlier the purchase, the better. Salesforce reports that 42% more shoppers worldwide and 37% more in the U.S. plan to start buying gifts earlier as a way to get better deals. Concerns regarding product availability are also a prime reason for early shopping.
As such, notable shopping days such as Black Friday and Cyber Monday will likely generate a smaller share of holiday retail sales. It could also be a prime opportunity to unload on excess or unwanted inventory that got stocked up during the pandemic.
2. Lower Prices are a Priority
Buyers are keen to compare different pricing of the same product to ensure they get the best possible deals. Value is king, even if it means forgoing loyalty and convenience. And switching brands isn't a problem as long as it means customers get their money's worth.
Consumers want to find products that fit their budgets despite rising inflation rates. Making a profit is also challenging for businesses due to higher labor, transportation, and fuel costs. Retailers should explore appealing marketing to help generate buzz for an added edge in a low-price competition.
3. The Rise of Marketplace Sales
Online marketplaces will see the most growth in the 2022 holiday shopping season. It's more convenient for many buyers, but these same marketplaces offer discounts for bulk purchases. In 2020, eCommerce accounted for 25.7% of all retail holiday revenue.
Mobile commerce will continue to boom with a projected growth of nearly double the sales between 2020 and 2025.
Customers have gotten used to getting everything they need and want online, which likely won't change for their holiday shopping.
Preparing for the Holiday Shipping Rush
As the holiday season draws near, retailers rely on this time of year for a hefty portion of their annual revenue. The start of October will be here before you know it, so it pays to prepare as early as possible. Your business will need to keep up with extraordinary demand and prepare for potential supply chain slowdowns.
With significant changes coming to the shopping environment, here are some strategies to consider to help your business cope with holiday shipping.
1. Stock up on Holiday Inventory
A study by Adobe Analytics reports that out-of-stock messages have surged by 172% since January 2020. Not having products in stock is a surefire way to turn off customers and have them looking elsewhere. Coordinate with partners constantly and ensure that you have enough supplies of your best-sellers to last you throughout the holidays.
Be mindful of delays during this period as well, as the influx of many moving orders will burden logistics operations. Better to replenish your inventory early, so you only need to think about getting those orders moving once the shopping surge begins. Avoid long wait times and prevent customers from getting frustrated when they learn their preferred gift is out-of-stock.
2. Expand your Sales Channels
There are a lot of opportunities to make sales on multiple selling platforms and channels. Of course, expanding to a new marketplace isn't always easy, but you have more chances to reach a broader range of customers. Convenience is key for consumers; each has their preferences of where to shop.
Make the holiday shopping experience as seamless as possible by offering your inventory on a wide range of marketplaces and sales channels. You may even want to explore a hybrid set-up of paying online and having in-store pickup if you maintain a physical storefront.
3. Ensure Reliable Delivery and Fulfillment
Tighten up your logistics for holiday shipping as it can make or break the season for your business. So keep in touch with your fulfillment and shipping suppliers. Be aware of shipping deadlines locally and internationally to help you avoid delays and plan around heavy traffic among freights. Forty-five percent (45%) of customers are unlikely to purchase from a business again if a package is delivered late.
Offer various shipping options for local and international customers and be flexible with shipping rates. Letting your customers know how much they should pay for shipping or setting a flat rate for all purchases can avoid abandoned carts.
You may also consider working with a third-party logistics (3PL) provider to make the busy holiday shopping season more manageable. Partnering with a 3PL can simplify your logistics processes and free-up personpower for other important tasks.
4. Provide Exceptional Customer Service
The holiday season is for meaningful celebrations, reunions, and great memories. No one wants to experience last-minute changes or disappointments regarding their purchases. Maintaining constant communication is key to managing customer expectations. Let your consumers know where their product is during shipping and when they can expect it to arrive.
But always be prepared for the worst. Something will inevitably go wrong, so have a system that will automatically pinpoint roadblocks and delays. Great customer service goes a long way in building brand loyalty. Keeping customers in the loop gives off the impression that you care about each purchase and you're doing your best.
Making Holiday Shipping More Profitable
Supply chain issues will persist throughout 2022. But as a business owner and retailer, you can focus on overcoming these challenges to make this holiday season the most memorable one yet.
There are many creative ways to bring more sales to your business during the holiday season. As online shopping has become a preferred method of purchasing gifts, offering special discounts and promotions makes good business sense. Though the logic may seem strange, note that it can cost five (5) times as much to attract new customers compared to keeping an old one. Find the right balance of enticing customers to buy without diminishing the sale value of your products.
Giving extra value to your customers can pave the way to tremendous success in the future.
Optimizing the checkout procedure avoids many frustrations customers have during the shopping season. Twenty-one percent (21%)of online shoppers in the United States abandoned their shopping carts due to a long, complicated checkout process. By keeping the process simple, fast, and reliable, your business won't get bogged down by complaints on checkout.
Shoppers are looking for the perfect gifts this year. They'll be shopping in-store, online, and across all channels. Make it easy for them to buy whatever they want without any hassle. Don't wait for the holiday rush to catch up to your business. Seek out every advantage you can get to stay ahead of the competition.
Preparing your business logistics for the holidays is crucial as it will create great customer experiences. Make the customer journey as smooth as possible. You're also investing in your future by ensuring your customers are happy during the busiest shopping time of the year.
Make your holiday shipping quick, organized, and transparent with ZhenHub. We offer simplified, robust digital solutions that power your business's warehousing, fulfillment, and shipping. Be ready for the busy holiday season and ensure maximum customer satisfaction. Get your early start and sign up at our website today!
Share Article