The 5 Order Fulfillment Process Steps
Time to read:
4
minutes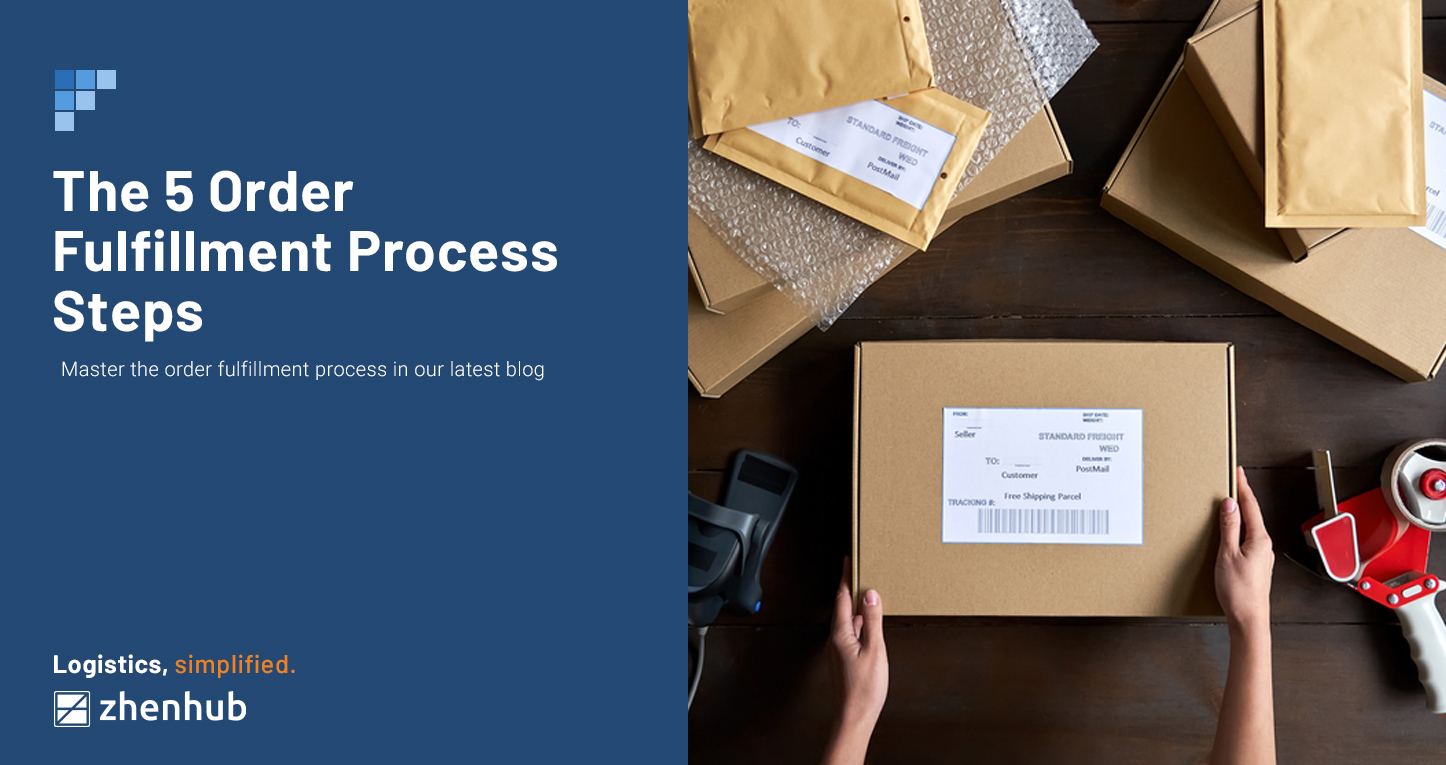 Order fulfillment is a crucial part of running a successful eCommerce business. But for those new to the industry, the scale of the process can get complex and hard to grasp. The order fulfillment process steps involve more than ensuring packages get to customers on time. It entails almost all parts of the supply chain— and these parts must work together to ensure that there are no delays. But as the world continues to deal with the pandemic, supply chain issues continue to hound businesses.
One of the first steps in developing an effective order fulfillment process involves understanding the whole operation. Each operation is different. However, there are commonly five order fulfillment process steps. In this article, we'll tell you about these steps, including critical factors that affect a company's order fulfillment strategy and popular fulfillment options for businesses of all scales.
What is Order Fulfillment?
Order fulfillment is a phrase often thrown around in conversations about eCommerce. Interestingly, not everyone understands the challenges the process offers. At its core, order fulfillment refers to all steps involved in getting the product to the customer. It includes all parts of the supply chain like warehousing, inventory management, and packaging.
An efficient order fulfillment model is crucial to the success of an online business. It also plays a role in making it more competitive and building customer loyalty.
The Five Order Fulfillment Process Steps
As mentioned earlier, no two online operations are the same. Each has its own needs and priorities. Here's the order fulfillment process steps you need to be familiar with:
Receiving Inventory
The first step in this complex process entails receiving inventory. While seemingly simple, this part of the supply chain can affect customer satisfaction and loyalty. During this first stage, eCommerce operators have to receive products, confirm the number of units, inspect each item, and sort accordingly.
Warehousing and Storage
After receiving the inventory, the next step involves sorting the items and systematically storing them in a warehouse or storage facility. This course is vital in ensuring smooth order processing. Keeping inventory should be strategic, transparent, and accurate. Failing to be diligent with this process can result in shipping delays and profit losses.
Order Processing
For companies that choose to keep fulfillment in-house, order processing entails picking products from storage, inspecting the items for damage, and handing off the orders for packaging. These process steps emphasize the importance of being diligent with inventory management and storage. If inventory storage is systematic, order processing is more efficient.
Shipping and Delivery
The penultimate stage of order fulfillment is shipping and delivery. It's where third-party carriers or in-house riders receive the packages and deliver them to the buyers. The delivery cost depends on the size, dimensional weight, and destination of the order. After the hand-off, retailers must send order or shipment tracking to the customers.
Returns Processing
The order fulfillment process does not end with the customer receiving their orders. Handling returns is as crucial as any other part of the supply chain. Most consumers only patronize online businesses with an easy returns process.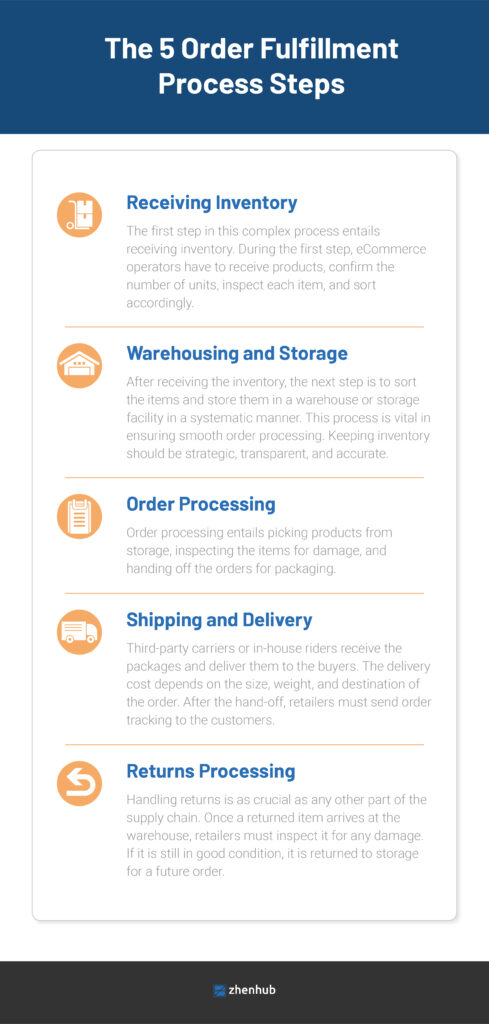 Once a returned item arrives at the warehouse, retailers inspect it for any damage. If it's in good condition, it goes back to storage for a future order.
Common Fulfillment Options
eCommerce businesses have several fulfillment options, and each of these has its advantages and disadvantages. Below are the most common ones:
Third-party fulfillment refers to outsourcing the order fulfillment process to a 3PL partner. This option is ideal for businesses of all scales.
Companies can do away with the hassle and complexity of managing an in-house fulfillment center through outsourcing. It's a cost-effective solution for operations that cannot rent or own a warehouse facility. While there is an upfront cost, handing off order fulfillment responsibilities to a professional 3PL partner allows companies to focus on selling and marketing their products..
Also known as merchant fulfillment or self order fulfillment, in-house fulfillment puts the retailer in control of the supply chain and order fulfillment process — sometimes without the help of a third-party logistics company. Small businesses and large corporations often choose this fulfillment model. And smaller operations even start their fulfillment in-house in their own homes to save costs. On the other hand, large corporations can build out and control their fulfillment centers.
Dropshipping is a relatively new player as far as order fulfillment is concerned. This model is the most hands-off approach. When an order gets placed, the package details get sent to the manufacturer. The manufacturer sends the orders directly to the customer. It offers maximum ease to the seller but very little control.
Choosing the Right Fulfillment Framework
Now that you know the order fulfillment process steps, the next thing to familiarize yourself with is to understand the factors to consider to choose the right framework. Each online business has specific needs and operational requirements. The right fulfillment option is an important business decision, and sellers need to consider several factors before choosing one. The scale of the business, the order volume, the operation's location, and the sales channels all play a significant role in determining the right fulfillment solution for a company.
And as the company grows, it'll need to adopt newer models to thrive. It is essential to remain agile and adapt to new concepts, trends, and ever-changing consumer behavior.
Order fulfillment can't be taken lightly, especially in eCommerce, as it can make or break an operation. Customers, nowadays, are selective and demanding. They are willing to forgo loyalty after only experiencing one instance of subpar service.
It is best for those new to the eCommerce industry to partner with a professional and experienced 3PL partner to get you started. Outsourcing all the order fulfillment process steps might just be the key to scaling your business.
That said, not all 3PL companies are created equal.
With decades worth of combined experience, ZhenHub is a leader in eCommerce fulfillment across the globe. Our tech-based logistics solutions can support your company at every stage of the fulfillment process. From sourcing to inventory management to last-mile delivery, we got you covered. Learn more about our logistics products today or get a free quote now.
Share Article