4 Steps to Successful WMS Implementation and Adoption
Time to read:
6
minutes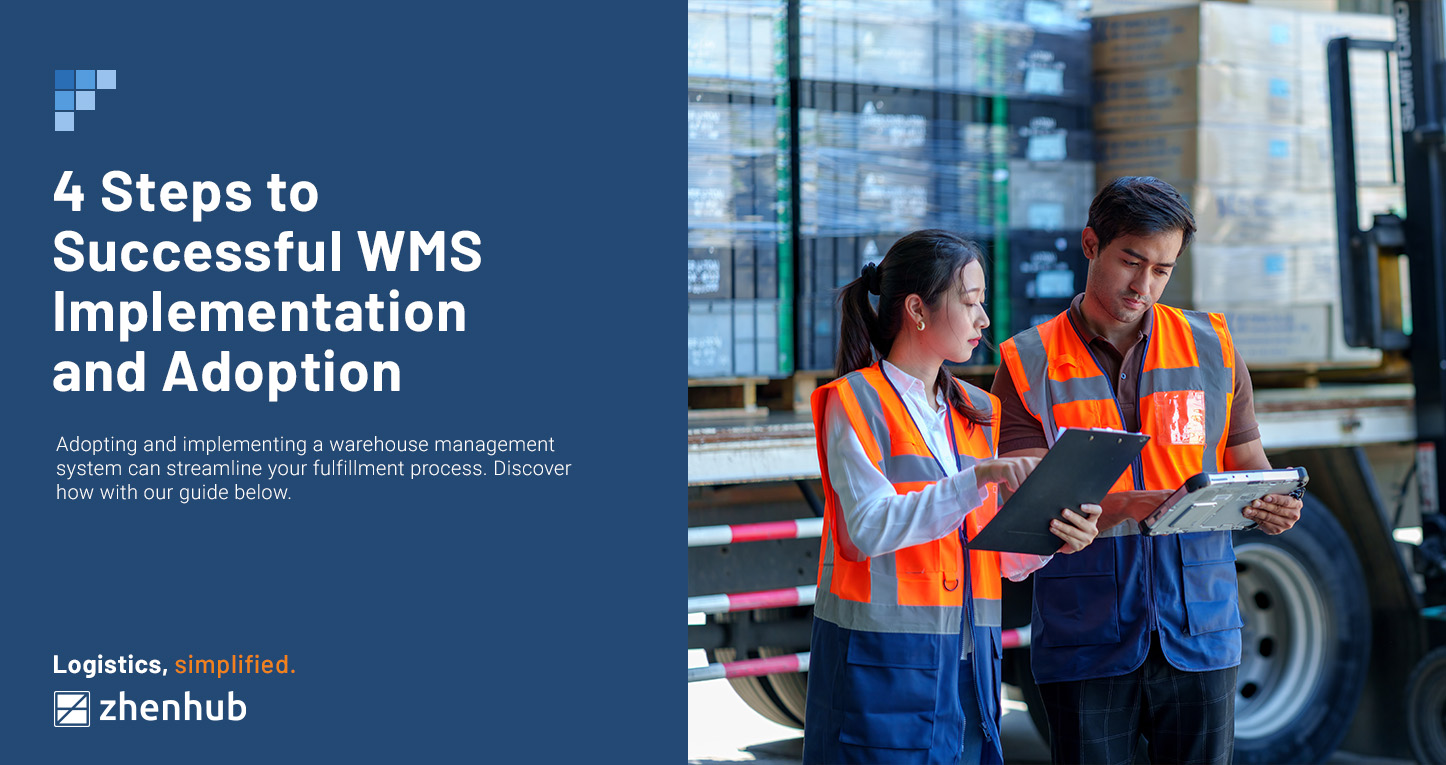 A  warehouse management system (WMS) for your businesses can streamline your operations and improve your bottom line. But what are the steps to a successful WMS implementation? Here we will outline the key factors you need to consider when planning and executing your WMS rollout.
To remain competitive, modern retailers must maintain customer connections through multichannel selling and quick order fulfillment.A warehouse management system that increases fulfillment optimization and streamlines warehouse operations using cutting-edge automation is now essential.A capable cloud-based solution will completely upgrade your shipment times and provide  real-time inventory updates.
A warehouse management system (WMS) is a software program that supports and simplifies the management of distribution centers and warehouses for online retailers. Product-based brands can improve their visibility into their inventory levels and streamline supply chain fulfillment with a WMS.
Furthermore, by coordinating material flows and resource consumption, WMS solutions help businesses optimize their workforce and physical space. In other words, these systems meet the requirements of a global supply chain that comprises asset-intensive businesses focused on production. Distribution and service-oriented companies also benefit greatly from this software.
The global warehouse management system market could  grow from $2.39 billion in 2021 to $2.74 billion in 2022 at a compound annual growth rate (CAGR) of 14.77%. More and more companies are upgrading to using WMS  to be more competitive.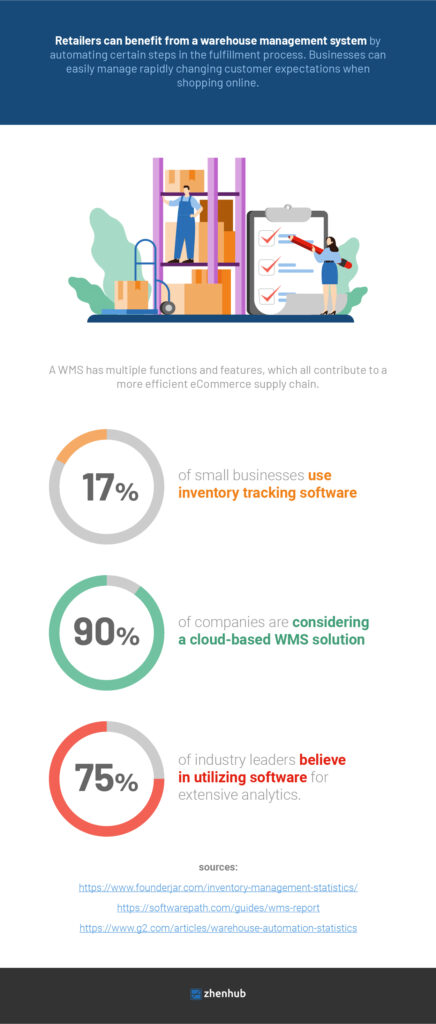 The Importance of Proper WMS Implementation
Your warehouse's performance and efficiency influence your business's profitability and customer satisfaction. It's a highly complex ecosystem with the real potential to make or break your company. Due to the global pandemic's impact on supply chains and rising consumer demand, several retailers are implementing new warehouse management systems to enhance inventory visibility and order fulfillment. Polaris Market Research reports that from 2022 to 2028, the global warehouse automation market is expected to grow at an annual compound rate of 14.2%.
Implementing a new warehouse management system (WMS) can be challenging,but with careful preparation, you can maximize revenues and satisfy customers with the least interruption. Here are some benefits of WMS implementation:
1. Improved Business Performance
You can spot products with strong demand and underperforming ones utilizing a warehouse management system. A WMS can also lessen errors and reduce the time needed to locate products in the warehouse. All of this enhances warehouse performance and lowers operational costs.
Warehouse management solutions can prevent stockout events by immediately alerting your business to potential inventory issues. Additionally, a WMS can speed up inventory management software notifications and automate inventory tracking at the stock location level. Instead of manually updating lost or damaged products in the program, you can just scan the SKUs to change their status. Then, the sales channels are updated by the inventory management system, informing your customers of the stock levels of their favorite items.
2. Streamlined Processes
Businesses must be agile to meet rapidly changing consumer expectations. Your supply chain can be made more effective with the aid of cloud-based warehouse management software. Powerful logistical capabilities from a WMS can speed up the fulfillment process.
A cloud-based solution can make you more agile and operate faster. It can also be cost-effective, reducing IT workforce dependence on managing on-site servers.
Utilize your workers and warehouse space more effectively with a power WMS. You can identify the materials, tools, and items you should keep and those that need replacement or removal. Simply put, you can set up your warehouse to operate efficiently for better selection (saving you time and space). Additionally, the system can prevent inefficient material handling equipment,reducing wear and tear on expensive assets.
Warehouse management systems utilize a collection of digital and automated processes to increase operational effectiveness and lower overhead costs. On top of that, WMS solutions can improve inventory accuracy, aid in accurate demand planning. It can also build trustworthy security measures, arrange for on-time shipments, and ensure consistent customer satisfaction.
4 Best Practices for WMS Implementation
Even if you've found the ideal application for your company, it won't be very effective if you don't use your WMS properly. The key to a successful implementation and adoption is to provide training plenty of time. By designating ownership or a team to help manage your system, you can regularly assess the software's performance to make any necessary improvements.
1. Align the Software To Your Business Goals
Warehouse management systems should be chosen on the basis that they are dynamic strategic instruments that support your organization's long-term strategy. As the technology is meant to enhance certain supply functions, it should be used to achieve business goals . They must also be flexible and respond to shifting market conditions, instead of being impromptu band-aid fixes for immediate issues. You can achieve this by considering best-in-class technologies and comparing them to other competing products.
Different stakeholder groups have different expectations and motives when implementing a new WMS. The new system must be user-friendly to simplify warehouse managers' tasks by eliminating unnecessary procedures and undesirable warehouse behaviors. Warehouse employee work could be simpler with fewer mistakes, but without endangering their jobs. To help all staff members acclimate to impending changes in the warehouse operation, warehouse management system providers should communicate clearly and manage expectations from the outset.
2. Enlist A Reliable Rollout Team
Your implementation team's ability to successfully deploy your warehouse management system is crucial. As a result, you should make an effort to gather the most talented individuals for the job.
Business leaders can gain varied viewpoints and take advantage of each team member's expertise with a diverse group.
Coordination and communication among internal teams working toward varied goals are part of an effective organizational change management strategy. Although complicated, this step is essential to project and change management. Many companies are overburdened with ongoing projects, even though some employ highly skilled project managers. The ability of your organization to make decisions, solve problems, and coordinate the actions of numerous departments and projects is crucial to WMS adoption success. You can start by creating a culture that enables progress and innovation.
3. Thorough Testing 
WMS testing compares the performance of warehouse operations, traditional and WMS powered, using actual warehouse data. These tests include simulating various warehousing scenarios and fixing process flaws. Your implementation team should also be on the lookout for possible system bugs.
Ensure everything operates as it should by validating the system's parameters and testing the interfaces. Companies should try both the implementation team and the internal project team. Doing this will ensure virtual simulation outcomes are the same as the actual operation. You must authorize each WMS feature individually and then move on to a feature freeze, preventing any changes. Doing this avoids the risk of going over budget and extending the time for adoption.
4. Staff Training
No matter how robust your chosen WMS is, it has no meaningful value if your staff cannot use it.
It is best to rely on the knowledge of your WMS vendor for training purposes. As they are the subject matter experts, they should be able to provide comprehensive support and training. Executives should openly communicate their needs to change training procedures to include the required knowledge with the vendor.
You should also document standard operating procedures (SOPs) and training to ensure that everything runs well. It is a good idea to note each necessary procedural step and give screenshots of the system. With it, you can easily share knowledge within your company, creating redundancies should there be a staff shortage. Correct training reduces errors and increases overall output.
WMS Implementation for Supply Chain Success
After the launch of your WMS, you may find that you require additional resources to continue operating the system. This is mainly because the software is data-intensive and because warehouses are always changing. Relocating racks, placement and removal techniques get altered, new goods are added, and new procedures are created.
For your program to function, warehouse accuracy is crucial, plus data must be input promptly and precisely. Even though most WMS systems will lower labor expenses associated with material placement and removal, an additional warehouse management function is frequently needed solely to run the program.
However, these initial challenges and short-term costs are well worth the long-term gains. Warehouse management systems provide companies with several advantages despite their complexity. It can shorten cycle times for placement and removal, and inventory accuracy will also increase. Other great benefits include additional storage space, better-structured material storage, and more adaptability in warehouse operations.
A successful WMS implementation will bring your business to greater heights, reduce cost, and increase operational productivity. Operations managers can better understand their operations' performance, set new objectives using engaging dashboards, and retrieve detailed reports.
Upgrading your warehouse management system with ZhenHub is easy. Our robust logistics software solutions are designed to optimize your warehousing, inventory management, and fulfillment. All of this is in a single easy-to-use platform. Sign up at our website and get started with WMS implementation.
Share Article