Five Advantages of Distributed Order Management
Time to read:
5
minutes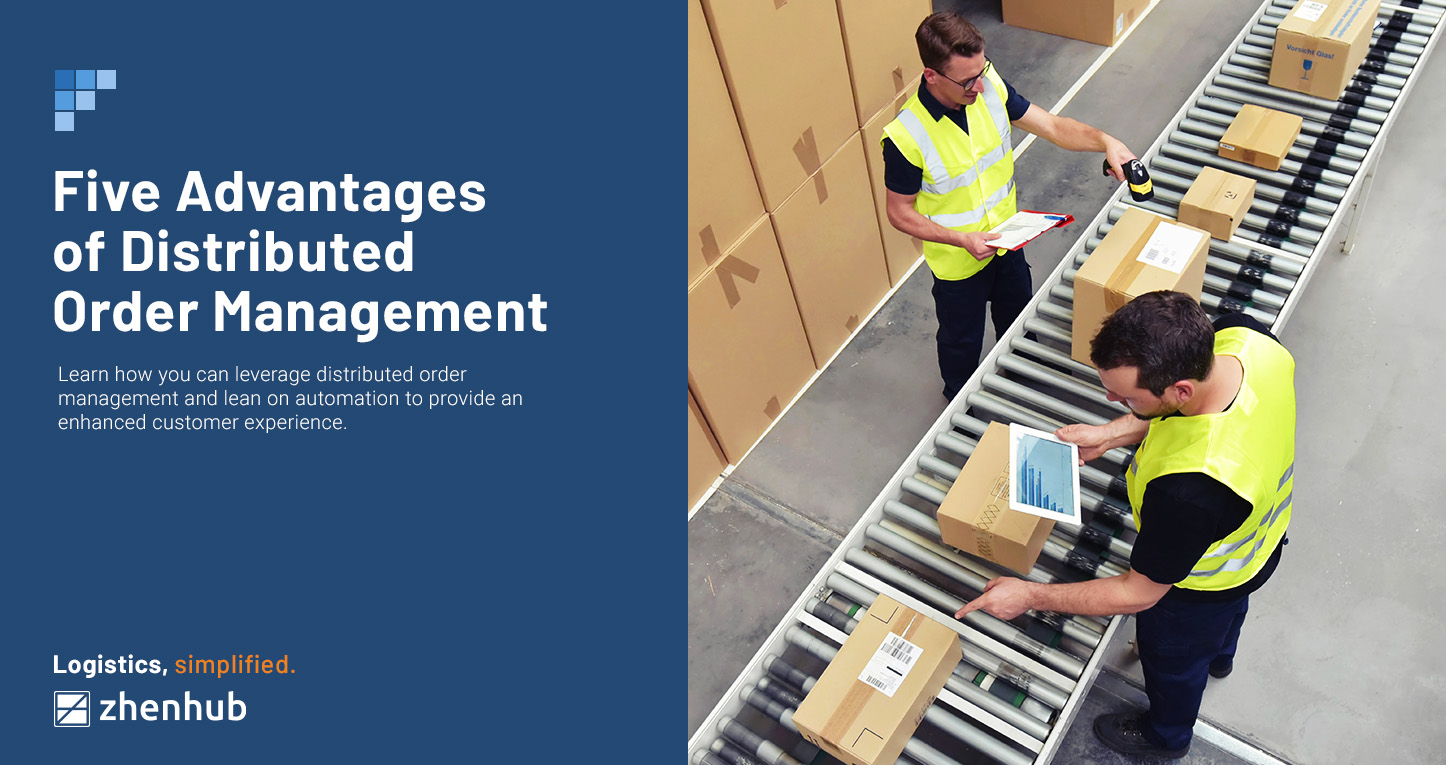 Retailers face new challenges as direct-to-consumer (D2C) sales rise and adapt to new technologies to meet customers' constantly evolving expectations. Retailers are seeing a greater need for cutting-edge order management solutions like distributed order management (DOM) to keep up with multichannel, drop shipping, and other sophisticated D2C distribution models.
Many businesses are still unaware of DOM, which may be the most significant advancement in order management.
Many mid-market and corporate retailers are passing up the chance to enhance their order fulfillment operations with cutting-edge software.It shortens the click-to-customer cycle providing customers with faster fulfillment and better shopping experiences.
Research firm Mckinsey reports that eCommerce could exceed 20% of retail sales. But current fulfillment networks are only built to handle half that volume. Businesses aren't sustaining and maintaining delivery speeds due to the continuously rising expenses of multichannel order fulfillment.
What Is Distributed Order Management? 
Distributed order management is a strategy for streamlining fulfillment to ensure that orders are filled efficiently and at the lowest cost. DOM systems can automate order routing, order splitting, shipping, inventory forecasting and reordering, and inventory management. This technology is integral in orchestrating all these procedures and enhancing your supply chain.
Customers want to purchase goods through several channels. They want to switch between platforms easily and place online orders directly from stores with customizable delivery options. That's why eCommerce platforms and physical stores must collaborate. It's crucial to combine several systems without affecting the client experience.
A DOM system can improve how a business organizes and processes client orders and expedites stock replenishment by linking your technology to a centralized platform. This platform provides a complete overview of each item in your inventory.
Additionally, a DOM system may handle orders from various sales channels. It candirect them to the nearest fulfillment facility and possibly even choose the best shipper. As a result, orders are processed more quickly, accurately, and affordably.
A DOM system may manage back orders and pre-orders for future product launches, in addition, automatically routing orders and prioritizing their fulfillment.
A classic order management system (OMS) is typically the best option for straightforward business operations that fulfill orders from a single channel. The core order management processes, such as inventory management, order intake, order processing, order fulfillment, and post-transaction management, are streamlined and made simpler by these solutions.
However, larger companies typically have more complex retail operations. For instance, as some businesses increase the number of product suppliers they work with, their product offerings grow.
Firms can fulfill orders via several channels, including distribution facilities, retail locations, online marketplaces with different sellers, and dropshipping by suppliers. These businesses must manage inventories across their entire retail sales network, numerous sales channels, and fulfillment needs. A single source of business data and a comprehensive view of orders at all stages of the fulfillment lifecycle are required..
A DOM system drastically simplifies these businesses' omnichannel inventory and order management functions. With it, they can deliver the right products to the right customers most quickly and affordably possibleThis software provides excellent results regardless of whether products need to be shipped from one or more warehouses, fulfillment centers, stores, or other locations.
Five Benefits of Using Distributed Order Management
Businesses need quick, adaptable, and dependable software with enterprise-grade scalability. This will allow them to improve multichannel order management and fulfillment to satisfy growing consumer expectations for speed and ease. Companies ready to replace their manual systems or transition from an antiquated OMS to sophisticated DOM software can gain several advantages.
1. Automation
Before the boom of multichannel eCommerce, software firms developed and marketed many IT solutions.With changing retail strategies, there are now several consumer touchpoints, fulfillment locations, and return sites. Your sales capacity will be limited if your IT infrastructure cannot handle the needs of the multichannel experience. DOM enables those channels to connect without requiring significant changes to a company's fundamental organizational structure. It can be extra valuable when integrated with the appropriate automation configuration and access to real-world data.
2. Greater Inventory Visibility
A DOM offers a complete, nearly real-time view of client purchases. This technology can track the movement of items on-shelf, in-transit, and on-order inventory at suppliers, stores, and distribution facilities.
Increased and more precise visibility into your network's inventory helps increase availability and reduce stockouts and product overselling.
The applications for distributed order management will make it possible to see more inventory information globally. Furthermore, connecting your foreign warehouses and 3PLs to your system will allow customers to order and receive products from any location.
3. Access to Cloud-Based Data
DOM systems are cloud-based. Brands now have the additional support they require to scale their operations. Since it's on the cloud, companies can immediately access DOM system upgrades without interrupting the service. Additionally, it allows users to access the system from any computer, enabling data validation from any team member. It also offers a network-based solution that more effectively manages data processing, performance monitoring, and business plan execution. Evaluation and analysis of more intelligent forecasting become simpler. And automation can further streamline the process.
4. Cost-Effectiveness
Due to market inflation, companies must maximize their operations as much as they can. Without any preamble, costs could rise, and margins erode. DOM helps businesses avoid costly errors while delivering greater value to their customers. Processes are also done faster, relying less on slow and error-prone manual input and leveraging technology for streamlining tasks.
5. Improving the Customer Experience
Inadequate inventory and poor cost management can limit order fulfillment, putting your business at risk. Profits will take a hit if there are shortages. With the aid of a distributed order management system, these issues can be avoided. Foreseeing and responding to crises is more straightforward when you have a comprehensive, unified picture of inventories and suppliers. You have more control over giving your consumers what and when they need it by tracking inventories across numerous channels.
Any retailer should have a top-notch customer experience as their top priority. Companies can optimize the fulfillment process to deliver products to customers quickly and effectively. Using DOM, business leaders can propose strategies and procedures that meet customer expectations.
Why You Need Distributed Order Management
With eCommerce's massive growth, customers pay a premium for a pleasant shopping experience. Even with a projected growth of over $5.542 trillion in 2022, there has been a decline in overall customer satisfaction.
Businesses that want to be successful in eCommerce must adapt to consumer behavior changes that happen quickly. They must do channel shifts fast and increase customer expectations for convenience and speed.
Orchestrating and optimizing multi channel fulfillment to provide clients with best-in-class shopping experiences is a crucial first step. Leveraging stock across various locations, offering a smooth shopping experience across channels, and saving on shipping costs are just a few of the more powerful DOM features. Optimizing inventory levels, lowering overstock, and increasing inventory velocity can provide that business edge.
Using distributed order management can completely transform your company. Don't be so reliant on an out-of-date OMS. Consider the capabilities of modern software solutions, and your company will be more equipped to enhance the customer experience. A SIMPLE spreadsheet can no longer handle an inventory with hundreds of thousands of SKUs. Retailers are looking to DOM to give them a perspective of these products and the channels to let product offerings grow.
The complexity of modern retail is rising at a rate that traditional methods of managing operations can't keep up — due to global expansion and the increasing number of customer connection points.
Merchants can improve control over their fulfillment process by employing a distributed order management system. Your staff can benefit from having a uniform view of stock locations and defining efficient and cost-effective fulfillment plans.
Flexible and data-driven, ZhenHub is an adaptable logistics software that scales with your business. Our fulfillment platform helps deliver quality client experiences by streamlining your fulfillment operations, from order to delivery. Sign up at our website and discover our global software solution for intelligent end-to-end order fulfillment and logistics.
Share Article