How to Make Logistics More Efficient through Digital Warehousing
Time to read:
6
minutes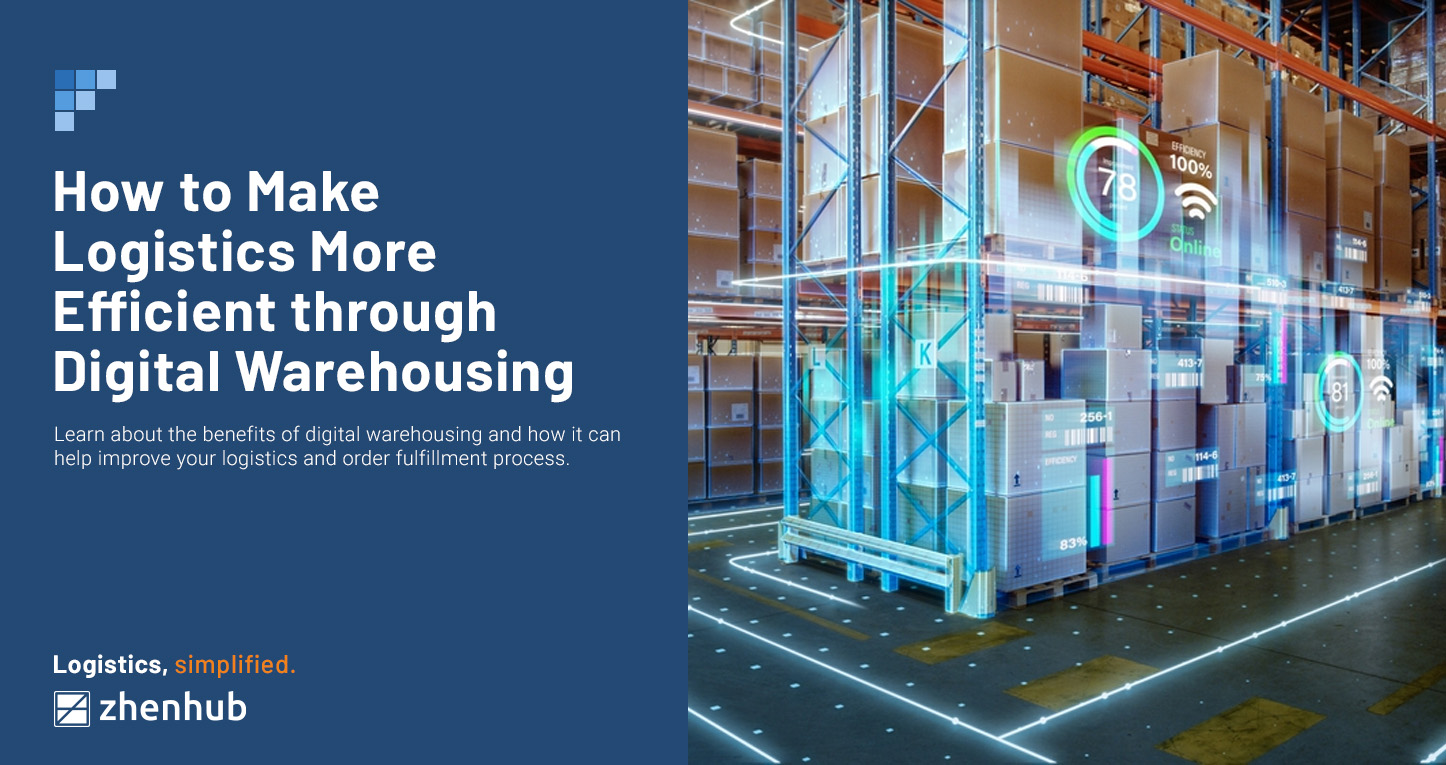 Digital warehousing is becoming increasingly popular with online retailers, and for a good reason. By digitizing their inventory, these businesses can streamline their logistics and make them more efficient.
In traditional warehousing, tasks such as inventory control and stock organization get done manually. Errors occur from time to time, and these cause delays, which can hurt your bottom line. On top of that, companies need to deal with strained supply chains, labor shortages, and increased SKU (stock-keeping units).
Digital technologies such as artificial intelligence (AI), the internet of things (IoT), and digital twins are the solutions to current supply chain concerns. They are the future of logistics companies.
Online brands can now rely on smart warehouses, which can easily handle complex inventories while also making a lot of logistics processes faster and more efficient. Automated systems minimize the possibilities of human error during fulfillment. Furthermore, centralized data storage can also lead to expedited shipping times.
Read on if you want to know how digital warehousing works and how it can benefit your business.
Understanding Digital Warehousing
Online businesses need a competitive edge to get ahead in the growing eCommerce scene. Markets are growing remarkably; warehouses find themselves handling more SKUs than ever before. Digitization will allow business owners to keep up with demand, and many see it necessary to survive or thrive.
Consulting firm Mckinsey has this to say about the growing complexity of warehouse operations; "Technology is a factor as well: as new automation systems come onto the market, operations leaders must face the challenge of keeping pace and understanding which technologies apply and what kind of impact they can generate."
A 2020 survey conducted by Material Handling and Logistics (MHI) shows that 80% of their respondents believe that a digital supply chain will be the dominant model in the logistics sector within the next five years.
Key features of a digitized warehouse include automation, transparency, efficiency, and mobility. Most logistics operations start by implementing warehouse management software (WMS) into their workflow. Functions such as remote inventory control, eCommerce integration, and fine-tuned order picking can also boost productivity.
How do other technologies improve logistics?
Businesses worldwide are estimated to spend over $350 billion a year on warehousing, with the goal of using digitization to streamline processes. It also allows companies to receive real-time supply chain data, get better insights into customer needs, and foster productivity. Automation reduces human error and helps prevent injuries, avoiding major downtime for any operation.
IoT works by funneling data gathered from millions of smart devices into a warehouse management system. This network gives access to in-depth data such as item location tracking or temperature monitoring transmitted in real-time. It also makes warehouse management seamless and transparent, allowing partners to react faster.
On the other hand, AI contributes significantly to making a warehouse system autonomous. For example, the ability to forecast order patterns and process information reduces errors and the need to update a product database. What's more, item validation gets expedited with the help of an intelligent system. AI also powers automated robots and vehicles, efficiently moving items and maximizing space inside a warehouse.
A digital twin, a digital visualization of a process, can increase warehouse efficiency by 20-25% by running a series of simulations. As a result, logistics suppliers can experiment with layouts and workflows without shutting down their operations to test. This process can prepare a digital warehouse for fluctuations in demand. Furthermore, digital twins help identify the potential impact of automation in a system, avoiding costly investments that may cause problems.
The Benefits of Digital Warehousing
Warehouse digitization brings excellent benefits in optimizing internal processes, minimizing issues, and exploring new opportunities. For these reasons, logistics operations are already choosing to transition to smart warehouses. As a result, consulting firm Technavio predicts the market share for WMS to grow by US$ 1.61 billion from 2021 to 2025.
Warehouses need to be able to keep up with the fast pace of online selling, relying on cutting-edge technology to improve their capabilities and have the foresight to grow along with the demands of clients.
eCommerce Synergy
Digital warehouses work well with online stores and eCommerce management software. A logistics facility can directly connect with online marketplaces to prepare and dispatch orders immediately, drastically cutting down expected delivery times.
Improved Efficiency
Mundane tasks can be automated, cutting down on manual work time. The quality of data moving around your business enhances productivity. For example, scanning devices can help receive purchase orders and simplify picking sales orders. A good WMS can prepare your operations for continuous improvement.
Warehouse Visibility
Retailers can quickly check on available stock and pending orders through IoT-powered trackers, sensors, and Radio Frequency Identification (RFID) tags. Automatic and real-time data on inventory levels and shipping progress also reduces errors.. All the recorded data makes it easier to reference past transactions, allowing accurate forecasting of future demand. Additionally, workers will spend less time looking for items in storage.
Cost-Efficiency
Digital warehousing can lower your overhead and operating expenses. Tasks are completed much faster with the optimized movement of workers and items. You can also avoid the problem of having inconsistent documentation from different sources, which leads to confusion and delays. Digital twins and data analytics can help simulate workflow changes to find the most efficient methods without conducting costly real-world trials.
Future-Proofing
The data from digitization opens up possibilities for improvements. Business owners must be flexible enough to remain competitive. Implementing WMS can reveal inefficiencies and potential improvements. Moreover, streamlining processes create a clear timeline for your business and refocus valuable resources to more critical operations.

Smartphone integration helps augment worker mobility inside and out of a warehouse. Mobile devices are now powerful enough to complete and execute complex tasks on the go. Also, imaging functionality, cloud integration, AI recognition drive operational speeds faster than traditional warehousing.

Wearable technology presents vital information to managers and clerks, wherever and whenever they are. These devices also make workforce training easier and ensure safety at the workplace. In addition, smartphones and wearables are essential for efficient interaction between actual staff and the systems that provide data.

Though less widespread in actual application: robots, drones, and automatic guided vehicles (AGVs) present a real future for warehousing. Mordor Intelligence reports that the global automated guided vehicle market was worth US$ 2.41 billion in 2020 and could reach USD 14.18 billion by 2026. These technologies can quickly move and precisely locate cargo in less time than a human workforce could. They are also safe and economical, as they come equipped with a variety of sensors, cameras, and scanners to help them perform tasks well. Warehouse management can undoubtedly do inventory management much faster with the help of these devices. AGVs and drones work well in just about any warehouse size, whether big or small.
As technology constantly improves, digital warehousing eliminates many old logistics roadblocks and problems that hinder business scaling.
Moving Forward with Digital Warehousing
The transition from a physical to a digital warehouse is more than just switching some equipment on the side. Seamless coordination between logistics managers and technical team members is needed to ensure maximum efficiency with a clear process flow that works well with digital tools.
Businesses are now feeling the need to make their inventory management more efficient. The MHI report has 75% of its respondents looking to adopt high-tech systems in less than two years from now. As small order demand increases and omnichannel marketing becomes the norm, your business needs to be equipped to handle more extensive inventories.
Implementing more innovative processes in your warehousing and fulfillment scheme can improve short-term ROI. Cost-efficient operations, faster turnaround time, and streamlined movement lead to more savings for your business.
One of the most significant advantages of using a digital warehouse is leveraging analytics and machine learning to influence your business operations. For example, positive customer satisfaction is easier to achieve with accurate forecasting, allowing managers to make better decisions. Using AI, predictive analytics can recommend optimal inventory stock and when to replenish products. Finally, historical data can make a warehouse more flexible regarding total capacity and asset utilization.
Working with a 3PL partner is a good start in getting your eCommerce business on board with digital warehousing. You don't need to invest in the technology and automation yourself to make your supply chain more efficient.
But warehouse optimization isn't a one-time task. To put things into perspective, it's unlikely that you will immediately see all the benefits of a digital warehouse right away. Start with mapping out the most critical aspects of your supply chain, and then streamline that with action plans and actionable goals. It will take some time for a smart warehouse to gather data that you can interpret to adjust your logistics strategy.
Business growth through a digital warehouse is also a collaborative effort between operations and warehouse managers and new technology. The successful implementation depends on these experts' buying into the use of new technology. Your management team implementing these new processes and tasks are critical. The more they contribute during the learning phase – like helping identify old methods that may no longer work or even getting rid of specific equipment entirely – means less time wasted later.
With digital warehouse-simulation tools, managers can set performance expectations more precisely. In addition, company leaders can begin using dynamic models to predict workforce demands to achieve better outcomes without overburdening employees or resources.
The impact of a well-executed automated warehouse process can be felt in every step of your supply chain, providing an edge in the competitive online selling market.
When you're ready to bring your warehousing into the digital world, ZhenHub offers tech-driven logistics services to grow your business. Sign-up now and become a partner!
Share Article