Why You Should Outsource to a Fulfillment Center in Los Angeles
Time to read:
5
minutes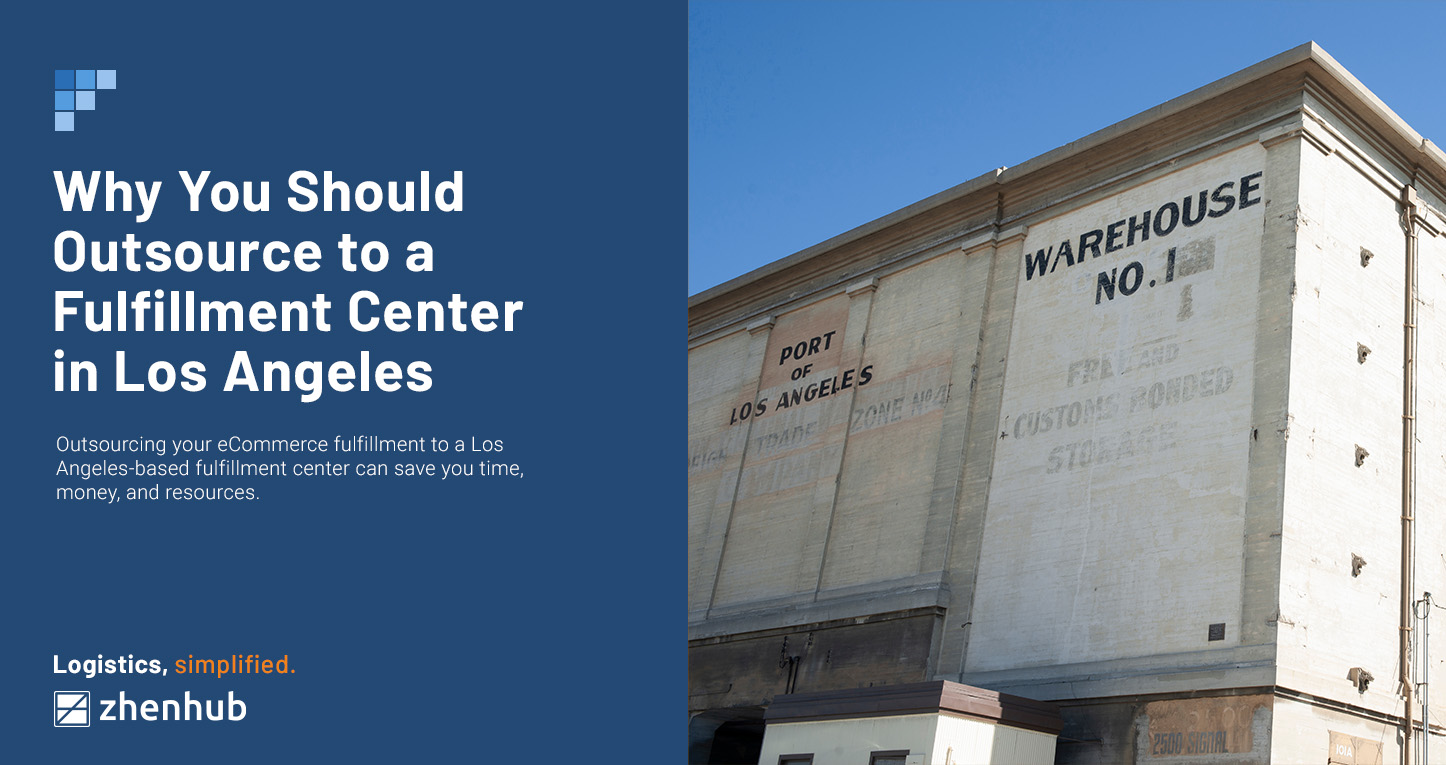 The need to outsource order fulfillment to a third-party logistics (3PL) service doesn't fall into place in the scheme of things immediately. Small eCommerce businesses can easily handle their order fulfillment requirements, but as they grow, challenges arise. When you think of Los Angeles, Hollywood stars, movies, and beaches immediately come to mind. But for online retailers and logistics managers, outsourcing to a fulfillment center in Los Angeles can prove to be beneficial.
A growing business means a bigger demand for your products. To keep up with this increase in demand, business owners often look to 3PL providers to help improve their fulfillment and logistics performance.
These companies store and dispatch goods on behalf of other enterprises. They utilize software to connect a connection with your online business or marketplace to get order details after every customer transaction. They pick and box the things after getting this information. Then they give the parcels to the carrier for delivery to your consumer.
Working with a 3PL takes the guesswork out of planning for business expansions in other markets. If you're contemplating selling your products in the U.S., then having a fulfillment center in Los Angeles is your gateway to success.
Why a Fulfillment Center in Los Angeles is Important
Regarding eCommerce shipping, the West Coast enjoys a plethora of speed and cost benefits. Because of these advantages, it makes sense to establish an eCommerce fulfillment center in California.
First, a large portion of California is close to ports on the Pacific Ocean, particularly those in Los Angeles, San Francisco, and San Diego. This geographical advantage lowers drayage expenses and provides retailers direct access to goods coming in from overseas.
The Ports of Los Angeles and Long Beach form the most extensive maritime port complex in the Western Hemisphere. Its combined capacity can handle more than 40% of all incoming containers for the whole United States.
One of the biggest transportation hubs, Los Angeles, offers quick access to many significant corporate hubs in Southern California. Other parts of California, Nevada, and Arizona are also easily accessed through LA. Trucks frequently travel from and to one of the biggest ports on the West Coast, the Long Beach and San Pedro area. It also includes the San Diego and San Francisco coast. These are two other significant shipping ports in California, and long-haul drivers extensively use one of the most intricate roadway systems in the world.
The Port of Los Angeles is designated as Foreign Trade Zone (FTZ) 202, established in 1994 and comprises approximately 2700 acres of Port property, including warehousing facilities compatible with FTZ operations. An FTZ incentivizes international trade and offers multiple benefits, even for smaller businesses. By enabling enterprises to postpone, scale back, or do away with U.S. customs taxes, FTZs can cut the cost of doing business and promote economic growth and development in the United States.
Container ships make up 22% of all vessels in the Port of LA. There was some port congestion in the area early this year, with 29 vessels waiting outside Los Angeles and Long Beach ports. However, port authorities have since coordinated with labor and industry groups to boost productivity.
In June 2022, the Port of Los Angeles moved a record 876,611 twenty-foot equivalent units (TEUs), surpassing last year's number. It's the biggest number of units moved in the entire 115-year history of the Port. With the movement of 835,412 TEUs, the nearby Port of Long Beach also experienced its busiest June and third quarter on record.
Located in California, the country's most populous state, Los Angeles is home to millions of potential customers. Its world-class seaports run among the busiest international logistics gateway for incoming container shipments. There are many benefits when outsourcing to a fulfillment center in Los Angeles.
The Advantages of Having a Fulfillment Center in Los Angeles
eCommerce is constantly evolving, along with changes in the global economy, supply chain issues, and advancements in logistics technology. Los Angeles has several geographical advantages, making it a genuine game-changer in international logistics.
1. Easier Import/Export of Items
Asian imports and exports are well-accessible through California ports. Los Angeles is the country's top customs district for commerce with the United States' biggest commercial partners, including China, Japan, South Korea, Taiwan, Vietnam, and others. Since 2000, the Port of Los Angeles has been regarded as the top container port in the United States. It is one of the busiest seaports in the world and a major gateway for international trade in North America.
As an FTZ, retailers can enjoy deferred duty payment when storing their inventory inside bonded warehouses. It means your items are exempted from payment of U.S. customs duties until they are shipped out.
Users of FTZs can avoid paying U.S. Customs taxes on goods exported from an FTZ or on defective, discarded, or unused goods. A warehouse in the Port of L.A. gives businesses more freedom regarding products with just-in-time inventory delivery restrictions, quotas, or marking specifications. Additionally, using FTZ may speed up the processing of goods through customs.
2. Extensive Transportation Infrastructure
Companies can swiftly transport orders from a Los Angeles warehouse via seven main highways (110, 405, 91, 710, and 105) and interstates (I-5 and I-10). Additionally, if any of your eCommerce transactions need expedited shipment, you can go to Los Angeles International Airport. It's close by and processes more than 2 million tons of air cargo annually.
Major metropolitan hubs like Los Angeles enable companies to ship their products throughout the U.S quickly.
Consumer expectations have easily changed due to eCommerce. This change has spurred
the movement of distribution facilities closer to metropolitan areas to reduce costs and expedite the flow of goods. Location optimization near expressways makes it simple to transfer goods and make the staff accessible.
Because important rail connections link Southern California with the rest of the United States, intermodal operations are smooth in California. Businesses can easily transport items onto the railroads from ships, warehouses, or roads. Due to this, Los Angeles presents an excellent opportunity to include intermodal operations with a supply chain.
3. Access to Drayage Services
It is considerably more convenient to address a significant portion of your supply chain demands in L.A. because it serves as a central hub for many regions.
Drayage services are readily available in Los Angeles. When prepared containers are placed onto a truck and transported to another location—usually nearby—by ground freight, this is drayage.
Drayage can bridge the gap between ports, harbors, rail terminals, and warehouses. It's frequently the shortest component of the supply chain. That means one truck driver may often finish it in a single shift and seldom takes more than a day.
4. Pleasant, Predictable Climate
Southern California enjoys more sunny days and practically zero days of snow in a year. Companies can factor out harsh weather for your logistics projections.
This region's tropical conditions make it simple to conduct business there year-round. The climate encourages better temperature control in storage. With its tolerable temperatures and low humidity, companies can keep certain items longer, and fulfillment warehouses can keep costs down in this area. Environmental issues, including moisture, mildew, and mold, pose less of a problem for a fulfillment center in Los Angeles.
Setting Up a Partnership with a Fulfillment Center in Los Angeles
As an eCommerce retailer, your products likely come from overseas. A fulfillment center seamlessly coordinating with you and your suppliers is a considerable advantage. Many businesses can store and handle your freight. However, working with a reputable 3PL firm that provides certain services & advantages can optimize your supply chain. They can even aid in the timely and effective delivery of your products to your clients.
When trying to find an L.A. fulfillment center, it's best to partner with professionals with considerable experience with dry, warehouse, delivery services, and inventory management. They can effectively manage your items while storing, tracking, and monitoring them. You want a 3PL provider that helps your inventory flow smoothly, delivers to customers quickly, and tackles challenges immediately.
They must also have the knowledge and adaptability necessary to create a solution specifically tailored to your requirements.
It's best to determine where the bulk of your suppliers and customers are and where you intend to expand your company, before selecting a fulfillment center. Los Angeles can be the ideal location for your fulfillment if your consumers are on the West Coast or you operate globally. L.A. is also suitable if you want more access to shipping choices, or if you just want to increase the size of your customer base.
Work with ZhenHub, a 3PL company with globally-connected eCommerce fulfillment centers built for multi-platform integrations. Reduce your storage and shipping costs through an optimal distribution network of global warehousing partners. Get access to fulfillment centers in Los Angeles when you sign up at our website. Why You Should Outsource to a Fulfillment Center in Los Angeles
Share Article