Logistics Planning: What It Is and Why You Need It
Time to read:
5
minutes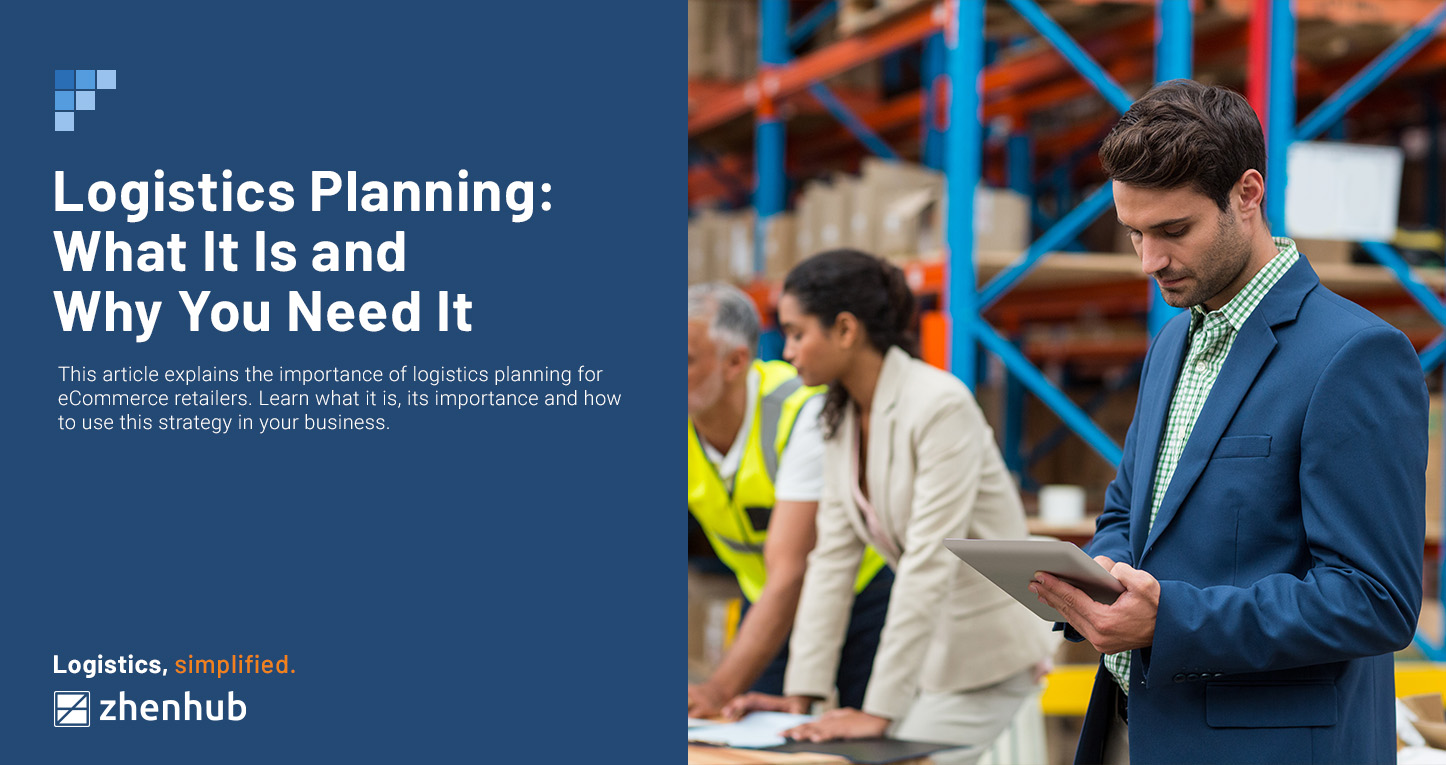 A strong foundation of any business, logistics handles many things. Most importantly, its primary responsibility is to ensure that the correct items go to the right places at the right time.
You'll need to undergo logistics planning to build a robust logistics operation.
Effective logistics planning and strategy are essential to the success of your business. According to Harvard Business Review, 67% of business strategies fail as a result of poor execution. 
For this reason, a thorough logistics strategy should address the four key supply chain pain points: facility locations, customer service standards, inventory management, and transportation decision-making. Business leaders should also consider strategic, operational, and tactical levels of logistical planning.
Though it's not the most exciting part of running an eCommerce firm, logistics planning is crucial to the success of your enterprise.
By spending the time to plan your supply chain, consider the specifics of logistical procedures. Understand the need to assess your resources, and budget your expenses to make more of the "unknown" quantities in your logistics known. Avoiding guesswork can optimize your business operations and make them more resilient to upcoming crises.
Without logistical planning, business owners risk costly mishaps, inefficiencies, and an inability to scale their operations successfully — particularly when tough times arise.
Logistics Planning Explained
Logistics planning is a crucial element of logistics management. The company owner has to deliver the best goods at a great price to the ideal client at the right time. Logistical planning aims to build a lean, cost-effective logistics operation that can maintain service levels and withstand supply chain disruptions.
Although each merchant's logistics planning process may differ slightly, it usually entails considering all the various logistical systems. These include procurement, production, shipping, and planning of each system's different logistical functions. On top of that, it involves warehousing, fulfillment, returns, raw material handling, and inventory management.
There are three main aspects to take note of when planning out your logistics:
Long Term Goals
What are some of the milestones your company would like to achieve? Whether it's customer satisfaction or effective supply chain management, your plan should help you reach specific business goals. They must be stated precisely and in terms of quantifiable factors.
Means to Achieve Goals
Identify what resources are at your disposal to help reach your goals. It can be software that automatically manages your entire inventory or the use of robotics in your warehouse. Consider investing in new technologies to improve your company's potential for growth.
The Process
To accomplish the long-term objectives of the firm, it is necessary to define how the logistics strategy will be carried out. You must also take into consideration how to anticipate and manage change. Each component of the logistics strategy must be linked to the overarching business goals of the organization.
Adopting some best practices to boost scalability and sustain delivery is necessary. It will also reduce service delays to resolve disruptions in logistics management. Fortunately, the modern supply chain is digitizing, and new tools and technology can boost accuracy and efficiency.
Every company performs some type of logistics. Whatever your industry is, you must provide your clients with goods, services, or information in exchange for payment. You will be responsible for locating raw or finished goods, moving personnel, units, and materials, and ensuring that everything runs well. 
As a business leader, your daily decisions should keep costs to a minimum and maintain and raise customer service standards. You'll also need to prevent or lessen interruptions, and improve business performance in order to remain competitive. Improving business operations is key to keeping up with the competition or getting that edge over them.
Advantages of Proper Logistics Planning
Logistics planning helps businesses reduce risk in a changing environment by allowing them to forecast trends and create plans to adapt to them. Because supply chains constantly change, many companies develop logistics strategies for particular product lines, geographical areas, or customer segments. It allows them to respond to market changes that affect one region or business line while preserving efficiency across other business lines. Beyond future-proofing your operations, logistical planning may enhance daily operations and put you in a position to succeed now and in the future.
1. Foundation for Successful Scalability
Logistics planning allows you to step back and consider your company's short- and long-term objectives. It would help establish goals for your future growth and make informed decisions about managing your logistics.
However, to accomplish those objectives and turn a profit, you must first determine how to continue to meet client demand while reducing costs. This can be achieved by carefully planning logistics procedures like storage, shipping, and fulfillment.
A solid logistics operating plan will keep you on schedule, within budget, and in line with customer expectations. Doing this allows you to work efficiently towards your immediate objectives.
By reaching those short-term milestones, you will be better prepared to complete long-term objectives later on. You're also preparing yourself for sudden or unforeseen difficulties by building a resilient supply chain through logistics planning.
2. Optimizes your Costs
It's easy for eCommerce companies to go over their budget when it comes to logistics. Planning your logistics can help reduce redundant or pointless costs that impact your revenues.
You can avoid panicking and choosing an expensive option out of convenience if you have a clear plan for carrying out your logistics.  Instead, you may discover the most cost-effective supply chain solutions through logistics planning. Consider unanticipated hidden logistics expenses (such as labor, warehouse insurance, and equipment).
Logistics performs at its best when there is substantial transparency and visibility into your operations. Effective logistics planning may examine historical data and offer route optimization to improve efficiency and lower fuel costs. Additionally, you can increase business effectiveness, maximize asset use, and save operational costs.
3. Deliver a Superior Customer Experience
Logistics systems should be well-planned and efficient. Your company will always be able to meet client demand swiftly by meticulously controlling inventory levels, streamlining operations, and ensuring quick shipping choices.
Planning for logistics enables quick and effective service. A planning strategy can consistently work to enhance transportation procedures and remove any potential disruptions and effects from delayed deliveries.
Companies can add more value to the customer experience by offering superior customer services and a seamless freight transfer process. A better brand or company reputation and more repeat business can result from this. Therefore, effective logistics management enhances the whole customer experience.
4. Increased Revenue
Companies can improve client interactions, inventory replenishment, and comprehensively understand their operations through logistics planning. With it, you can raise the order fulfillment rate, ultimately boosting the business's profitability.
Reduce operational expenses and guarantee coordinated supply chain management by utilizing route optimization tools. Implementing the latest technology advancements, and enhancing fleet capacity utilization can also help.
You'll most likely see more significant financial savings and improved profit margins if your targeted goals stay within budget and lower supply chain costs.
Satisfying your customer's needs has a direct effect on raising client happiness and loyalty. This leads to repeat business and increased sales. After all, 67% of loyal customers are likely to spend more on your business.
Looking Ahead with Logistics Planning
Planning your entire logistics chain may seem daunting because of so many unknown variables and factors in the supply chain sector. However, it isn't totally.
With forward planning, some challenges become more manageable and dealt with in a consistent method year after year. However, there will be difficulties that come as a complete surprise. You may be unable to completely stop them from affecting your company immediately.
However, if you plan carefully and lean on vital logistics operations, you can satisfy consumer expectations even in rare or unexpected delays.
The key to effective logistics planning is thoroughly analyzing your supply chain to find every hurdle in each logistical phase. Then figure out the best method to get around them.
As a result, the plan should consider factors like your end clients (and their delivery requirements), your suppliers and their lead times, and even the inherent qualities of your product.
By implementing sound best practices for logistical planning, companies can properly coordinate processes and exchange accurate data. This will serve to allow optimal business performance.
Planning for logistics is a constant optimization process that demands regular time and focuses. Working with a third-party logistics (3PL) provider like ZhenHub allows businesses to get the required tools and services. We revolutionize the way you approach your logistics with our all-in-one logistics software solutions. Planning is easy when you can automate inventory management and oversee all your fulfillment operations around the globe. Sign up for your free account at our website.
Share Article