How an Order Management System Can Solve Your Fulfillment Challenges
Time to read:
5
minutes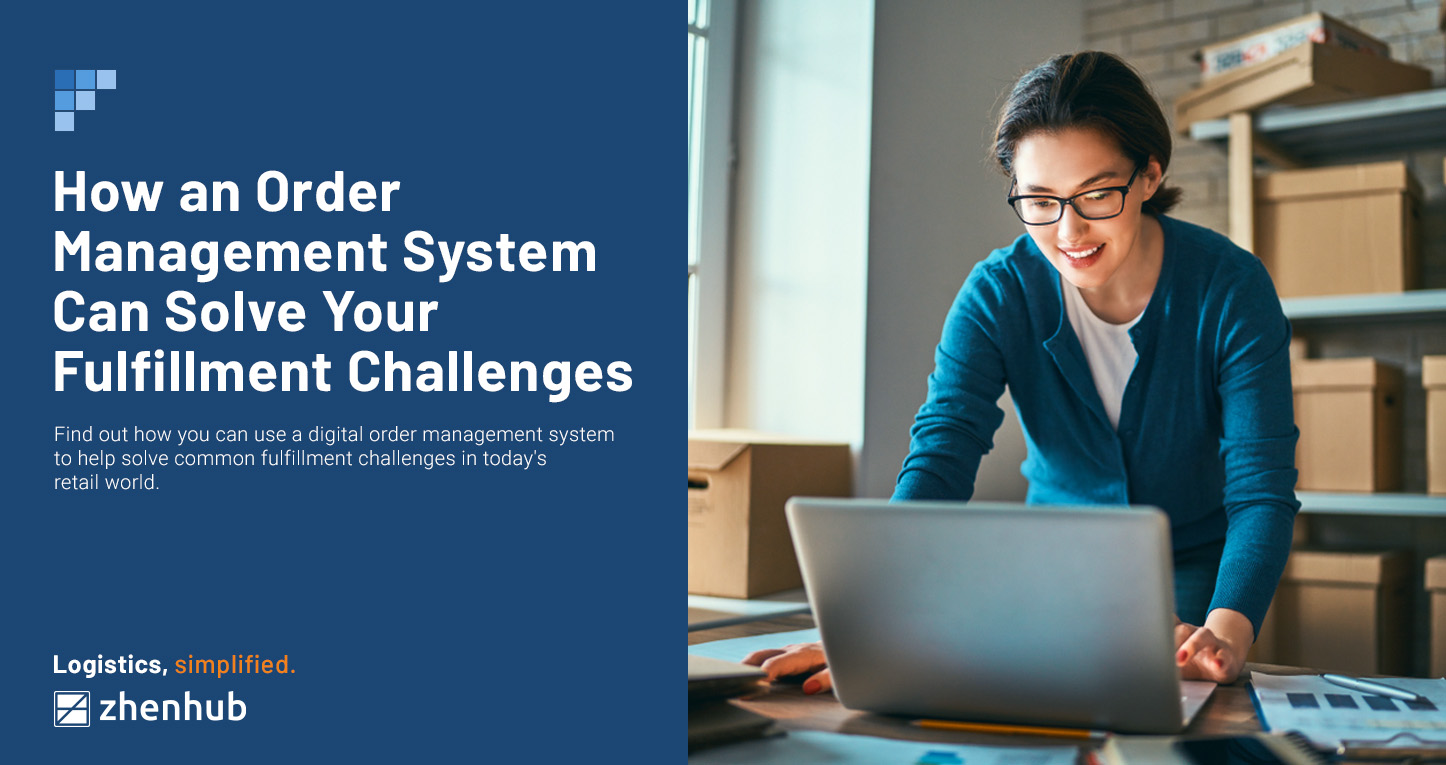 One of the most exciting parts of online shopping is seeing the progress of a purchased item, from order to delivery. While all a buyer needs to do is wait for a package to arrive, this involves several different steps for retailers.
In the increasingly complex system of modern business, making a sale and getting products out to buyers involve more steps than ever before. eCommerce has opened doors to greater possibilities for online merchants, creating processes that help deliver products to customers faster than ever.
Order management (OM) is the process that facilitates getting an item moving from the moment it gets ordered until it reaches a customer's doorstep. The fulfillment process is a crucial element of proper order management. A business must collect orders accurately and have clear visibility over inventory availability and delivery routes.
To help with growing customer expectations and demands, an order management system (OMS) is a software solution that can help retailers solve many fulfillment challenges. An OMS can help streamline order processing and improve order accuracy by providing a centralized inventory and order data view. In addition, an OMS can provide real-time visibility into order status, allowing retailers to manage customer expectations proactively.
An order management system is becoming a standard part of eCommerce operations. Learn how they work and what they can do to make your business run more smoothly.
Key Functions of an Order Management System
An OMS is ideal for businesses that operate in various locations or sell on multiple channels. Doing online transactions has opened up many possibilities such as direct-selling and, buying online & pickup in-store. With the difficulty of monitoring and updating hundreds or thousands of individual orders at once, the margin of error is relatively high.
The purpose of an order management system is to organize all orders you receive into clear and manageable tasks so that fulfillment can be simple. With one central location for inventory data and task status updates from every other system in your business, it's easier to track the source of an error.
A good order management system can help your business by doing the following:
1. Order Tracking
The most well-known and fundamental feature of any OMS, this software will automatically track and record any orders placed on your websites, marketplaces, and other platforms.
Orders placed in-store can also be integrated into the online system. Even the most diligent employee can make a mistake when simultaneous, multiple orders come in. An OMS will centralize and unify all your sales, so you and your staff can check their order status, make changes, and update customers in real-time.
This seamless process makes the buying experience much better for both customers and your business.
2. Manage Inventory
An OMS can be linked to your inventory so that every time an item is purchased, this action will be logged on all platforms, giving customers an accurate look at the current stock. This transparency prevents confusion about when an item is available or not.
Inventory levels are updated immediately, no matter which channel an item order gets placed from. This data update will also include returns and exchanges. Accurate inventory management also helps prevent overstocking and overselling, ensuring customer satisfaction.
3. Expedite Fulfillment
Once an order is placed, an order management system can relay that information directly to your distributor or a third-party logistics (3PL) provider for fulfillment. This streamlined process promotes greater warehouse productivity. Companies can print shipping labels in bulk, and the stock can be sourced from the right warehouse if you operate in multiple locations.
4. Facilitate Returns
Despite best efforts to avoid it, nearly 30% of all online products get returned. Though there are several reasons behind this, the seller is responsible for making good on a return policy. Your chosen OMS can automatically clone the original order as well as process refunds, replacements, and reorders immediately. Customer service teams may also be notified of a return by the OMS. They can reach out and assure customers that they are taking care of their concerns.
Why You Should Use an Order Management System for Your Business
Your business should be able to perform according to market needs and customer demands to stay ahead of the competition. Eighty-six percent (86%) of customers are willing to pay more if they get a better customer experience, so using an order management system to streamline your processes makes sense. In an omnichannel selling environment, a seamless experience is everything.
Now that online shopping has become the norm, customers will want readily available updates at a moment's notice. Fifty-five percent (55% ) of retailers still manually carry out their logistics via pen and paper. Don't get left behind, especially how much an order management system can help your business.
These are the different ways logistics can be made easier with an order management system:
1. Automation
The beauty of using an OMS is that it assures you that your marketplaces will continue to operate even when your staff isn't present. It means orders won't be delayed even if they come in after working hours or when someone steps away from their computer. The system will automatically take care of tasks such as inventory changes, payment processing, and shipping labels creation.
You can set up custom automated processes to drastically improve order processing speed. Automation also helps with timely restocking, alerting you to low inventory levels to prevent stock-outs.
2. Cost Efficiency
Since an order management system is automated, it takes a load off your staff minimizing manual labor, lessening person-hours, and reducing mistakes. Simplified processes take the guesswork out of inventory management.
It takes fewer steps to move items between warehouses and less time needed for them to get to the customer. Efficient allocation of your business resources can contribute to cost reduction as well.
New services will also be faster to implement, with only a few adjustments to an OMS needed.
3. Streamlined Operations
The OMS dashboard unifies accounting, customer information, and inventory all in one place, giving you superior oversight over all your business operations. All the data is stored digitally, allowing for quick and easy access anywhere, anytime. Thanks to the comprehensive analytics and information at your fingertips, you will be more confident managing your business.
Management can address issues when they pop up, with real-time reporting. You can optimize your existing sales channels, generate new revenue streams, and expand your market without spending a fortune on your logistics.
These capabilities are in an easy-to-use platform that requires minimal training to use effectively.
4. Superior Customer Experience
According to Hubspot, 67% of repeat customers are more likely to spend more with a brand because of excellent customer service.
A business powered by an order management system is better equipped to accept and fulfill more customer orders. Simple processes can mean a smoother and hassle-free shopping experience since fewer steps are needed to buy a product online.
Buyers will always have accurate inventory information presented to them when deciding on an item. Order transparency also contributes significantly to a positive customer experience. Lead times get reduced, and returns become an uncomplicated affair.
Having access to forecasting and shopping analytics can also help you craft personalized customer recommendations for repeat purchases.
Choosing an Order Management System
Having satisfied customers and getting repeat business will increase margins and brand loyalty. Those benefits alone are worth considering using an OMS.
For online retailers, size isn't everything. You can operate a successful business out of your garage. It's all about how you can manage complex processes effectively. As growth is the goal, you will need a reliable OMS that can reliably scale alongside your business.
The fast-paced eCommerce industry has ever-changing customer demands and fierce competition. It's easy to get left behind if you don't invest in the right technologies to leverage opportunities and help you meet customers exactly where they are.
The benefits of an order management system apply to both large corporations and smaller ventures. Look for platforms that have seamless integrations with multi-channel selling software. The right fit for functionality will help you get the most out of an OMS.
24/7 customer support to help address issues will be an essential factor in choosing the right order management platform. Downtime can kill a business, so you need to be sure you can count on a team from the OMS to assist during unexpected outages or errors.
Online orders have grown exponentially over the past two years, and their utilization will likely be essential. Choosing not to modernize your business processes may lead to a decline in your productivity and loss in profits. Innovation is one of the best ways to future-proof your brand, and ZhenHub offers tech-driven eCommerce software solutions that can accelerate growth.
Sign up for free and get access to our powerful all-in-one fulfillment platform that makes order management easy.
Share Article