A 2022 Guide to the Global Supply Chain Crisis
Time to read:
6
minutes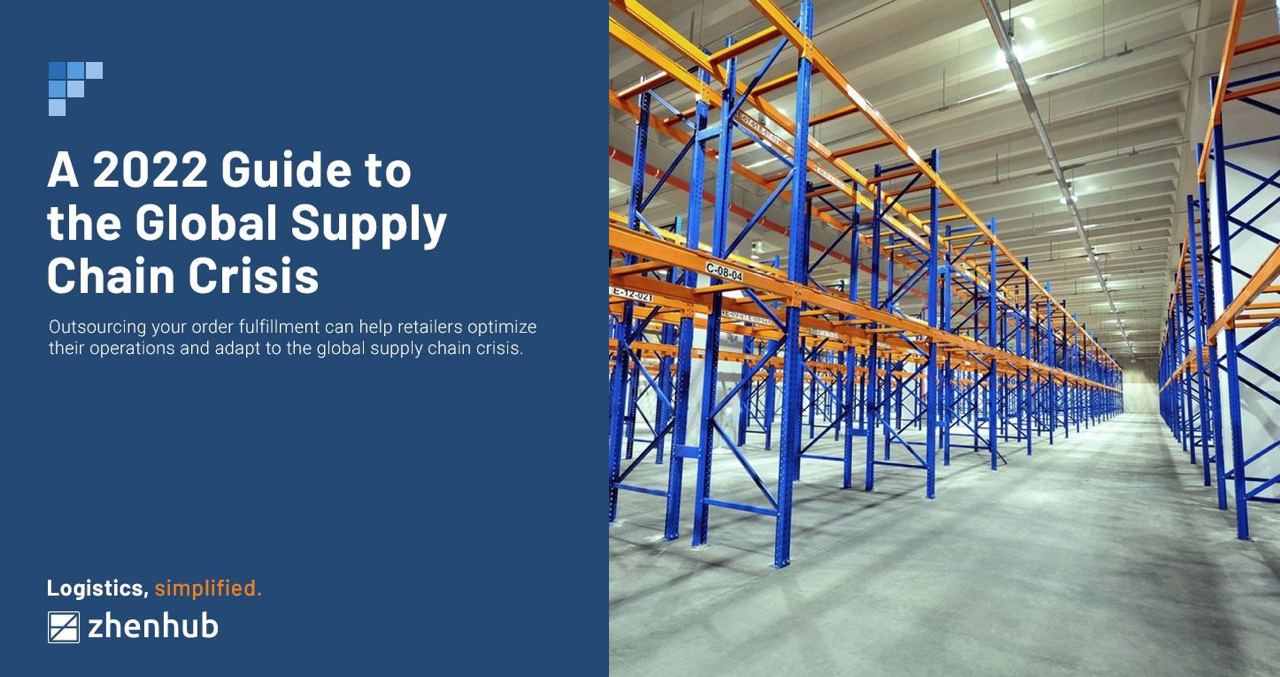 It's the second quarter of 2022, and the supply chain crisis continues to buckle under the strain of the continuing pandemic, geopolitical conflict, and economic uncertainty. Shortages have defined the struggles of businesses during the last two years. Because of hoarding and panic buying, stores didn't have enough inventory to put up on shelves. In addition, many retailers didn't have the online infrastructure to transition digitally.
2021 brought along a different set of challenges. As eCommerce grew and more people shopped online, warehouses and shipping ports filled themselves with goods, causing significant delays due to congestion. Moreover, a shortage of semiconductor chips hit automotive makers and the electronics industry, especially hard since these chips serve as key material for their production.
To summarize the situation, Damien Bruckard, deputy director of trade and investment at the International Chamber of Commerce in Paris, says: "The collapse and subsequent surge in consumer demand during the pandemic has led to significant shortages of manufacturing components, order backlogs, delivery delays and a spike in transportation costs and consumer prices."
What is the state of the supply chain crisis in 2022? This article will outline some of the major causes of the problems in supply chains today and provide insights to avoid delays.
What Caused the Global Supply Chain Crisis?
In early 2020, many manufacturers put their operations on hold as a precaution against COVID-19. Much of the world still didn't understand the nature and effects of the virus at the time.As a result, governments temporarily asked businesses to close in the interest of public safety. Here are some major events that contributed to the current crisis:
As the COVID-19 virus infections exploded in China, many major manufacturing firms had to lock down a majority of their workforce. This shutdown of operations heavily affected the production of medicine, consumer goods, and electronics.

Work-from-home arrangements and lockdowns increased demand for electronics, medical equipment, appliances, and building materials. Additionally, people were concerned about preparing themselves for the long haul against the virus.

The dominance of the "lean manufacturing" model led to a chain reaction that left warehouses unable to keep up with a sudden demand for products.
Businesses believed that consumers would be more conservative with their spending, given much of the world had been put on strict lockdowns and many companies choosing to put their operations on hold. But as people received financial aid in the form of stimulus packages, and added savings from staying at home, they turned to online shopping instead. 2020 retail holiday sales actually grew by 8.3% in the U.S. despite the pandemic.
Lean manufacturing can be advantageous for many companies, focusing on minimizing waste leading to cost-efficiency and reduced lead times. However, market demands skyrocketed when the COVID-19 pandemic began. The lean approach wasn't enough. It relied on highly accurate forecasting to adjust the shipping dates to deliver the right items when needed. This foresight prevents stocks and materials from spending extended time in storage.
The sudden changes in demand exposed flaws in many logistics operations. For example, businesses could not immediately acquire large stock due to staff shortages in warehouses and manufacturing. This delay would later cascade into logjams at major trading hubs and port cities, with massive backlogs in crowded shipyards.
The Current State of the Global Supply Chain Crisis
Businesses initially have tried to deal with disruptions to their supply chain by spending more to hire private container ships and stockpiling goods. However, these are more temporary solutions to the problem. As a result, other retailers have looked to overhaul how they approach logistics, prioritizing security.
Shipping companies saw immense growth in 2021, with the cost of a 40ft container increasing from $1,331 on average at the end of February 2020 to a peak of $11,109 by mid-September 2021.
The soaring shipping cost has highlighted the need to shorten supply chains and look for alternative ways to get products out to consumers.
Lisa Anderson, president of supply chain consultancy LMA Consulting Group, says: "[The rocketing container costs are] increasing the prices of goods because companies can't just absorb these prices, and they are passing them on. It is causing this inflation that will continue as long as shipping prices are high."
The global political and economic landscape has also affected the supply chain issues. Europe, in particular, has seen added cross-border checks and red tape due to Brexit. The ongoing Ukraine-Russia War is a significant factor in rising goods and transportation fees costs and continues to endanger many lives.
A severe shortage of semiconductors and chips has crippled the automotive and electronics industries as well. This shortage has affected the production of cars, coffee machines, computer components, and many more. As demand for items in these categories grew, production could not keep up due to a depleted supply. As a result, other manufacturers have resorted to hoarding chips, which has not helped the situation.
Staff shortages caused by the pandemic have also defined the current supply chain crisis. Lockdowns and layoffs have resulted in smaller workforces and a need for skilled workers. As a result, skilled laborers have moved away from city centers into rural areas— making hiring and recruitment even more challenging.
eCommerce has shifted the way brands fulfill their orders. Traditionally, items are sent from the manufacturer out to retailers, whereas now the norm is to ship directly to the buyer. Warehouses are stocked to the brim to keep up with demand, especially in large metropolitan areas with a denser population of buyers. This lack of storage space has resulted in ships in limbo, floating offshore for days or weeks, waiting for an opportunity to offload. These problems, coupled with smaller workforces to unload and transport all these items, aggravated the situation.
Steve Dowse, senior vice president, and general manager for global solutions at FourKites explains, "Those systemic problems in the supply chains, this has been building for years. The pandemic has really just highlighted the fragility of our supply chains."
Strengthening and Streamlining your Supply Chain
The supply chain crisis has forced businesses and retailers the way they approach logistics. The good news is that technology has provided smart solutions in making your supply chain agile, resistant to sudden changes and demand, and scalable.
A.I, technology, automation, and logistics management are some of the critical solutions to keep up with global demands.
Sridhar Tayur, professor of operations management at Carnegie Mellon University's Tepper School of Business, said the future of the crisis depends on these 4 Ps: Product, Prices, People, and Politics.
"Product availability will continue to be difficult, especially in semiconductors and in items that require them as components."

"Prices of supplies will continue to be high, and may even go higher in some raw materials, and companies will likely have to pass some of these onto their consumers. Inflation is here to stay for a bit and is not transitory. Wages may have to be higher."

"People (labor) shortage, due to new (and better) opportunities absorbing existing talent as well as [a] shortage of appropriate STEM skilled ones will continue to be an issue."

"Political decisions related to mandates, inflation, multi-national trade policies, and immigration (both high skill and low skill) will have a sizable impact. Companies should be alert to these moving pieces as well as actively lobbying to gain the advantage."
Businesses must upgrade to the latest technology solutions to power their supply chain management. For example, digital warehousing provides valuable data and insights into shopping trends and customer data, making you more flexible when demand is unpredictable.
In addition, a streamlined supply chain has enhanced visibility and transparency, allowing you to identify weak links in your process. This shortened chain is ideal for small businesses to build customer loyalty with shorter lead times and accurate inventory reporting. It also ensures that items are always in stock and available when shoppers browse online.
Investing in the right technology and software can also help empower your staff. For example, while logistics management software will need additional expenses for training and set-up, this will ultimately help reduce errors and person-hours through automation. What's more, upgrading the skills of your staff will go a long way to making processes more efficient and reliable. Initiatives like these also help improve staff morale by showing you are committed to their growth as employees.
Managing data will also help business leaders make more informed decisions than before. A supply chain crisis 2022 roadmap is easier to visualize when you have a clear overview of all the small pieces that make up your chain. It can also provide alternatives to ensure your goods are constantly moving and getting to customers reliably. Understanding trends will help you prioritize urgent customer needs, and historical data can shape demand forecasts.
Looking into 3rd party logistics (3PLs) can significantly reduce your operational costs. They also offer flexibility in fulfillment, using an extensive network of warehouses and fulfillment partners. 3PLs allow your businesses to reach new markets without relying on a single source. In addition, diversifying supplier sources makes a supply chain more resilient to disruption.
Stick to your specialty as a business leader, and let the logistics experts handle the movement of your goods from factory to consumers. The supply chain crisis isn't going to end soon, but developments in technology give businesses a fighting chance.
ZhenHub offers a full suite of advanced logistics software solutions. From multi-channel fulfillment to reliable warehousing and inventory management, we have services that cater to businesses of any scale. So take a step towards making your supply chain more agile when you sign up at our website for free.
Share Article