Are Drone Deliveries the Future of eCommerce Shipping?
Time to read:
5
minutes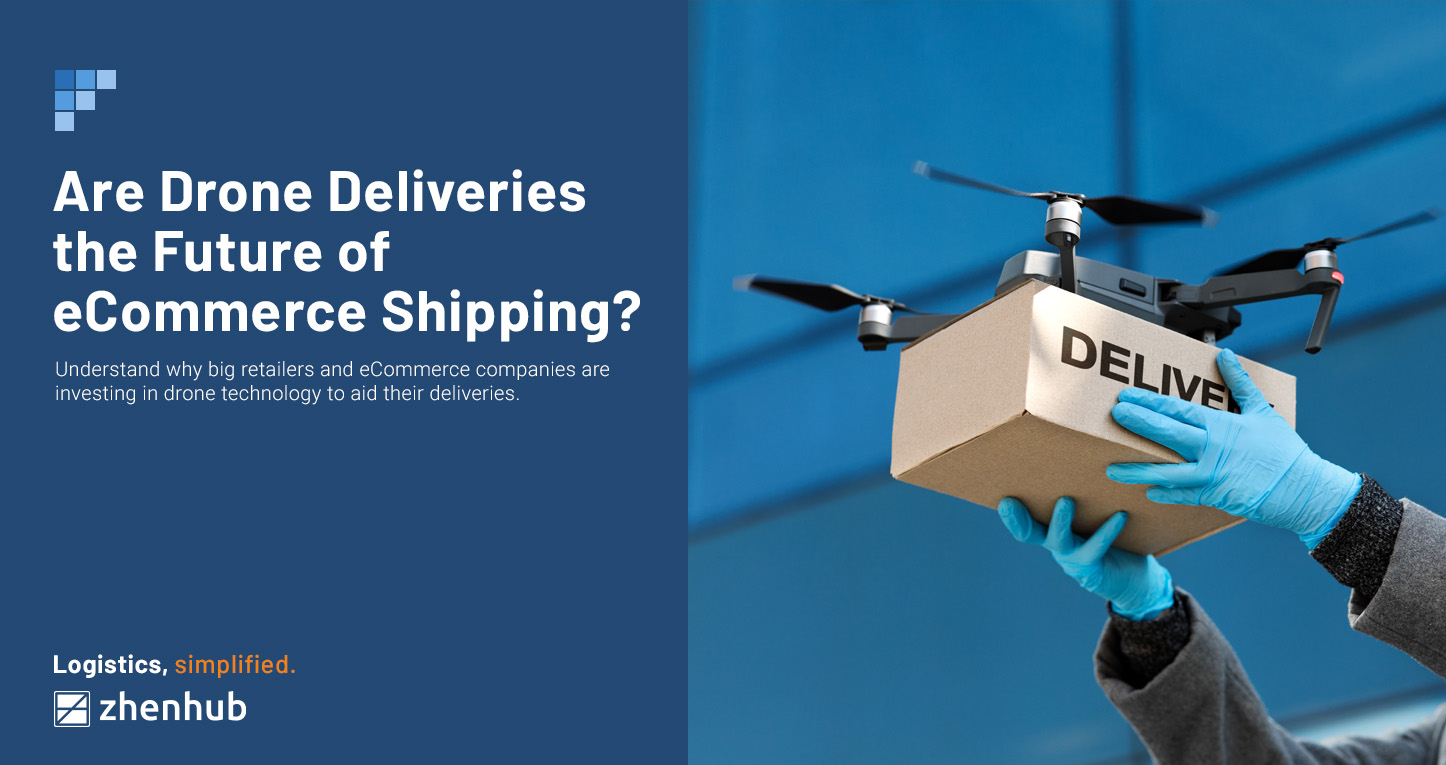 The logistics industry is changing as it embraces new technologies. Solutions to problems learned over the past two years include automated and unmanned vehicles such as drone deliveries. 
Since the start of the COVID-19 pandemic, online shopping has grown widespread. People can now order food, groceries, collectibles, and even prescription medications delivered to their homes. But as deliveries rise, several fulfillment issues, such as theft, public safety, and environmental harm, are emerging.
Companies have struggled to get orders out to their clients due to several logistics problems. Cargo delays are keeping shipping containers stuck at sea or major ports. However, many retailers are solving these problems by bringing their products closer to consumers by contracting bonded warehouses across international markets.
More customers are looking for fast and free shipping. It's up to online merchants to provide agile fulfillment that leads to positive customer experiences.
Drones are slowly becoming viable for transporting goods from your warehouse to a customer's doorstep. These amazing flying machines are redefining deliveries for just about any online transaction.
Vikram Singh, CEO of TechEagle, has spearheaded drone deliveries in rural parts of India. His company has already done more than a thousand deliveries performed by drones.
He says, "2022 will be the year of validation and small-scale operations of drone deliveries in different industries, such as healthcare, e-commerce, hyperlocal, etc. And 2023 will be the year of large-scale adoption of drone deliveries."
More and more companies around the globe are investing in drone technology. Industry giants such as Amazon and Google are already using drones in their operations.
The potential of drones is huge, especially when it comes to digitizing your logistics operations.
How Drone Deliveries Work
Delivery drones are unmanned aerial vehicles (UAVs) used to deliver items, ranging from food, medical supplies, and other consumer goods.
The COVID-19 pandemic has highlighted the need for alternate, secure, and contactless delivery modalities. Due to this, demand for drone delivery services has increased globally.
Once an order is received, the item is packed at a nearby fulfillment warehouse and dispatched via special packaging. Then, it's attached to a drone that takes off from the warehouse.
Drone deliveries utilize GPS to help navigate their way to a customer's home. Once it reaches its final location for drop-off, built-in cameras and sonar tech help a drone avoid obstacles during flight.
For final delivery, a drone may safely lower the item to a safe location marked by a QR code. Customers can use a specially marked mat to identify this drop-off point correctly. The drone will scan this code to verify the delivery. If successful, the order gets lowered onto the mat. Once , the drone will return to the warehouse, ready for another order.
Drones were first developed as military and law enforcement tools, particularly for surveillance and monitoring. Since then, drone use has expanded to many additional labor-intensive and difficult jobs in various sectors. These include inspecting crops, locating hotspots in the event of a fire, mining and construction sites surveillance, filmmaking, delivering merchandise and more.
Retail and logistics sectors have begun using innovative and scalable delivery strategies. Amazon, UPS, DHL, Walmart, and others have used drone delivery services for years.
Specialized drone delivery companies and technology suppliers like Wing, Zipline, and Matternet have grown the UAV market. According to Gartner estimates, the size of the worldwide drone package delivery market will hit $8B by 2027, growing at a noteworthy CAGR of 41.8%.
The Advantages of Drone Deliveries for eCommerce
Numerous industries, from agriculture, construction, mining, and logistics, are already being transformed by drones. Drone delivery is not a new concept; numerous Chinese businesses have been doing it on a limited basis since 2013.
More businesses are considering providing drone delivery services to meet client demand and save on logistical operations expenses. Drone delivery offers a variety of advantages, and the market will expand rapidly in the next few years.
1. Faster Deliveries
Deliveries done through the air are faster than land-based ones.. UAVs use shorter and direct routes, which saves time. Drones in the air run in a nearly straight line, shortening the distance traveled. The flying speed is also rather quick since there are no restrictions on standard rapid logistics shipping routes.
2. Lower Costs
The initial cost of unmanned transport technology is considerable. But its upkeep will eventually be far less expensive than traditional manual delivery. While labor expenses will continue to rise over time, unmanned distribution equipment has essentially no costs other than charging and maintenance.
About 40% of the cost of delivering packages is spent on the last mile. A UVL Robotics study predicts that employing drones to carry items in urban areas will soon be less expensive than using people.
3. Easier Access to Remote Areas
Rural and difficult-to-reach populations have greatly benefited from drone deliveries. It has seen use for critical supplies like medicine and life-saving equipment for people who need it quickly.
Zipline, a drone delivery company, started using drones to transport vital medical supplies to remote areas of Rwanda and Ghana. The company developed its technology in rural Africa, where there is inadequate road infrastructure. UAVs have cut delivery times from four hours to only twenty minutes.
4. Safer Environmental Impact
Logistics firms are constantly seeking methods to cut their carbon footprint, save fuel money, and help combat climate change. Using drones in the last stage of the supply chain can be more economical. They can significantly cut their reliance on fossil fuels, save more money, and contribute positively to environmental improvement.
Switching to air delivery also lowers carbon emissions and road congestion. All-electric drone-based delivery methods are often more ecologically friendly than ground-based options.
Drone Deliveries as Part of Your Logistics Strategy
It seems inevitable that companies will use drone technology and delivery drones in eCommerce logistics. Many companies will soon use drone technology to innovate their business sectors, such as surveillance, research, and last-mile deliveries. Since 2005, eCommerce behemoths like Amazon have been responsible for drone technology research, development, and patent applications.
eCommerce industry leaders remain committed to expanding their drone capabilities and are concentrated on lowering last-mile delivery operating costs. By investing in UAV technology, they are speeding up delivery times and allowing integrations with mobile phone applications to enhance their customer experiences.
Drone deliveries do offer many benefits. But businesses must expand their drone delivery operations before shipping, and other costs are significantly reduced.It also requires significant investments and a lengthy learning period before you can see any changes in your logistics strategy.
Decision makers must consider regulations and safety protocols with their local government. Air traffic authorities may have varying rules on operating commercial drones in urban areas. Check this first before making any significant investment into UAV technology.
Due to its legal limitations and relatively new technologies, drone delivery is primarily an unknown factor for many customers.
According to a study by Clutch.co, 50% of online buyers say they are unsure about getting products delivered by drones, while 31% are enthusiastic.
Employees are also concerned about the possibility of drones replacing them in their work. That may not happen soon as manual labor is much cheaper and more effective than current drone capabilities. But drones will take on more supply chain responsibilities to help meet customer demands.
As drones only have a limited flight time, focusing their deliveries on a local area might be best. Since most drones run on lithium-ion batteries, they can only run for an hour. Therefore, businesses are only using drones to deliver locally.
Drones won't likely replace traditional trucks in the foreseeable future. But as supply chains try to revamp their operations, drones will be added to current logistic systems to reduce congestion, according to experts. Amazon and Chinese e-commerce giant JD.com are thinking of using drones on a grander scale. Major corporations are already upgrading their unmanned aerial services. For instance, Google has previously experimented with utilizing its drones to do geographical research and aid in firefighting.
Drone deliveries are still an unknown concept to many online shoppers. However, it presents exciting eCommerce fulfillment and logistics possibilities in expanding operations and saving on costs.
ZhenHub helps your business grow with eCommerce-focused logistics solutions. Our services include cost-efficient and trackable shipping services along with multi-channel inventory management on a single platform. Get your online shop ready to integrate drones in the future. Power your logistics by signing up today.
Share Article