What is Proof of Delivery and Why It's Important
Time to read:
6
minutes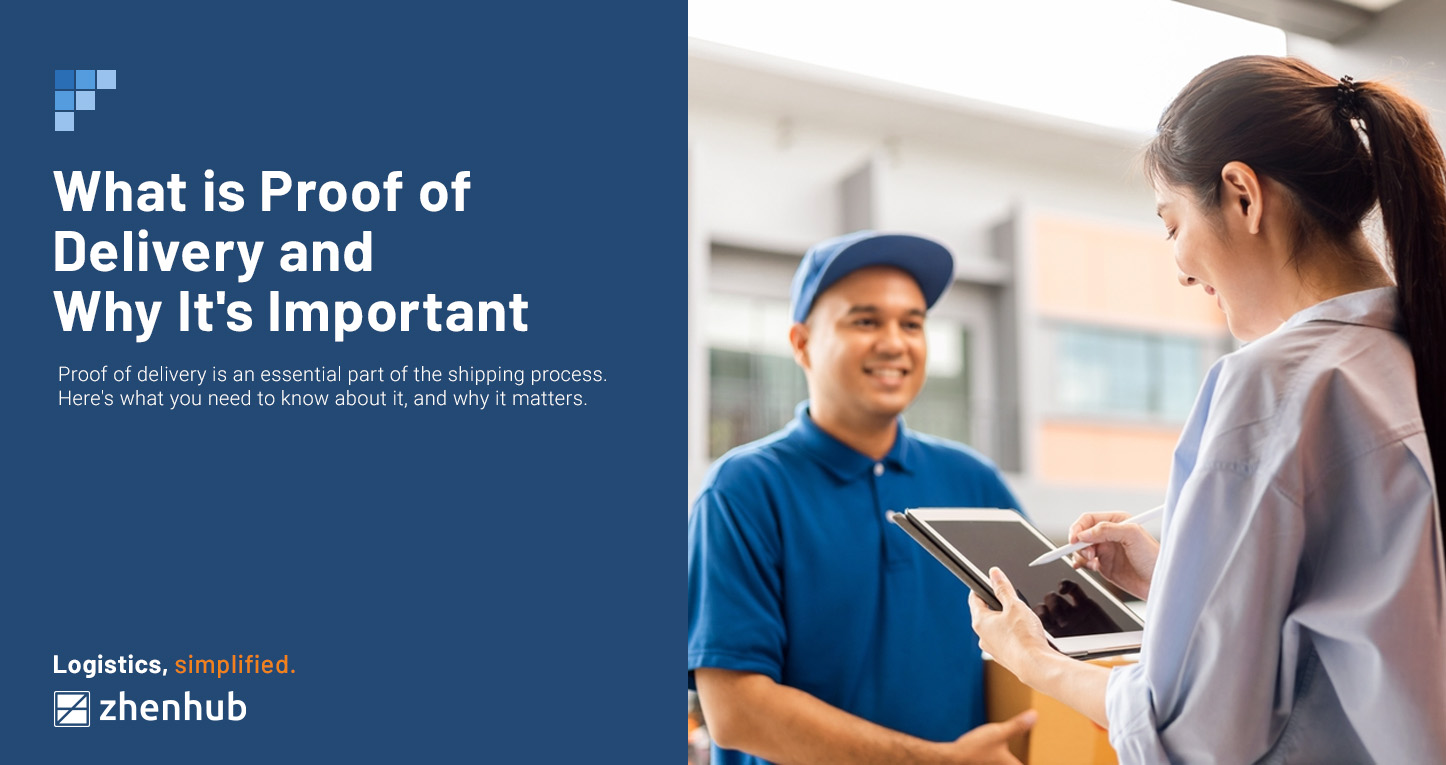 Delivery companies are busier than ever because of the surge in online transactions. However, the number of orders is impacting their delivery performance To ensure consistent and reliable deliveries, proof of delivery (POD) provides transparency for both the seller and buyer. Let's take a closer look at what it is and why businesses must be aware of it.
Your customers are your most valuable asset as a business owner. Strategies and plans should revolve around providing positive shopping experiences. But working with customers could be challenging at times. While some customers are simple to please, others can be more difficult to satisfy. But they all share one thing in common: they all want well-planned, dependable, and timely deliveries. Proof of Delivery is the finest choice for unambiguous proof and client satisfaction. It lets you take control of the last mile and leave a lasting impression on your target audience.
Delivering products undamaged and arriving on time helps you become a trusted and well-known online seller. Technology has been a great boon for many throughout the COVID-19 pandemic. Tools such as order management systems and cloud computing provide a competitive edge for even the smallest businesses.
Part of becoming a trusted and well-known online seller lies in your ability to deliver products. Customers and organizations can always get reassurance from POD that their order arrived as planned. Depending on the organization's requirements and the deliveries made, there are numerous ways to document this.
If your company delivers anything, you must have POD to assure clients they got their purchases. Plus, it can defend your reputation against claims that they didn't.
Proof of Delivery Explained
Proof of Delivery, or POD for short, is an acknowledgment that an order successfully arrived at its intended destination. This term also applies to packages delivered by mail and courier services. Furthermore, it can also refer to those who have completed a service which is why it can also be called proof of completion.
The shipper issues this document and is acknowledged by the buyer to verify that the goods were delivered as promised. You may view the location where the item was delivered as well as the date and time. Damage, incompleteness, or non-delivery can therefore be legally noted or disregarded. Ideally, this document should also include the complete address of the buyer as well as important product details.
A Proof of Delivery may be written by hand on paper, typed, or transmitted digitally. Merchants use paper PODs the most. These are simple physical documents that a buyer must acknowledge and sign once a product or service is delivered. However, electronic PODs are being used more often among fulfillment partners.
Clients will sign electronically with a tablet or electronic signing device when an item is delivered or service rendered adequately. Delivery staff typically carry these devices.
Alternatively, the delivery person will take a photo to prove completion if the customer isn't home or prefers a contactless engagement. As a service provider, this would mean taking a picture of the completed work, such as a successful home repair or a freshly landscaped garden lawn. For online orders, this could be a photo of a parcel placed at the door of the intended receiver. Once completed, the electronic POD will be sent via email, through a link, or uploaded on an online marketplace for easy access.
A POD is not to be confused with a bill of lading (BOL). They share some similarities in their documents related to shipping and deliveries. The major difference between the two is that a POD is more like a receipt that the consignee or customer must sign once they receive their order. A BOL is a legal document that serves as a contract between the shipper and the carrier. It includes thorough information about the cargo, such as delivery information and an item description. The document serves as evidence that the carrier received the delivery items.
The Benefits of Proof of Delivery
The POD is essential to the sales process and to maintaining an efficient supply chain. Additionally, it has a direct bearing on your bottom line. Proof of delivery ensures complete responsibility between senders and recipients once an item has left a shop, establishment, or warehouse.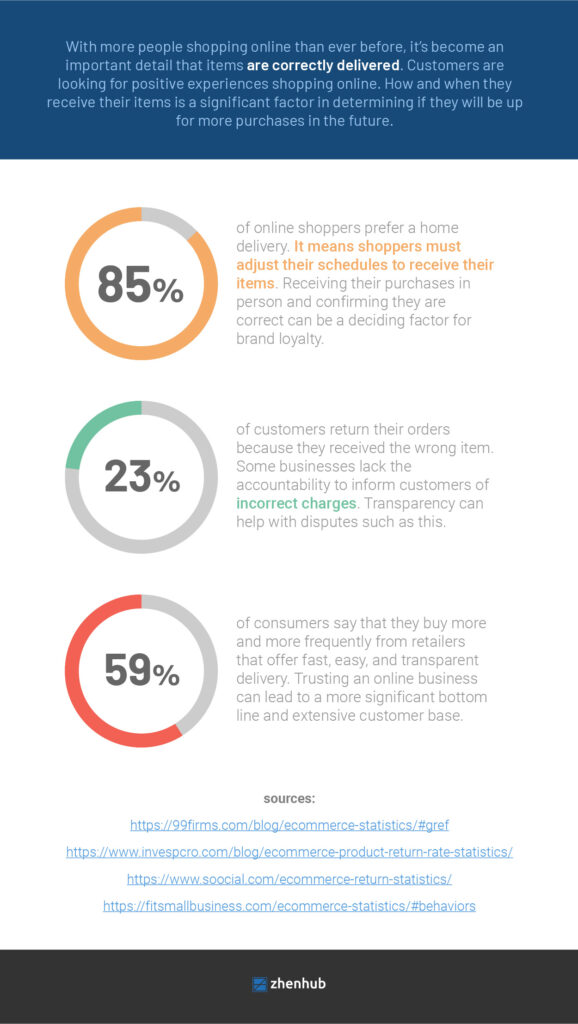 Provide a Better Customer Experience
You can't afford to miss deliveries. With a Proof of Delivery, you'll have better visibility into customer orders. It can even catch individuals trying to provide false information about their deliveries or where the package went missing.
A fulfillment system will be able to send real-time updates to customers automatically. You'll likely retain more customers since your buyers will have a great purchase and on-time delivery experience.
A company's ability to provide personalized shipping updates, tracking deliveries, and post-delivery interaction with customers will see their engagement go up. A POD system can also help manage any order or delivery issues before they arise.
Improved Order Accuracy and Cost Savings
Utilizing POD ensures your customers' goods have arrived properly. You'll also avoid spending money on unnecessary refunds or replacement orders due to fraud.
POD also lets you track delivery performance by your team and simplify and streamline logistics operations. You can have concrete proof that your drivers stopped to make the delivery while they were out in the field.
Optimized Back-end Operations
Proof of delivery makes it considerably easier to confirm the receipt of a shipment, especially if done electronically. Additionally, it is a quicker, easier, and more suitable means of confirmation. With just a swipe of the screen, it gives the delivery agent the pertinent recipient and delivery information.
When a job gets completed, an automated confirmation will be sent from the driver's app directly to your back-end software or monitoring app. This feature improves back-office efficiency by cutting down on paperwork and manual tasks.
Alternatively, there is no need to maintain paper-based records to verify delivery. Electronic PODs reduce the costs and labor-intensive manual tasks associated with conventional paper-based proofs of delivery.
Useful in Data-Driven Goal Setting and Monitoring
All the delivery information captured by a POD can be stored on a central database, leading to business growth.
Leaders can analyze key performance indicators to optimize operations and identify roadblocks and opportunities. It can improve carrier performance across the entire delivery lifespan. From managing driver schedules and breaks to their routes, a POD can change your processes for the better. Operators are essential to the success of each delivery. They can identify problems faster and respond to customer dissatisfaction backed up by documents and data.
How Proof of Delivery Impacts Your Business
Using a POD system is a win-win situation for you and your customers. Proof of delivery aids in painting a clear picture of a delivery that your company has made. It simultaneously protects you and your clients from being duped.
Returns are a significant challenge for businesses. The average eCommerce return rate rests at around 20-30%. There is uncertainty for customers shopping online, and many buyers admit that they overorder with the intent to return some items. Hence, businesses can be vulnerable to fraud, hurting the bottom line and overall reputation.
A POD is a safeguard for both consumers and businesses. This document builds trust as it allows both parties to properly inspect the items they receive and ensure that they arrive in perfect condition. Customers are able to attach a note indicating they received the package with evident damage such as breakage or leakage. For sensitive and delicate items, these are essential. You can double-check if the proper authorities received the articles; if it gets lost, then tracing them is easy
The concept of signing for something isn't new, but proof of delivery means so much more now for businesses beyond collecting signatures. It can be a foundation for business growth and more reliable services.
Today's consumers expect a positive delivery experience when they place an order with any online retailer. Research shows that if you don't deliver with an accurate timeline, your customer will likely go elsewhere for their purchase and share their lousy experience.
POD helps bridge gaps in last mile tracking so retailers can ensure packages are delivered as promised – which will keep customers returning for future purchases. The need to replace or refund items isn't just one cost involved in running a business nowadays. Today's shoppers also look for quality shipping services that retailers provide and how quickly orders arrive at shelves (or doors).
Ensure that your fulfillment leads to positive customer experiences with ZhenHub. Our logistics solutions give you complete control over your warehousing, fulfillment, and inventory management for accelerated growth. Sign up from our website if you want proof of delivery integrated into your processes.
Share Article