The Benefits and Challenges of e-Logistics
Time to read:
5
minutes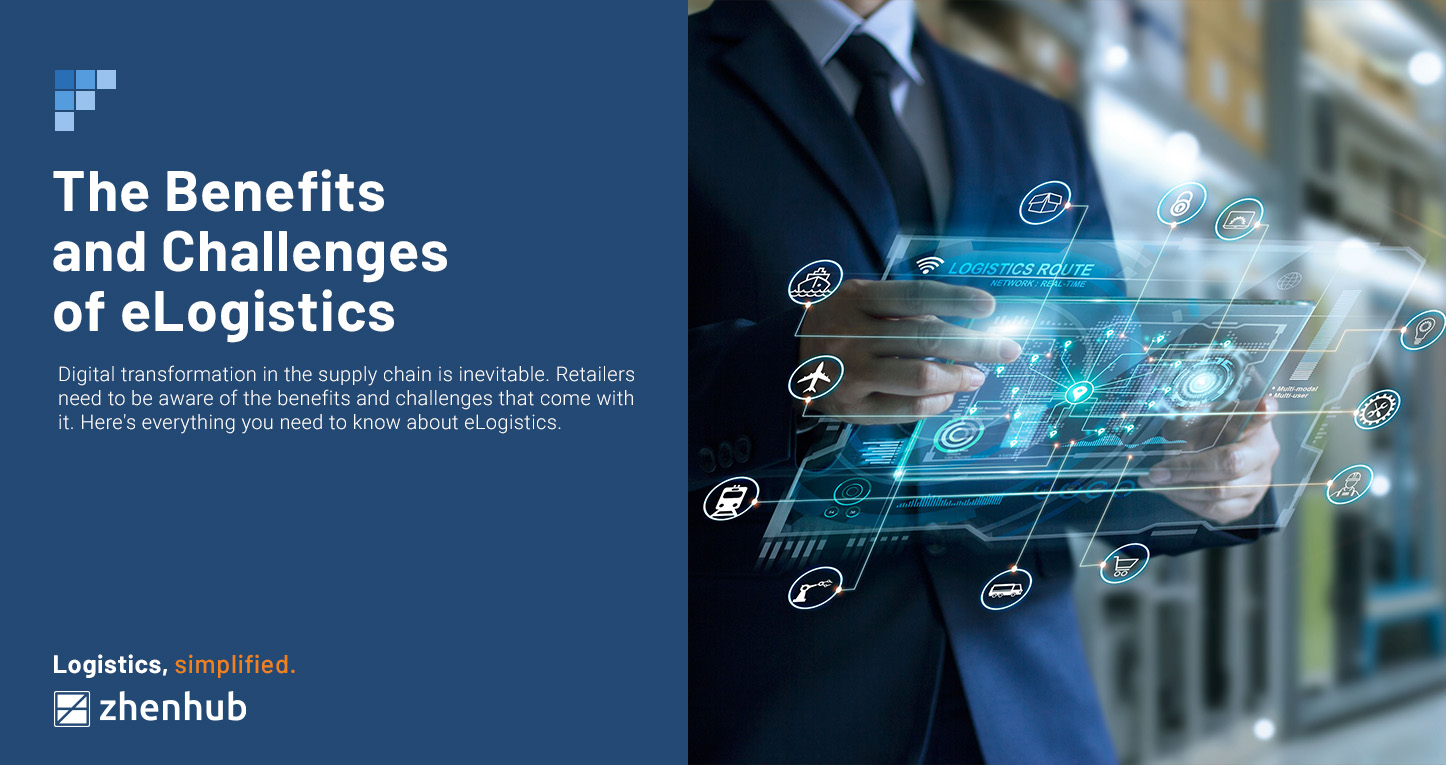 With the rapid growth of eCommerce and online shopping, its logistics have to evolve and undergo a digital transformation.
Globally, the rapid growth of eCommerce shows both the future of retail and the new opportunities it presents. Logistics companies have created and adapted e-Logistics. However, what precisely is eLogistics, and how does it differ from conventional logistics?
The logistics industry has adopted new techniques and technology to support the expansion of eCommerce.
eLogistics is the management of all physical flows for a business that conducts online sales of items (website, marketplace, and other related processes). Although they can work in tandem, traditional retail logistics are distinct from e-Logistics. Due to its many unique characteristics, e-Logistics can be enticing for many online merchants. However, it necessitates the implementation of particular business executions and processes to benefit from ideal supply chain management.
Currently, there are over 2.14 billion global buyers online, according to Statista. These online shoppers largely prioritize free and fast shipping for their purchases. For them, it's all about getting a top-notch online experience. It includes browsing quickly for items on various marketplaces and instant checkout at their convenience.
It is here where e-Logistics differs from traditional logistics. The older approach to logistics is mainly concerned with just the efficiency of the supply chain and finding the best pricing for services and goods. e-Logistics is more concerned with meeting customer expectations and delivering a stellar experience shopping online. 
Traditional logistics is also mostly done manually by using pen and paper. It also uses some older software, such as management information systems. e-Logistics is powered by radio frequency identification (RFID), the internet, the Internet of Things (IoT), electronic data interchange (EDI), and even robots.
e-Logistics is used in eCommerce to provide online clients with a positive buying experience. It aims to improve processes like stock management, storage, and logistics transport to meet the evolving eCommerce trends.
Because eCommerce transactions are done online without physical interaction, the points of contact with your customers are essential. Providing the ideal conditions for product distribution and efficient last-mile delivery is how e-Logistics increases sales
The Significance of e-Logistics
eCommerce logistics are the activities that ensure that your customers get what they want or need at the right place, at the right time, and at minimum cost. Even now, e-Logistics is a relatively novel concept. But many eCommerce companies are testing e-Logistics supply solutions locally and internationally. The introduction of e-Logistics has made the challenging supply chain logistics process simpler.
More online brands are embracing digital transformation to meet rapidly changing customer demands. The reason is that, according to 62% of online customers, previous customer service significantly impacted their decision to buy. This leaves businesses with a small margin of error when it comes to pleasing their clients. Or else they take a hit to their bottom line. After all, it's five times more expensive to acquire new clients than it is to retain old ones.
Here are some benefits you stand to gain with e-Logistics:
Expanded Delivery Options
Today, it is essential to give clients a variety of delivery options. While home delivery continues to be the most popular option, pick-up point delivery is becoming more and more common. An e-merchant will almost certainly need to offer express delivery in 2022 as consumers' expectations for delivery time are growing.
In addition to these traditional transit options, more and more online retailers are exploring more environmentally friendly deliveries. Companies are doing this through route optimization and the use of drones. 
Ability to Accommodate Fast/Free Shipping
Offering free shipping is a huge advantage for online businesses since it draws in clients. Most customers (90%)prefer to shop at sites that offer free delivery. Additionally, studies have shown that the majority of shopping carts are unavailable for free delivery.
Often, the buyer is more willing to pay a premium for a product with free shipment than they would for a product that costs less but requires a delivery fee.
Access to a global distribution and fulfillment center network can drastically cut down on your fulfillment costs since you can bring your products closer to your customers.
Accurate Cargo Tracking
Compared to buying something from a physical store, an online client must wait until the order arrives at its intended location. Customers will feel more comfortable purchasing if your online store offers cargo monitoring.  There is always some hesitation because they are paying before receiving the merchandise. Customers may verify the progress of the merchandise and keep a close eye on its whereabouts, thanks to this.
Nowadays, most carriers offer this service, which benefits your company and the customer by making the transaction or purchase more transparent and reliable. Additionally, this fosters trust and consumer loyalty for your online store.
Potential Challenges of e-Logistics
The entire eCommerce supply chain must be understood and streamlined for your logistics to be effective. Adopting digital trends seems like an obvious solution, but this also comes with challenges. Companies must consider several factors to make it work like a well-oiled machine.
Online Security
Your clients need to feel secure and confident when shopping with you online. Though online cloud-based systems are mostly protected and stable, they are also at risk for phishing and online fraud. Some customers are also wary of sharing sensitive information online such as their details as addresses and credit card numbers. It's best to work with reliable industry partners with proven track records and security solutions. Doing this can help build customer trust.  Another point to consider is that different countries have varied legislation regarding data privacy online. Be aware of any local laws in the markets you operate in.
Integration to Physical Systems
Not every warehouse or region has the right equipment or systems to handle digital logistics management fully. Such is the case in developing countries that lack the infrastructure, including access to fast internet or properly equipped warehouses. Transportation networks may not be as clearly defined, leading to inefficient delivery routes.
Need for Skilled Workforce
Despite technology's many benefits to automating and streamlining logistics processes, it still needs human input. It can be costly to train and hire staff that is knowledgeable and proficient with the use of emergent technologies. You must also consider the skills for troubleshooting and repairing these systems when errors occur. Having the right approach and mindset to managing all this is also necessary. It's a significant initial investment and it will surely pay off in how much more efficient a skilled workforce can contribute.
Growing Your Business with e-Logistics
As eCommerce enterprises have reached supersaturation levels and it has become difficult to compete with just traditional supply chain methods. e-Logistics is the key in today's fast-paced online markets. Modern logistics use highly effective systems to provide a better client experience. 
Although the emerging digital logistics sector faces some challenges, it is always growing. Even in developing countries, more service providers give businesses a gateway to market their products. Implementing cutting-edge technologies and distinctive business concepts is one way to achieve business scalability. 
For online merchants, e-Logistics offers a wide variety of logistics solutions, but it also has its share of drawbacks and difficulties. The keys to success and customer satisfaction are anticipating these issues and implementing proper plans. By forming strong partnerships, you may confidently expand and develop your online store. You may do everything in-house, providing flexibility for managing logistics daily. You can have end-to-end control and iterate quickly by managing your stock, order preparation, and packaging. You'll also have the freedom to choose your preferred transport service provider.
Alternatively, you can work with a third-party logistics (3PL) provider. An excellent way to offload the main logistics transport-related responsibilities is to outsource all logistics operations to an e-fulfillment expert. By entrusting all or a portion of your inventory to a specialized warehouse, you can take advantage of their knowledge of eCommerce logistics. It'll also expand your company steadily by focusing only on core business tasks.
ZhenHub revolutionizes your logistics through our globally-connected eCommerce fulfillment centers built for multi-platform integrations. You can scale your business efficiently with advanced software built for shipping and fulfillment efficiency. Sign up for free at your website and start with our all-in-one platform.
Share Article