Everything You Need to Know About Adopting a Digital Supply Chain
Time to read:
6
minutes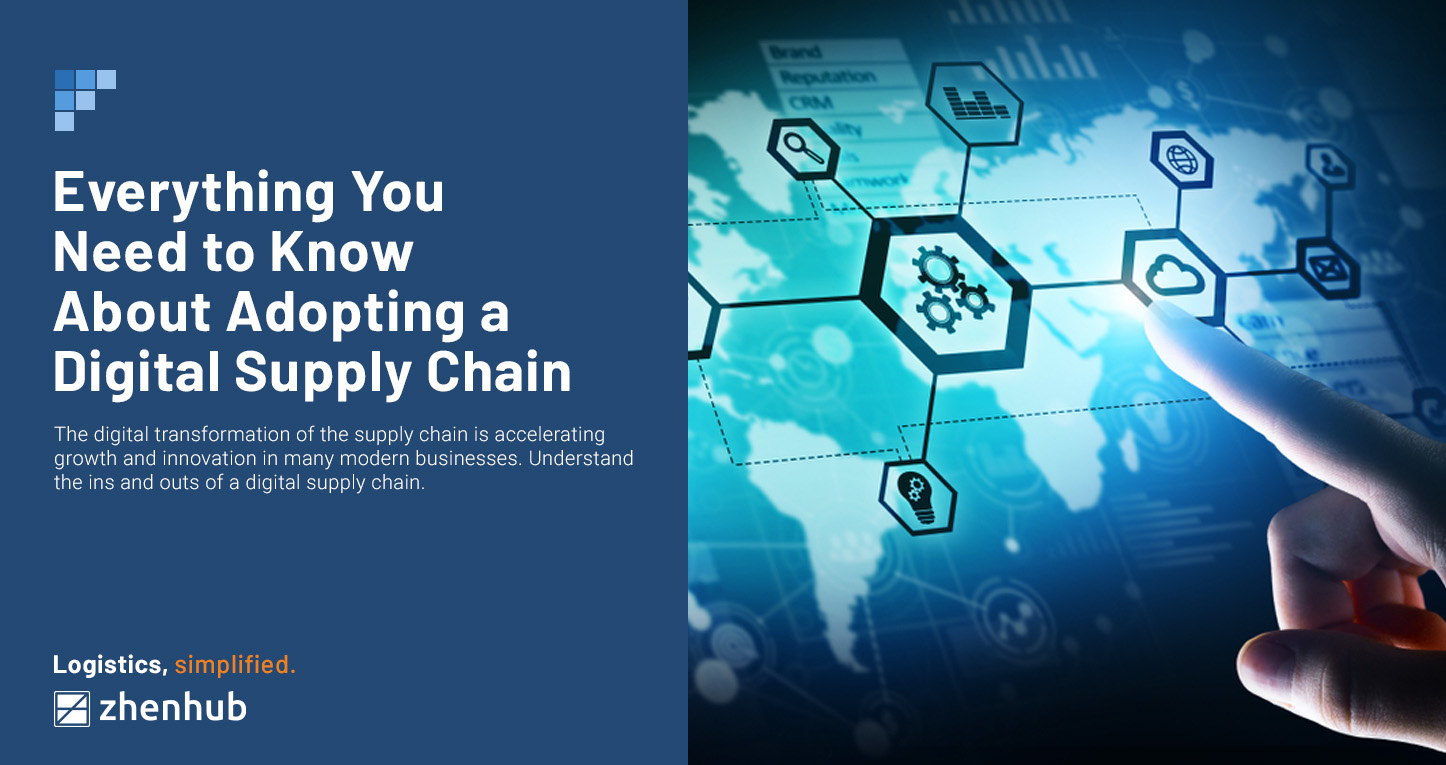 Running a business for the past several years has been challenging due to numerous global events. The COVID-19 pandemic has aggravated supply chains worldwide: from shipping container shortages and the continuous rise of long-term ocean freight rates. Not to mention the impact on fuel supply of the current Russia-Ukraine conflict.
When challenges arise, there is also opportunity and innovation. Business owners use the Internet as a new way to reach their customers and provide a shopping experience that is quick, safe, and convenient. Digital transformation has transformed how we do business. From a business standpoint, it has improved processes and provides better security and customer insights while consumers enjoy convenience, cashless payments, and on-demand streaming services.
With the supply chain disruptions and changing customer needs, supply chain management has seen a rapid shift from traditional models toward more sustainable, flexible, and innovative digital solutions. Companies must be ready for more frequent supply chain issues that last a month or longer.
The key to doing so lies in adopting a digital supply chain(DSC).
What is a Digital Supply Chain?
A DSC is a supply chain utilizing Web-based tools and services. It is the application of several digital technologies such as the Internet of Things (IoT), cloud computing, blockchain, artificial intelligence (AI), and big data to power processes and workflows.
By applying these advanced technologies to a supply chain, businesses now have unprecedented transparency and visibility over their processes and access to data that can influence future decisions.
Ultimately, the goal of supply chain digitization is to nurture a sustainable system that is more cost-efficient and profitable. An optimized digital supply chain can generate a more significant bottom line with less effort for you and your staff. 
The digital era is necessitating a change in how supply chains get managed. Consumer-driven platforms like eCommerce, mobile networks, and social media empower customers to know more about products they want before purchasing them. The traditional palletized manufacturing approach is slowly giving way to more modern and efficient systems. Single unit manufacturers must now accommodate this global market driven by personalized service, including on-demand shipping solutions.
The digital revolution in supply chain management has empowered companies to move resources, assets, and inventory more efficiently. Businesses must use information technologies that provide proactive insight into transportation risks for materials movement & logistics, manufacturing processes, or even worker safety concerns and monitor these remotely. These methods result in less cumbersome paperwork; everything gets accounted for on a secure network.
Benefits of Having a Digital Supply Chain
The benefits of digital supply chain management are numerous and varied. From the ability to track your inventory through every step in production with pinpoint accuracy, all this information provides valuable insight for any company looking into its internal processes. It also gives a distinct competitive edge over others in an increasingly fast-paced online marketplace. When a business fully embraces a digital supply chain, it can fully enjoy all the perks that come with the transformation.
1. Greater Resilience and Accelerated Innovation
A digital supply chain provides up-to-date information about performance, status, and requirements. It enables better management of raw material flows, operational logistics, inventory levels, forecasting, and resources planning which are crucial for improved cash flow cost reductions. Chat apps and tracking programs also increase collaboration between departments to identify potential bottlenecks while accelerating innovation with higher ROI rates.
More businesses see technology as a difference-maker. Sixty-one percent (61%) of respondents from a recent Gartner survey say technology is a source of competitive advantage.
"There are certain developments that drive further investments into technology, most notably labor constraints and the need for more agility," says Dwight Klappich, VP Analyst at Gartner. "Given today's volatile and disruptive environment, supply chain organizations must become more flexible, and the solution is digitalization."
2. Process Automation and Cost Reduction
A digital supply chain is an efficient way to make business transactions easier. It eliminates paper-based, manual processes by automating many labor-intensive processes and facilitating decision-making at multiple stages in the life cycle. 
Digital advancements also provide tools that allow companies greater insight into their operations, such as process flows and inventory levels. This added oversight ultimately leads to improved performance among workers who can focus on more critical responsibilities instead of spending time on redundant tasks. The accuracy that comes with relying on machines and automated tracking also reduces human error, keeping operations constantly moving with minimal downtime.
3. Better Decision Making
Adopting a digital supply chain allows you to make faster and more informed decisions for each specific function. You will also be able to measure performance accurately by aggregating transactions at the macro level so that there are no distortions created from average costing strategies— only optimal uses of resources.
Through digital tools and technologies, companies can improve their coordination with various stakeholders to deliver an improved end-to-end value chain.
With a digital supply chain, organizations can see what suppliers are doing in real-time and identify any problems before they arise. It will also allow you to meet customer demand better by proactively addressing gaps as soon as possible rather than being blindsided.
It can also provide much closer visibility into supplier performance, providing information on partner processes, so there's no disruption at either end.
Getting Started with a Digital Supply Chain
The global supply chain market is expected to experience a compound annual growth rate (CAGR) of 11.2% from 2020 to 2027.
This report means more businesses are looking to expand and improve their operations despite multiple challenges and forecasts that see the supply chain crisis continuing throughout 2022.
Building a successful digital supply chain is not just about the physical assets and processes. It's also crucial to have an organizational structure that can support intricate logistics and systems for tracking inventory or efficiently making payments on invoices.
It takes time and effort, but you can manage all aspects of your business more effectively. And ultimately leads back downstream – increased productivity means higher sales revenue.
Here's a framework that you can use to get started with the digital transformation of your supply chain:
1. Assess Your Current Supply Chain
Begin with a SWOT (strength, weakness, opportunities, and threats) evaluation of your supply chain to see what areas need improvement. All current issues, risks, and possible complications must be identified and analyzed.
A thorough assessment helps leadership identify potential issues early, set up preventive frameworks, and minimize impact. Set actionable goals and clear key performance indicators so that you can begin the transition to a digital system smoothly. Trying to go for sweeping change in your company can often lead to confusion which could negate any potential benefits for your business.
You must also assess current systems that are in place, technology resources, and workforce skills. Doing this will help determine which can be adapted and replace what's not working.
2. Plan Out Your Digital Strategy 
Define a clear vision for your business based on your goals. You can get caught up on all the possibilities a digital supply chain offers, so focus on what can help you reach your business goals best.
Map out all the intended benefits to ensure you meet stakeholders' needs. As transitioning from a traditional to a digital model can be complex and time-consuming, it is important to start with a comprehensive strategy executed through an implementation roadmap. Milestones and timelines can greatly benefit your company and staff as it slowly moves toward a digital transformation.
3. Invest in Digital Capabilities
Once you've mapped out a strategy to help achieve your goals, next, you must explore the digital services at your disposal. Choosing the right capabilities is critical to digital success. If one of your main goals is to shorten lead times for customers shopping online and make inventory management easier, you may want to explore having a digital warehouse. Automation is an excellent answer for simplifying workflows and removing redundant tasks from your employee's hands. Reaching more customers is often as simple as selling on multiple online marketplaces.
4. Align Staff with the Changes and New Processes
Having a digital supply chain means you will still need human oversight. The shift should properly integrate technology with people, processes, and management. While digitization can improve accuracy, stability, quality, and predictability, nothing can replace good old-fashioned human problem-solving and decision-making.
Take the time to ensure that all your staff is up to date with the potential changes in your supply chain and that they also have the proper training to manage the new technology optimally. 
Businesses are rethinking how they operate to meet the growing and ever-changing customer demands in the face of an unpredictable global market. Having a digital supply chain keeps your operations flexible, efficient, and resilient.
It's never too late to start your digital transformation, and ZhenHub is here to help. With tech innovations focused on logistics automation and optimization, stay ahead of the curve and experience accelerated growth. Find out more about our complete suite of logistics software solutions when you sign up now or request a free quote to get things started
Share Article