5 Ways to Improve eCommerce Customer Experience
Time to read:
5
minutes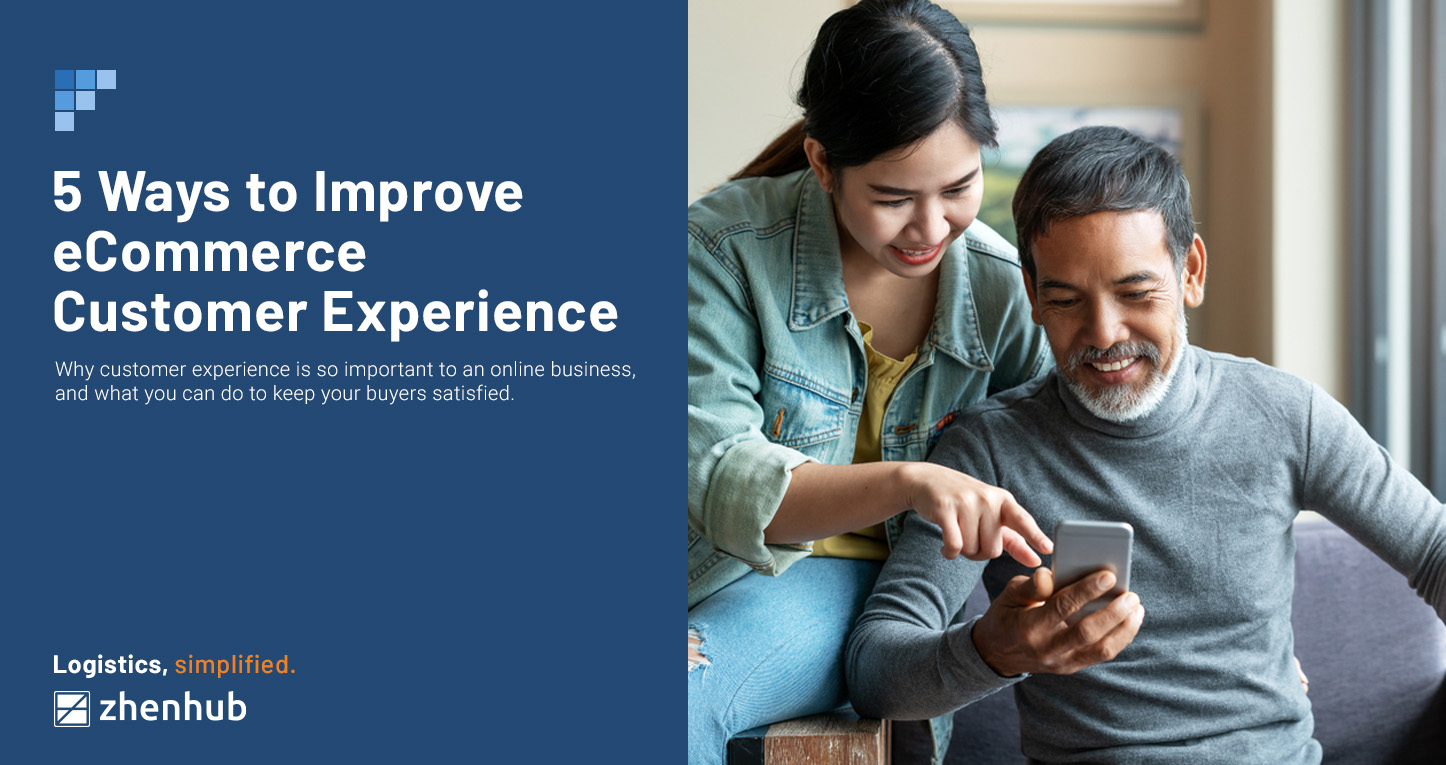 A great customer journey is integral in a retail operation, especially in eCommerce. When they go through your store and buy your products, they need to have a great experience even after the purchase.
If they don't get a great experience, customers will go somewhere else if it's not enjoyable or easy to use. However, there are a few things you can do to improve the shopping experience for your customers.
In this blog, learn how you can improve your customer experience (CX). Discover the strategies that will help you create a great shopping experience for your customers.
Why Having a Good eCommerce Customer Experience Matters
The customer experience is a lot more than just the outcome. It's also about how the customers get there and what happens along their journey with you. With so many companies vying for attention these days, it becomes essential that the brand stands out from others. Instead of guessing tailored experiences or copying them from other businesses, you can really invest time into understanding who your customers are. Remember that what works for another company may not necessarily work for you, no matter how similar.
Technology is making consumers increasingly insightful, intelligent, and influenced by their own grasp of the information. This shift has changed the way people consume products as well as services.
Competition is becoming fierce, with more companies keen on building a positive customer experience. It is increasingly becoming a game-changer for their bottom line. A business that focuses on customer needs and preferences can potentially make 60% more profit than those that don't.
The eCommerce customer experience is a holistic view of how customers interact with your brand. It includes every step they take from considering you to using the products and even what happens when something goes wrong.
If a brand's value is enhanced, the company's profits will increase as well. In addition, having an informative tone of voice makes it easy to gain the trust of key stakeholders. It makes buyers more willing to work with you but likely to recommend other people on their lists too.
Seventy-four percent (74%) of consumers (Forbes / Arm Treasure Data) are likely to buy based on experiences alone. (Forbes / Arm Treasure Data) The data means that your business needs to provide consistent support to buyers. Repeat buyers are essential to business scalability; 90% of CEOs believe customers have the most significant impact on their business. Here's another thing to consider: trying to seek new buyers is expensive.
With the boom of online shopping and eCommerce, customers actively seek responsive, helpful, efficient, and trustworthy brands. Fifty-eight percent (58%) of shoppers say they are unlikely to continue doing business with a brand that delivers a poor customer experience.
The importance of investing time, energy, and resources into improving your customer experience creates a ripple effect that will help any e-commerce business grow.
Improving Your eCommerce Customer Experience
It's never too late to make the customer experience pleasant. Understanding what customers want is more manageable with the rise of technology and digital tools. There are various ways of improving CX to increase customer loyalty and your profits. These include upgrading your product fulfillment through 3PL services to craft a personalized shopping experience.
Personalized Suggestions
Personalizing the shopping experience is more than just mentioning a customer's name on their invoice. Making recommendations based on data such as their browsing history, location, and shopping behavior can get customers more engaged with your brand. The idea is to showcase products and services that make them seem tailor-made for every potential buyer. 

Using surveys or data from tracking software gives valuable insights into your customers' interests. Strategic use of discounts, special offers, and even reminder pop-ups on your website bring more value to a shopper's time looking at your online store. Utilizing artificial intelligence (AI) to analyze customer data and recommend individual products will help create better tailor-made experiences.
Responsive Customer Support
Since customers are shopping online, businesses need to provide support. And it's always better to take a proactive stance. Start with a solid knowledge base and comprehensive FAQs as self-help resources that customers can read and access. There are intelligent chatbots that can handle simple inquiries and requests. Using these digital tools frees up your support team to upsell, promote new products and services, or deal with escalated situations.

When problems arise, you should be able to step in and immediately address any issues that a customer might have. Why? Because taking too long to reply can lead to frustration.  Close to 30% of consumers say their brand loyalty has wavered during the pandemic due to long service wait times.

While chatbots are a great way of dealing with numerous customer chats that come in day in and day out, they can often lack the essential human touch. Establishing an emotional connection and empathy gives you the edge for superior customer support. Consider multiple support channels such as a 24/7 hotline, social media, and native chat on your website.
Faster Fulfillment and Same-Day Deliveries
Sixty-three percent (63%) of online customers say delivery speed is essential for shopping online.

It makes sense to upgrade your supply chain and ensure that your products are always in stock and shipped out fast. 3PL services can streamline your fulfillment process, using digital warehousing to integrate directly to shopping platforms and ensure that inventory levels are constantly updated. 

Online shopping customers look for free shipping, with 75% expecting to see an offer for it. Your business can offer this when you have access to a 3PL's vast fulfillment and distribution centers network. The best part of outsourcing is that you can focus on other aspects of improving the customer experience for your business at cost-efficient rates. Products also have extra security when in transit, reducing the risk of damage or even getting lost.

Don't underestimate how much logistics can influence a positive CX. A compelling supply chain offers business transparency that more discerning customers want.
Consistency across Multiple Channels
Multi-channel selling is a critical part of eCommerce scalability. Even though customers interact with your company on different channels, they will also expect consistency and the same level of service no matter where they go. 

eCommerce sellers have to bring their products wherever they can find their audience — whether on the desktop or from apps such as Facebook Shopping.

Merchants who provide buyers opportunities across multiple websites (like social networks), marketplaces & physical retail stores offer the best customer experience. Going multi-channel also augments your customer support, allowing you to communicate and engage on different platforms. These channels make it easy for your audience to reach out to you.
Build a Community
Some of the best ambassadors that your brand can have are your very own loyal customers. Eighty-one percent (81%) of consumers trust the advice of friends and family over businesses. Growing a community of your biggest fans can give you great insight into how best to approach them and honest feedback. People who have had a positive experience with your company are more likely to recommend your products to their peers.

Utilizing social media to gather your customers in a commonplace is an excellent way to get user-generated content that you can use for your marketing. Allowing them to leave reviews and feedback publicly lets more people see what you can offer. Being responsive to concerns also helps build trust.

Customer experience is all about making the customer feel special. It's a way for companies to get people talking and spread their message, which means they can connect with potential new clients while building loyalty from those who are already fans.
Achieving Scalability with Great eCommerce Customer Experience
Growing your business means being able to predict trends and adjusting based on what your customers want. Tracking critical metrics such as how many repeat business you gain from clients or surveys that detail overall customer satisfaction is an excellent indicator of good CX.
Shopify reports that 47% of brands plan to use customer feedback to improve products or customer experience within the following year. The relationship customers have with brands can make or break a business. Invest in technology and staff to create a pleasant and memorable experience for your target audience. Experience-Driven businesses see over 1.5x higher YoY growth than other companies in customer retention, repeat purchase rates, and customer lifetime value. (Forrester and Adobe)
The opportunities for your online business are there. However, with so many different strategies and trends to follow, it's easy to forget whom you're trying to reach. To stay ahead of the game, you need every advantage to set your company apart from its competitors. Providing stellar customer experiences through e-Commerce platforms and other avenues such as social media pages or phone calls can help your brand leave a lasting impression.
ZhenHub offers comprehensive logistics solutions to optimize your eCommerce customer experience strategy, from high-tech warehousing to hassle-free shipping and fulfillment. Sign up for free, and explore our different services.
Share Article