Amazon Seller Guide (2021 Update)
Time to read:
9
minutes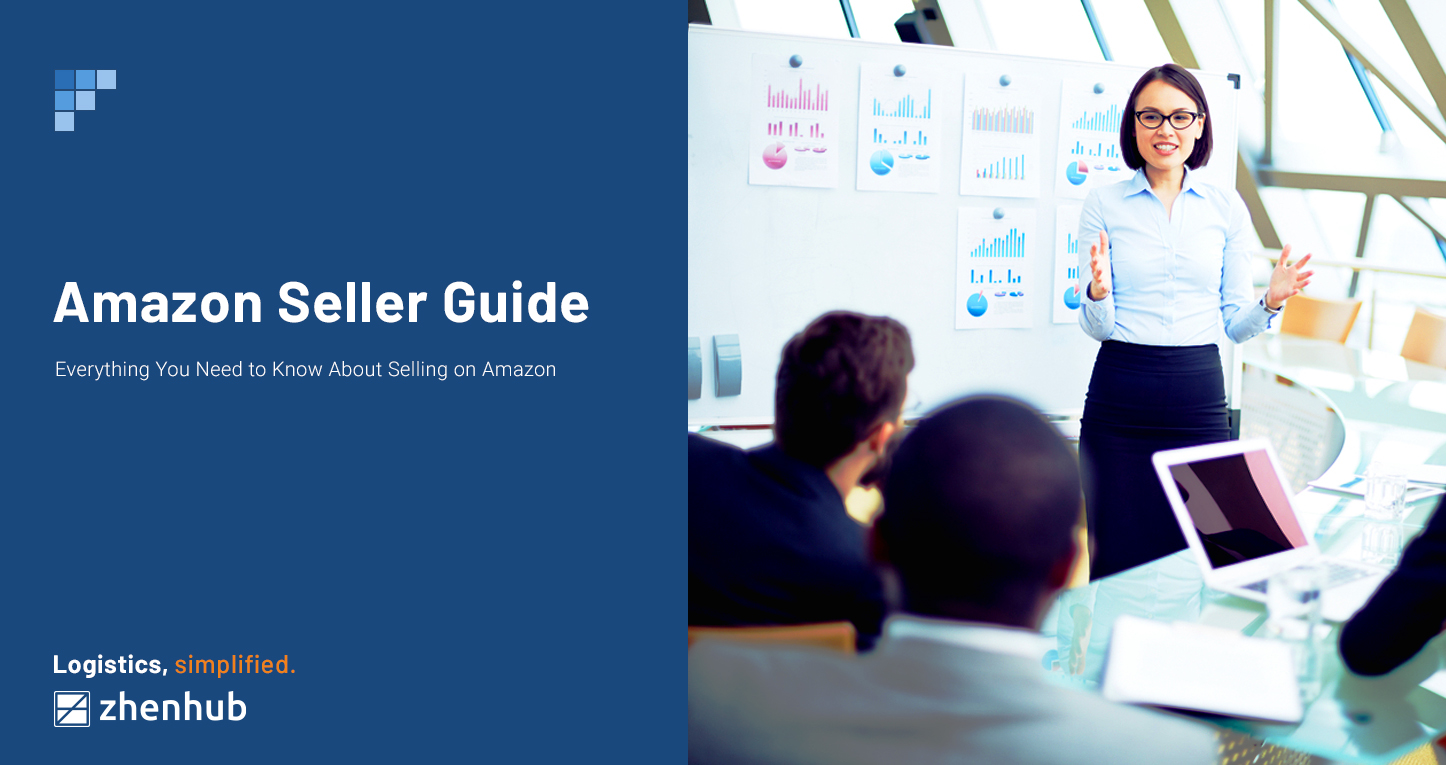 What is Amazon?
Amazon is an American multinational technology company that is primarily known as a leader in eCommerce. Initially, an online bookstore, the tech giant has branched out to different industries, including digital streaming, artificial intelligence—and recently, space flight.
Founded in 1995, Amazon is currently the world's top eCommerce marketplace. It has become the go-to platform if sellers want to go global.
In this Amazon seller guide, learn all about selling, including setting up an account, FBA versus FBM, and we'll answer the most frequently asked Amazon selling questions.
Amazon Seller Programs and Plans
Selling on Amazon begins with choosing the program and plan that fits the scale and capabilities of an online retailer operation. The marketplace has two seller programs and two seller plans. —and these approaches have their pros and cons. Sellers must choose the right plan for their business.
Seller Program
Most Amazon retailers operate through the platform's seller program. This model allows sellers to use Amazon as a selling platform while maintaining ownership of their brand and inventory. Amazon also provides a logistics program that enables sellers to hand off warehousing and shipping responsibilities to the marketplace through Amazon FBA.
Two plans that fall under the Amazon seller program:
The individual plan is best suited for new online operations that are still vetting the products they intend to sell on Amazon. The program allows up to 40 sales a month. Sellers pay Amazon on a per item sold basis at .99 per sale.
Unlike the individual seller plan, the professional seller plan has no upper limit to the number of sales. Sellers that choose this route must pay a flat rate of $39.99 every month to transact on the platform.
Vendor Program
The vendor program is Amazon's invitation-only program. In this model, Amazon purchases products directly from the manufacturers and sells them on the platform under its name.
How to Setup an Account
Establishing an Amazon store is straightforward and setting up an account entails only three steps:
Choosing a Seller Plan
When signing up as a seller on Amazon, retailers choose the seller plan that fits the scale of their business. Amazon offers three seller programs, as mentioned earlier in this guide.
Creating an Account
Aside from the selected seller account, Amazon requires several pieces of information to complete the setup. It includes:
Business Name
Seller's Legal Name and Address
Contact Information
Product Origin, or a Seller's "Ship From" information
Bank Account Information
Shipping Preferences
Setting Up the Store
Once Amazon has verified the account and associated contact information, it's time to set up the actual Amazon store profile. The store profile includes information about the seller as well as the listed products available for purchase. Retailers have the option to sell products already on the marketplace or list new products. Amazon requires the following information from a retailer if they list new products:
UPC/EAN Number
SKU
Product Title
Product Description
Product Images
Search Terms
Amazon Seller Insurance
Amazon seller insurance is a requirement imposed by the marketplace for Pro Merchants that transact on it. The insurance provides a means to cover expenses from accidents, injuries, or lawsuits resulting from product purchases.
Amazon sellers need to adhere to the platform's insurance requirements. It is vital to take note of these requirements to ensure that the policy taken out is valid.
Amazon requires sellers to take out policies with at least a $1 million liability coverage. The $1 million coverage should be for every occurrence and in aggregate.
Listing Amazon as Additional Insureds
When taking out a policy, sellers should include Amazon as an additional insured. It allows Amazon to have some protection if they get sued for products bought on the platform.
A seller is required to send Amazon proof of coverage should the marketplace ask for it.
Amazon FBA vs. FBM: Which One is Right for Your Business?
Fulfillment by Amazon and Fulfillment by Merchant is the marketplace's logistics options for sellers that transact through the platform. Sellers can choose to fulfill orders through FBA, FBM, or a combination of both. At writing, 66% of Amazon sellers use FBA exclusively, 6% use FBM exclusively, and 29% take advantage of the two options.
Fulfillment by Amazon is the marketplace's logistics and fulfillment service that allows sellers to enjoy Amazon's warehousing and shipping capabilities. Retailers that choose this service send their inventory to Amazon warehouses. The platform then stores and ships items directly to consumers based on set Amazon seller fees.
On the other hand, Fulfilment by Merchant awards complete control of the logistics and fulfillment process to the sellers. Retailers store inventory in their warehousing units. When an order comes in through Amazon, they ship the packages to the sellers.
Discover which one is right for your business by knowing the differences between Amazon FBA and FBM here.
Amazon FBA Fees
An Amazon seller guide needs to include the Amazon fees sellers have to pay. The cost of operating on the platform varies based on programs and plans. It includes FBM, FBA, Professional, and Individual seller accounts. The charge often is calculated against the size and weight of a product.
Fees for All Sellers
Amazon takes a percentage for every item sold through the marketplace. The amount varies depending on the category. However, all referral fees are less than 15%, and sellers only get charged following a sale.
Per-Item or Subscription Fee
Sellers on Amazon can choose between two types of seller accounts — individual or professional. Individual accounts pay Amazon $.99 on a per-item sold basis, while professional accounts pay a flat-rate fee of $39.90 a month.
Refund Administration Fee
Whenever a customer requests a refund, Amazon charges the seller for a refund administration fee. This expense is either $5 or 20% of the total amount of return charge.
Amazon FBA Fees
Fulfillment fees cover picking, packing, shipping, providing customer service, and processing returns for Amazon patrons. The costs are calculated per unit and can be anywhere from $2 – $130 per item.
Storage fees are based on the amount of space inventory occupies in any of Amazon's fulfillment centers. This expense can be anywhere from $.69 – $2.40 per cubic foot, depending on the size. There is also a peak season storage surcharge. The platform also charges long-term storage fees for any products that have been in their fulfillment centers for 180 days or more.
Amazon FBA Rates 2021 Update
Amazon updates its FBA fee schemes annually. The platform enacted the changes in June 2021. This year the marketplace imposed quite a few new mandates. View the details of the update here, or read on for the summary of all the essential Amazon FBA Fee Changes here:
Amazon imposed an increase in fulfillment fees in all categories across the board. There is a 4.4% spike in FBA fees for standard-sized items and changes in standard item sizing metrics.
Removal of Returns Processing Fees for Select Categories
Retailers that sell products that fall under the watches, jewelry, luggage, handbags, and sunglasses category no longer have to pay return processing fees. Likewise, apparel and shoe categories' costs also have been reduced.
No Fee Increase for Amazon Storage and Warehousing
There is no storage fee increase for all categories across all sizing metrics. This development is undoubtedly welcome news for sellers considering the hefty storage fee hike of 8.7% in 2020.
Amazon Product Categories: What to Sell on Amazon
Amazon allows retailers to sell a variety of products on the platform. In this Amazon seller guide, we'll tell you about restricted and non-restricted items, so you know precisely the correct product categories to sell on Amazon when you start your eCommerce:
Products Categories with No Restrictions:

Beauty Products
Books
Beauty Tools and Accessories
Camera & Photo
Cellphones
Clothing & Accessories
Electronics Accessories
Fashion Jewelry
Grocery & Gourmet Food
Luggage & Travel
Musical Instruments
Office Products
Outdoors
Shoes, Handbags, & Sunglasses
Software & Computer Games
Sports
Tools & Home Improvement
Toys & Games
Video Games
Product Categories with Restrictions:

Alcohol
Animal-RElated Products
Automotive & Powersport
Baby Products
Beauty Topicals
Certified Refurbished Goods
Collectible Coins
Cosmetics
Dietary Supplements
Drugs & Paraphernalia
Electronics
Entertainment Collectibles
Explosives & Weapons
Fine Art
Gambling & Lottery
Handmade
Hazardous & Dangerous Items
Health & Personal Care
Historical & Advertising Collectibles
Human Parts
Industrial and Scientific Products
Jewelry & Precious Gems
Laser Products
Lighting
Lock Picking Products
Medical Devices
Medication
Organic Products
Pet Food
Plant, Plant Products, and Seeds
Postage & Stamps
Sports Collectibles
Subscriptions
Surveillance Equipment
Tobacco
Topicals
Video, DVD, & Blu-Ray
Watches
Warranties, Service Plans, Contracts, and Guarantees

Yearly Peak Dates
No Amazon seller guide would be complete without discussing yearly peak dates. When it comes to successfully navigating Amazon, marketing for the peak season isn't enough. The platform is competitive, and if a retailer doesn't take marketing initiatives to promote their products year-round, another online operation might corner the market. Taking advantage of all holidays and events throughout the year is crucial to generating more sales through the platform.
Aside from holidays, the list below also includes important dates for Amazon FBA sellers, such as inventory deadlines and cut-off periods:
February
Valentine's Day: February 14
May
Mother's Day: Second Sunday of May
Memorial Day: May 31
June
Father's Day: Third Sunday of June
Prime Day
July
August
Back to School Season: August 1 – September 6
September
Labor Day: September 6
Last Day to Order Inventory for Black Friday, Cyber Monday, and the Holiday Season: September 15
October
Golden Week in China: October 1 – 7
Halloween / Last Day to Order Inventory Before Chinese New Year
Amazon Selling Partner Summit: Late October
November
Last Day to Get Inventory to Amazon Fulfillment Centers before Black Friday/Cyber Monday/Holiday Season: November 1
Singles Day in China: November 1
US Thanksgiving: November 25
Black Friday: November 26
Hanukkah: November 28 – December 6
Cyber Monday: November 29
December
Christmas Eve: December 24
Christmas Day: December 25
New Year's Eve: December 31
If you want to see the Amazon peak dates to prepare for 2021, you may do so here.
Amazon Inventory Management
Inventory management is crucial to a seller's success on Amazon. The platform updates its inventory limits and guides periodically, and retailers must be aware of the current guidelines.
Inventory Limits
To optimize their logistics process, Amazon set inventory storage limits for their FBA sellers. The platform evaluates its sellers every month. There are indicators located on a seller's homepage that illustrate the amount of storage space remaining:
Green indicator: Inventory levels are at 75% or less.
Yellow indicator: Inventory levels are between 76% and 90% of the limit.
Red indicator: Storage is reaching capacity. Inventory levels are at 91% or more.
Different seller accounts are subject to various storage limit restrictions. According to Amazon, these limitations are necessary to manage fulfillment center storage space better:
Individual Seller Accounts
Individual seller accounts have a permanent limit of 10 cubic feet. These accounts aren't subject to change or an increase.
Professional Seller Accounts
Professional seller accounts may or may not be subject to Amazon Inventory Storage Limit 2021. Their limits depend on two factors:
Maintaining an Inventory Performance Index above the current threshold.
Being a new seller with less than 26 weeks of recent selling activity
Inventory Performance Index
The Amazon Performance Index or IPI measures the efficiency of a retailer's inventory management process. The no.1 eCommerce marketplace imposed this metric to maximize the platform's warehousing capabilities.

The Amazon IPI scoring matrix only applies to FBA sellers. It gets measured on a scale of 0 – 1000, with the thousand being the best score. There is a minimum threshold score that sellers are required to meet to remain in good standing with Amazon's FBA program. Failure to meet the IPI score can result in storage limits.

A seller's IPI score is measured every three months by the end of each quarter. The marketplace sends an update to their retailers six weeks before the quarter-end to give them the chance to improve their scores. If the score is above the threshold, sellers get to enjoy unlimited storage space.

The IPI threshold changes from time to time and is similar to the Amazon FBA storage inventory limit. At the time of writing, the minimum score to qualify for unlimited storage is 450. To know what you can do to improve your seller score, you can read our comprehensive Amazon IPI article here.
Amazon Shipping Structure, Rates, and Restrictions
Understanding the cost and restrictions associated with selling on the marketplace through this Amazon seller guide is crucial for retailers to succeed on the platform.
Amazon Shipping Structure and Rates
Sellers can choose to ship items on their own with the Fulfillment by Merchant or FBM option. That said, Amazon offers logistics services through its FBA program. FBA fulfillment fees include picking, packing, shipping, providing customer service, and processing returns for Amazon patrons. The costs are calculated per unit and can be anywhere from $2 – $130 per item. Amazon requires all sellers to offer standard shipping.
Amazon Shipping Restrictions
Amazon touts itself as a one-stop-shop for everything, and anything buyers could want to purchase. However, the marketplaces have domestic and international shipping restrictions:
Amazon has strict rules on shipping packages to non-mainland locations, including Alaska, Hawaii, and US territories. These parcels can't be heavier than 70 pounds or longer than 108 inches. Hazmat items are also restricted.
Amazon requires special packaging for domestic perishable packages during the summer months. These items must utilize Amazon's "Expedited Chilled Shipping."
Sellers can sell millions of products on Amazon. However, the platform restricts or imposes rules on the sale of the following items:
Alcohol
Animals & Animal-Related Products
Cosmetics & Skin/Hair Care
Currency, Coins, Cash Equivalents, and Gift Cards
Drugs & drug paraphernalia
Electronics
Explosives, Weapons, and Related Items
Fine Art
Food & Beverage
Chilled and frozen foods
Hazardous and Dangerous Items
Human Parts & Burial Artifacts
Jewelry & Precious Gems
Organic Products
Pesticides and Pesticide Devices
Plants, Plant Products, and Seeds
Tobacco & Tobacco-Related Products
Click here for more information about restricted items.
Amazon Seller FAQs
How much does it cost to sell on Amazon?
It depends. Several factors affect the total cost of selling on Amazon. It includes a seller's supplier and the chosen delivery method. On average, the initial inventory capital may cost anywhere from $200 – $8000.
What are the best products to sell on Amazon?
Amazon's catalog is expansive, so choosing what to sell can be overwhelming for retailers who want to scale their business. While product offerings vary from location to location, below are the categories that are most popular across the board:
Books
Clothing
Electronics
Baby Products and Toys
What is Amazon Seller Central?
Amazon Seller Central is the platform that allows sellers to transact on the marketplace. It is a platform that can handle payments, design and optimize a seller's page, and process returns and complaints.
Does every seller make a profit on Amazon?
Selling on Amazon is a strategic and logical next step for most online retailers. On average, Amazon sellers earn $10,000- $25,000 every month from transactions on the platform. More than two-thirds of these sellers see profit margins of more than 10% for every sale; 36% enjoy profit margins above 20%.
Selling on Amazon can be lucrative for most online sellers. That said, navigating the platform as a new retailer can be challenging. What you need to succeed on the platform is an experienced partner that can take you through the process.
ZhenHub is a leader in eCommerce logistics and supply chain management. Our tried-and-tested tech-based logistics products have helped thousands of companies reach their full potential. With our help, you can take Amazon by storm. Reach out to us today to learn more about our services. 
Share Article