Amazon FBA versus FBM: Which One is Right for Your Business?
Time to read:
4
minutes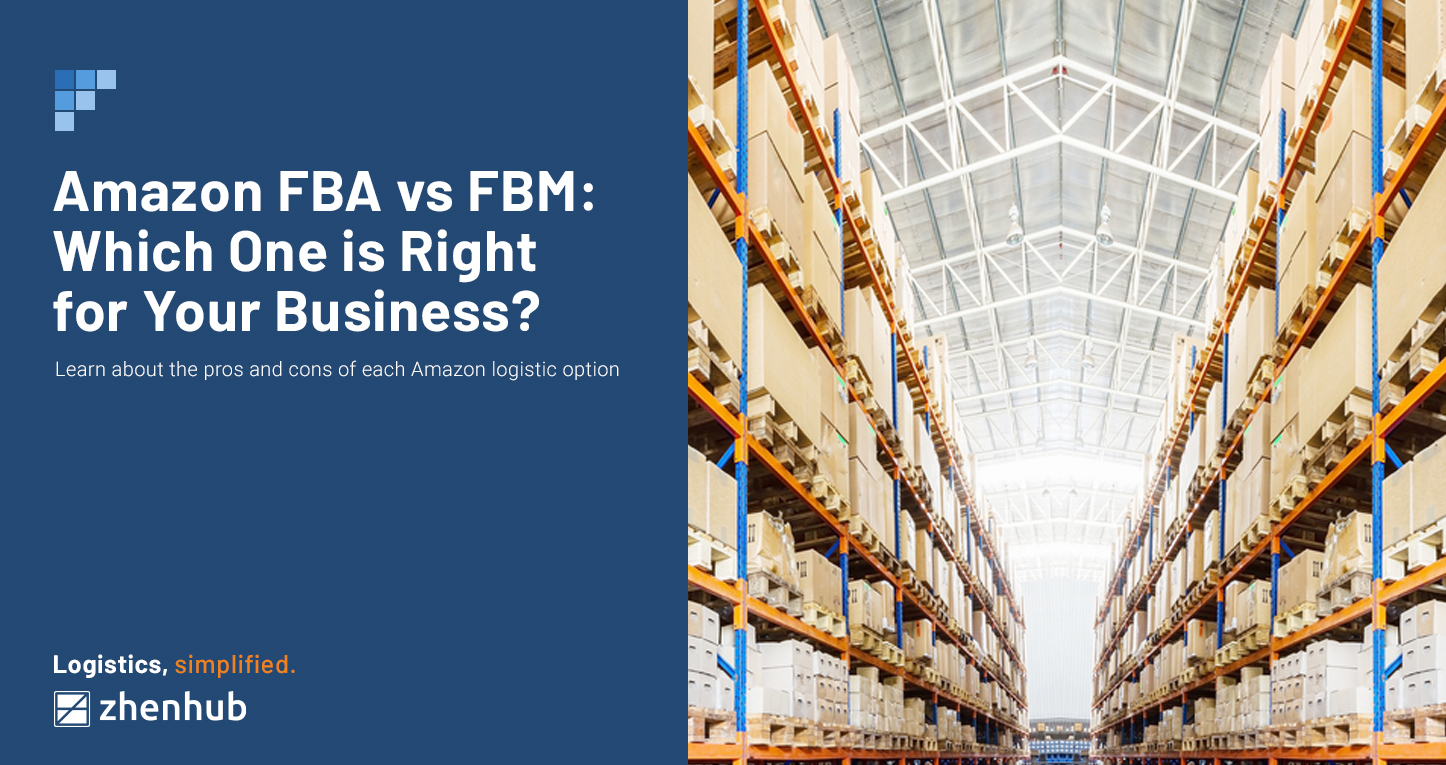 It's common knowledge that consumer behaviors changed significantly following the 2020 health crisis. More people over the last year turned to eCommerce for their shopping needs. This shift is the new normal, and this trend is a blessing and a challenge. Putting up an online store doesn't have the overhead costs like brick-and-mortar shops. And this can easily translate to more profit at the end of the month. Nevertheless, the influx of orders can be a strain on their existing logistics and order fulfillment process. 
Retailers need to have a solid logistics process and platform to succeed in online retail. After all, customers expect fast and often free deliveries from most eCommerce sellers. Fifty-four percent (54%) of consumers claim that same-day shipping contributes to their purchase decisions. Likewise, 69% of shoppers won't return to a brand if they fail to deliver their parcels on or before the delivery dates.
For online retailers that sell through Amazon, there are two logistics options that they can choose from—Fulfilled by Amazon or Fulfilled by Merchant. Both FBA and FBM have their pros and cons. In this article, learn more about FBA versus FBM to discover the right fit for your enterprise.
Amazon FBA versus FBM
Fulfillment by Amazon and Fulfillment by Merchant is the marketplace's logistics options for sellers that transact through the platform. Sellers can choose to fulfill orders through FBA, FBM, or a combination of both. At the time of writing, 66% of Amazon sellers use FBA exclusively, 6% use FBM exclusively, and 29% take advantage of the two options.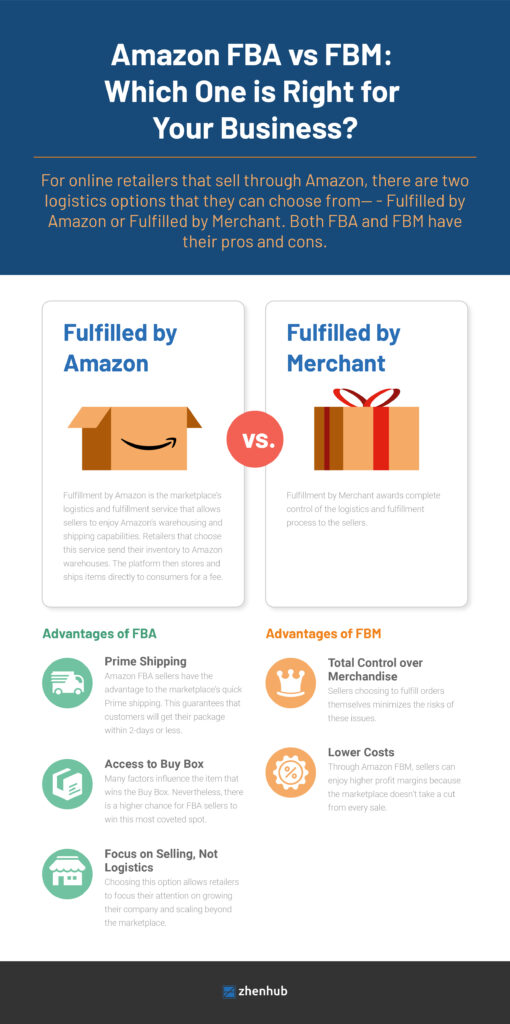 FBA versus FBM: The Main Difference
Fulfillment by Amazon is the marketplace's logistics and fulfillment service that allows sellers to enjoy Amazon's warehousing and shipping capabilities. Retailers that choose this service send their inventory to Amazon warehouses. The platform then stores and ships items directly to consumers based on set Amazon seller fees. 
On the other hand, Fulfilment by Merchant awards complete control of the logistics and fulfillment process to the sellers. Retailers store inventory in their warehousing units. When an order comes in through Amazon, they ship the packages to the sellers.
Despite the overwhelming number of Amazon merchants that use FBA, choosing between FBA versus FBM is not to be made lightly. There are advantages and disadvantages to consider.
Pros and Cons of Amazon FBA
Over 50% of Amazon merchants use FBA for their logistics needs. It accounts for over 5 million sellers worldwide and is the preferred choice for most sellers. Still, it isn't without its drawbacks.
Pros of Amazon FBA
As mentioned earlier, consumers nowadays are more demanding. They have a slew of choices, and they no longer hesitate to patronize a brand that can get a package to their doorstep as quickly as possible.
Amazon FBA sellers have the advantage of the marketplace's quick Prime shipping. This guarantees that customers will get their package within 2-days or less. Most sellers cannot provide this quick delivery system without the Amazon logistics machinery. Some sellers do expedited shipping but at a high cost.
Many factors influence the item that wins the Buy Box. Nevertheless, there is a higher chance for FBA sellers to win this most coveted spot. Having an item featured on the Buy Box can significantly improve sales.
Focus on Selling, not Logistics 
Running an eCommerce operation, especially today with fierce competition can be challenging. There are plenty of moving parts for owners to mind. Having Amazon take over the difficult job of logistics takes a significant load off business owners.  Choosing this option allows retailers to focus their attention on growing their company and scaling beyond the marketplace. 
Cons of Amazon FBA
The cost of Amazon's FBA service depends on the type of products a seller offers. On average, a retailer can expect to pay Amazon anywhere from $2 to $5 for every item in their inventory. Amazon FBA isn't ideal for products that are large, bulky, and niche.
No Control Over Packaging
Amazon imposes strict requirements for the inventory that they accept in their warehouses through this service. Failure to meet the marketplace's demands can cause significant delays. Understanding Amazon FBA inventory storage limits are necessary to avoid issues.
Pros and Cons of Amazon FBM
Retailers have the option to fulfill orders made through Amazon without the help of the marketplace. FBM is best suited for operations with an established logistics process or partnered with third-party logistics providers.

Seller Fulfilled Prime is a category under FBM that allows sellers to participate in prime shipping without FBA. They can commit to delivering products to the customer's doors within two days.
Pros of Amazon FBM
Total Control Over Merchandise
Due to the massive number of parcels that Amazon handles, problems with orders are bound to happen. To illustrate that point, last year, Amazon delivered more than 4 billion packages in the United States alone. Out of those billions of packages, there will be late deliveries, wrong orders, and more.  Sellers choosing to fulfill orders themselves minimizes the risks of these issues. 
Through Amazon FBM, sellers can enjoy higher profit margins because the marketplace doesn't take a cut from every sale.
Cons of Amazon FBM
Again, Amazon offers FBM sellers the option to be tagged within the seller fulfilled prime category. However, without the logistics mechanism of the world's top marketplace, it can be challenging to guarantee the kind of speed Amazon can offer.
The hassle of Handling Customer Service and Returns
Customer service and returns are two features that Amazon FBA sellers enjoy. Choosing to fulfill orders without FBA puts the burden of dealing with non-profit generating tasks back to the sellers.
There are plenty of factors to consider when selecting the best logistics option for an eCommerce operation. Every online retailer has different needs and preferences. It is essential to assess the advantages and disadvantages that come with choosing between Amazon FBA versus FBM.
But when it comes to successfully navigating through Amazon, having a logistics partner that you can trust is invaluable. With years of eCommerce logistics experience, ZhenHub is an authority in selling and making a profit on the world's top marketplace. Partner with us today and take advantage of our expertise. Email us at hello@zhenhub.com or request a freehttps://bit.ly/3Fz9Th3 quote to see how we can give you that competitive eCommerce edge. 
Share Article