What to Look for in an FBA Sourcing Agent in China
Time to read:
4
minutes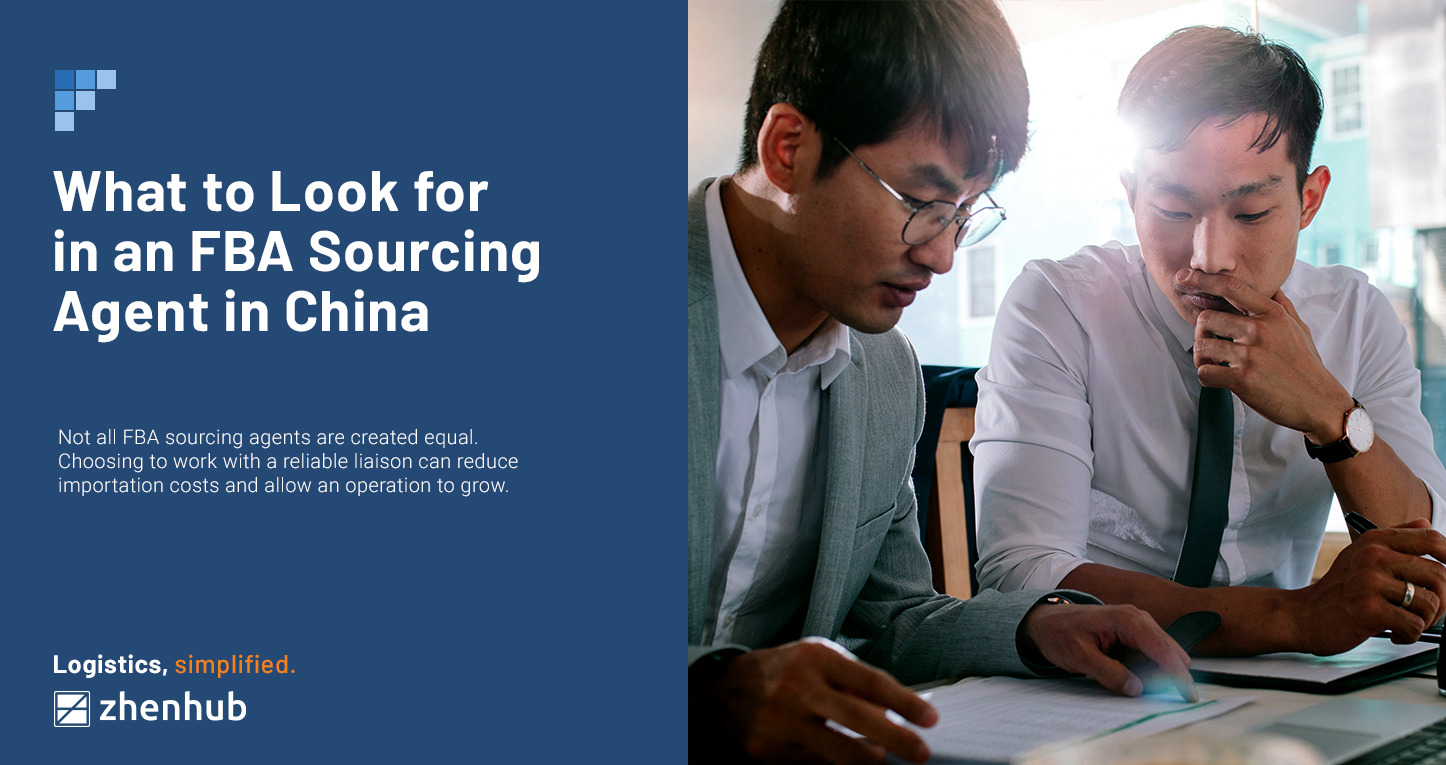 According to Web Retailer, Amazon remains to be the top online marketplace for eCommerce retailers in 2021. On average, 140,000 third-party Amazon sellers clock in more than $100,000 in annual sales. It has become the marketplace of choice for buyers, especially with the introduction of its Fulfillment by Amazon program.
Fulfillment by Amazon, or FBA, is a service that allows retailers to sell on Amazon without the hassle of logistics. Following product procurement through an FBA sourcing agent, the marketplace stores third-party seller products in their fulfillment centers. After a sale, Amazon picks, packs, and ships packages directly to consumers.

To get the full benefit of the FBA program and bolster profit margins, most Amazon third-party sellers source products from reliable Chinese manufacturers. But note that the operative term is "reliable." China doesn't exactly have a sterling reputation when it comes to quality products and sourcing. Therefore, it is crucial to find the right FBA sourcing agent to take full advantage of Chinese manufacturers' inexpensive products.
A reputable FBA sourcing agent can be the difference between success and failure on Amazon. This article explores the importance of sourcing agents in product procurement and actionable tips on securing a contract with a reputable agent.
What is a Product Sourcing Agent?
A product sourcing agent plays a pivotal role in the product procurement process. Sourcing agents are third-party professionals that act as a liaison between manufacturers and retailers. They are crucial for eCommerce operations looking to source products from overseas suppliers, particularly from China. Hiring sourcing agents provides retailers with a means to access their slew of supplier contacts. Moreover, these professionals are usually locals that are fluent in both English and the local language.
How to Find Right FBA Product Sourcing Agent in China
Much like finding reliable suppliers, it is imperative to hire only reputable sourcing agents for overseas product procurement. Unfortunately, not all sourcing specialists are created equal. The suitable sourcing agents should have the credentials and experience to do the job effectively.
Conduct Independent Product Research
The first step in hiring the right product sourcing agent is conducting independent product research. Through Chinese marketplaces like Alibaba, retailers can get decent approximations on product pricing, minimum order requirements, and manufacturing hubs catering to specific products. The information gathered from the research is crucial for communicating particular needs to potential sourcing agents.
Consider Agents Based Near a Manufacturing Hub
Most retailers want to have quality inventory and save as much during product procurement. One way to ensure that the costs remain low is by choosing agents located near manufacturing hubs. In addition, selecting local representatives can save a retailer on transportation costs.
Check for Language Proficiency
One of the biggest hurdles retailers face when transacting with overseas suppliers is the language barrier. Often, the struggle can lead to miscommunication, wasted raw materials, and missed deadlines. Ensuring that the FBA sourcing agent is conversant in both English and the local language is vital to minimizing procurement errors and delays.
It can be challenging to gauge the capabilities of a candidate through their resume alone. However, an interview can let you assess an agent's experience and sourcing knowledge and give a glimpse into their work ethic.
Talking to an agent's past clients is another good step in assessing their product sourcing skills. They provide a retailer a third-party view of an agent's track record – without any bias.
Secure Documentation for Every Step of the Transaction
The last and probably one of the most essential steps in hiring a sourcing agent involves signing a contract. Again, documentation is key to protecting the interests of both parties. The contract should include the scope of the transactions and the responsibilities of both the retailer and the China sourcing agent.
Essential Questions to Ask Potential FBA Sourcing Agent
When it comes to selling on Amazon, two factors put retailers above the rest – pricing and product quality. The right FBA sourcing agent can find the balance between those two factors, but that is no easy feat. It takes experience and expertise to connect retailers with suitable suppliers.
When vetting FBA sourcing agents, here are a few questions to ask during the interview:
Do they work solo or with a sourcing company?
Retailers must know if they are working with an individual or working with a sourcing company. There are pros and cons to both conditions. Truth be told, it is riskier to get a freelance sourcing agent. They can take longer time sourcing products, and they might affect your deadlines. That said, sourcing companies charge a higher fee because you're getting broader expertise.
How many years of experience do they have under their belt?
When it comes to product procurement, experience is invaluable. With tenure comes contacts. The more supplier relationships a sourcing agent built over the years, the better a retailer connects with the proper manufacturer.
Do they have a strong relationship with the manufacturing company?
Again, the relationship between a sourcing agent and the supplier is key to securing the best inventory deals. They can better communicate a retailer's needs and ensure lower pricing if they already have good working relations with a manufacturer.
What is their product specialty?
It is challenging for a sourcing agent to specialize in all types of products. In fact, in China, sourcing certifications are divided into different product niches. Agents are only allowed to operate based on the certificates that they have. In vetting professionals, it is best to find agents experienced with sourcing the specific product.
What is the scope of their sourcing services?
There are various services involved in product procurement. For example, some agents only tackle product sourcing, while others offer inspection, testing, and quality control. Therefore, it is important for retailers to know the scope of service to understand what exactly they want to get.
The benefits of working with an FBA sourcing agent are undeniable. These professionals allow retailers to source quality products at a reasonable price within a given timeframe. Hiring the right FBA sourcing agent is key to maximizing the advantages Amazon and Chinese manufacturers have to offer.
Curious where you can start the search? ZhenHub is eager to help! Request a quote now or partner with us today to learn more about overseas product procurement through our tech-based logistics solutions. 
Share Article