Amazon Seller Calendar 2021: Peak Dates to Prepare For
Time to read:
4
minutes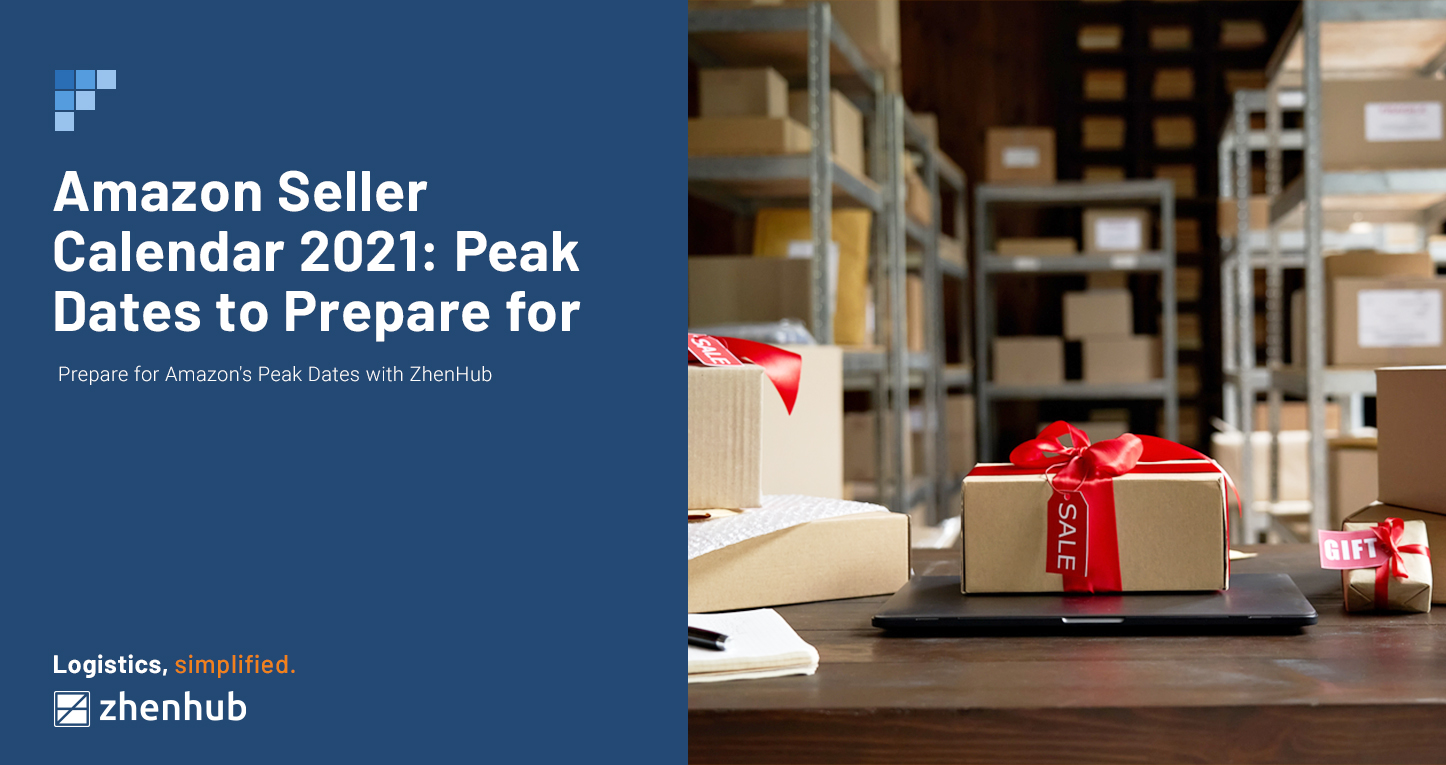 Amazon might only be 25 years old, but it secured its place globally as the top eCommerce platform. The marketplace has become a valuable tool and veritable gold mine for online retailers. In 2019, more than 200,000 third-party sellers made upwards of $100,000 on the platform. Considering how consumers purchase $4,722 worth of products on the marketplace every second, it isn't surprising. Undoubtedly, selling on Amazon can be lucrative for eCommerce retailers. While the competition is fierce, there are ways to outperform other sellers. Preparing for Amazon peak dates and taking note of the Amazon seller calendar is one of the simplest ways to edge out the competition.
It is challenging to track important dates, holidays, and deadlines that impact Amazon purchase trends. Nevertheless, taking note of key events is vital to maximizing everything the marketplace has to offer. This article details the Amazon seller calendar, showing significant dates in the last remaining months of 2021 that every FBA seller should prepare for.
Amazon Seller Calendar 2021: Important Dates
When it comes to successfully navigating Amazon, marketing for the peak season isn't enough. The platform is competitive, and if a retailer doesn't take marketing initiatives to promote their products year-round, another online operation might corner the market. Taking advantage of all holidays and events throughout the year is crucial to generating more sales through the platform.

Aside from holidays, the list below also includes crucial dates for Amazon FBA sellers, such as inventory deadlines and cut-off periods, as well as Chinese events to take note of:
September
Last Day to Order Inventory for Black Friday, Cyber Monday, and the Holiday Season: September 15
October
Golden Week in China: October 1 – 7
Halloween / Last Day to Order Inventory Before Chinese New Year
Amazon Selling Partner Summit: Late October
November
Last Day to Get Inventory to Amazon Fulfillment Centers before Black Friday/Cyber Monday/Holiday Season: November 1
Singles Day in China: November 1
US Thanksgiving: November 25
Black Friday: November 26
Hanukkah: November 28 – December 6
Cyber Monday: November 29
December 
Christmas Eve: December 24
Christmas Day: December 25
New Year's Eve: December 31 
Importance of Preparing for Chinese Holidays 
The list of events in this article includes Chinese holidays that Amazon FBA businesses should put on their calendars. While these dates might not seem much, especially from non-Chinese operators, China is the top source of inventory for most Amazon FBA sellers. Holidays can affect the supply chain in various ways:
Most sellers pre-empt the business of Chinese holidays by requesting larger orders before the festivities. While this strategy can help a seller prevent an out-of-stock situation, higher inventory demands strain the production process of most manufacturers. This issue can affect the order fulfillment cycle time and lead to significant delays and longer production times.
Due to high demand, sellers produce a more significant number of products during the peak holiday season in China. Because of the rush, retailers can expect a decrease in quality control around this time. Sending orders before the influx of demand can help retailers ensure that their inventory maintains its quality.
There is an increase in shipping costs during Chinese festivities. Couriers might hike their prices during the rush, and sellers get pressured to expedite shipping for their inventory.
Despite paying a premium for express or overnight shipping, shipping delays still happen- all the more so during the holiday rush. It is in the best interest of retailers to account for these delays and manage their customer's expectations.
Prime Day: What You Need to Know
In the Amazon Seller Calendar, Prime Day is an annual shipping event that caters to the marketplace's Prime subscribers. Initially, this promotion was designed to be a one-day event. However, due to the demand and popularity, it has become a 48-hour global scale extending to India.
Amazon held the first Prime day in July of 2015 to celebrate the platform's 20th anniversary. It has now become a more significant shopping event than Black Friday and Cyber Monday. Usually held around July, it was postponed last year to October due to the pandemic. At the time of writing, Amazon has yet to announce Prime Day 2022.
How to Prepare for Amazon Peak Dates
Being familiar with holidays that influence buying behavior is the first step in preparing for Amazon's peak dates. However, the work doesn't stop there. Selling on the world's top eCommerce platform is a year-round responsibility.

It is crucial to stay on top of consumer trends to understand which inventory to stock during peak events. Ample research and diligence prevent overstocking of slow-moving items. It also ensures that products in demand are well-stocked for the incoming surge.
Likewise, allocating an inventory budget for significant shopping dates like Prime Day, Black Friday, and Cyber Monday is vital to generating more sales on Amazon. As a retailer, there are very few things more upsetting than knowing there is a demand but not having a means to fulfill it. Planning should also account for expedited shipping.
The peak dates emphasize the importance of efficient coordination with suppliers and staff. With ample information and correspondence, manufacturers should be able to churn out inventory in time for peak dates with relative ease. Moreover, training staff to handle the sudden surge of customer questions and complaints during the holiday rush is imperative.
The end of 2021 is fast approaching. Soon, a new Amazon Seller calendar will be ready with peak dates to prepare for. That said, the remaining months of this year are a great time to practice and prepare for the coming holiday sales and the following year.

Whether you are new to Amazon FBA or have already found your footing in the marketplace, ZhenHub can support you by developing an Amazon strategy that is right for your business. Your online operation is in good hands with our years of experience and slew of tech-based logistics solutions. Reach out to us today for a free quote or to learn more about our services.


Share Article