Amazon FBA Fees: The 2020 Seller's Guide
Time to read:
4
minutes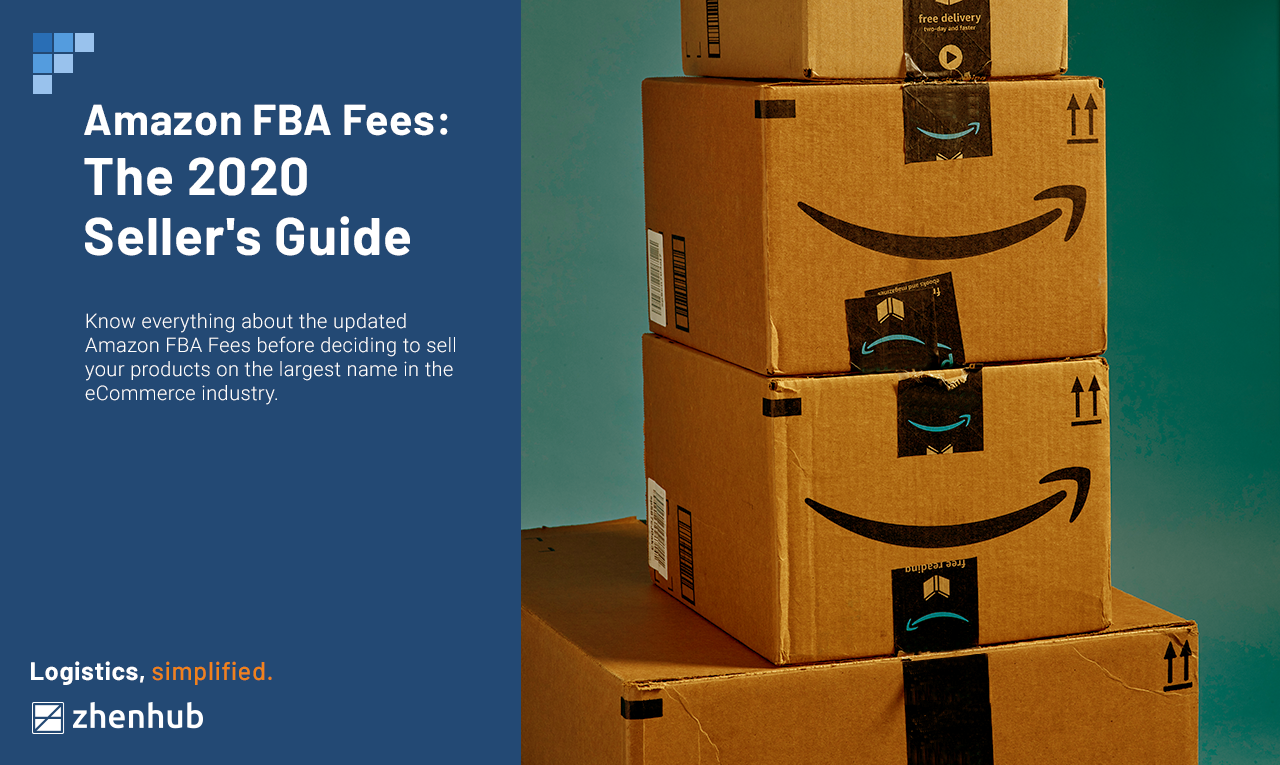 Amazon FBA
Online searches for "Amazon FBA Fees" get an average of 1,000 to 10,000 hits per month on Google Ads. This is a testament to two things: that Amazon FBA remains as one of the most sought after fulfillment centers; and that cost is an essential factor that influences a seller's decision to outsource.
As the largest fulfillment center globally, Amazon FBA's advanced technology makes it easy for merchants to sell their products, scale their business, and expand their customer reach. Retailers can just focus on selling while Amazon does the heavy lifting of picking up, packing, and shipping customer orders. But how much does this convenience cost?
Amazon FBA Fees
Of course, leveraging Amazon's name, business solutions, and market reach come with a price. And these three factors primarily influence and determine Amazon FBA fees:
The dimensional weight of the product,
The size of the product, and
The channels where the product is sold
For a better understanding of Amazon FBA fees, here is a quick guide on both the basic and miscellaneous charges online retailers should know and prepare for.
Account-Based Fees
Amazon offers two types of seller accounts: individual and professional.
Signing up for an individual account will have sellers pay a per-item flat fee of $0.99 for every sales transaction. Like referral fees, Amazon FBA will only deduct the per-item cost from the merchant's account post-sales.
On the other hand, professional account holders have to pay a monthly subscription fee of $39.99. Similar to having an individual account, professional sellers will see this amount deducted from their Amazon FBA account balance. If there are no funds in the seller's account, Amazon FBA will charge this on the merchant's registered credit card.
Referral Fees
A referral fee is Amazon FBA's "commission" for every sale a merchant makes on their platform. And Amazon only charges this type of fee upon successful sales.
Referral fees differ based on the product category. They can go as low as 8% and as high as 45%. Amazon FBA calculates the percentage of the product price or the minimum per-item referral fee, whichever is higher. For example, products that fall under the Consumer Electronics have a referral fee of 8% or an applicable minimum per-item referral fee of $0.30. So, if a wireless Bluetooth headphone is priced at $299, the Amazon FBA referral fee will be $23.92. It's based on 8% of the product cost, a value much higher than the minimum per-item referral fee of $0.30.
Refund Administration Fees
Amazon FBA allows refund requests but charges sellers with a processing fee: either $5.00 or 20% of the refunded amount, whichever is less. Here is how it goes: If an item for refund costs $100, Amazon will charge the merchant $5.00. But if the product's price is $20, then the processing fee will only be $4, which is 20% of the refunded amount. This applies to instances when a consumer wants a refund for an item that the seller has already paid for to Amazon FBA.
FBA Fees (size and weight-dependent)
Amazon FBA computes the processing of shipping, handling, and packaging of products according to the size and dimension of commodities. Amazon FBA fees per unit already include the complete order fulfillment process, from pickup to delivery, plus customer service and product returns.
For a full and updated list of Amazon FBA fees, click here.
FBA Storage Fees
Amazon FBA also covers the storage of products in their fulfillment centers, but the eCommerce giant charges additional fees should sellers wish to maintain their inventory. The space the item occupies, which is the daily average volume measured in cubic feet, determines the rate for storage fees.

Currently, Amazon FBA offers two types of storage fee plans: monthly and long-term.
Monthly fees vary depending on product size and time of the year. This structure imposes storage fees "between the 7th and 15th day of the month following the month for which the fee applies".
Long-term storage fees apply to sellers who have inventory in Amazon's fulfillment center for over 365 days. Typically assessed every 15th of the month, Amazon FBA charges online merchants $6.90 per cubic foot or $0.15 per unit, whichever is greater. Retailers can avoid paying for long-term storage fees by submitting a removal order before the next inventory clean-up date or by setting up automated removals by the 15th day of each month.
Other Storage-Related Fees

Stock Removal Fees
Sellers who need to dispose of unsold inventory from Amazon's fulfillment centers must pay stock removal fees to do so. This fee also applies to merchants who want to get their products back.

Inventory Placement Fees
If a seller chooses to have all their inventory placed in a specific Amazon fulfillment center, they can do so by signing up and paying for an FBA Inventory Placement Service.
Miscellaneous Service Fees
Amazon FBA Fees that fall under "miscellaneous" only apply to specific sellers. These are:
Only merchants selling media products such as books, DVDs, and CDs will need to worry about this fee. It is a flat charge of $1.80 from the proceeds as soon as a sale comes through.
Vendors who rent out books on the platform will encounter this specific fee, which costs $5.00 per item leased. They will only see this deduction from their account at the time of a sale.
Amazon FBA sellers with more than 100,000 products listed on the platform will incur a monthly fixed fee of $0.005 per eligible ASIN or Amazon Standard Identification Number. Amazon deducts these fees from the seller's account at the same time as FBA storage fees.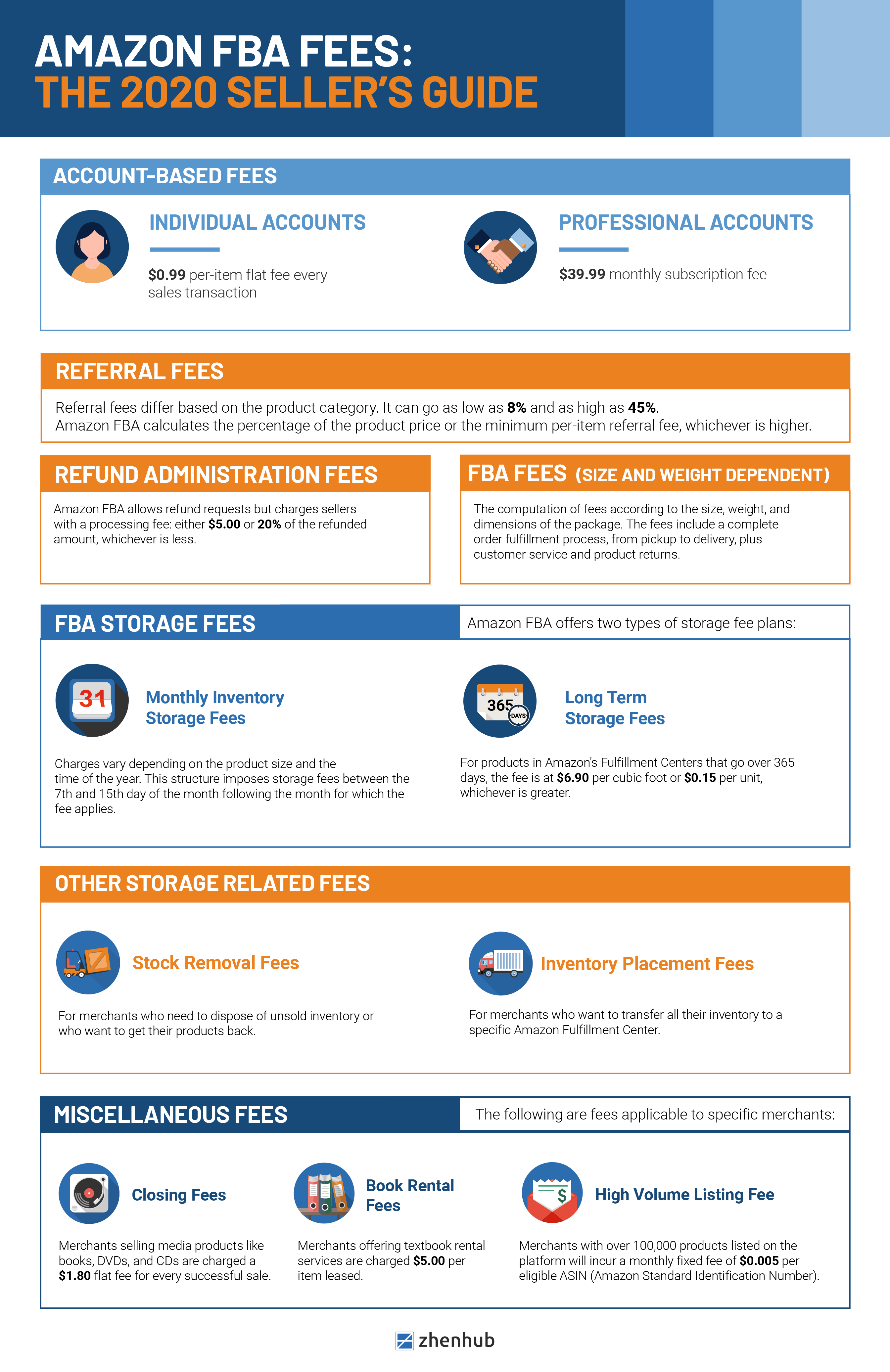 For more information on Amazon FBA fees, click the links below to be redirected to specific pages of their site:
Looking to explore your options? Check out the best Amazon FBA alternatives here.
If you need help with inventory management, fulfillment, and warehousing, just drop us a message, and our experts here at ZhenHub will get back to you as soon as possible!
Share Article