How to Avoid High Amazon Shipping Rates and Configure Restrictions
Time to read:
4
minutes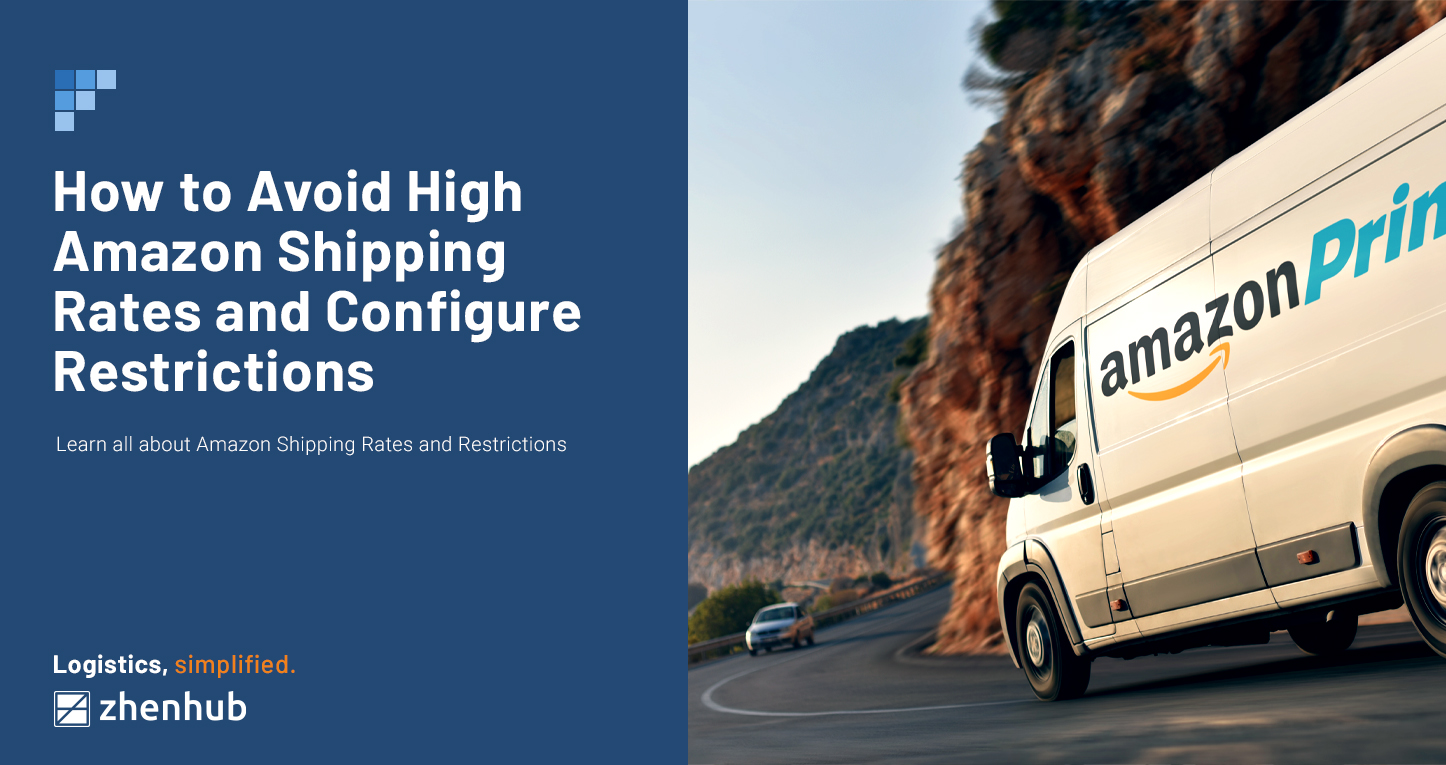 Amazon is the world's leading eCommerce marketplace. Without a doubt, selling on the platform as a third-party retailer has proven to be a strategic and lucrative move. Most sellers on the marketplace enjoy profit margins of over 10%. Moreover, in the battle between Amazon FBA vs. Amazon FBM, the former will still come out triumphant, especially if sellers are looking to no longer deal with logistics and warehouse management stress.
That said, maintaining a presence on the marketplace comes with a literal price – Amazon seller fees.
Understanding the cost and restrictions associated with selling on Amazon is crucial for retailers to succeed on the platform. The fees change annually, but there are certain tried-and-tested ways sellers can avoid high Amazon shipping rates. This article explores those techniques as well as Amazon shipping rates, restrictions, current charging system. 
Amazon Seller Fees
Knowing the enemy is half the battle won. Learning Amazon shipping rates and their general pricing matrix can help any seller cust costs and maximize profits. There are specific fees Amazon charges to every seller. Likewise, there are costs that only specific retailers have to pay for. Below is a summary of Amazon FBA Seller Fees all online operators should be aware of: 
Amazon General Fees
There are three types of fees all sellers are subjected to:
Amazon's referral fees refer to the percentage the marketplace takes for every item sold through the marketplace. The amount varies depending on the product category.
Per-Item or Subscription Fee
Sellers on Amazon can choose between two types of seller accounts — individual or professional. Individual accounts pay Amazon $.99 on a per-item sold basis, while professional accounts pay a flat-rate fee of $39.90 a month.
Refund Administration Fee
Whenever a customer requests a refund, Amazon charges the seller for a refund administration fee. This expense is either $5 or 20% of the total amount of return charge.
Amazon FBA Fees 
Amazon FBA is a service offered by the marketplace that provides logistics solutions for sellers. Through the program, sellers can store and ship their inventory through Amazon's fulfillment centers.
Fulfillment fees are not limited to Amazon shipping rates as it also includes picking, packing, shipping, providing customer service, and processing returns for Amazon patrons. The costs are calculated per unit and can be anywhere from $2 – $130 per item.  
Storage fees are based on the amount of space inventory occupies in any of Amazon's fulfillment centers. This expense can be anywhere from $.69 – $2.40 per cubic foot, depending on the size. There is also a peak season storage surcharge. The platform also charges long-term storage fees for any products that have been in their fulfillment centers for 180 days or more.
Additional fees apply for certain Amazon product categories. Again, only sellers that offer certain products need to pay additional expenses. This includes closing fees for CDs, DVDs, and Blu-ray, High-Volume Listing Fees, and Rental Book Fees.
Learn more about Amazon Seller fees and Amazon FBA fees in this blog post.
Amazon Shipping Restrictions
Amazon touts itself as a one-stop-shop for everything, and anything buyers could possibly want to purchase. However, the marketplaces have domestic and international shipping restrictions:
Location
Amazon has strict rules on the packages to be shipped to non-mainland locations, including Alaska, Hawaii, and all US territories. These parcels can't be heavier than 70 pounds or longer than 108 inches. Hazmat items are also restricted.
Perishable Items
Amazon requires special packaging for domestic perishable packages during the summer months. These items need to be shipped via Amazon's "Expedited Chilled Shipping."
Restricted Items 
Sellers can sell millions of products on Amazon. However, the platform restricts or imposes rules on the sale of the following items:
Alcohol
Animals & Animal-Related Products
Cosmetics & Skin/Hair Care
Currency, Coins, Cash Equivalents, and Gift Cards
Drugs & drug paraphernalia
Electronics
Explosives, Weapons, and Related Items
Fine Art
Food & Beverage
Chilled and frozen foods
Hazardous and Dangerous Items
Human Parts & Burial Artifacts
Jewelry & Precious Gems
Organic Products
Pesticides and Pesticide Devices
Plants, Plant Products, and Seeds
Tobacco & Tobacco-Related Products
Click here for more information about restricted items.
Tips in Reducing Amazon Shipping Rates
Amazon FBA and FBM sellers alike know the hefty cost of Amazon shipping rates. While the cost is justified, these expenses can cut through a seller's profit margins. Thankfully, below are a few tips that can lower Amazon shipping rates: 
Be Strategic with Amazon Inventory
Sellers, FBA and FBM alike, do not have any wiggle room when it comes to Amazon's referral fees. However, being deliberate about a retailer's products on Amazon is a smart way to reduce referral fees. As mentioned earlier, different product categories incur different referral fees. Choosing inventory with low percentages of referral fees can minimize the overall cost of selling on the platform.
For the most part, Amazon shipping rates are based on an item's length, width, and weight. Keeping packing materials light and small can vastly lower shipping costs. At the end of the day, the smaller and lighter a package is, the more affordable shipping rates.
Secure Exclusive Deals with Suppliers
Securing exclusive contracts with suppliers on certain products means that a seller can offer an item for a steeper price. Because there is virtually no competition, a seller corners a portion of the market. While this tip doesn't necessarily involve shipping, it allows retailers to increase their profit margins, making Amazon fees less substantial.
Competition on Amazon can be cut-throat. Visibility is of the utmost importance. This can be achieved through listing optimization. Make sure every product has an appropriate title and description.
The potential Amazon offers to online sellers cannot be denied. It allows small and medium businesses to compete with more prominent brands and reach a broader range of potential customers. While it comes with a hefty cost, it is all about navigating the Amazon shipping rates and getting the best shipping deals possible.
ZhenHub can help you manage your Amazon operation with ease. With years of logistics experience, we are experts in securing our clients' best shipping and order fulfillment processes. Request a free quote now or sign up to experience our tech-based logistics products.
Share Article