What is Last-Mile Delivery and Why Should You Care About It?
Time to read:
4
minutes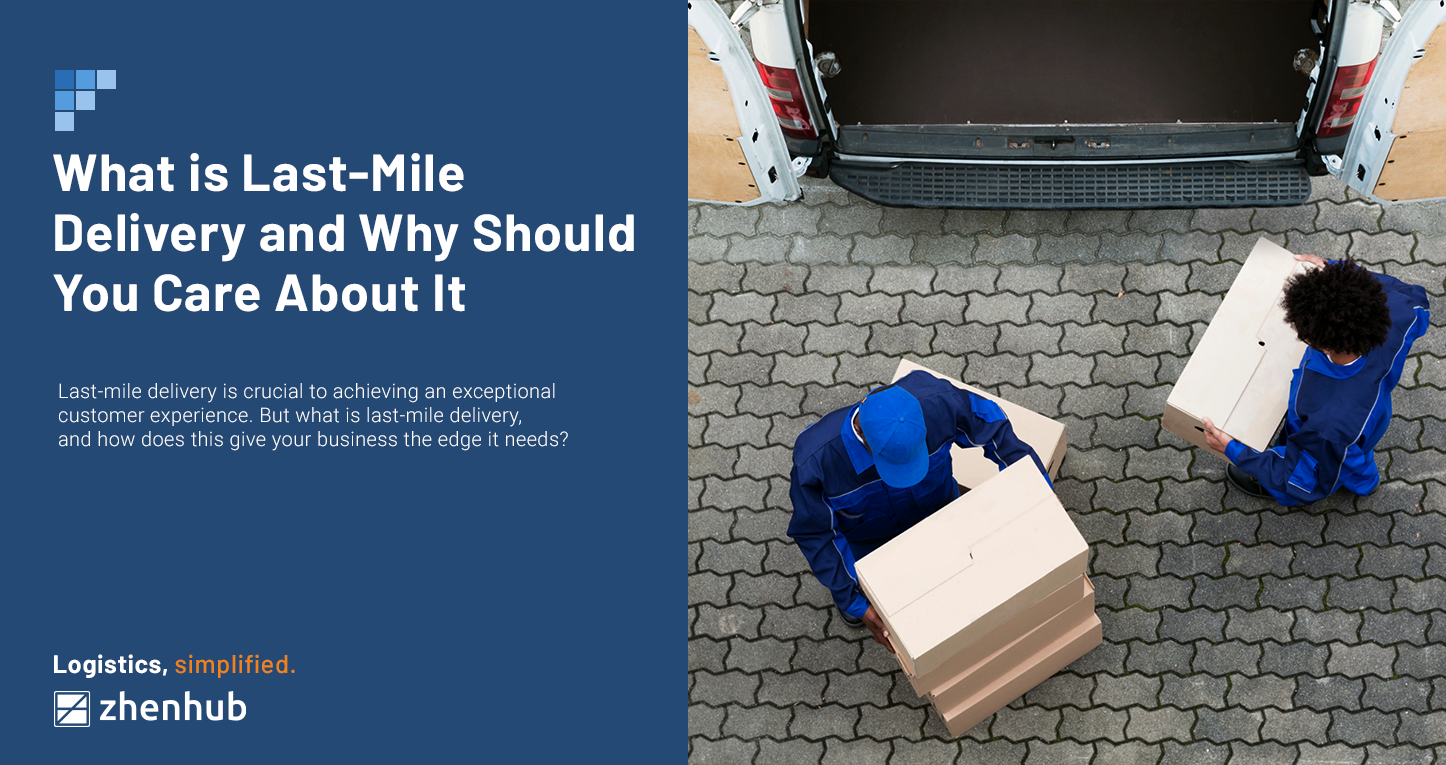 An efficient order fulfillment process is essential to a  successful online retail business. However, the last few years saw a rapid shift in consumer behavior. With big eCommerce companies offering free, next-day shipping, customers have become more demanding when it comes to delivery and shipping times. Independent retailers needed to adapt to these growing demands to remain competitive in an already cut-throat industry. That said, last-mile shipping enabled smaller operations to provide the same level of delivery options as larger eCommerce companies. Read on to find out more about last-mile delivery,  the benefits, common challenges, key steps, and recent delivery trends. 
What is Last-Mile Delivery?
Last-mile delivery pertains to the final leg of the order fulfillment process. In this step, the warehousing facility ships the package to the end-user. More often than not, the end-user is the customer's delivery address. The main goal of this order fulfillment step is to get the parcels to the consumer as quickly and as efficiently as possible.
In today's eCommerce landscape, consumers have a plethora of options. It is easy to choose a store over another based solely on the delivery times and fees. Most customers expect free, next-day, or overnight shipping. It's a challenge for most online retailers since last-mile shipping is expensive. On average, it amounts to 53% of a company's overall supply chain delivery costs. Most independent eCommerce retailers are keen on implementing technology-based solutions and process optimization in the last leg of the shipping process. 
Key Steps in Last-Mile Delivery
Last-mile delivery can take different forms depending on the type of operation, the variety of the products, and the origin and destination of the parcels. Nevertheless, most frameworks involve these five steps:
When a customer makes a purchase, a centralized system takes note of the order and specific order requests. The sender and receiver have the means to track the parcel as it gets prepared for delivery.
Product Shipped to the Transportation Hub
For most companies, the second step is when the actual last-mile delivery process begins. Once the package is in the transportation hub, it gets prepped for easy handling.
Orders Assigned to the Delivery Personnel
One of the challenges of last-mile delivery involves navigating through urban traffic. Planned routes and strategic assignments are crucial to getting a package delivered to a customer as quickly as possible.
Orders Scanned and Loaded
Scanning a parcel before it leaves the warehouse is an essential step in last-mile delivery. The scan updates the system and informs the customer that the package is on its way. Likewise, this step minimizes the risk of parcels getting lost along the delivery route.
Customers Receive the Package
The final step in last-mile delivery involves the customer signing for their package. Once the delivery personnel verifies the transaction, the system updates the status of the order to complete.
5 Ways Technology and Outsourcing Can Provide Last-Mile Delivery Solutions
As discussed earlier, last-mile delivery is the most expensive part of the shipping process. As customers expect free and fast shipping, retailers have to use technology and outsourcing to remain competitive within the eCommerce industry.
Optimizing the shipping process through technology and outsourcing is an investment. But aside from the financial costs, retailers have to do diligent research to land a logistics management partner that provides the right tech-based solutions to the most common last-mile delivery challenges. Below are a few ways technology and outsourcing can address these:
Local Warehousing Solutions
As a general rule of thumb, the farther away a transportation center is from the destination, the costlier delivery overhead is. Local warehousing solutions are one of the most effective ways to cut costs on last-mile delivery. Establishing a significant city center location allows retailers to get their products to their customers faster and without additional expedited shipping costs. 
Navigating through an urban area is a challenge even for seasoned delivery personnel. More than familiarizing the routes, traffic delays can be a significant factor that impacts the efficiency of last-mile shipping. Most logistics management software optimizes delivery routes factoring in time, capacity, and historical traffic data. 
Customizable Scheduling and Prioritization
There is no denying the wave in popularity of eCommerce options. Especially during the current global pandemic, more people are opting to purchase necessities online. The surge is a welcome problem for most retailers, but an influx of orders can wreak havoc on the supply chain. A well-designed logistics management software allows retailers to schedule and prioritize order shipping based on the customers' preference and logistical factors like vehicle capacity and available delivery fleet.
Improved Customer Experience through Real-time Tracking 
Most last-mile delivery applications have a real-time parcel tracking feature that provides customers by-the-minute updates on their order status. This technology plays a significant role in customer satisfaction. It minimizes instances of missed deliveries and enhances the overall customer experience.
The Future of Last-Mile Delivery
Logistics, as a whole, has come a long way in such a short amount of time. Nevertheless, in the next few years, more innovations would revolutionize last-mile delivery:
The capacity of a human workforce can significantly limit what last-mile delivery can do. Regardless of how efficient a delivery team is, a human workforce can only do so much in a day. Self-driving cars can either eliminate the need for a workforce or supplement it. This technology would allow 24-hour last-mile delivery.
With the popularity of online shopping, data about purchase behaviors can influence the inventory decisions of retailers. Through the available data and artificial intelligence, eCommerce operations can anticipate the surge of orders before a customer even makes a purchase. The information allows them to preorder inventory to meet the subsequent demand.
Last-mile delivery presents a challenge and an opportunity for retailers. It is an excellent platform for online stores to improve their order fulfillment process to rival multinational operations. A bid to improve last-mile delivery frameworks not only cuts costs but also increases brand value.
Navigating through the intricacies of last-mile delivery can be difficult. Your best bet is to partner with a logistics management provider that can help you along the way. ZhenHub's host of technology-based logistics solutions can vastly improve your last-mile delivery process. Request a quote or Contact us today to learn more about our services. 
Share Article