On-Demand Fulfillment: The Agility Strategy
Time to read:
5
minutes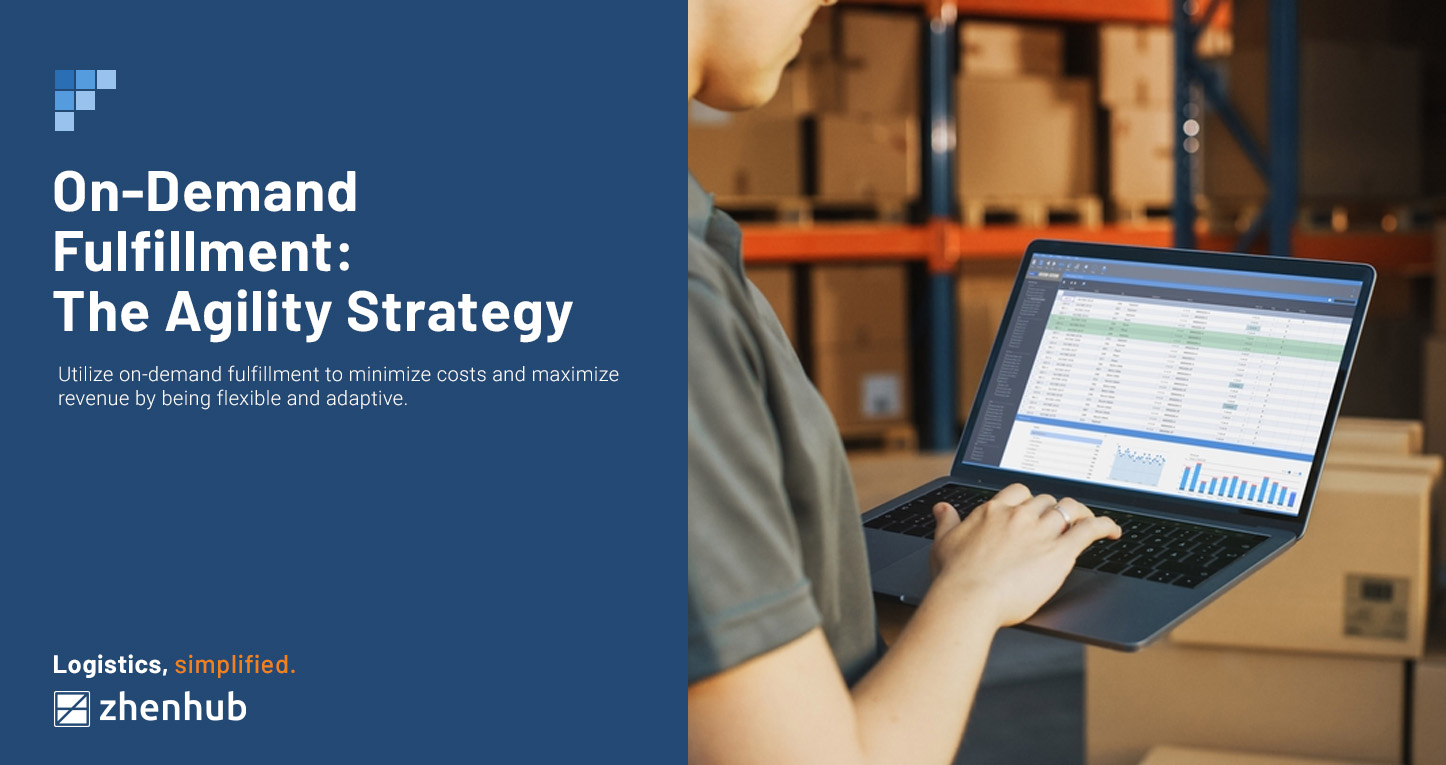 The warehousing and fulfillment industry has seen the most demand in recent years, thanks to the exponential growth of eCommerce sales. Increased interest in these services that were not present before has opened up many business opportunities.
The COVID-19 pandemic is directly responsible for the past two years' eCommerce and online shopping surge. While businesses have struggled with supply chain issues, these challenges have pushed operations managers and decision-makers to innovate using technology.
Customer behavior and expectations have changed due to the shift to online shopping. They want to receive their products faster, and if they could get free shipping. Twenty-five percent (25%) of shoppers are willing to pay extra if it means getting free shipping.
Aside from juggling operations and making a profit, some businesses now struggle to get enough inventory stocks and manage orders in transit. Once these items are on a boat, plane, truck, or train, there is little to do except wait for them to arrive.
Fulfillment and logistics strategies will also need to change with the times.
What is On-Demand Fulfillment?
A versatile solution that allows you additional supply chain agility is on-demand fulfillment.
These software services can link warehouse owners and merchants needing warehousing and fulfillment services.
The flexibility of on-demand fulfillment solutions means your business can scale up or down as needed to match demand. It also removes any need for long-term leases, giving you more freedom in your operations while providing the fastest possible turnaround time.
McKinsey reports that around 75% of apparel, hard goods, and specialty retailers intend to build network capabilities that offer two-day or faster delivery. Forty-two percent (42%) aim for one-day click-to-customer lead times within the year.
Major online marketplaces such as Amazon and eBay have set the standard for expedited shipping through their fulfillment services. Smaller businesses that pack and ship items manually themselves may find competing hard. As your operations grow, it's a good idea for your logistics system to fulfill several orders from different locations.
A wide range of features and functionalities are available with on-demand warehousing models. Typically, you'll find a business that provides space and storage with the option to hire warehouse workers for inventory control.
Yet, the level of detail in these services varies. Occasionally, you'll only be able to transport items to predetermined places, such as your warehouse or distribution center. At the same time, other companies can assist in delivering the goods to the end location.
Delivery and fulfillment services often fail when burdened by short lead times and massive delivery volumes. Over 27% of shoppers abandon their carts when delivery options aren't fast enough. Handling huge volumes leaves very little room for human error. Some factors contributing to slow delivery speeds are the inefficient use of resources, complicated delivery flows, and roadblocks caused by time-consuming tasks.
But this often leads to on-time delivery issues. Businesses must expect what they need in terms of volume and delivery speed. Doing so allows you to meet those demands without problems and provide customers with timely updates.
Adopting an on-demand fulfillment strategy offers several great benefits for your business. First is the ability to meet consumer demand adequately. Using technology to expand your operations and access essential data helps you make better business decisions. You also provide customers with real-time order tracking. As a retailer, you can also accurately forecast demand allowing for timely restocks. 
Competitive On-Demand Fulfillment Strategies
Order fulfillment is a crucial component of any firm. Errors can result in major cost increases, damage to one's brand, and decreased client lifetime values. These costly mistakes put future and recurring revenue at risk, plus time and money to repair. Here are some on-demand fulfillment and delivery strategies that help strengthen your operations and solve common issues.
Work with a Third Party Logistics Provider
An excellent solution is to work with a third-party logistics (3PL) business. A 3PL partner can assist your company in reducing costs and time. Also, using 3PL frees your resources so you can focus on product development, marketing, and company expansion. You can satisfy client expectations while minimizing fulfillment expenses by using a 3PL.
Businesses can take advantage of several opportunities by integrating third-party delivery systems into their current fleet management tools. Brands may optimize their on-demand (and scheduled) capabilities, raise brand exposure, and maintain high customer satisfaction.
Your logistics team can use a hub to organize their delivery network and send orders according to their specific demands.
When you work with a 3PL, they can help distribute your inventory to the right location. This way, all orders are routed through their fulfillment centers and arrive at customers faster. You may also get better rates on shipping fees because there's no need for expensive overseas delivery systems. Accessing a vast distribution network means having local warehouse service customers close by.
Automate Your Processes
Automation is the most reliable solution for excellent customer service while operating cost-effective delivery operations.
Modernize your shipping process with a fully automated dispatch and routing system. Sending orders to the nearest fulfillment center will save you time and money on fuel costs. Customer satisfaction increases because your buyers know you handled their orders quickly without any errors or confusion. Avoid production line delays which often happen in traditional systems that rely solely on human input for every processing step.
Automation software is integrated into many modern inventory management systems and eCommerce marketplaces.
Seamless Inventory and Delivery Management
To reduce costs, you need visibility of your entire delivery flow. This way, you can understand which modes are most efficient and use them accordingly to avoid wasting resources or time.
The same-day pickup of retail orders can be completed with fulfillment tools and software. Retail employees can easily check local inventory availability and source orders to the appropriate location.
The same holds for ships from store orders. All data must be in one place to sync store inventory, retail employees, and drivers (including external fleets). Doing this helps you operate with several aggregators or delivery service providers.
Once you connect your store to an inventory management system, you can digitally access all your current stock. This approach makes tracking inventory in real-time easy.
Investing in cloud-based inventory management allows you to distribute item stocks and manage them from one dashboard. You can view inventory levels in real-time and set automatic reorder notifications. This cloud-based system can also help you determine how much buffer inventory you should have on hand. It also comes with its analytics, allowing you to see what your best-selling items are and much more.
Leverage Data
You need knowledge of the complete incoming and outbound logistics process regarding on-demand fulfillment. You want to reduce the cost of fulfillment operations, speed up delivery, and reliably meet demand despite changes in sales.
Automatic order and inventory tracking are simple when technology and software are integrated into logistics. You can also glean insights regarding fulfillment efficiency, shipping, projected demand, logistics expenses, and other topics.
The more data companies have on delivery fleets, the easier it is to save time and streamline operations. Benefits include high-level tracking of each driver's location as well as real-time scanning for digital proof of delivery at every step. All this provides valuable data that reduces the time spent by customer support teams dealing with disputes and complaints.
Impacting Business Growth with On-Demand Fulfillment
You'll notice that your reach becomes more competitive across various markets as you expand your network with an on-demand fulfillment solution. More sites make it simpler to provide next-day ground delivery.
Small businesses will be allowed to compete with big retailers and even provide quick, affordable shipping.
Even though logistics is a challenging industry, with the appropriate solution, you can build an adaptable, flexible network that turns your supply chain into your secret weapon.
On-demand fulfillment is more than just providing your customers with faster deliveries.
It involves organizing your logistics operations for quick fulfillment, satisfying consumer demand for convenience and speed, and maximizing efficiency to ship more orders with fewer resources.
Your people, procedures, and technology must work together for that last mile.
There is no doubt that clients want deliveries to happen more quickly. And some are willing to pay more for it. Enabling on-demand fulfillment indeed has real costs. But companies can overcome it by combining various techniques involving network growth, technical advancements, and collaborations. Additionally, a wide range of options besides faster fulfillment can assist meet client expectations.
It will be necessary for retailers to change their operational models and to think about implementing such tactics. However, by implementing these changes effectively, merchants may financially offer customers the choice, accessibility, and convenience they desire.
ZhenHub can help create an agile logistics model that will increase your business's potential and profitability without adding to the complexity of your operations. With shipping software that gives you complete control and visibility on fulfillment, adopting an on-demand fulfillment strategy is easier than ever. Get your start by signing up at our website.
Share Article