How to Reduce International Shipping Costs in 2022
Time to read:
4
minutes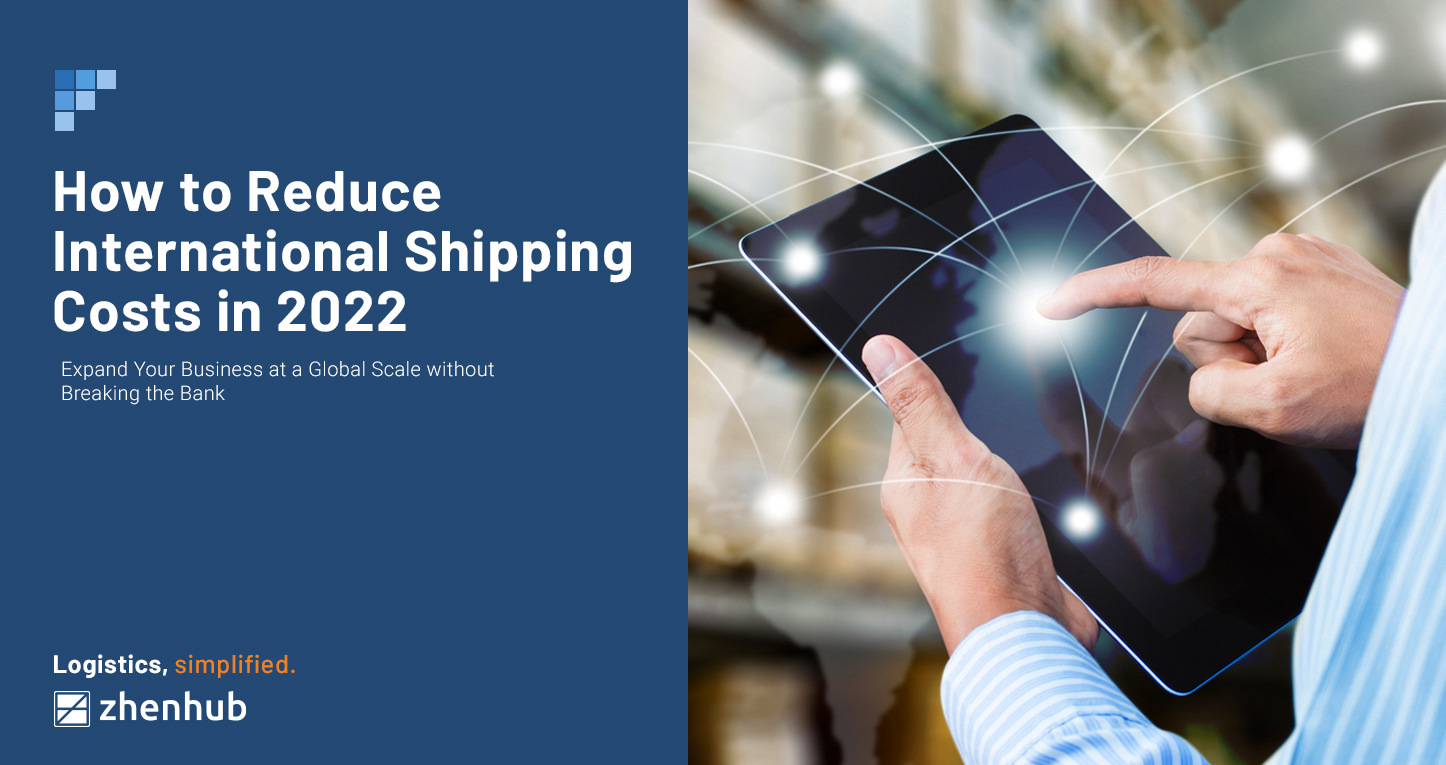 eCommerce is one of the greatest innovations of the 21st century. The industry has shattered geographical borders, making the world smaller and more accessible. For the first time in history, consumers have access to products that were previously out of their reach. Distance or country of origin is no hindrance to expanding a business anymore.
But shipping internationally isn't easy, nor is it cheap. However, learning it and its complexities can help a business take its operation to the next level. And eCommerce companies need to do it quickly as two billion people became global consumers last year. To put in perspective, that is 25% of the world's population, and 57% made international purchases in the same year.
Expanding international shipping operations effectively sources the most affordable inventory, reaches a larger audience, and increases profit margins. This article will give you tips on how to reduce international shipping costs and all the intricacies that come with it.
Why is International Shipping So Expensive?
International shipping costs have been on the rise over the last few years. The COVID-19 crisis only exacerbated the situation, exponentially increasing transportation expenses. Supply chains were severely affected, especially at the height of the pandemic in 2020, and the trend will continue well into 2022.
Understanding the key factors affecting it is the first step on how to reduce international shipping costs: 
Global Shipping Container Shortage
Currently, global trade is experiencing an unprecedented shipping container shortage. China, the world's leading manufacturing hub, opened its ports sooner than the rest of the world. Unfortunately, most of the shipping containers needed to transport goods are stuck in ports that remain closed. On average, a shipping container costs around $3,500. eCommerce retailers shoulder this expense hence the increase in transport costs.
Few Alternatives to Ocean Freight
At present, there are few alternatives to ocean freight, especially when it comes to transporting low-cost products. Retailers that deal with high-cost items can recoup the cost of air or train freights on the price of their products. But retailers cannot apply the same principle to lower value inventory such as RTW apparel, household merchandise, and personal care products.
Sharp Increase in Online Orders
The demand for international shipping skyrocketed in 2020. More people are purchasing their products online, and the increase is unprecedented. Unfortunately, most carriers were not prepared to handle the number of orders coming through daily. To ensure all products get shipped on time, most shipping companies have resorted to increasing their workforce. As with needing new shipping containers, the cost for new staff, including training, gets passed on to the customers.
Benefits of Offering International Shipping
It would probably take some time before international shipping costs level out to a stable range. For small and medium-sized eCommerce operations, it can be a risky decision to take on the global market at this time. Despite the risks, the advantages outweigh the disadvantages:
Increased Revenue Potential
An international presence can expand an eCommerce business' customer base. It's also a way to get out of saturated domestic markets.
Exposure to Possible Funding
Foreign investments are crucial to expansion and scaling. As more companies backed economies, more eCommerce businesses improved product lines and expanded their scope of services. In addition, a global presence can potentially provide retailers access to foreign funding. So it's essential to establish partnerships and network with different organizations.
Regional Centers for Better Customer Service
Establishing a regional center in an international site allows businesses to lower operational costs, provide better customer service, and reach a wider global audience.
How To Reduce International Shipping Costs: 5 Effective Ways
Shipping costs are the number one expense most eCommerce retailers need to keep down to maintain a smooth operation. It is important to note that these costs include more than just delivering packages to the customers. Transportation costs include shipping inventory from suppliers and distributing them to various warehouse facilities. Reducing this expense entails getting to know every process of transportation:

Reducing international shipping costs in 2022 starts with manufacturing the products. At the onset of production, it is essential to keep track of the inventories' dimensions. In addition, making sure that the items are easy to pack and stackable can significantly decrease the costs of shipping inventory from the supplier to the warehouse.
Understand the Destination
Different destinations have various documentary requirements – each with a corresponding cost. Therefore, it is crucial for those new to international shipping to know these costs before entering new territory. In general, most countries require the documents below:
Purchase Order
Invoice
Packing List
Bill of Landing
Letter of Credit
Certificate of Origin
Export License
Insurance Certificate

It is best to start small, understand international shipping better, and expand accordingly.

Carriers provide a discounted rate for bulk shipping orders. Retailers must vet their potential carrier firms before doing business with them. Take the time to negotiate with the shipping companies to get the best prices. It may take a lot of effort, emails, and phone calls, but the diligence is well worth it.
Working with a reputable third-party logistics company is the best recourse for those who do not necessarily have the luxury of time to vet carriers and mind international documents. In addition, 3PL providers can ease the burden of international shipping. From shipping inventory to delivering overseas orders, they can take on the entire order fulfillment process at a discounted price per order.
Catering to international customers can be challenging. Countries have different requirements, and transport costs are considerably higher than domestic shipping. Nevertheless, offering international shipping is the next logical step for most eCommerce retailers looking to grow and scale their business. Let ZhenHub be your partner- from inventory management to shipping services, our team can help you in your operations. Request for a free quote now.
Share Article