What is Ground Shipping?
Time to read:
4
minutes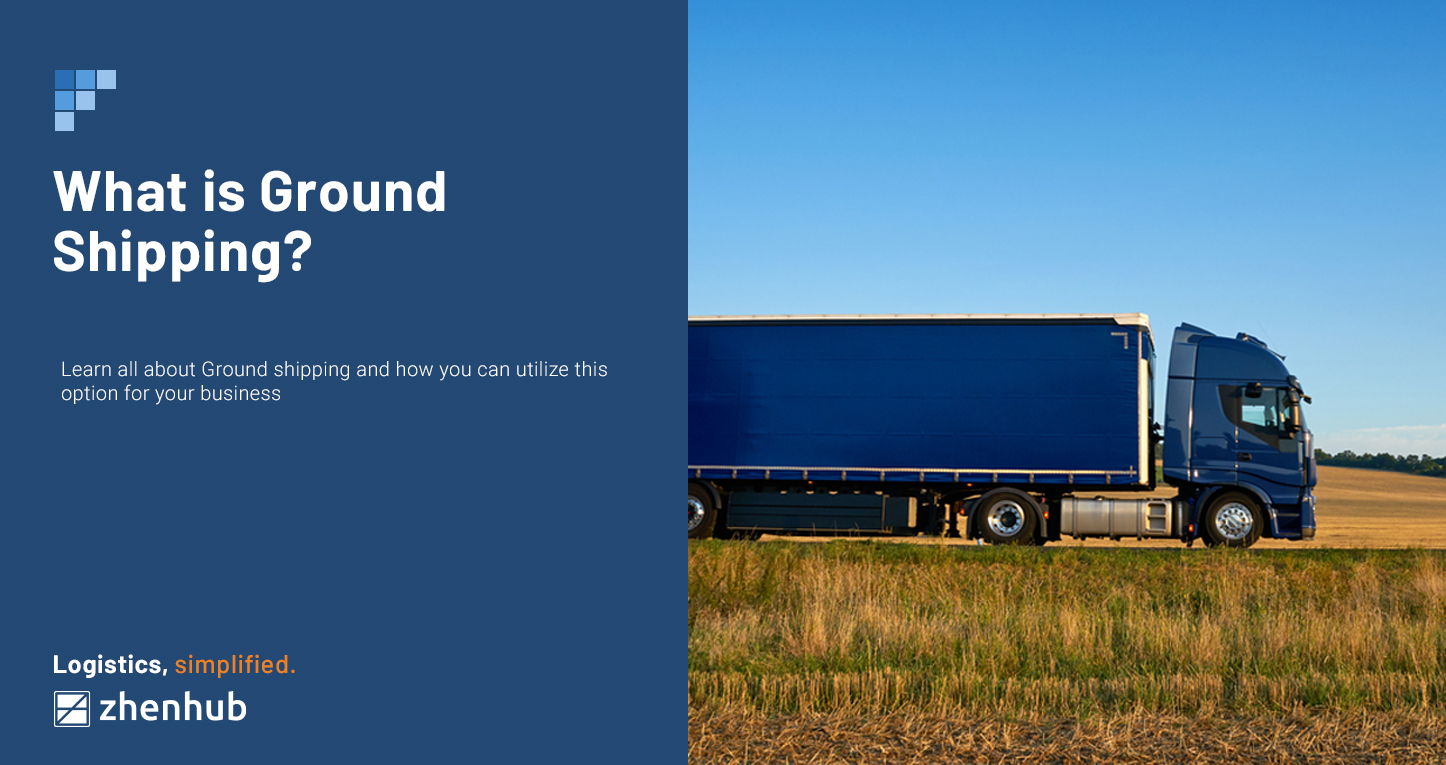 Shipping and delivery are the backbones of the eCommerce industry. Having an efficient shipping process is at the core of online shopping convenience. However, shipping is costly. In fact, it is the most expensive part of the logistics supply chain for most retailers, as over 50% of logistics costs go to transportation
Moreover, shipping efficiency affects customer satisfaction and loyalty. Consumers nowadays have become demanding. Eighty-seven percent (87%) of buyers consider shipping and logistics before making an online purchase. In general, they prefer brands that offer fast and free shipping.
Online sellers must balance shipping costs and efficiency to maintain healthy profit margins. Ground shipping is one of the most cost-effective delivery options. And in this article, our goal is to answer the questions "What is ground shipping, its benefits, and how does it compare to air freights?"
What is Ground Shipping?
Ground shipping is one of the most efficient ways to get products to customers on time. At its core, ground shipping involves the transit of parcels by road or rail. More often than not, ground shipping is the cheapest option for domestic deliveries. Packets do not cross oceans through sea or air freights. It is the best transportation option for sellers that offer free domestic shipping.
While it is ideal for domestic orders, ground shipping can be a last-mile delivery option for international packages. Once the items are at the port, retailers can utilize ground shipping to get the parcel to the customer.
What are the Advantages of Ground Shipping?
If retailers want to keep their profit margins high, they always need to find an affordable and dependable way to ship products. As mentioned earlier, transportation costs take up half of most sellers' operational expenses.
Aside from the lower costs, there are a few more advantages that come with choosing ground shipping:
Sellers can send any item as long as it isn't illegal via ground shipping. It doesn't matter if the parcel is as big as a grand piano or as small as concert tickets; ground shipping can accommodate it all. Weight is also no issue.
While weather doesn't affect ground shipping too much (if there's flooding, it might, though), sellers can expect fewer delays from this mode of transportation, unlike shipping through sea or air freight. Cross-country shipping does take longer but it is easier to anticipate a parcel's delivery date. 
Delays in ground shipping are almost negligible. For the most part, seasoned delivery truck drivers can anticipate how long it takes to get from point A to point B. As such, ground shipping tracking is incredibly reliable. Depending on a seller's courier, most companies offer real-time shipment tracking. Customers can literally see where their package is as it travels to its destination.
Air Freight Versus Ground Shipping
The difference between air freight and ground shipping is straightforward — ground shipping is purely land travel.  Air freights are ideal for eCommerce companies that cater to a primarily international clientele. It is faster to get a package from its origin to its destination but it does come at a hefty cost. 
Ground Shipping Versus Standard Shipping
Unlike air freight, it can be difficult for those outside the logistics field to differentiate ground shipping from standard shipping. They are almost interchangeable in the industry. Ground shipping and standard shipping are often the most affordable transportation options.
Ground Shipping Courier Options
Several couriers offer ground shipping. The cost and the speed of delivery depend on the courier a seller chooses. Below are the top options in the United States:
UPS is a popular choice for online retailers because it is reliable and transparent. For as low as $11.84 per pound, customers can expect their packages to be delivered by UPS in 1 – 5 business days. UPS also offers live tracking for their orders and packages.
For sellers on a budget, USPS is the ideal ground shipping option. Shipping prices start at $7.70m depending on the item's size and weight. Packages be delivered within 2 – 8 business days. USPS services all 50 states, including Puerto Rico 
FedEx ground is unique because they service deliveries from the US to Canada by land travel. Shipping services start at $8.90 again, depending on the parcel's size and weight. Through FedEx Ground, packages arrive at their destination between 1 – 5 business days.
Key Benefits of Working with the Right Ground Shipping Partner
Most third-party logistics providers offer competitive ground shipping rates. Working with a shipping partner can ease the growing pains of new eCommerce retailers.
There is a learning curve involved in determining the best shipping option for one's inventory. Most sellers do not necessarily have the time to learn the intricacies as orders start to trickle in. There are a lot of benefits to outsourcing order fulfillment to a third-party logistics company; right off the bat, it is easy and convenient. It allows sellers to focus on income-generating sectors of the organization.
Likewise, choosing to outsource logistics is cost-effective. Retailers do not have to invest in equipment and the workforce to keep logistics in-house. Also, logistics professionals are privy to discounted courier rates. Sellers who partner with these companies are privy to these discounts.
Scaling is also less challenging with a third-party logistics partner. Peak seasons and valleys do not affect logistics operations, and no resource is left unutilized. It is easier to adjust to the current market trend through these partners.
Dealing with shipping and logistics can be overwhelming if you are new to eCommerce. There are many moving parts to note, and concerns can fall through the cracks. To ensure that your business utilizes ground shipping to its fullest extent, you first need to identify if it's time to outsource it before looking for a professional 3PL partner.
We at ZhenHub offer a host of effective tech-based logistics solutions. We can help you get your packages to your customers quickly, from inventory management to last-mile shipping. Contact us today to learn more or request a free quote from one of our experts.
Share Article