How to Offer Free Shipping Without Losing Revenue
Time to read:
4
minutes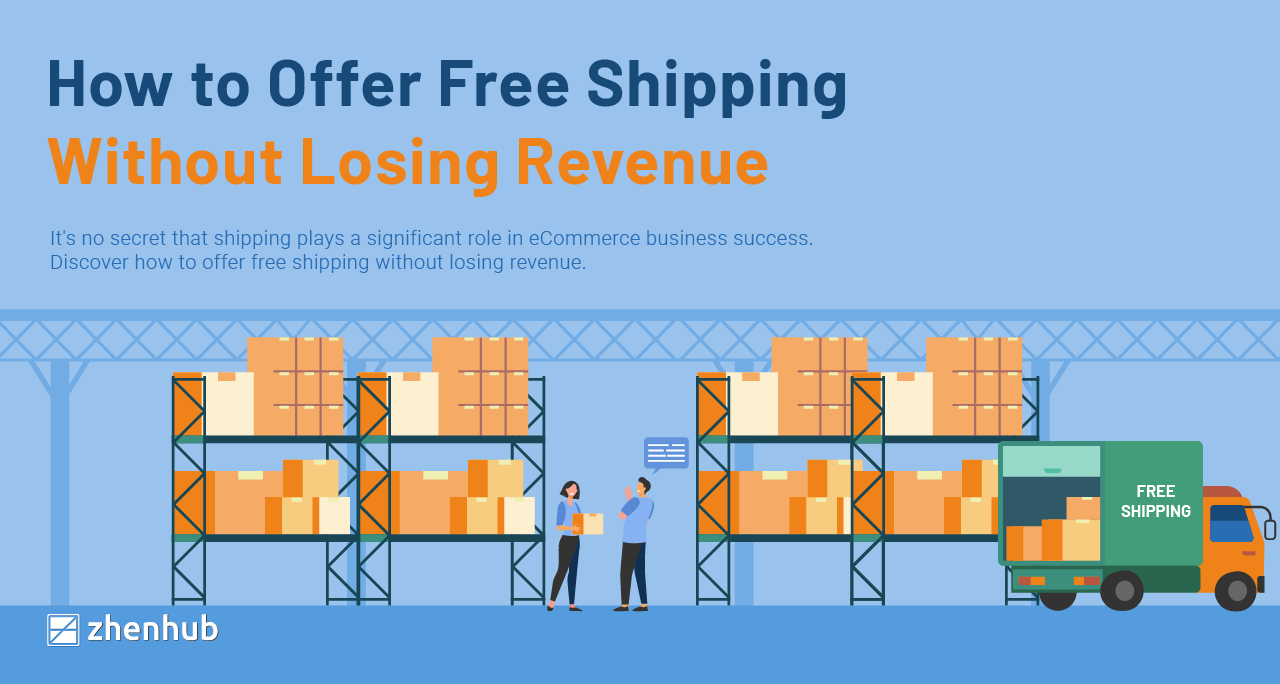 Consumers love getting something free or freebies with their purchases. The word "free" significantly impacts purchase behavior and even improves brand image. A recent report said, 9 out of 10 people recall the name and logo of giveaway or free stuff. Aside from freebies and giveaways, most retailers are also keen to know how to offer free shipping to their customers.
Free shipping is the number one driver for shoppers to make an online purchase. They are willing to spend at least 30% more on an eCommerce site to avail of a free delivery option. Likewise, shoppers are likely to cancel their orders and abandon their cart altogether if a brand does not offer free shipping.
But offering free shipping can be a tricky proposition. Striking a balance between making money on purchases and cutting profit margins from offering free shipping can be challenging. This article explores how to offer free shipping to consumers without going in the red.
How to Offer Free Shipping: Covering the Cost
Offering free shipping without recouping the cost elsewhere is a recipe for disaster. Unless a retailer sells expensive and one-of-a-kind products, sitewide free shipping without any conditions isn't feasible for most online shops. Thankfully, there are ways to offer free shipping without dipping into the profit margins:
Include Shipping in the Cost of the Product
Raising prices often harms sales. Surprisingly, consumers would choose a higher-priced product with free shipping rather than a cheaper item with a minimal shipping fee. So it is essential to know your baseline before raising prices. Several big eCommerce corporations like Zappos employ this technique, but this doesn't mean that it works for every online store. Work out the plan with your business and finance managers on how to go about this.
Offer Free Shipping Promotions
Not all online shops know how to offer free shipping feasibly at all times. Especially if the market is too competitive, bundling the shipping cost into an item's price isn't possible. The solution to this problem lies in offering free shipping for a limited time.
This tactic is effective for several reasons. First, retailers take on minimal losses if they don't have to shoulder free shipping at all times. Second, since it is on a limited time, the sense of urgency to avail of it is enough to entice customers.
Consider Customer Lifetime Value
Keeping a loyal customer is more cost-effective than trying to acquire a new one. When it comes to recouping free shipping, striking a balance between acquisition and shipping costs is crucial.
A second and a third purchase is often enough to make up for the loss. The repeat business can be made possible through proactive marketing strategies like loyalty programs and newsletter promos.
Develop a Membership Program
Seventy percent (70%) of millennials are willing to spend on a premium membership that offers free shipping. Developing a paid membership program can potentially offset free shipping costs, entice customers to purchase more at little or no capital cost.
Setting a minimum amount threshold for free shipping not only makes it feasible for retailers to offer this feature, but it also entices customers to add products to their basket.

Free shipping encourages customers to shop. Fifty-eight percent (58%) of consumers would add more items in their order to qualify for free shipping.
Calculating the Minimum Spend
One of the most popular eCommerce free shipping strategies is offering a minimum order requirement in exchange for free shipping. Coming up with the minimum order requirement entails a level of deliberation and mathematics. High minimum requirements deter customers from making purchases. If the prices are too low, you'll lose any profit. Ideally, the minimum spend threshold depends on the following factors:
The average order value, or AOV, refers to the total amount customers spend on each transaction before shipping fees. Retailers must know this figure since, ideally, the minimum amount should be above the AOV to ensure profits.
The amount a retailer spends on shipping a package to the customer also affects the minimum spend threshold. The costs should include the shipping service, the packing materials, and the packaging a product comes in.
Average Gross Profit Margin
To compute the average gross profit margin, subtract the total cost of sound production from the total sales. Divide this figure by the total sales.
The equation below computes for the minimum spend threshold:
((Preferred Revenue Amount + Average Shipping Cost) / Average Gross Profit Margin) + Average Order Value = Proposed Amount Minimum.
Strategies to Keep Shipping Costs Low
It is easier for retailers to learn how to offer free shipping if they are strategic with their shipping costs. The lower the shipping cost, the more sustainable the free shipping program becomes.
Most carriers charge by dimensional weight. While branding is important, there is an argument to be made for sparse packaging. Some retailers offer free basic packing supplies. It is best to take advantage of these free resources to minimize shipping costs.
Purchase Supplies in Bulk
For packing materials that aren't free, put items in bulk. A wholesale order costs less per piece than buying packing materials as needed.
Decrease Shipping Distance
Aside from weight and dimension, a package's destination is also a determining factor of the total shipping costs. The further away a warehouse is from the consumers, the more expensive shipping fees are. Choosing to partner with a third-party logistics provider that offers global warehousing services can significantly reduce shipping costs. While there is an upfront investment, offering free shipping almost guarantees a hefty ROI.
Key Takeaways
Learning how to offer free shipping is a complex problem with a simple solution. The notion that this perk is only possible for big eCommerce retailers is wrong. Even small enterprises can do it. If you can offer free shipping at the end of the day, you should.
Need help with logistics? ZhenHub can help you minimize your eCommerce shipping costs. The savings that you get, you can pass on to your customers. Learn more about our solutions today. Email hello@zhenhub.com or request a quote, so we can start revolutionizing your logistics and order fulfillment process.
Share Article