Tips on Creating a Great Amazon Storefront
Time to read:
4
minutes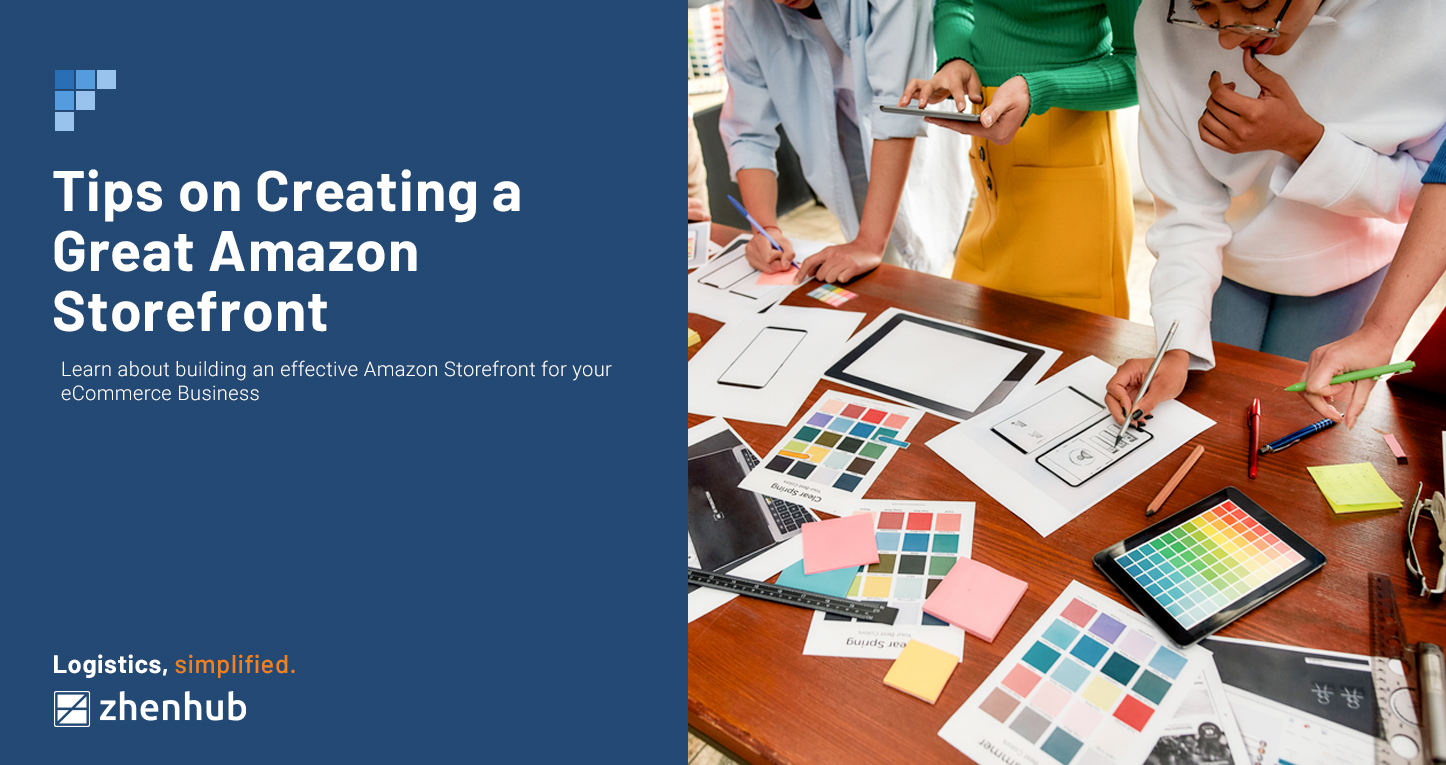 Maintaining a presence on Amazon can be the next best (if not profitable) step for most online retailers. Almost 200 million customers visit the marketplace each month. Selling on the platform could take an operation to the next level.
But making it happen though isn't easy. Sellers need to do research and strategize. Why? While it's lucrative to go on Amazon, the marketplace is highly competitive as it hosts millions of active sellers. Retailers must maximize all Amazon tools to compete and stand out from the crowd.
One of the most compelling features on the marketplace that sellers should know about is the Amazon Storefront. And we'll tell you what it is, including the set-up, its benefits, and tried-and-tested ways to optimize a page.
What is an Amazon Storefront?
Amazon Storefront allows brand-registered sellers to showcase their inventory in a single web location. These pages are highly customizable. Sellers can highlight their top products, use high-resolution images and graphics, and customize the page with brand logos and colors.
Essentially, this feature provides sellers with a smaller version of the Amazon marketplace solely for their products for free.
Getting Started with Amazon Storefront
As mentioned earlier, only brand-registered sellers can create their own Amazon Storefronts. The process of signing up for the feature is pretty straightforward. However, sellers need to check if they qualify for the program as it's only available in specific locations.
Enroll in Amazon Brand Registry
The Amazon Brand Registry aims to protect the intellectual properties and brand trademarks of companies that transact on the platform. To register, sellers must meet these requirements:
Trademark registration number
Brand Marks such as logos and emblems
Specific product categories
Details about where a brand sources and distributes their products
It is important to note that requirements may vary from location to location. The conditions above are exclusively for US-based sellers.
An Amazon Storefront is a reflection of a company's unique brand. Using the same design elements on a Storefront is crucial to tell a complete and consistent brand story. Before building out an Amazon Storefront, it is best to have all brand materials and assets in one place. Promptly organizing these assets can streamline the building process.
Once all assets are in place, it is time to build the Storefront. You can find this feature on Seller Central. As mentioned earlier, Amazon Storefronts are highly customizable. The platform makes it easy to set up their pages as it provides users with several well-designed layout templates. It has a user-friendly drag-and-drop interface so store owners won't need web development skills. Sellers can create as many pages as they want. However, there is a three-level limit to each page.
Submit Store for Approval
Amazon requires all storefront sellers to submit their pages for approval. This process aims to ensure that the storefront provides a good customer experience.However, getting approved is still manual, and it takes more or less three business days.
Benefits of Maintaining an Amazon Storefront
The process of building an Amazon Storefront is simple and user-friendly. It is, after all, a drag and drop interface. However, having an effective strategy is core to the success of an Amazon Storefront. Developing this strategy takes time, research, and effort. But the benefits are well worth the investment.
Developing a consistent brand story often separates successful companies from those barely scraping by. Contrary to popular belief, price and convenience aren't the only factors that drive purchase decisions. Emotions drive most consumers. They want to know a brand's ethos before buying a product and supporting a business. An Amazon Storefront is an easy way to convey a brand's journey, business ethics, and stand on specific issues.
An Amazon Storefront is essentially a big online billboard for a company's products. It is an effective way to showcase items and answer questions that often deter customers purchasing. It is a space to flesh out what is unique about your products—enough to convince buyers to hit the buy now button.
A dedicated Amazon URL is a valuable resource. It is an easy way to redirect customers to a page that allows them to make a purchase quickly. It is another added perk to signing up for an Amazon Storefront.
Tips on Optimizing an Amazon Storefront Page
Not all Amazon Storefront pages are created equal. There are ways to optimize a page to attract more customers and convey a better message. Below are some of the best practices in the industry:
Use Only High-Resolution Images
Most buyers are visual creatures. They want to see a product before making a purchase decision. Sellers should take advantage of this mindset by using only high-quality images, videos, and graphics for their storefront.
Amazon provides several Storefront layout templates to sellers who opt into the program. There are pros and cons to each layout, and the right choice is highly dependent on what a retailer is selling. So retailers need to put serious thought into their Storefront's design.
Forty percent (40%) of all eCommerce purchases are made through a mobile device. Sellers should optimize an Amazon storefront for mobile users to avoid missing out on a huge market. Before submitting a storefront for approval, check the layout on several mobile devices.
An Amazon Storefront is a free and effective way to establish your brand and tell your brand's story on the world's top marketplace. It is a tool that can improve your reach and boost sales. It can make or break a company. So it's in your best interest to create an Amazon Storefront so you can acquire new customers and turn them into your loyal clientele.
If you're raring to get your Storefront, you need experts to make sure you optimize every step of the retail process. ZhenHub can make that happen. Through our tech-based logistics products, we can ensure that your customers receive their orders seamlessly—every time. Request a free quote now!
Share Article