4 Peak Shipping Season Challenges and What You Can Do About Them
Time to read:
4
minutes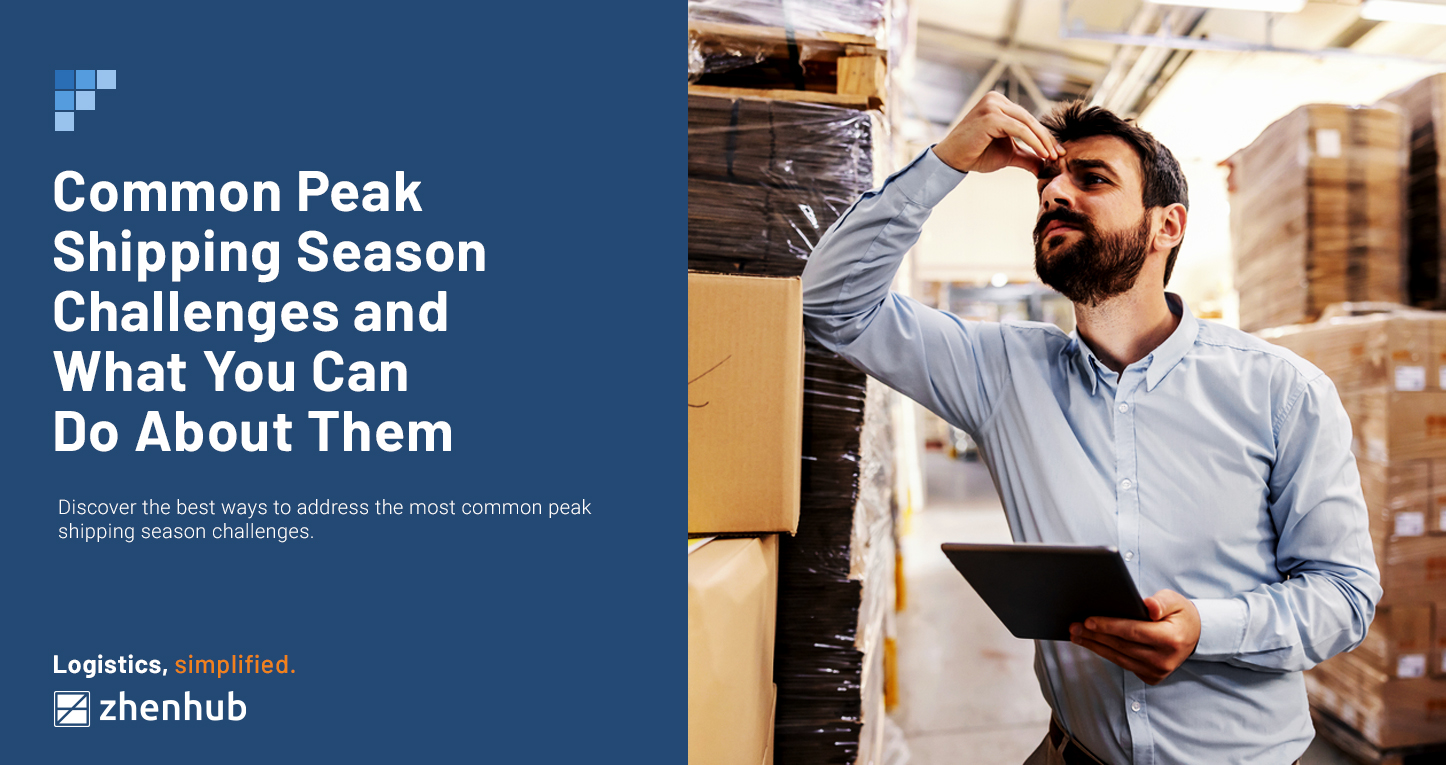 The holiday season is an exciting time for eCommerce retailers as these are peak shopping periods. Almost all online stores can expect an uptick in their sales. The holiday season is the most profitable time of the entire year, making up more than 25% of a business's entire annual profits. 
But in the same breath, the holidays are also the peak shipping season which can be a stressful and hectic time for retailers. The influx of orders can get overwhelming. Moreover, the pressures of the holiday season mean that consumers expect their online shopping experience to be smooth.
To maintain customer satisfaction and loyalty, diligent preparation for the holiday rush is a must. In this article, you'll find common peak shipping season issues and learn the best holiday period best practices to have a successful peak operation.
When is Peak Shipping Season?
Traditionally, the holiday shopping season begins after Thanksgiving with the Black Friday sales. However, some companies offer deals as early as October. It usually extends throughout December into the New Year.
In general, peak shipping season can be stressful for shoppers and shippers alike. Consumers try to make the most out of the deals and promos available to them during this period. Likewise, businesses aim to take advantage of the busiest shopping season of the year.
For eCommerce retailers, there are a few key milestone dates to prepare in Q4:
4 Common Peak Shipping Season Challenges
A significant shift in supply and demand can almost certainly affect operations. The effects of the holiday season rush can throw off all parts of the supply chain, from inventory management to last-mile delivery. 
When preparing for the last quarter of the year, understanding familiar challenges is key to surmounting them. Here are a few issues most online retailers face during this season:
Increased Consumer Activity
Ecommerce has been experiencing an upward trend over the last few years. It saw exponential growth of 49% in the holiday season of 2020, and the trend is expected to continue during this year's peak shipping season. 
While the popularity of online shopping is a welcome problem for eCommerce retailers, it is an issue nonetheless. Businesses need to prepare for increased volume orders to prevent significant delays. If possible, retailers should consider hiring seasonal workers to avoid the crunch and the potential chaos during this season.
Customer Demands and Expectations
Amazon has set the standard in customer shipping expectations. Most consumers consider shipping time and costs before making a purchase.
Smaller online operations must keep up with these expectations to compete with the world's number one marketplace. Unfortunately, offering free and same-day or overnight shipping is more challenging during peak seasons. Often, delays extend to third-party carriers, and retailers have limited means to solve external problems.  
Despite the vaccine rollout, mask mandates, travel bans, and new lockdowns implemented, the COVID-19 pandemic can still affect the peak shipping season of 2021. Not all operations have returned to their brick-and-mortar locations. With shops closed, consumer demands shifted online. And as a result, third-party carriers might get overloaded with deliveries. Furthermore, retailers should expect a shortage in inventory from suppliers.
Halt in Supplier Operations
Most manufacturers limit their operations during the holiday season. Aside from possible COVID-19 shutdowns, a few planned holidays like Chinese New Year can affect inventory procurement. These shutdowns can significantly delay the shipment of inventory. Since inventory sourcing is atop the supply chain, it can disrupt other parts of the process. To circumvent this problem, a few online retailers partner with several suppliers to reduce the risk of inventory shortage.
Best Practices in Holiday Shipping and Order Fulfillment
There are simple yet effective strategies retailers can implement during the peak shipping season. It can be hectic, but retailers will weather through it with diligence and planning and enjoy a profit windfall. Here are our recommendations to manage holiday peak shopping demand:
Preparing for the peak shipping season a few months before October will be crucial to managing the influx of demand. Retailers should implement demand and inventory forecasting strategies to optimize stock levels at the right time. To prepare for the holiday rush, retailers should consider historical data, determine product seasonality, and identify fast-selling items.
Communicate with the Customer
Even with the utmost diligence, delays still happen. It is best to manage consumer expectations, especially with delivery and shipping times. Give allowance to transit duration and make sure to keep a close eye on inventory levels. Make sure to mark out-of-stock items accordingly and cross-sell well-stocked items.
Coordinate with Suppliers 
To avoid inventory shortages during the holiday season, communicating with suppliers is critical. After forecasting demand, share the information with the suppliers so they too can plan. Understand production lead times and look into diversifying suppliers to minimize the chances of an in-demand item running out of stock. Speak to suppliers about manufacturing cutoffs and work around these deadlines.
Partner with a 3PL Provider
Peak season or not, partnering with a 3PL provider can ease the burden of a chaotic holiday season. Logistics experts can take over the entire supply chain process from sourcing to delivery. Through their support and well-defined 3PL functions, retailers can easily make the most out of the last quarter. 
In 2021, retailers should expect a holiday shopping rush of a different magnitude. The pandemic will undoubtedly continue to change consumer behavior. More individuals will turn to eCommerce and online shipping to complete their holiday gift lists. Through ample information and preparation, retailers can ride the wave and make the most out of this year's peak shipping season.
Are you interested in leveling up your company's order fulfillment and logistics process in time for peak season? ZhenHub has got you covered! Sign up now, and we'll ensure that all packages get from point A to point B with ease – holiday rush or otherwise through our tried-and-tested tech-based solutions. Reach out to us today at hello@zhenhub.com  or request a quote to discuss your options. 
Share Article