What is Overnight Shipping?
Time to read:
5
minutes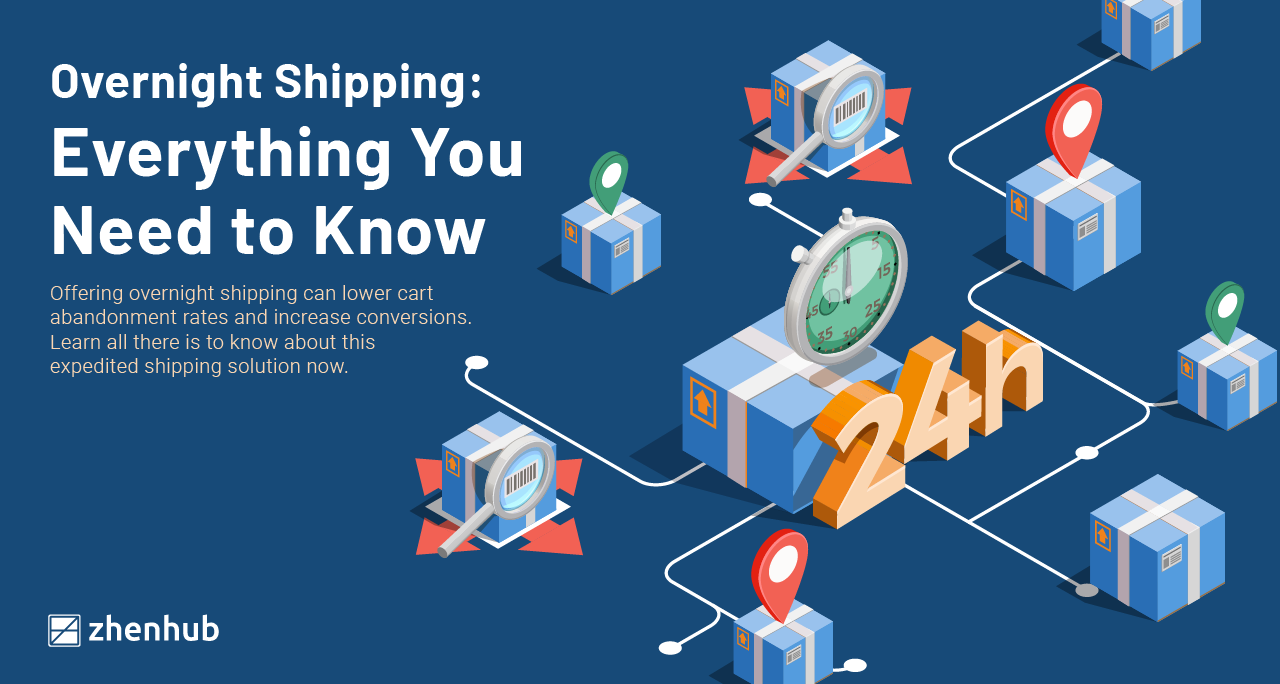 An efficient shipping strategy builds a loyal customer base. It's a fact that Convey can back with numbers. In a 2018 study, the delivery experience management software provider found that 98.1% of 1,500 consumers believe that delivery actually boosts brand loyalty.
Besides cost, it is evident that delivery speed is a significant factor that affects online shop conversion. The demand for fast deliveries became even more apparent when Amazon came out with two-day shipping, inadvertently setting the standard for eCommerce shipping.
To keep up with the ever-changing customer expectations, online retailers have started to explore different methods that expedite delivery like same-day shipping and overnight shipping.
In this article, we will be discussing at length everything online merchants must know before considering to offer overnight shipping. But first things first, what does overnight shipping really mean?
---
Overnight Shipping: How Does It Work?
Also known as next-day delivery, overnight shipping assures consumers that they will receive their orders on the next business day. The time of order placement and the carrier company's daily cutoff schedule determine whether a package qualifies for overnight shipping or not.
With overnight shipping, courier companies or fulfillment centers transport a package at night provided that customers placed their orders, and the seller booked the shipment during the day. While it guarantees next-day delivery, there is still a chance that a package might not make it as scheduled, depending on the volume of orders due for shipping. When they have too many parcels to deliver, couriers are usually open to refunding sellers on shipping fees.
Overnight Shipping is mostly applicable during weekdays, but many third-party logistics providers have weekend pickups available for an additional fee. Most courier companies set 6 p.m. to 7 p.m. as their typical cutoff time for next-day deliveries.
---
Product Categories Requiring Overnight Shipping
Before expedited shipping became a standard in eCommerce, there were a few product categories that always required next-day deliveries, such as:
Frozen Food and Perishables
The food and beverage industry has been taking advantage of overnight shipping for the longest time. Cafes and restaurants rely on next-day deliveries to get fresh produce and frozen goods they need every day.
Business documents
Banks, law firms, and courthouses often need to ship essential business documents as quickly as possible. The need for fast, safe, secure, and trackable delivery is a must since most of these papers are confidential in nature.
Flowers
Flowers are time-sensitive products that need immediate shipment. Overnight shipping guarantees that floral arrangements arrive at the recipient's destination fresh and in bloom.
Repair and Replacement Shops
Industries like auto and computer repair shops also benefit from overnight shipping, which ensures that a particular item or machine part arrives on time.
While these four product categories pioneered the need for overnight shipping, customer demand for shorter transit time has made expedited delivery a standard shipping method, regardless of industry.
---
Factors that Determine Overnight Shipping Costs
The pricing structure for overnight shipping varies depending on the inclusions courier companies offer. However, four primary factors can influence costs for the next-day delivery method. They are:
Also called volumetric weight, this is the number one aspect taken into consideration when it comes to eCommerce shipping costs.
Couriers use dimensional or DIM weight as a technique to calculate pricing based on the length, width, and height of a package. They prioritize DIM weight over actual weight since low-density goods can take up more shipment space. This makes sense considering that a bag of cotton weighing one kilogram will definitely occupy more space than a laptop that weighs more.
Actual Weight
Courier companies also structure their pricing model based on a commodity's actual weight. They usually apply this on instances when a package weighs a certain figure that is actually greater than its dimensional weight.
Shipping Zones
Measuring the distance between a product's point of origin and its final destination is another way couriers, and shipping companies compute overnight shipping rates. Shipping Zones in the US range from 1 to 8. The higher the shipping zone measurement is, the more expensive the shipping cost will be.
Specific Agreements
Most carriers also provide discounted overnight shipping rates, especially for online merchants who have high shipping volume requirements or have more regular shipping needs.
---
Benefits of Offering Overnight Shipping
For consumers, the advantage of overnight shipping to consumers is pretty apparent and self-explanatory — speed. On the other hand, sellers may not immediately see the benefit of next-day delivery to their business, given the additional costs involved.
To help online merchants get a clearer picture, here is a list of ways they can make their business more profitable by simply offering overnight shipping to their customers:
Increasing online shop conversion rates
Delivery speed is one of the crucial features consumers look for when shopping online. Providing an option for overnight shipping can lower cart abandonment rates and improve website conversion.
Decreasing order cancellation rates
When transit time takes too long, sellers who allow cash-on-delivery (COD) payments become susceptible to order cancellations. Overnight shipping is an effective way to minimize canceled orders since consumers do not have the liberty of time to change their minds as they wait for their orders.
Earning Repeat and Referral Customers
A positive shipping experience with a brand can turn a first-time buyer into a loyal consumer. Choosing a 3PL that can commit to the promised delivery schedule can increase the seller's chances of earning repeat and referral customers.
Getting Positive Customer Reviews and Ratings
It is no secret that online shoppers spend a significant amount of time going through merchant and product reviews before purchasing. Offering overnight shipping can give sellers an advantage over competitors with limited delivery methods.
---
How to Cut Costs on Overnight Shipping
Overnight shipping offers many advantages for sellers. But it comes at a price, too. This is why most online merchants with budget constraints are hesitant to offer next-day delivery. To help sellers overcome this challenge, here are five fool-proof ways to save on overnight shipping:
Negotiating Shipping Rates with Couriers
Courier companies are usually open to offering special discounts and custom rates based on a seller's annual shipping volume. Shipping companies will be more inclined to lower their rates to merchants that ship more items at more frequent times.
Shipping from More Than One Warehouse
A lot of merchants sell through Amazon FBA to take advantage of their multiple warehouses. The proximity between a warehouse and a shipment's destination plays a major role when it comes to cost. Sellers usually pay lower fees if the distance between these two is shorter. While retailers still have to pay fees to transport inventory to different warehouses, the cost is typically lower compared to delivering it to customers from a single warehouse.
Shipping from Strategically-Located Warehouses
Shipping from multiple warehouses is only cost-effective if they are in the right locations. A strategically-located warehouse allows sellers to deliver customer orders without traveling through numerous shipping zones. This guarantees faster delivery of shipments at a lower cost. Warehouses in central locations also decrease the chances of overnight shipping delays.
To make the most out of this, sellers need to conduct a geographical analysis of their target market, which can identify where their customers are mostly located. This can help them choose the warehouses that are either within the area or at least in close proximity to their top consumer locations.
Asking Shipping Provider for Guarantees
Shipments that are not able to meet customer expectations can cause sellers significant business. If an online shopper is willing to pay more for overnight shipping, sellers must guarantee that their chosen courier service or 3PL can keep that promise.
To protect themselves in the event of unexpected delivery delays, merchants may request a written and signed agreement that will hold carriers accountable for refunding shipping fees.
Factoring in Shipping fees When Billing Customers
A report by Retail TouchPoints revealed that 61% of consumers want faster delivery times. Sellers may consider charging their customers for overnight shipping to manage any additional costs that come with offering expedited delivery.
This is not to say that free shipping is off the table, though. This is just an example to show how retailers can set a spending threshold to entice shoppers to add more to their cart by providing an option for overnight shipping.
Outsourcing to Third-Party Logistics Companies
Fulfillment centers like ZhenHub have connections and partnerships with courier companies. By outsourcing to 3PLs, sellers can save a lot as shipping is already part of the service inclusions and fees. Merchants can coordinate with their chosen fulfillment services provider to discuss arrangements, especially for expedited deliveries like overnight shipping.
The costs that come with overnight shipping can intimidate online merchants, but with the right courier services company or fulfillment center, the opportunity to make it profitable is easy. If this is something you are interested in, our logistics experts at ZhenHub are ready to discuss your options and give you a free quote.
Share Article