Shipping Insurance: Do You Need It?
Time to read:
4
minutes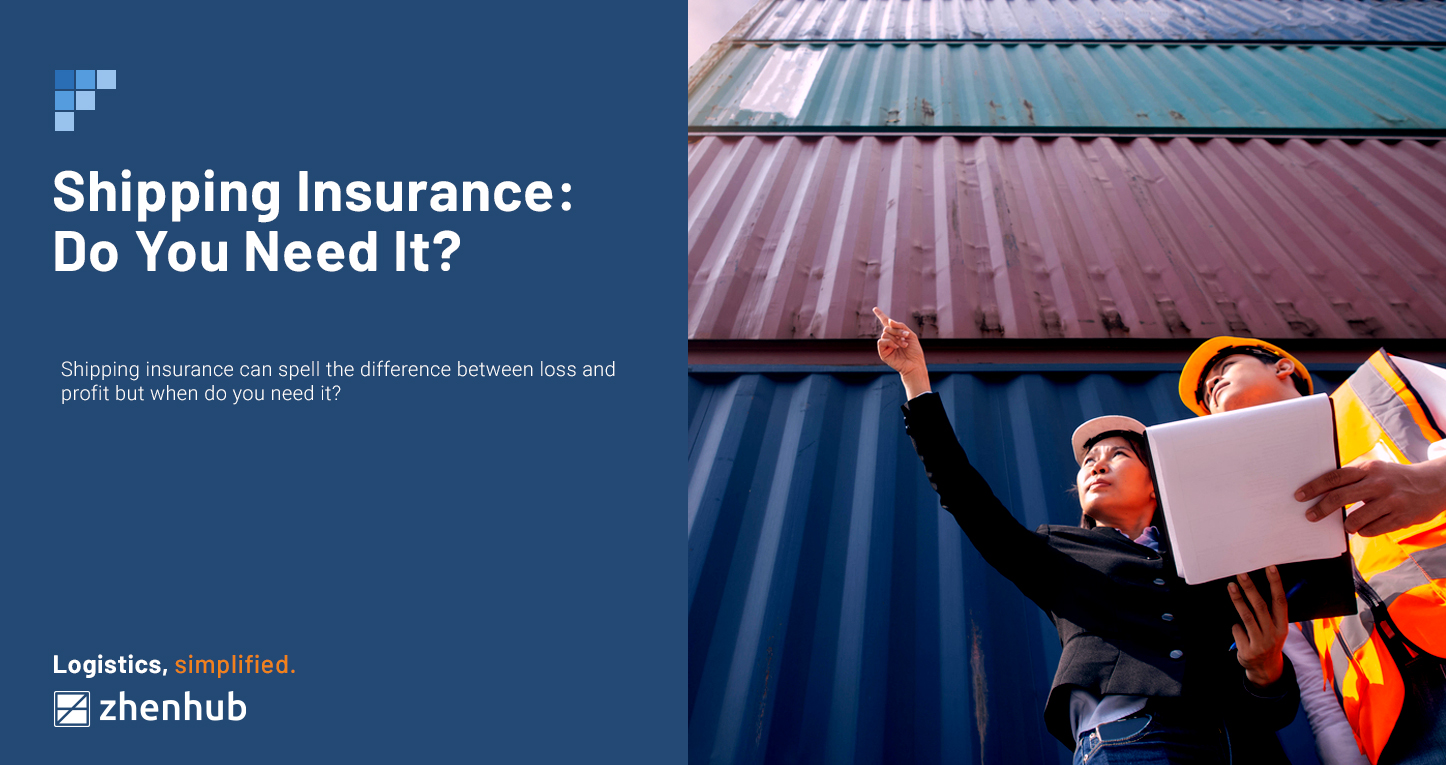 Shipping goods around the globe has its inherent risks. Between losing parcels due to theft, unforeseen incidents, and damaged packages, shipping issues can be expensive for most eCommerce retailers. Aside from the cost of replacing the goods and making up for the delays, damaged freight can considerably impact customer satisfaction and, ultimately, the brand's reputation. 
One of the simplest ways to deal with these concerns is through shipping insurance. This type of insurance provides eCommerce operators with a level of security, especially for businesses that sell high-value products. It can cushion the blow or mitigate the damage of these unfortunate incidents. This article explores the intricacies of shipping insurance, including the benefits and the costs.
What is Shipping Insurance, and Do You Need it?
At its core, shipping insurance is a service that most carriers offer to cover the cost of an item. It protects a retailer from any issues that may arise during the shipping process. The shipping insurance coverage depends on the type of insurance as well as the insurance-providing company. Typically, shipping insurance covers theft, damage, and delivery delays.
Insurance providers consider the declared value of an item to compute for the coverage amounts. Each provider has different terms and conditions with their service, so it is crucial to learn the fine print.
Shipping insurance is invaluable, especially for eCommerce retailers. As more of the global population veers away from shopping at brick-and-mortar sites and chooses online, shipping insurance can be a godsend. This product offers online operators peace of mind and a means to provide customer service with ease.
What Does Shipping Insurance Cover?
As mentioned earlier, shipping insurance coverage depends on several factors. Most providers cover issues that a retailer has no control over. It may include shipping delays due to delivery exceptions, damage to goods, and other logistics issues.

Each provider has different stipulations for the shipping insurance that they offer. Below are the most popular carriers that provide a form of shipping insurance: 
The United Parcel Service or UPS is one of the most popular carriers across the globe. The company offers shopping insurance through an affiliate – the UPS Capital Insurance Agency. What's great about them is that affiliates provide online quotes for eCommerce retailers through the InsureSheld Instaquote portal.
UPS is particular about insurance coverage limitations. They do not cover loss or damage due to packing issues, natural disasters, and Acts of God concerns. They are also not liable for checks, data stored on devices, and perishable goods.
FedEx offers automatic shipping insurance amounting to $100 for all their shipments. If the item's declared value is higher than $100, retailers can purchase additional coverage for the said parcel.
This carrier has stringent rules about shipping high-value and hard-to-replace items such as artwork, antiques, gems, precious metals, and the like. There are maximum limits to the coverage of these items. While they can get insured through FedEx, the payout might not amount to the total value of the package.
Like FedEx, the United States Post Office Shipping or USPS offers automatic shipping insurance coverage for certain mail classes, including Priority Mail and Global Express Guaranteed. They also provide insurance for items up to $5,000.

For retailers in a crunch, the USPS isn't the best carrier to choose as far as shipping insurance is concerned. This carrier doesn't cover delivery delays and shipping times.
DHL is a popular carrier for retailers that service international customers. This carrier offers shipping insurance through a partner – DHL Shipment Value Protection and DHL Security Services. One of the biggest draws of DHL is with their customer service. They guarantee a 30-day turnaround time and disbursement for insurance claims on all their shipments.
Unfortunately, for eCommerce operators that ship low-value products, DHL doesn't offer automatic coverage on goods less than $100.
What are the Benefits of Opting for Shipping Insurance?
Most retailers can benefit from using shipping insurance on all their shipments. Insurance covers the losses regardless of the scale and extent of the issue. Below are a few of the benefits of shipping insurance:
Again, domestic and international shipping comes with a plethora of risks. There are plenty of things that can go wrong with a parcel during transit, and most often than not, retailers cannot control these issues. Shipping insurance provides an extra layer of security for the retailer. It is a small price to pay for peace of mind if any problems arise.
Especially for smaller eCommerce operations dealing with bulk orders, a shipping issue might make or break the entire business. By opting for shipping insurance, replacing the items no longer falls on the retailer's shoulders.
Ability to Provide Better Customer Service
Consumers put a premium on the customer service that they experience with a company. Most buyers will no longer patronize a brand if they have a single less-than-stellar experience with them. Shipping insurance allows a company to be swift in making decisions regarding shipment issues—the quicker the response time, the better the customer perception.
How Much Does a Retailer Expect to Pay per Package?
There are several things to consider when computing the cost of insurance. Prices vary from provider to provider. Likewise, the total cost depends on the item's declared value. Most couriers offer automatic insurance coverage of up to $100 on all packages. Retailers may opt for additional coverage, especially if the item's declared value is worth more than $100.
In general, items less than $50 can get insured for around $1.50. A retailer can expect to pay anywhere from $3 to $20 for things worth $300 or more.
Is Shipping Insurance Right for Your Business?
Each eCommerce operation is different. There are plenty of factors to consider when choosing to purchase shipping insurance. Nevertheless, most retailers can enjoy the benefits and peace of mind that come with this service.
Curious about your shipping insurance options? We at ZhenHub can assist you with the process. Through our tech-based logistics solutions, we can ensure top-notch service like no other. Sign up now or request a free, no-commitment quote here. 
Share Article