5 Signs It's Time to Switch 3PL Providers
Time to read:
2
minutes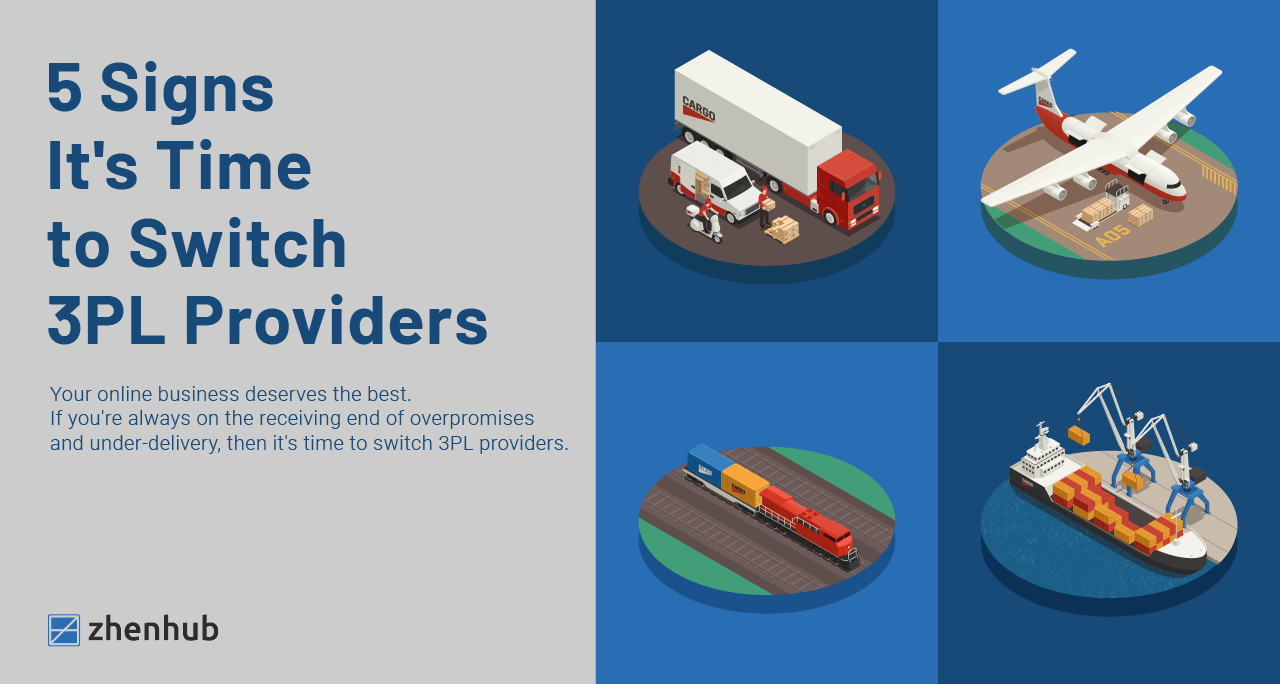 3PL Providers: Who They Are and What They Do
The order volume of start-up eCommerce businesses is often low, making it easily manageable through self-order fulfillment. On the other hand, scaling online stores often find it much more efficient to outsource the complete order fulfillment process to third-party logistics companies or 3PL providers.
3PL providers offer full-service solutions for merchants, from the minute a customer checks out their online cart to the moment they receive their orders. Retailers can just focus on turning website clicks into paying customers while letting 3PL providers handle everything from inventory pickup and storage to packaging and shipment.
5 Signs It's Time to Switch 3PL Providers
There are more than 20,000 3PL companies in the United States alone. With so many options available for sellers, it will not be entirely surprising if retailers do not get it right the first time. Sometimes, merchants take a terrible service experience to identify precisely what they are looking for in 3PL providers. Here are five tell-tale signs that can tell sellers it is time for them to switch 3PL providers:
Disorganized Inventory Management
The way 3PL providers manage inventory says a lot about their brand promise. Disorganized inventory management can lead to messed-up orders, missing or broken items, and shipment delays. Sellers must make sure they have end-to-end transparency of their products, starting from how a 3PL picks it up to how they store and ship it.
It is no secret that delivery speed has a significant impact on customer satisfaction and brand loyalty. Sellers must remember that shipment delays can put their business in a negative light even when poor 3PL service is the root cause. If merchants always receive negative reviews involving late deliveries, it is probably time to switch 3PL providers.
Both eCommerce and the logistics industry have come a long way in terms of digital adoption. Now, online shoppers expect complete transparency on their orders, which means real-time trackability is no longer a luxury, but a necessity. 3PL providers with outdated technology will make it challenging for retailers to track and monitor shipments.
Lack of Pricing Transparency
One common issue of merchants with some 3PL providers is they sometimes charge fees that were not discussed initially or included in the contract. As sellers commonly have a set budget for outsourcing to 3PLs, being caught off guard with additional fees can be frustrating. A trusted 3PL provider will have no problem providing a detailed breakdown of costs and specific inclusions associated with it. Hence, merchants have a clear idea of where their money is going.
Terrible Customer Support
As with any other business, many external factors can affect eCommerce and the order fulfillment process. At times like this, merchants should promptly connect with their 3PL providers and get immediate response and action. With 3PLs serving as middlemen between retailers and their customers, poor customer service can increase order cancellations and shopping cart abandonment.
Bottom line:
The best 3PL providers will take the time to understand the needs of their merchant customers. If you need top-of-the-line fulfillment and warehousing services to scale your eCommerce business, do not hesitate to give ZhenHub a call. Let our 3PL experts provide you a tailor-fit quotation based on your requirements.
Share Article