What is DTC eCommerce (Direct to Consumer eCommerce)?
Time to read:
6
minutes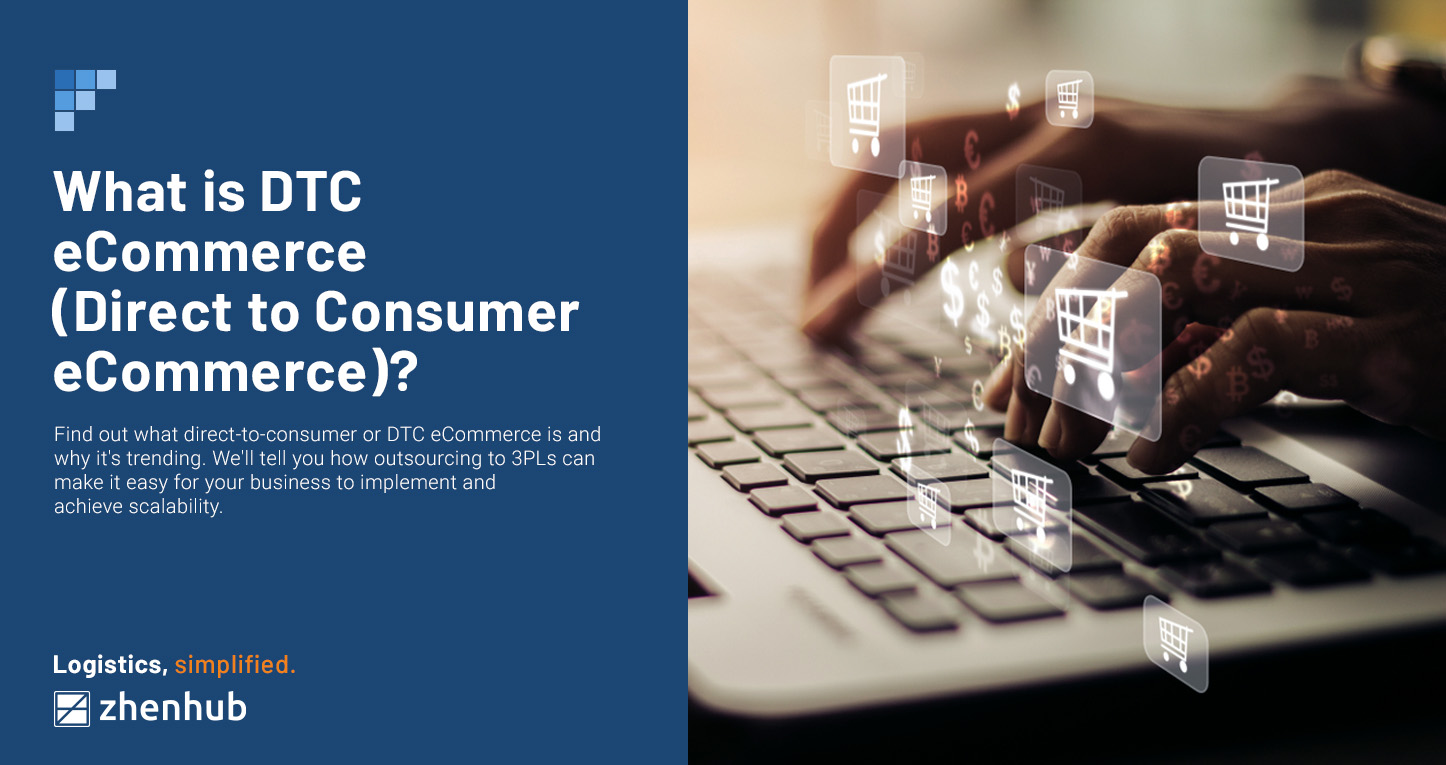 The retail world is changing, and more brands are bypassing distributors. Direct-to-consumer (DTC) strategy has created a closer relationship between consumers and their favorite companies. How? By cutting out third parties like marketplaces or retailers who used to be involved in bringing products from the production line right up to the store shelf.
Retailers and branded manufacturers have employed DTC eCommerce to take advantage of the rapidly growing online retailing space. COVID-19 has forced many businesses to shift to digital channels. But even before the pandemic hit, Nike committed to a DTC strategy. And it has reaped the benefits, as its digital sales grew by 36% in the first half of 2020 alone. Consulting firm Mckinsey reports that two-thirds of consumers still plan to shop online.
DTC is an excellent way for brands and businesses to stand out and build customer loyalty. This strategy has considerable benefits, which we will discuss in this article.
DTC eCommerce at a Glance
The DTC model is not a new concept; it has been around since the 1700s when milk companies delivered their products straight to their customer's doorsteps. In the traditional set-up of product distribution, consumers would usually go to retailers to purchase specific products, like going to a sports depot to get running shoes or local supermarkets for groceries.
Direct-to-consumer brands are services or products that come straight from the company itself. They're financed, designed, and manufactured without any middlemen involved, so these eCommerce companies operate pretty differently from what you see on online marketplaces such as Amazon or Walmart.
Retailers set up a direct sales channel to communicate with consumers and offer exclusive products and promotions. Purchases are made directly with the brand. A typical example of this is buying something straight from a company website.
Running a DTC business involves many more responsibilities, such as handling distribution, marketing, and sales of their products. While there are more processes to manage in this model, the business will get increased margins and profits.
As mentioned earlier, a company's value chain becomes more complex as they are involved in every step of the customer journey. Digital tools and data DTC eCommerce make entry easier for smaller brands. Businesses can also build customer loyalty and deliver an excellent buying experience when you're in charge of everything. Monitoring interactions with your target audience can provide valuable data as well.
Some consumer brands do have their concerns despite the great opportunities that DTC offers. For example, companies hesitate whether their business is fully equipped to handle more eCommerce responsibilities such as fulfillment. There is also the possibility of cannibalizing other channels or not having the infrastructure and processes to manage pricing, payment, and delivery.
What's needed is a clear strategy that includes quantifiable goals. It should also have an execution plan that can cost-effectively pave the way to more converted customers.
That's what popular online brands such as DollarShaveClub and Warby Parker did. They have disrupted their specific industries by offering quality products in a unique customer experience powered by DTC eCommerce.
Why Brands are Transitioning to DTC eCommerce
Businesses want more control over their operations, from their distribution channels, scalability, and profit margins. Brands usually need to work with an intermediary for their products to reach their target market. Also, large retailers already have the reach and connections to properly market items in bulk. The challenge is that most companies will work to please a retailer to stock the products on limited shelf space. This business model leads to fierce competition with numerous other companies instead of appealing to their customers. Moreover, the actual marketing of the product is out of the control of the brand. Once it arrives at the retailer, they have little influence on how it is displayed or presented to buyers.
But since the pandemic has significantly changed shopping habits, consumers don't frequent physical stores as much as before. In a PwC report, only 40% of consumers prefer to make in-store purchases once a week. As a result, DTC eCommerce sales in the United States totaled US$129.31 billion in 2021, a 14.51% increase from the previous year.
Here are some key benefits for businesses using a direct-to-consumer model:
Unique Customer Experience
When a brand can control precisely how a product is sold, it can be directly involved in creating a customized and personalized experience for its consumers. Companies that work with intermediaries such as a marketing agency can sometimes find their messaging disjointed. Customer retention is essential for any company to stay afloat, as DTC offers more opportunities to cultivate consumer loyalty.

These strategies can range from personalized recommendations based on search behavior or a subscription model to shipping a curated selection of products to your audience for a fixed fee every month. DTC makes for a seamless digital experience that you can fully control.
Stronger Brand-Customer Relationship
Having a direct line of communication with your customers through various channels allows you to steer the conversation about your brand in the direction you want. Building trust is easier when your audience feels like they have a genuine connection to your brand. Offering the type of content that resonates with them best is an excellent way of laying the foundations for a tight-knit community of loyal fans. 
Bigger Margins
Typically when a company (eCommerce or traditional) works with other companies or go-betweens in their area, they negotiate over terms for marketing, payment, distribution, and more  By getting involved with your customers directly and focusing on online activities and channels, you can bring in more revenue with fewer cuts to your profit margin. Larger margins can lead to lower prices that are very appealing to customers. A RetailDive report shows that almost 6 in 10 US consumers shopped at a DTC brand in 2021.
Faster Product Launches
Introducing a new product to the market has historically been a long process, simply because of the time it took to gather essential data about your demographics. Getting the message out was also expensive. Companies needed to invest in TV ads, magazine and newspaper spots, billboards, flyers, endorsements, and more. Digital channels have made research and communication faster, launching products directly to the client and receiving feedback in real-time. 
"This approach can be done in a matter of weeks rather than years. For example, Coca-Cola took two years and tested 30 different flavors of Diet Coke before finally launching the four winning flavors. Yet, E.L.F. Cosmetics, a DTC cosmetics brand, has launched 90 products a year with some in as little as 13 weeks, using their website and stores to deliver them direct to consumers." – Forbes.
Data 
When your products hit retail stores, the only metric companies can usually monitor actual sales. You can collect data such as demographics, website behavior, and buying trends to understand your audience better with a DTC model. Segmentation and appropriate communication are possible when you have the correct data to interpret. The data that comes from selling directly to customers is unclouded and unencumbered by other market forces. It can help lift sales that third-party retailers might not be able to do through traditional distribution channels.
There's never been a better time to adopt a DTC eCommerce strategy, with online shopping becoming more prominent than ever and with no signs of slowing down.
Achieving DTC eCommerce Scalability Through Third-party-logistics (3PL)
3PL is a service that provides excellent outsourced capabilities for eCommerce businesses looking to venture into DTC. Warehousing and inventory management are just some of the benefits you can expect from a reliable 3PL provider. By choosing to go the DTC eCommerce route, your business takes on the responsibility of fulfilling products to your consumer. However, not every company may have the capability to do so. It might even take precious time and person-hours to figure out delivery schemes and handle inventory.
3PL offers cost-efficient services for businesses of all sizes that serve different international markets. You can rely on their logistical expertise to manage your supply chain, ensuring that products are always in stock and delivered quickly to clients. Delegating logistics gives you more time to focus on communicating with your customers and handling business operations. 3PLs are also very transparent with the data so you can craft better, personalized marketing strategies for your target audience. And it's all part of delivering a pleasant customer experience, and having a 3PL partner can make that a reality. You can expect a trusted 3PL to maintain an open line of communication with your business and buy into your branding strategy. Their management systems will also be capable of integrating with your data tools and tracking software. Order fulfillment is a deciding factor for customer loyalty, so you want to ensure you've got a trusted 3PL powering your DTC model.
Ready to take the next step in your eCommerce business? Whether direct-to-consumer fulfillment or smart warehousing, it's in your best interest to choose a partner that can best suit your needs. ZhenHub has tech-driven eCommerce fulfillment centers to help you reach customers all around the globe. Sign-up now or request a free quote to jumpstart your DTC journey when you become a partner.
Share Article