What is Multichannel Inventory Management?
Time to read:
5
minutes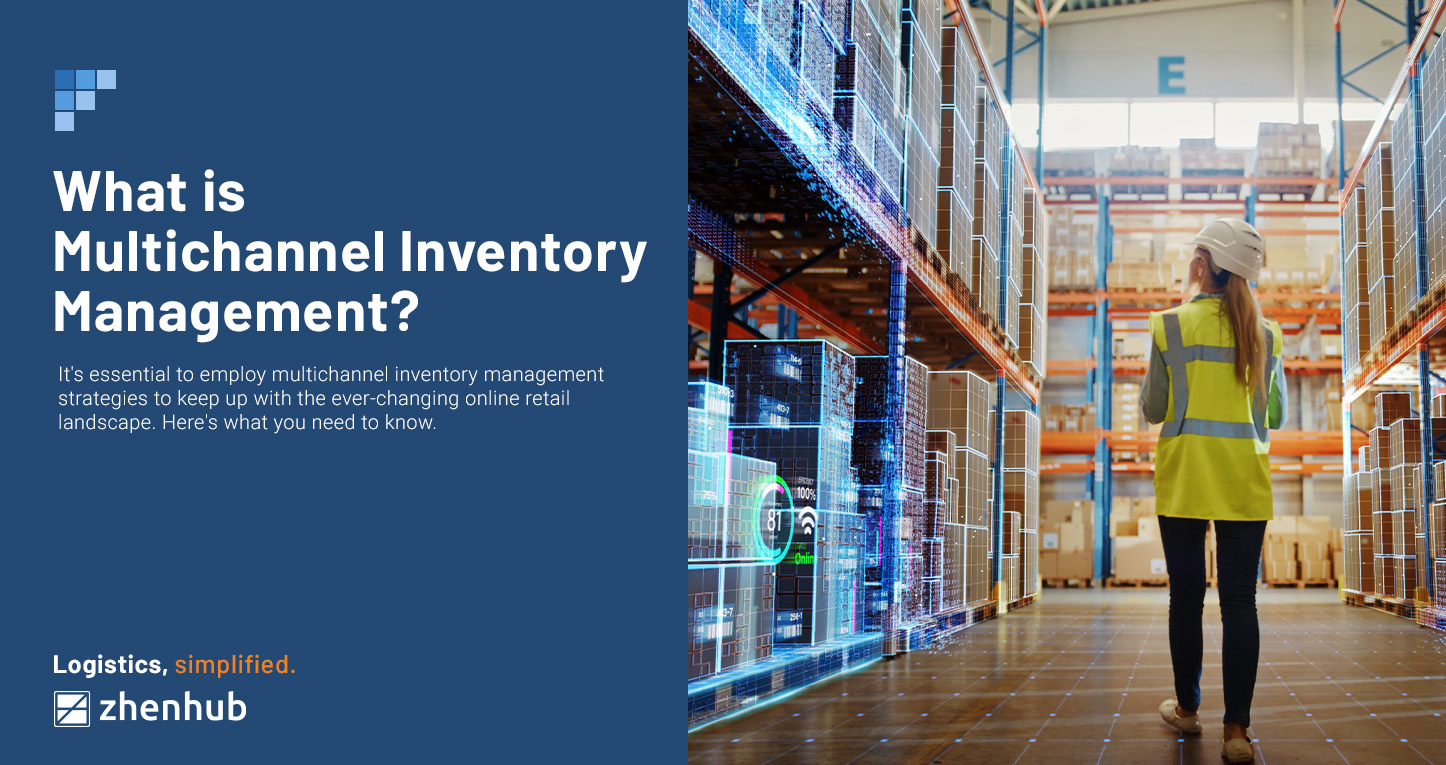 To meet customer expectations, brands must maintain constant contact with their customers across various online platforms.
Clients are looking for convenience when shopping online. Hence, companies should deliver a seamless experience across all their sales channels.
Inventory mismanagement costs businesses $1.75 trillion annually. And the probability of errors only rises as organizations grow and expand through many channels.
In the past two years, it has become evident that merchants should be active in more than one online store. Why? Customer buying habits changed due to the COVID-19 pandemic.
But for some merchants, adding new channels isn't always an easy option. Sellers frequently face the issue of having to scale operations quickly. One of the most important duties is managing inventory across many channels (also known as multichannel inventory management).
Innovative companies know how crucial it is to have a seamless online. But an offline presence enables customers to connect and make purchases through various touchpoints and channels. All of this is great for business growth. You can broaden your reach, boost revenue, and attract more clients.
But one of the most significant difficulties in retail and eCommerce is managing inventory on different platforms. Therefore, those logistical challenges become considerably more difficult when you factor supply chain issues into the mix.
Multichannel Inventory Management Defined
Multichannel inventory management (also called multi-source inventory) is how businesses account for and track orders from numerous sales sources.
These include inventory that serves marketplaces, eCommerce, retail, and wholesale.
Many departments require inventory data for various purposes. Communicating this information across the company is a crucial part of this process. An otherwise tricky layer of alignment is removed when there is a single, unquestionable inventory data source that all stakeholders can freely access.
According to Linnworks' recent research on eCommerce acceleration, 96% of businesses say the pandemic has accelerated their adoption of new sales channels.
Inventory is a core aspect of a retail business, as this is what you sell to your clients. Properly managing this gives you a competitive edge that translates into a positive customer experience. Thus, sustaining it effortlessly across numerous channels has become a critical skill.
The intended result is to have customers order from any platform, consistently receive their orders on time, and never experience stock-outs.
With inventory data consistently up to date, supply levels won't become guesswork, resulting in high customer satisfaction.
Benefits of Multichannel Inventory Management
Software can reduce the challenges and risks of managing a multichannel inventory operation. When assessing inventory management software for current needs and growth, understand your significant needs for inventory tracking.
Maintaining an accurate product count in today's fast-paced online market is practically impossible without a centralized, automated system for inventory management. However, you now risk upsetting clients who get delayed orders. Or even cancellations due to being out of stock items
Scaling your business means acquiring additional storage space to keep up with increased inventory. You may also want to consider working with a third-party logistics provider to keep up with the larger volume of tasks and orders. Sending inventory to numerous locations is required. And you are no longer the sole person in charge of wrapping and shipping your goods.
1. Automation in your Processes
Managing inventory across your sales channels can be challenging, especially when adding and testing new ones. Instead of worrying about supply problems, you should focus on expanding your company.
Automation in inventory management systems can help streamline your operations. You must ensure that clients receive their orders within the specified time limit. That's why you need advanced inventory management technology with real-time monitoring across the whole supply chain. Additionally, when a product sells out on one channel or hits a predetermined supply level, the marketplace integrations in the software can automatically replenish stock.
Each sale of your products made anywhere will draw from the same inventory if you have a central database of them. Thus you can always be sure that your stock list is accurate.
Inventory management across numerous sales channels and warehouses can be streamlined and improved once you see selling patterns.
2. Improved Overall Visibility
A multichannel inventory management system allows sellers to easily view and evaluate what's in stock across all sales channels and warehouses. The impact of sales on inventory is also visible to sellers in real time.
You can check inventory at any time to quickly know what products are still available and which ones need a refill. It can also tell you which products are selling where – all in real-time.
3. Detailed Forecasting
Data means everything for any online business. As an eCommerce merchant, you must have a clear awareness of what products you sell are in demand, and which of them aren't moving. Understanding how your inventory changes with seasons, trends, and sales help to optimize your inventory and order fulfillment.
It also enables you to anticipate demand and plan for special occasions. For instance, if you're getting ready for the holiday rush, you can identify products to refill before the event and study previous sales data to forecast which things will sell quickly. Doing this gives you enough time to prepare, get less stressed and lag during the peak season.
Using data and insights, you can make informed decisions and take advantage of new opportunities immediately.
4. Better Customer Experience
You must offer the same high standard of service across all channels, whether on your website, a local online shopping platform, a physical retail store or elsewhere.
Multichannel inventory management technology makes it simple for customers to check your entire inventory throughout all your online stores. By managing your product supply, you can more accurately predict consumer needs. It can also guarantee customer expectations with each sale. Understand which of your products are bestsellers so that you can push these more and meet customer demands.
Getting Started with Multichannel Inventory Management
Traditional inventory management takes a lot of time and frequently requires manual data entry. Not only can this be redundant, but can also lead to mistakes that strain your company tremendously. Retailers see significant changes to their inventory and supply chain management upon switching to a cloud-based inventory management platform.
Few would contest the advantages of a multichannel inventory strategy, but many companies will find it difficult to develop one.
Begin with an analysis of your company's main inventory metrics and profit & loss numbers concerning your sales and customer service. Take note of key metrics such as fill rates, cancellations and returns, gross margin, and freight costs.
If you have worked with several warehouses, you will need capabilities that let you tag inventory by geographic or relative location.
Procuring products local to the customer's location will open up an in-store pickup option and optimize shipping times. The key to multichannel inventory is synchronization. You should make sure the system you are considering interacts with all of your present sales channels.
It's also good to ensure that your chosen system is compatible with any financial or eCommerce accounting systems your company uses.
Every business is unique. An inventory management platform might include all the functionality you require, but it may also have some extra features you don't need. It can incur added costs that can negatively affect your bottom line. Go for an inventory system that allows you to customize its functions according to your needs. With it, you can maintain a lean system that delivers your desired results. Most significantly, your technology needs to be built to grow alongside your company.
A manual onboarding process is necessary for inventory management tools, as human input is still required to make it work. Find the right timing and schedule for device upgrades so that it doesn't waste too much of your employee's time.
A sound inventory management system synchronizes inventory changes across the numerous marketplaces you utilize. It's necessary to handle bulk orders and inventory across many channels.
Without the proper system, you could experience overstock, overselling, shipment delays, and other problems resulting from inaccurate inventory. When this happens, you can expect stressed-out workers, dissatisfied clients, and higher expenses.
A multichannel inventory management system appropriate for your company will increase revenue, reduce expenses, and satisfy customers.
ZhenHub powers your business's inventory management processes through an all-in-one logistics software solution. Track outgoing orders and complete control over your eCommerce inventory in just one dashboard. Signing up is easy at our website.

Share Article