4 Logistics Challenges and How to Overcome Them
Time to read:
6
minutes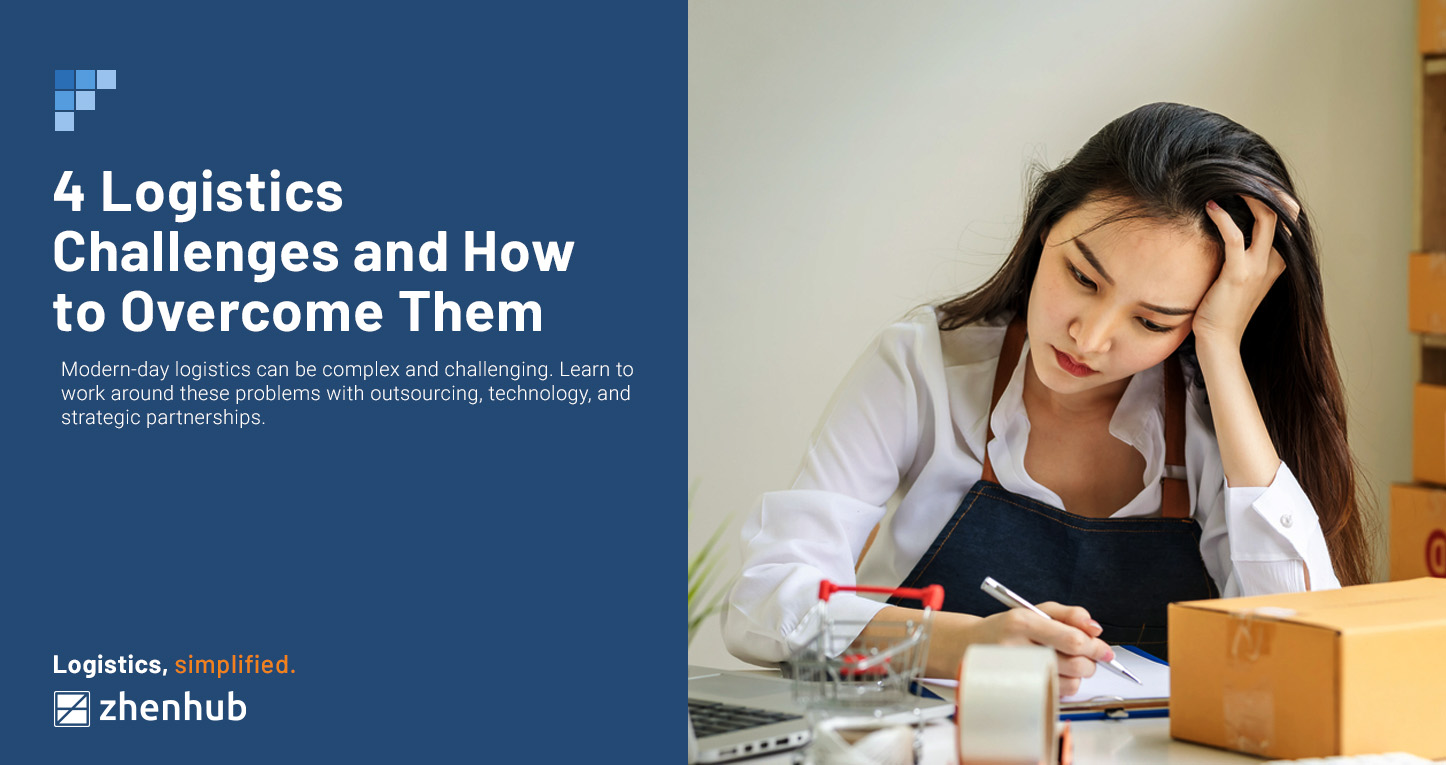 Global fulfillment​
Our warehouse location
As an online seller, you're likely familiar with the many logistical challenges of running a business. There's a lot to keep track of, from ensuring that your products are properly packaged and shipped to dealing with customs paperwork and damaged goods.
Businesses have had a challenging time these past two years, with global supply chain disruptions and port congestion causing problems for shippers of all sizes. In a Forbes article, 45% of economists believed that the supply chain situation would start to get better only until the second half of 2022. Capacity shortages along our oceans make it difficult to move goods worldwide, not just those shipped by the sea. Add in increasing ocean freight rates (and still rising) as well an ongoing pandemic that's left many carriers short-handed.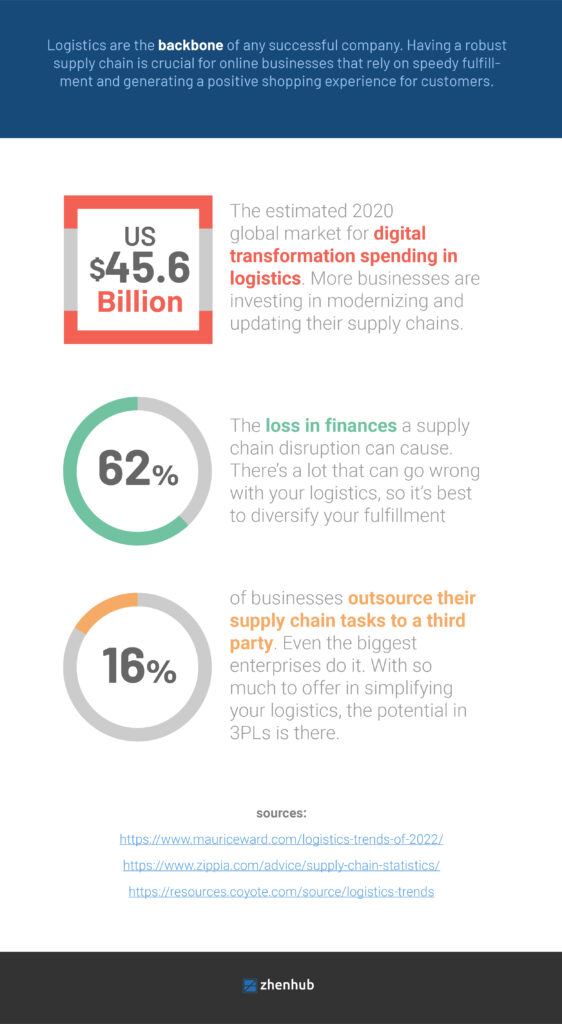 Logistics power industries worldwide and businesses of all sizes, and though we have seen a return to pre-pandemic levels of growth, the challenges remain. . While the pandemic has exposed weak links in the supply chain, it has spurred more business leaders into upgrading and modernizing their logistics operations.
In 2022, many logistics problems still exist, but new technologies and systems allow businesses to keep up. Learn what the most common challenges entrepreneurs face today are and how to overcome them.

A Breakdown of Logistics Challenges in 2022
It would be an understatement to say that the logistics industry has seen better days. The phrase "supply chain crisis" has been thrown around so much that it became a buzzword in 2021. Unfortunately, delays and shortages have defined the state of global logistics.
In 2020, COVID-19 shut down manufacturers and factories worldwide, with governments instituting lockdowns causing personnel shortages. 2021 would bring different challenges as economies began to open up due to the vaccines. Companies struggled with the booming demand for products as online shopping popularity rose.
Major trading hubs became congested with many freights getting stuck out in open waters and not enough longshoremen unloading shipping containers.
Here are four major logistics challenges that modern businesses are facing:
1. Labor and Shipping Shortages
The COVID-19 pandemic has put health and safety at the forefront of worker concerns. Surges in late 2021 and early 2022 have placed much of the personnel in quarantine. This problem has left their other coworkers overworked and severely understaffed to handle the massive influx of shipments.
Local government health guidelines also play a part in restricting workforce numbers. For example, China has instituted a mandatory seven-week quarantine for returning cargo crews. This policy further aggravated an already growing backlog in cargo that needs to be processed.
This issue exacerbated the already shrinking pool of qualified drivers and dockers, with a sizable number choosing to retire early.
Larry Davidson, CEO of North American Produce Buyers Ltd., Toronto, Ontario, explains, "Every input along the assembly line is challenged. You've got a situation where there weren't enough drivers, to begin with, and now we're taking out another chunk of them from the pipeline and just making a difficult situation even worse. There are no trucks to get them (shipping containers) and they're sitting, and when the next round comes in behind them, they're going to be sitting, because they're not going anywhere on the ones in front of them."
Due to the lack of skilled workers, it now takes longer for shipping containers to be unloaded and shipped back out for reuse. Many storage boxes are simply waiting to get unloaded. And this takes up space and generates no income but incurs extra costs. The lack of ships available also means these containers take much longer to get to their end destination.
There simply isn't enough storage space for items anymore. Warehouses are filled to the brim with inventory, and demand for industrial real estate outpaces available supply.
2. Rising Freight Costs
2021 was highly profitable for container carrier companies. Shipping intelligence provider Alphaliner reported that the ten (10) leading publicly listed container shipping lines earned a record $115 billion to $120 billion profit.
But behind that growth record, high freighting rates were caused by a spike in fuel prices and the ongoing shipping container shortage.
TIME reports, "Transporting a 40-foot steel container of cargo by sea from Shanghai to Rotterdam now costs a record $10,522, a whopping 547% higher than the seasonal average over the last five years."
The cost of transporting goods from China to the UK has skyrocketed by 350%.
Global events such as the Ukraine-Russian War and the Suez Canal blockage by the Ever Given have disrupted shipping lanes, causing freights to take much longer routes.
Transportation costs continue to rise, and experts predict that they will continue to do so in the foreseeable future.
3. Managing Complex Systems
The logistics sector is highly fragmented, requiring expert management of multiple teams, services, and networks.
As businesses begin to expand their operations and markets, naturally, this will involve more processes and dealing with other people across time zones. Transparency is vital, and the supply chain crisis has exposed just how fragile some of these processes can be. Only 22% of companies have a proactive supply chain network. It means that they can easily adjust to sudden changes in supply or demand before they become critical.
Unfortunately, many entrepreneurs have found it difficult to restore and restructure their logistics networks due to the pandemic. Growing costs and slow growth make it hard to identify key points for improvement on top of reducing losses.
4. Handling Customer Expectations
The buying habits of consumers have shifted to online shopping over the pandemic. As more people spent more time indoors for their safety, online marketplaces were the only way to buy groceries and necessities reliably. Offices transitioned to work-from-home schemes necessitating more devices to be more productive at home.
eCommerce sales could hit $5.5 trillion this year, with more consumers preferring to shop online compared to physical stores.
With these new preferences come high expectations. Customers will always want to know where their products are and when they will arrive. Speed and convenience are key performance indicators for successful eCommerce operations.
Growing a loyal following has its benefits as well as risks. Increasing customer retention by just 5% boosts profits by 25% to 95%. However, 49% of consumers have left brands due to poor customer experience in the past year.
These four logistics challenges put all the pressure on businesses to deliver satisfactory customer experiences. The good news is that industries are actively developing solutions to these problems through emergent technologies and reliable third-party logistics (3PL).
How a 3PL Can Help Overcome Logistics Challenges
Third-party logistics allow enterprises to outsource some business operations, such as warehousing and fulfillment, to third-party service providers. 3PLs usually offer end-to-end services that can fill in the gaps in your supply chain. The third-party logistics industry has grown alongside eCommerce, with projections speculating a total market value of $1.75 trillion by 2026.
Many successful online businesses have turned to 3PLs to help weather the supply chain crisis. Having more time to focus on other essential business aspects makes their logistics more efficient than ever.
Here are the ways working with a 3PL can streamline your logistics:
1. Flexibility and Scalability
One of the main advantages of 3PL is that it can quickly scale the size of your business operations, using only the ideal combination of space, staff, and transportation. There are no redundant costs or wasted opportunities.
A 3PL will also have the tools and technologies to help your business grow. For example, forecasting, accurate inventory tracking, automation, and digital warehouses provide essential insights to guide you in making the right adjustments.
2. Cost Efficiency
3PLs greatly reduce the need to invest in warehouse space, transportation, and hiring staff to manage your logistics. You can also enjoy reduced carrier rates as these logistics partners can negotiate preferred shipping fees on your behalf. What's more, since they handle all of the logistics processes for you, you can spend more time on other essential business operations.
3. Access to Expertise and Experience
Managing an entire business is tough work, and it could be counter-productive to do much all by yourself. Working with a 3PL expands your horizons regarding the complex world of logistics management. These service providers understand all the nuances of shipping and are well-equipped to adapt to major logistics challenges.
A 3PLs technical know-how and industry connections give you important insight on how to improve your processes better. They could also help you be more confident in making crucial business decisions.
4. Improved Customer Satisfaction
Faster delivery times, updated online stock, and reliability in multiple markets help deliver a superior shopping experience for your customers. 3PLs make this possible by shortening contact points in your supply chain. They can inform customers of every step that their purchases go through. Expectations also get better managed with transparent item availability.
Some 3PLs also offer customer service support, making direct communication with customers much easier.
Though running an online business has its fair share of logistics challenges, modern technology, and an expanded network give you an edge in weathering sudden shifts in the supply chain industry.
ZhenHub offers reliable logistics solutions for eCommerce growth. With an all-in-one digital platform that handles shipping, fulfillment, inventory management, and more, global scaling is easier. Sign up now or contact us and learn more about how we can make logistics easier for you.  

Share Article