Amazon FBA Prep Requirements
Time to read:
4
minutes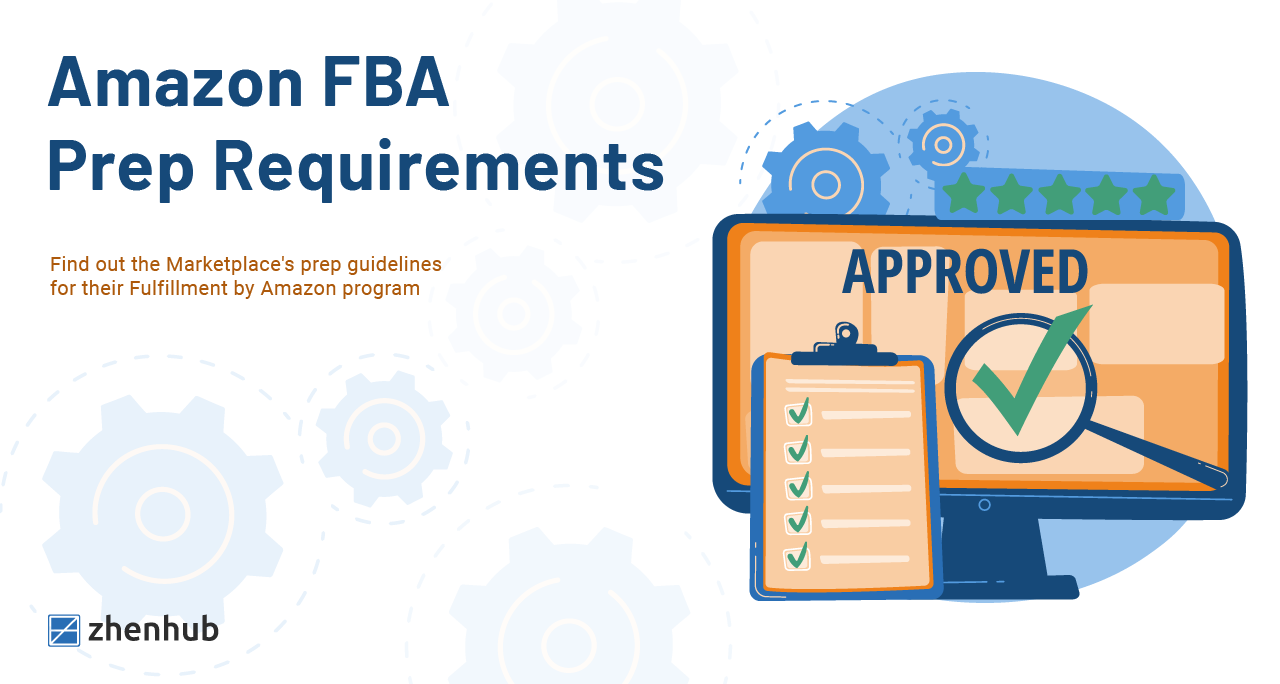 Amazon remains to be the top eCommerce marketplace across the globe. On average, the eCommerce powerhouse ships approximately 1.6 million packages a day. That comes to 18.5 orders every second. Amazon perfected its logistics process to accommodate millions of packages that go through its multiple fulfillment centers daily. With the Amazon FBA program, there was a need to streamline the logistics process to ensure minimal delays. As such, the marketplace enforces strict FBA prep requirements for sellers that opt into the program. Their streamlined process hinges on accepting inventory prepared according to their guidelines.
Those new to Fulfillment by Amazon could find the FBA requirements overwhelming as you'll juggle different types of products that fall under a different set of guidelines. If you need help to understand it, we've provided this article that details basic Amazon FBA prep requirements as well as shipping guidelines and dangerous goods information.
What is Amazon FBA?
Fulfillment by Amazon or Amazon FBA is a program developed by Amazon that provides logistics support for retailers that sell on the platform. Through the program, sellers have the option to ship their inventory to Amazon's multiple fulfillment centers and have the marketplace send packages directly to customers.
Amazon FBA Prep Requirements
To ensure that their logistics process remains streamlined, Amazon imposes strict guidelines on the inventory they accept in their fulfillment centers. As mentioned earlier, specific policies apply to different types of products. Listed below are the FBA prep requirements you need to know for a smooth sailing process:
General Packaging Requirements

Amazon uses an FNSKU or Fulfillment Network Stock Keeping Unit to identify a specific product. For Amazon FBA inventory, the marketplace requires sellers to use a unique FNSKU for each product. Items of different colors or sizes also require their unique FNSKUs as well. 
Each inventory unit must have a scannable barcode that is easily accessible. The barcode must be clear before sending it to Amazon's fulfillment centers. 

Guidelines for Loose Products

Amazon doesn't accept any inventory that requires assembly. 
Units that do not come in secured packaging must be bagged and sealed with removable tape. 
Footwear, in particular, must be packaged with no part of the shoe exposed. 

Products Sold as a Set

Products sold as a set must be labeled accordingly. Sellers must attach a sticker label to the items. The label may state: "Sold as a Set," "Do Not Separate. Sold as a Set" or "Ready to Ship."

Guidelines for Boxed Inventory

Amazon only allows six-sided boxed units. 
All boxed goods must be sealed. Tape or adhesive should be used to keep the easy-to-open lids closed. 
Boxes, in general, should be able to withstand medium pressure. For perforated boxes, products should be able to pass a 3-foot drop test. If they fail the test, the box must be in a poly-bag. 

Guidelines for Poly-Bagged Products

If the poly-bag used comes with at least a 5-inch opening, it must have a suffocation warning. 
All poly-bags should be transparent, sealed, and at least 1.5 mil in thickness. 
Poly-bags should include a scannable barcode either through the packaging or outside the packaging and on the poly-bag itself. 
Sellers that offer adult products have the choice to use black or opaque poly-bags. 

Bubble Wraps and Over-boxing

All bubble-wrapped items must be tightly sealed and taped shut to prevent the products from falling out. 
Products in bubble wraps must pass a 3-foot drop test on a hard surface without breaking the content.
Amazon may require over-boxing for safety reasons. Items with sharp edges, those that fail the drop test, products containing hazardous liquids, and vinyl records will need over-boxing. 

Guidelines for Products with Expiration Dates 

Expiration dates must be in MM-DD-YYYY or MM-YYYY format and affixed in the product's outer box in a 36-point or larger font. 
Perishable items aren't allowed. 
Amazon FBA Prep Requirements: Shipping Labels
Similar to packing requirements, Amazon also imposes a few FBA prep requirements on shipping labels. The guidelines are as follows:
All pallets and boxes shipped to Amazon's fulfillment centers must have a unique box ID and pallet label.
Labels must be at least 3 1/3 x 4 inches. If a retailer has a thermal printer, Amazon allows labels sized at 4 x 6 inches.
The FBA and carrier labels should be affixed on a box's flat surface and nowhere near a seam or an opening. Doing this will protect the barcodes.
All boxes should have a unique FBA label; as such a pallet should contain at least four FBA labels.
When shipping smaller cases in a larger box, only one label is needed.
Dangerous Good Guide
Amazon has stricter guidelines on specific products that it considers "dangerous goods." Not all products of a particular category are prohibited, but there are some restrictions to the quantity that Amazon FBA accepts.
Allowed by Amazon FBA

Products containing lithium batteries

Powerbanks, cameras, mobile phones, battery chargers

Products containing magnets

Speakers, light meters, magnetized decals, small tools, and toys 

Allowed in Limited Quantities

Flammable gases
Non-flammable, non-toxic gases
Flammable liquids
Flammable solids
Oxidizers
Organic Peroxides
Toxic Substances
Corrosive substances
Miscellaneous dangerous substances 

Prohibited by Amazon FBA 

Explosive substances
Toxic Gas
Substances liable to spontaneous combustion
Infectious substances
Radioactive material
Beyond the products listed above, Amazon reserves the right to refuse any product that is dangerous or unfit to be part of the FBA program.
Following Amazon FBA prep requirements are crucial to make the most out of the program. Non-compliance can lead to delivery delays and affect customer satisfaction. While the guidelines might seem tedious, following them is vital to the overall Amazon workflow. After all, how else can the marketplace giant fulfill the sheer amount of their daily orders?
If you're ready to go on Amazon but still see roadblocks with the FBA prep requirements, ZhenHub can help. We can connect you with Amazon FBA prep and ship services and ease your worries. Make the most of Amazon's FBA program today with the help of our team. Contact us now for a free quote.
Share Article