FBA Prep and Ship Service Explained
Time to read:
4
minutes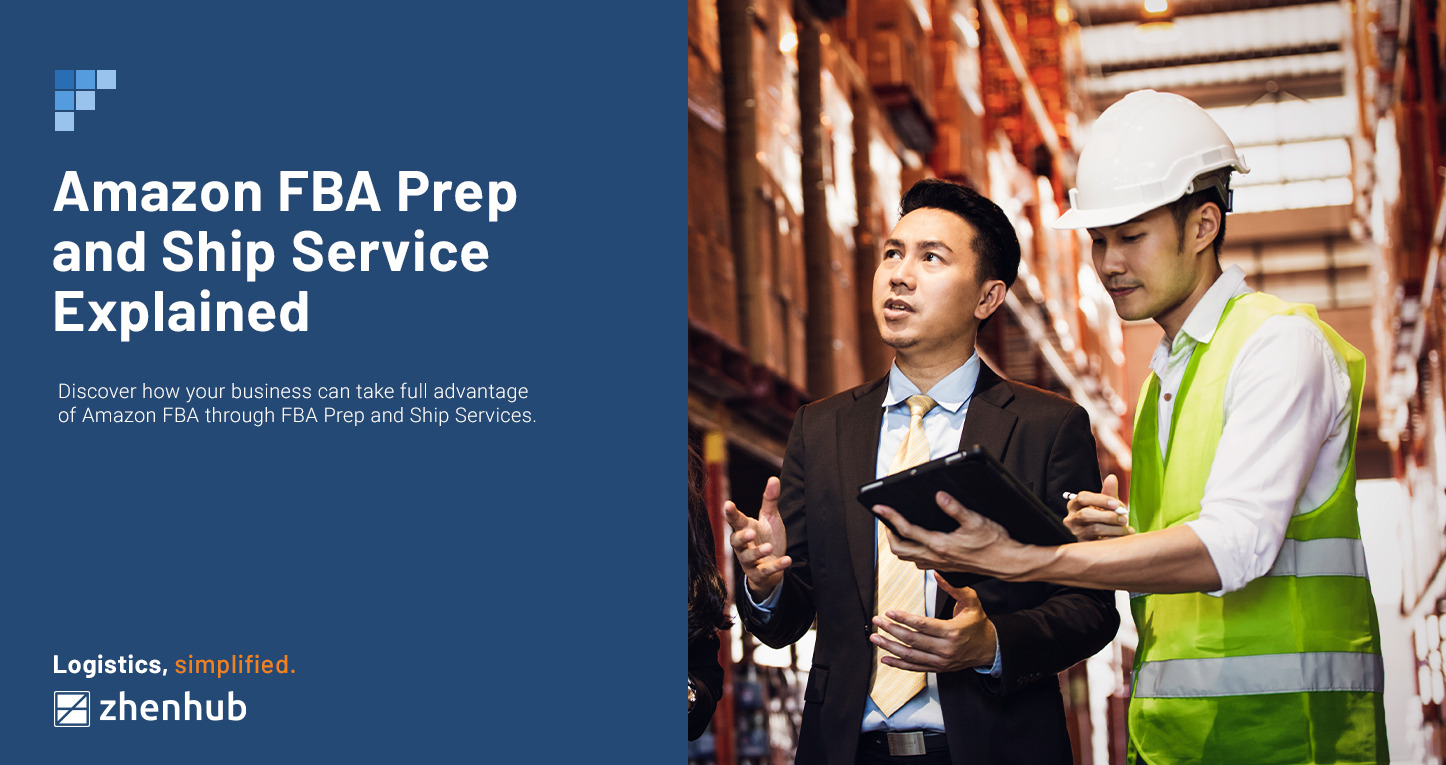 Fulfillment by Amazon or FBA is one of the best ways to succeed as an online retailer. The program allows online retailers to take full advantage of the marketplace's reach globally. Likewise, the service takes the burden of logistics away from eCommerce operators. As a result, retailers have more time to streamline their product procurement process, focus on what to sell to, and improve overall profit margins. That said, selling products through Amazon FBA does have its challenges. The marketplace imposes quite a few restrictions and requirements on sellers that opt into the service. Most sellers choose to partner with third-party FBA prep and ship companies to ensure that their operations are within the bounds of Amazon's guidelines. 
What is Amazon FBA?
The Amazon FBA, or Fulfillment by Amazon service, allows retailers to hand off the responsibility of logistics to the marketplace. Through this program, sellers can store their inventory in one of Amazon's fulfillment centers. Then, as orders come in, Amazon picks, packs, and ships the packages directly to the customer. Depending on the type of account you create and the scale of your requirements, Amazon fees may differ.
Fulfillment by Amazon is arguably the best feature the marketplace has to offer its sellers. Nevertheless, there's a learning curve when transitioning to this service.
What is Amazon FBA Prep and Ship Service?
As discussed earlier, one of the issues that Amazon FBA sellers experience using the platform involves the rigid requirements imposed by the marketplace. For example, Amazon has stringent rules and policies when it comes to product packaging. These strict requirements are compulsory; otherwise, shipments will get delayed.
For the most part, retailers on the platform have three choices when it comes to their FBA prep and ship:
Internal Prep and Ship
Amazon's Prep and Ship Service
Outsourcing to a third-party Prep and Ship Service
Each of the three options comes with advantages and disadvantages. The choice between the three methods comes down to the retailers' operational and financial capability.
Amazon FBA Restrictions
Amazon FBA sellers can list certain items or their entire catalog with the Fulfillment by Amazon service. Nevertheless, not all types of products are suitable for FBA. The platform restricts several things, including:
Alcoholic Drinks
Gift Certificates / Store Credit
Unauthorized marketing materials
Damaged products (unless stated)
Tires
Illegally manufactured products
In general, Amazon has the right to determine whether a product is prohibited. Rejected items are either returned or disposed of immediately.
Amazon FBA Packing Requirements
Amazon has strict rules on product packaging stored and shipped from their fulfillment centers. Non-compliance can lead to additional fees or outright refusal.
General Packing Guidelines

Only use a unique Fulfillment Network Stock Keeping Unit. This term is unique to Amazon and is used to identify and track products. In addition, the FNSKU should only correspond to one product and one product alone. 
All units should include a barcode that is legible and scannable.
All products should arrive at the Amazon warehouse fully assembled. 
All products should be in secured individual packaging
Labels are a requirement for items sold as a set. 

Requirements for Boxed Packages

Amazon allows only the use of 6-sided boxes. 
The opening of the box should be secured. 
The box should withstand medium pressure applied to it. This is essential, especially during storage. 

Requirements for Poly-Bagged Parcels

Poly-bags can be used to secure individual products, granted it adheres to the guidelines. 
Poly-bags with openings of 5 inches or larger should include suffocation warnings. 
Poly-bags should be sealed, transparent, and at least 1.5 mm thick. 
Poly-bags aren't allowed to protrude more than 3 inches beyond the product inside. 

Requirements for Case-Packed Items

All products within the case must share the same SKU. 
There is a limit of 150 items per case.
There is an option to consolidate smaller cases within larger crates.

Handling Products with Expiration Dates

All units must have labels of the expiration date. The master box should have the matching date, as well.
The expiration date should be legible regardless of packaging material. 
Formatting of expiration dates should be either MM-DD-YYYY or MM-YYYY. 
Why Outsource Your FBA Prep and Ship Needs?
Amazon's packaging guidelines are extensive. But with the sheer amount of rules and policies, mistakes and errors do happen. It's a pain to adhere to regulations, but it's necessary.
But a simple packaging mistake can cost delays and can possibly impact an operation's profit margins.
Thankfully, sellers on the platform have the option to outsource Amazon FBA prep and ship. Outsourcing Amazon FBA prep and ship to professionals minimizes the risk of packing mishaps. Fewer errors mean fewer delays and happier customers.
What to Consider When Choosing the Best FBA Prep and Ship Company
As with most third-party vendors, not all FBA prep and ship companies are created equal. It is crucial to find a partner that offers quality service at a reasonable price. Below are several factors to consider during the vetting process:
Cost is often the primary concern of most retailers. For the most part, prep companies either charge a monthly flat fee or charge per item. When it comes to expenses, calculating profit margins is crucial. If the cost of the service is high enough to cut profit margins significantly, then third-party vendors might not be an option for an operation.
FBA Prep and Ship Headquarters
Location is another factor to consider when choosing an FBA Prep and Ship company. Retailers have two options as far as location is concerned – a third-party vendor located near the manufacturing site or a partner near the retailer's headquarters.
Certain items require specific warehouse conditions, like climate control and proper storage. Discuss this first before signing a contract.
Ultimately, the choice to outsource FBA prep and ship depends on several factors, including the scale of the operation and the business's financial capability. In addition, working with specialized professionals can smoothen a company's overall inventory management process. Nevertheless, it is all a matter of finding the right partner to give you the service you need.
We at ZhenHub are passionate about finding the best logistics and supply chain solutions for our clients. Request a free quote now and discover how our tech-based logistics products can help grow and scale your business from Amazon and beyond. 
Share Article