4 Factors to Consider When Choosing an FBA Prep Center
Time to read:
4
minutes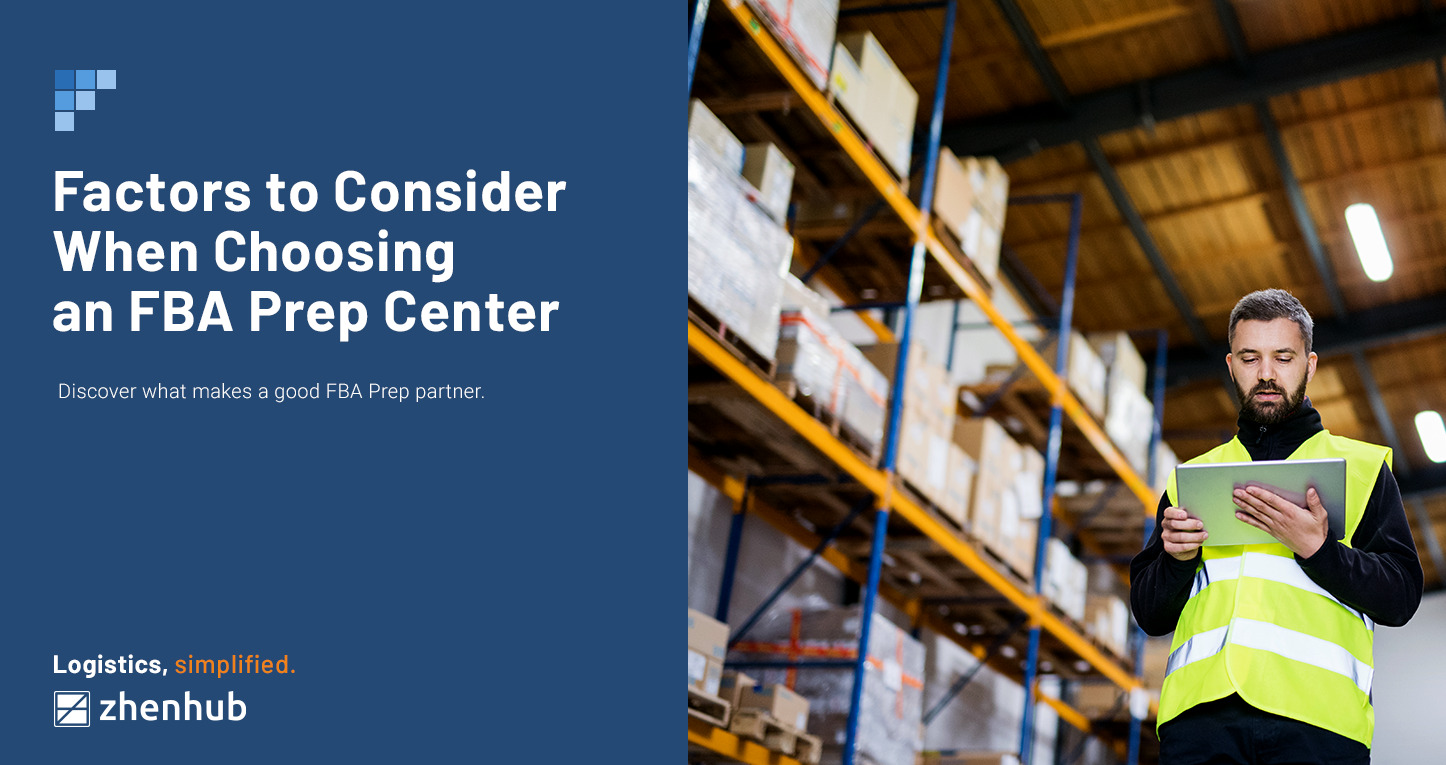 Fulfillment by Amazon or Amazon FBA makes it possible for small and medium retailers to take full advantage of the marketplace's logistic capabilities. Through the program, eCommerce stores operating on the platform can forgo inventory storage, shipping, and even customer service. Amazon's logistics process is unmatched. But to utilize it, retailers need to streamline their inventory operations to adhere to the marketplace's strict requirements.
Failing to comply with Amazon's rigorous FBA prep requirements can result in delays and penalties. For this reason, many retailers outsource their prep and ship needs to FBA prep centers to ensure that Amazon accepts their inventory every time. FBA prep centers are a great option to mitigate the chances of non-compliance. This article will shed light on the benefits of outsourcing Amazon FBA prep and the key factors to look for when vetting FBA prep and ship companies.
What is Amazon FBA Prep Service?
In general, retailers that sell through Amazon FBA have the option to pack inventory themselves. But doing this requires expertise and experience. Amazon's FBA requirements are notoriously strict. The marketplace has particular guidelines on different types of products as well as various packing options. As discussed earlier, failing to adhere to these requirements can cause shipment delays and penalties.
Amazon FBA prep centers specialize in preparing inventory for Amazon's fulfillment centers. These third-party experts are well-versed in the marketplace's many technicalities and requirements. By partnering with professionals, retailers can rest assured that Amazon doesn't turn away their inventory at any point.
Factors to Consider When Choosing an FBA Prep Center
Not all Amazon FBA prep service providers are created equal. That is why retailers must consider their specific FBA prep needs while vetting FBA prep centers. Below are a few factors to consider:
Price
Price is quite easily the number one concern most sellers have when vetting FBA prep service centers. It is natural to be concerned with the expense associated with outsourcing FBA prep. However, it shouldn't be the only consideration.
There are various ways Amazon FBA prep companies charge for their service. Some charge per item; others impose a fixed monthly rate. Monthly rates are ideal for retailers that intend to ship out large volumes of products monthly. Likewise, companies that charge per item are best for retailers that send stock on a non-regular basis. Aside from the pricing matrix, it is vital to ask what the inclusions are. There are very few things more upsetting than finding out there are extra charges for bubble wrap and additional quality control.
Location
Location is another essential factor to consider when vetting FBA prep centers. As a general rule of thumb – the farther inventory has to travel, the more expensive shipping is. Aside from the expense, there is also an issue of drop-off and inventory replenishment. It is smart to find an FBA prep center near the headquarters for retailers that source products domestically. And for those that source from overseas, choosing FBA prep companies near a major port can ensure smooth outbound shipping.
Turnaround Time
Turnaround time for FBA prep can range anywhere from a day to a month, depending on the requirements and the specific items ordered. Asking about an FBA prep center's turnaround time is vital to ensure that delays do not affect transactions with Amazon or your customers.
In general, most FBA services can prepare products for Amazon FBA in 24 – 48 hours. Nevertheless, it is best to hire third-party experts with turnaround times that don't take multiple weeks.
Warehouse Capabilities
Certain types of inventory require particular warehousing conditions to make sure it's in good condition. The right FBA prep center can provide specific requirements to Amazon FBA retailers. More than capabilities, it is also essential to ask about the size of the storage facility. It also ensures that the FBA prep center can accept high volumes of products at any point.
Benefits of Outsourcing to an FBA Prep Center
Signing up for Amazon FBA can open lucrative doors for smaller eCommerce operations. That said, utilizing FBA prep requires patience. Choosing to outsource to third-party contractors can help retailers ease into the transition:
Save Time, Effort, and Resources
It is challenging to adhere to the marketplace's strict rules on inventory prep. Again, mistakes can cost delays and penalties. FBA prep services can help retailers save on time and refocus resources to building other revenue channels.
Forgo the Need for Storage
The right Amazon FBA prep center can provide ample storage space a retailer might not have at their disposal. Through third-party FBA prep centers, products no longer need to terminate at a retailer's headquarters. Since inventory ships through these third-party services to Amazon, sellers only have to visit their contractors to ensure the quality of their products.
Improve Profit Margins
Professional FBA prep and ship providers are experts in their fields. They can do more in prep than what a retailer can do in double the time. Since experts can cut turnaround times and increase production, they allow retailers to service more customers through Amazon FBA.
Choosing to outsource to an FBA prep center is an investment. There are operational costs involved in choosing this option. Nevertheless, no matter the retailer's size, partnering with FBA prep experts ensures that a business takes full advantage of what Amazon has to offer. Getting a fair deal on FBA prep is all about finding the right third-party company for your needs.
Interested in outsourcing your Amazon store's FBA prep but clueless as to where to start the search? We at ZhenHub are eager to help you connect with FBA prep centers that can fulfill your needs. Through our connections and logistics expertise, you can transition into selling through Amazon FBA with ease. Why wait? Reach out to us today for a free quote or to learn more about our tech-based logistics solutions.
Share Article