5 Signs You Need an FBA Prep Company
Time to read:
4
minutes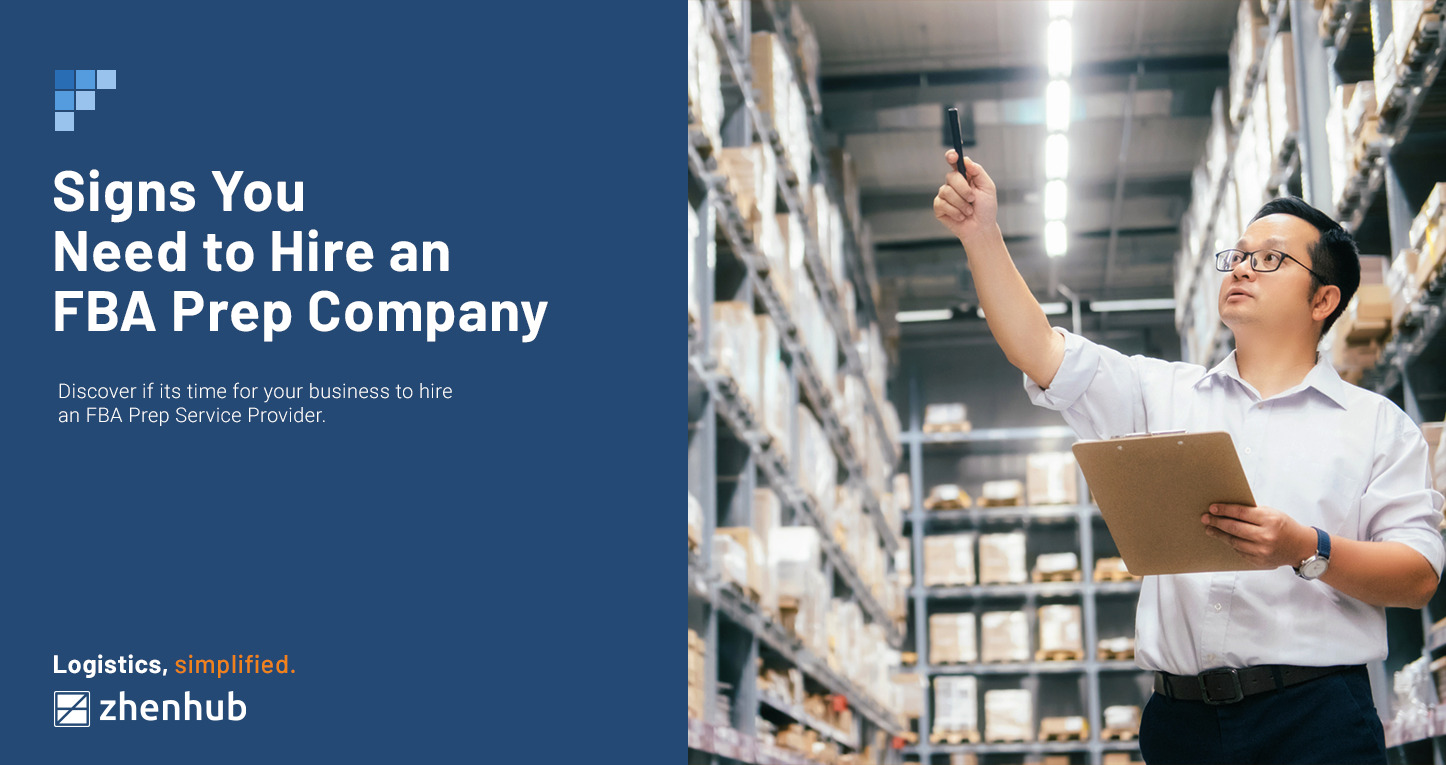 Between multiple FBA fulfillment centers, Amazon can ship out 18.5 packages every second. They have developed over 15,000 robots to accomplish such a fantastic feat. More than technology, the world's top marketplace streamlined their pick, pack, and ship service to perfection. As such, Amazon FBA sellers must follow and pass rigorous inventory requirements for their products to be accepted into the program. Many sellers tap an FBA prep company to fulfill Amazon's needs to take advantage of its global reach. 
At the time of writing, there are around 2.5 million active sellers on Amazon. Of this staggering number, 73% of sellers in the United States are part of the Fulfillment by Amazon service. This program allows sellers to take full advantage of the platform's audience as well as Amazon's impressive logistics and fulfillment capabilities. eCommerce companies that operate through Amazon FBA sell around 30% – 50% more products than those that forgo the option.
When it comes to Amazon FBA, the effort is worth the reward. Finding the right FBA prep company can get challenging and still dependent on several factors. This article explores what Amazon FBA prep companies can do, the challenges, and if your business is ready to take that leap.

5 Signs It's Time to Outsource to an Amazon FBA Prep Company
Outsourcing FBA prep and ship can make logistics easy for almost all companies that sell through Amazon FBA. However, some operations can benefit more from hiring experts:
If Your Operation is New to Amazon FBA
Amazon's FBA requirements are stringent. Those new to the platform and the program may find it too challenging to fulfill each guideline. Outsourcing is an excellent way for newer companies to get used to Amazon's rules.
If Packing Errors Causes Delays on Shipments
Amazon reserves the right to refuse shipments should they deem them unfit for their fulfillment center's shipping process. In some cases, the marketplace returns the inventory to the seller, delaying shipment to the customer. If that happens, retailers can lose customer confidence and business.
If Storage is Scarce
Warehousing is expensive. Not all eCommerce companies have the resources and space to accommodate all of their inventory. Since FBA prep and ship companies receive merchandise for retailers, they can forgo getting storage.
If In-House Teams Can No Longer Keep Up with the Demand
Increasing customer demand for your goods is always good, but it can be problematic. It is one thing to prep a handful of orders; it is another to prepare pallets upon pallets of different products. If a retailer's in-house prep team can no longer realistically fulfill orders, it is time to outsource.
If Amazon Prep is Preventing Growth
One of the biggest mistakes businesses going on Amazon make is focusing too much on logistics and administrative tasks. While they are an integral part of the operational process, outsourcing these tasks to professionals can provide more time for decision-makers to execute innovation that fosters growth and scaling.
Why Outsource to an Amazon FBA Prep Company?
There are plenty of benefits that come with Amazon's FBA program. More than the ease in logistics and order fulfillment, FBA sellers record more sales than those that opt-out of the program.
It takes a great deal of diligence to fulfill Amazon's FBA package requirements. There are guidelines for every type of parcel, and non-compliance can lead to penalties and additional fees. Outsourcing FBA prep leaves this tedious work to the pros. Below are just a few of the benefits that a retailer can enjoy should they choose to partner with an FBA prep company:
Free Up Time and Resources
Most business owners struggle with finding time to accomplish every process needed to keep operations moving smoothly. From inventory sourcing to quality control, there are plenty of operational processes that can take a wrong turn at every step. Outsourcing FBA prep can free companies from the tedious work of packing inventory for Amazon FBA.
Ensure Excellent Quality Control
As discussed earlier, Amazon is a stickler for its FBA guidelines. A mistake can lead to delays in shipment and, consequently, customer dissatisfaction. Outsourcing FBA prep means that experts handle this part of the logistics process. Since they know the guidelines like the back of their hands, retailers can expect virtually zero errors and zero delays.
Streamline the Logistics Process
Developing a streamlined logistics process for Amazon FBA takes a lot of time and patience. Most workflows require testing several times to optimize the process truly. Not all businesses can afford the effort it takes to build a streamlined logistics flow. Entrusting inventory to a qualified third-party professional ensures that Amazon accepts the stock for FBA each time.
Factors to Consider in Hiring an FBA Prep Company
Most companies that sell on Amazon FBA can benefit from outsourcing FBA prep. That said, there are several things to consider to get the best deal on the right prep and ship partner:
The first factor to consider is product sourcing. Where retailers source their products can affect the overall cost of the Amazon FBA prep and ship service. Companies that source from China have the option to have their manufacturers prep and ship inventory for Amazon FBA. However, this option affects shipping rates since Amazon doesn't accept pallets with more than one SKU. Likewise, shipping inventory from China to an FBA prep and ship company and then to Amazon entails more work and probably cost. Deciding on the best recourse is all about determining which option is the most cost-efficient.
Keeping track of all products in inventory is already challenging. It is more challenging to do this once Amazon's FBA requirements enter the picture. Companies that offer inventory with different FBA requirements are better off outsourcing to an FBA prep company.
Packing materials aren't cheap. Some products require special packaging like poly-mailers or fragile labels. It is better to hand the process off to a third-party company as these companies can offer discount pricing on the packaging they usually purchase in bulk.
The price of the products is an essential factor to consider before outsourcing FBA prep and ship. Hiring a third-party contractor is a significant investment. If a retailer cannot recoup the cost of outsourcing through their product pricing, it isn't a strategic business move.
Outsourcing Amazon FBA prep provides a slew of benefits for most eCommerce companies. That said, there is no one-size-fits-all when it comes to outsourcing. Each requirement needs customized solutions.
And not all FBA prep companies are created equal. Hiring the right logistics partners is as important as doing outsourcing. The FBA prep company that doesn't understand your business needs can be detrimental and impact profit margins.
Eager to outsource but nervous about your prospects? ZhenHub can help! Our years of experience have gained us insider Amazon knowledge you wouldn't get anywhere else. Request a free quote or contact us today to learn more about our tech-based logistics solutions.
Share Article