What are Shipping Labels and How Do They Work?
Time to read:
4
minutes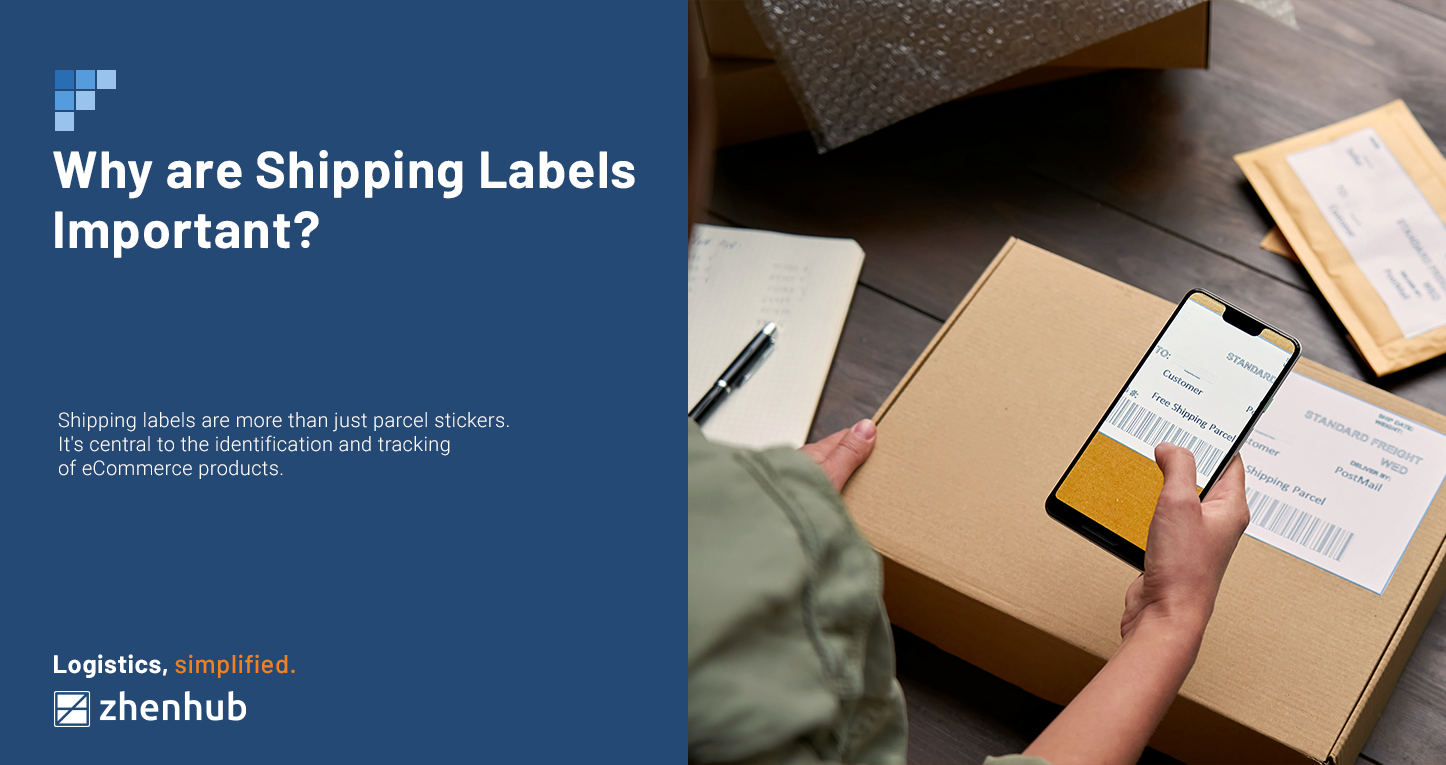 Shipping labels seem like an innocuous part of the order fulfillment process. However, this small piece of paper is vital in fulfilling orders and maintaining customer satisfaction. Regardless of the scale of an eCommerce store, shipping label issues can impact overall operations.
There is more to it than the return address. We'll discuss everything a retailer needs to know about shipping labels.
What are Shipping Labels?
A shipping label, or packaging label, is a small piece of paper tacked on a package used to identify the items inside the parcel. Depending on the carrier, the contents of the label come in many forms. However, for the most part, labels include a return address, the destination, parcel weight, shipping class, tracking number, and barcode. For international orders, shipping labels also specify the package's contents.
Shipping labels are unique. Old labels get discarded after they reach their destination, and new packages need new labels. Both personnel and machines should be able to understand and process shipping labels.
Why are Shipping Labels Important in eCommerce?
Shipping labels are an essential part of order fulfillment. A shipping label holds all the necessary information to get a package from point A to point B. Businesses would be lost without it and possibly impact the projected $6.5 trillion eCommerce revenues. Aside from identifying package contents and fulfilling customer orders, below are a few functions of labels:
Track Sales and Inventory
Shipping labels provide an additional means of inventory management and tracking. Retailers can use labels to take note of the stock that goes in and out of their storage facility. This information is vital in determining the amount and frequency of inventory shipments.
Delivery Tracking for Customers
Likewise, customers also have a use for shipping labels. These labels are unique and can track shipments as they are delivered, an essential aspect of eCommerce shipping.
Like delivery tracking for customers, processing returns can be quick and painless with shipping labels. Retailers can use tracking numbers to verify the shipment date and the package contents.
Not all shipment labels are created equal. Some companies invest in their labels to match their company branding. Using shipping labels as an extension of branding can be strategic for luxury eCommerce companies that want to be consistent with their premium aesthetic. Some UK and European brands have particular designs to identify themselves quickly.
The Anatomy of a Shipping Label
Shipping labels vary from carrier to carrier. However, below are a few parts that appear on most labels regardless of the provider: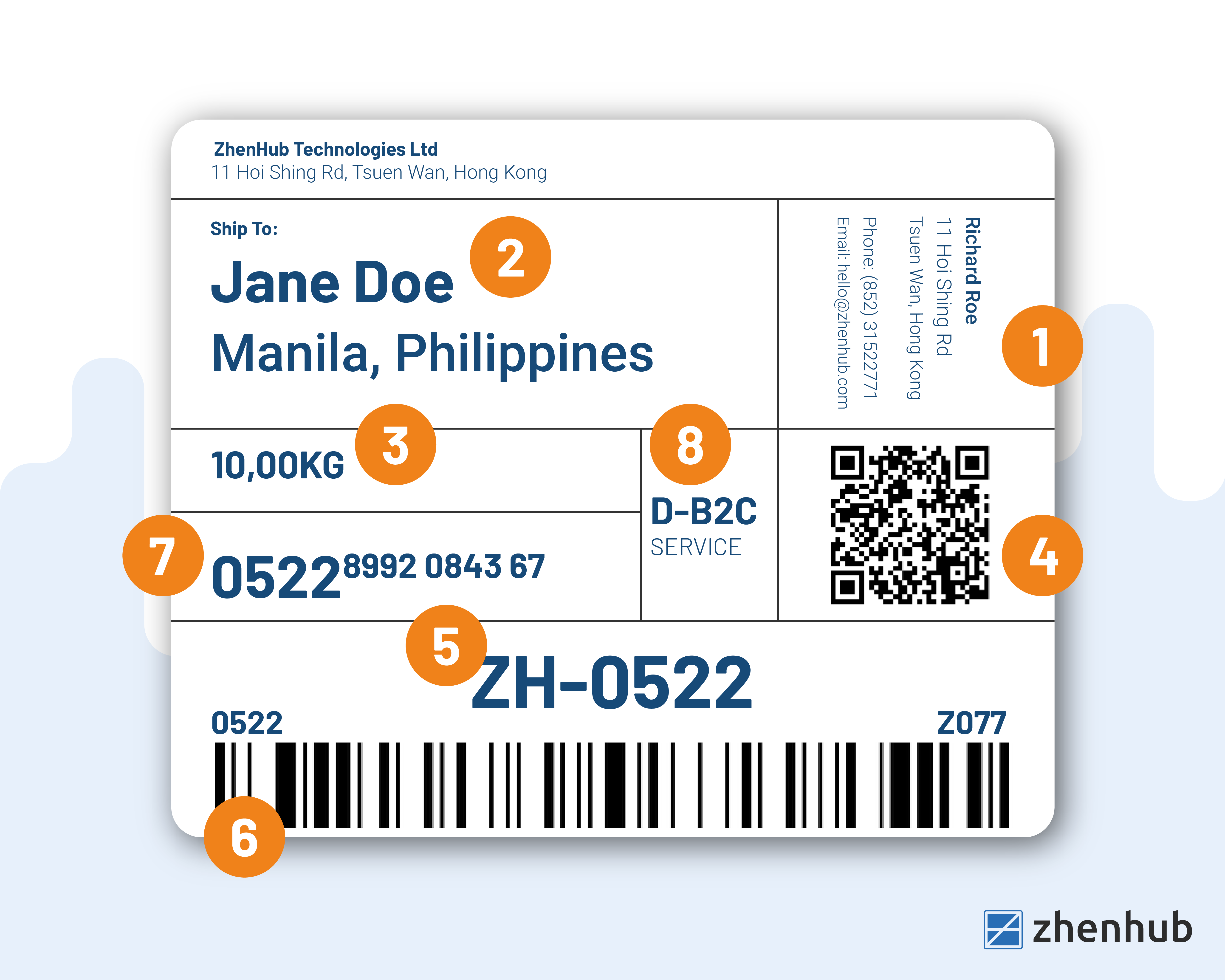 Sender's name and address
Also known as the return address, the sender's name and address list the merchant's name or the third-party logistics provider that sent the package. This part is vital in case of order returns. All carriers require a return address.

Recipient's name and address
Arguably the most crucial part of the shipping label, the recipient's name, and address are printed in a bold and larger font. Depending on the carrier, this information is usually at the center of the label for easy viewing.

Package weight
The package weight is the combined item's weight and the box or bag. Not all carriers provide this information. However, most international delivery services require it for packages sent through air freight.

Maxicode
As mentioned earlier, both the human workforce and machines need to understand a shipping label. The Maxicode serves as a parcel identification tag allowing a device to read it in any direction.

Routing code
The routing code provides the sorting team with information as to where the package is heading.

Postal code
The postal code indicates the zip code of the destination. The United States, Japan, Germany, and Latin American countries have seven or more digits in their zip codes.

Tracking Number
Customers can use the information on a shipping label to track their orders. The tracking number is a unique set of alphanumeric symbols that the retailer provides for easy order tracking.

Carrier service method
The carrier service method illustrates the service that the retailer has chosen from the offerings of the carrier. It varies from provider to provider, but shipping companies offer express or standard shipping.
The delivery carrier generates most of the information above. Retailers only need to provide a return address, delivery address, and the carrier service method.
How Do I Create a Shipping Label?
Carriers determine shipping label templates and use different layouts. For a smooth order fulfillment flow, retailers should follow a carrier's specific requirements. There are several ways to create a shipping label:
Most carriers like USPS allow customers to create a shipping label online. The template is usually readily accessible on their website. This method is best suited for smaller orders as it requires manual input of customer information.
Using a Shipping Label Software
Shipping label software like ZhenHub allows retailers to create shipping labels in bulk. A spreadsheet on the retailer's local computer collects all customer information. This spreadsheet, in turn, is uploaded onto the software. Companies that process high volume orders can take advantage of this option.
Shipping Label Best Practices
Special packages require extra attention. Below are a few other shipping label considerations:
If a package requires special attention, it is best to tack a note on the parcel. Packages tacked with "fragile " or "perishable" inform carriers of the contents' sensitive nature.
During the 2020 holiday season, carriers delivered more than 3 billion packages. Placing shipping labels ensured those packages reached the customers. The easier it is to confirm the label's information, the better the package's chances go to the right recipient. That's why shipping labels are on top of the box. They should not be folded over to minimize the risk of the barcode failing to scan.
Conclusion
Every piece of the order fulfillment process is vital – the shipping label included. Partnering with a reputable logistics company ensures that all cogs and gears of the order fulfillment machine move in unison. We at ZhenHub are ready to help you with your shipping label and other logistics software needs. Sign up today to learn more about our services. 
Share Article